---
June 17, 2008 11:10 PM
After all the money you've diverted from your (enterprise's) coffers, don't you deserve a little something back? I mean, your requisition orders must pay the salaries of at least a few marketing types, sales types, and even a few engineers, so a kick back is the least they could give you.
Well, you've got your chance as Cisco continues moving from providing dumb pipes to selling services and solutions. BusinessWeek has the scoop on Cisco's I-Prize contest, which will award $250,000 to a team of innovators and entrepreneurs for their idea, with up to $10 million in funding set aside to potentially staff, develop, and market a business based on the idea.
If you're sick of ho-hum tasks and pointy-haired bosses, this could be your ticket out. And while entries are closed for this year's contest, there's always next year or one of dozens of similar contests, as Business Week reports:
Cisco's innovation contest is one of at least a dozen corporate-sponsored competitions that have cropped up in recent years, all aimed at developing and rewarding innovation. Microsoft (MSFT), for instance, annually awards its $25,000 Imagine Cup to a student team that best uses technology to solve a real-world problem. Using money to reward technological innovation is hardly novel; historians say one of the first innovation prizes dates to 1714, when the British government offered £20,000 to the person who could devise a method for determining a ship's longitude. (The prize was officially awarded 59 years later.)
Hey, if a Canadian steamfitter and a German student assistant can make it to finalist status, what's stopping you? If you're not quite ready for that 180 degree career change, there are other opportunities to give your networking career a jolt.
One quick method: Enter to win Cisco Press' CCNA Official Exam Certification Library. We've got 10 copies to give away to 10 lucky readers. See contest details for a chance to win.
Internetwork Expert is sponsoring a Real CCIE's, Real People 2008 Scholarship, where the winners (one U.S. and one international award will be given) will receive:
CCIE Self-Paced End-to-End Program
Complete CCIE Rack Rental package compliments of Graded Labs
Onsite Bootcamp of the recipients choice (including airfare, hotel, provisions, and ground transportation).
Not bad, but hurry up: The contest is over in 3 days!
Further Reading:
June 10, 2008 6:50 PM
The enterprise must prepare for the 'millenials,' or Generation Y as they are often known, according to a report from 60 Minutes. This was a theme echoed by President and Chief Executive Officer of Advanced Media LP at MLB.com (the Major League Baseball website) Robert Bowman in his keynote speech at Computer World's 2008 Mobile & Wireless World conference on Monday.
He began the topic by presenting a statistic gathered by Chetan Sharma Consulting: Only 20% average revenue per user (ARPU) come from data plans on users' phones.
"Right now, people are still reluctant to move to data plans," Bowman said. But he suspects that the 20% ARPU will switch completely five or so years down the road; instead only 20% ARPU will come from voice and the remaining 80% ARPU will come from data.
As anyone knows, data plans are much more expensive than straight voice plans, so why is he so certain these statistics will swap? According to Nielsen NetRatings, broadband held only 8% ARPU in 2000 compared with 92% ARPU of narrowband users. Eight years later, 87% of users choose broadband over narrowband — and the reason? You get to have more faster; the ease of use and what users expect to own far outweigh the additional cost of broadband. The same, Bowman says, can be expected for people to switch from voice to data.
Still need more convincing? As a representative of the current 20%, Bowman explained why data was more important than voice: Anyone who knows him, he said, will know that if they have something urgent to say, they will send him a text message so that he can see it immediately. This cuts out an extra step of having to call his voice mail and listen to a message. Anyone who leaves him a voice mail knows that they will just have to wait.
The fact also remains that for younger generations, text is and has been the preferred method of messaging. Take his own teenage children for example, as Bowman did in his keynote: "Everyone who has a kid knows how they use a phone; it's all data… My daughter only used her phone [for voice] to call us to pick her up."
Even in the Developing a Global Wireless Infrastructure session today, Vice President of Information Services at UPS Mark Hillbush said that his daughter only had one contact in her phone for voice. "One contact," he said "in two years! The sad part was that I don't even think I was the contact in her phone."
This goes to show, Bowman said, that the way children consume data and get entertainment is completely different than adults generations above them. The way they communicate using technology will evolve new applications, new devices and change the way we work in the world.
In my mind, what the enterprise has to prepare for are rapid advancements in technology. If you think new devices weren't being created rapidly enough, I believe having Generation Y enter the workforce will zoom technology up the quadratic curve.
---
June 9, 2008 9:59 PM
Last week I took a "tech tour" of Boston's TD BankNorth Garden, home of the Boston Celtics. The tour, which took place hours before Game 1 of the 2008 NBA Finals, demonstrated how the NBA uses Lenovo tablet laptops to tracks statistics and scores during games.
Aside from the tour, Lenovo also provided me with a press pass that allowed me to stick for the game. So full disclosure here: I got to see a very exciting basketaball game for taking this tour. The story I wrote about how the NBA uses Lenovo's laptops can be found on SearchMobileComputing.com.
Watching the Celtics and the Lakers in the NBA Finals was a great privilege. It was definitely one of the most exciting experiences I've ever had. But I did do some work while I was at the Garden. Really I did!
I shot some video of the demonstrations the NBA and the Celtics put on for me and other IT journalists. I thought I'd share them with you here.
Here we have Stephen Hellmuth, NBA executive vice president for operations and technology, giving an overview of what his team does on technology side to support NBA games.
Here is Jay Wessel, vice president of technology for the Boston Celtics, describing how wireless technology helps the NBA keep the game clock more accurate.
And finally, here is Wessel talking about how the NBA uses Lenovo laptops to keep score and log statistics.
---
June 9, 2008 2:17 PM
Speaking of deep packeteering, dPacket.org is a new non-profit with the goal to "foster and support community interest and progress in deep packet inspection (DPI)." OK, so the Gates Foundation it's not, but I got on the phone with two of the founders, Kyle Rosenthal and Axel Weichert, both formerly with DPI provider Bivio Networks, yesterday to talk a little bit about the site's ambitions and how it might help network engineers who are tackling how to integrate DPI into their networks.
They said they initially set out to create a very technical community, but they've since broadened that mandate to include high-level discussions about the place of DPI at both the network and service provider level. That topic tends to bring out ideologues on both sides, particularly as it's linked to net neutrality, but hopefully the savvy searcher can avoid the worst of the flame wars and find some useful information, such as vendor profiles and a piece on using DPI to check and improve Skype traffic.
Rosenthal said one of dPacket's big challenges would be to prove to readers that the site isn't an industry mouthpiece, which might be tough with financial sponsors like Sandvine and Ellacoya. Still, the more resources there are for complex subjects like DPI the better, particularly if they are willing to tackle both the tough technical aspects of network deployment alongside the creation of ethical guidelines to address how far into the network should DPI peer, and how that information should be handled.
---
June 9, 2008 2:13 PM
My friend over at InsideHigherEd stumbled upon a novel approach to discouraging illegal P2P while allowing legitimate research usage:
In order to download (or upload) files on any peer-to-peer network whatsoever, all on-campus users have to pass an online quiz on copyright infringement.

But not just once. Passing the test — with a perfect score — enables peer-to-peer access for six hours on the user's on-campus registered machines, presumably enough time to download that (legal) song, TV show or e-book. The next time, the student, staff or faculty member has to go to the intranet Web page and take the randomized test again, for a maximum of eight uses per month (which, kind of like vacation days, can accrue to at most 20).
While it's certainly innovative, what's the point? Nobody is better off, except maybe the RIAA when they use the quiz to show illegal downloading was "willful infringement," which can bump damages up to $150,000 per song. Those intent on downloading tend to find creative workarounds , while those with legitimate needs are unduly hassled.
In the enterprise, we often hear that education of Net do's and don'ts is critical, but randomized quizzes and P2P privilege accrual seems a pretty complicated way of doing it.
On the other hand, the statistics are impressive: The year before the program was implemented, the university got 800 copyright complaints; since, they've only received eight. Imagine the work productivity boost if you inserted to a picture of the boss every time an employee accessed a flash game or MySpace profile.
On second thought, no.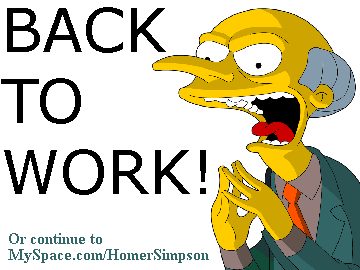 ---
June 5, 2008 6:54 PM
From my perspective, there aren't many differences between Generation X and Generation Y — except that people born in the 80s aren't as likely to remember Spider Man and his Amazing Friends. (If you subscribe to the typical generational classifications, I was born toward the end of Generation X.) As far as their touted technological prowess, Generation Y, a.k.a. the "Millennial Generation," doesn't seem that different, either, except maybe when it comes to text messaging while driving a car. (I have friends who do this, mostly without incident. Now, that's amazing!)
Yet, to listen to the media, you'd think that the children of the 80s were born with USB ports built into their nostrils and, like the iPods they commonly carry, are preciously fragile pieces of high-performance machinery — capable of amazing achievements, but oh-so-sensitive. Recently, 60 Minutes reported how the Millennials are revolutionizing the workplace. Millennials demand, according to the report, the right to work when and where they want. They also need lots of mentoring because they've always been told "you're special, you deserve the best," not "life's tough and you have to work to get what you want."
Shortly after I saw the 60 Minutes report, TechRepublic blogger Toni Bowers wrote about how IT managers must prepare for the Millennials. Again, the focus was on how our culture must make way for the under-30 workforce; supposedly everybody has to kowtow to the Millennials because they think their elders aren't supposed to intimidate them.
Hello? Am I the only one who thinks this is just wrong?
I'm not that much older than these people, but I am old enough to remember that Generation X entered the workforce to the tune of "you're a slacker," "you need to be more motivated," "get a job," and "you're a loser if you still live with your parents." Now, slacking is considered a "market condition," and living at home is considered a wise economic decision. How come we had to adjust to the world, and now we're adjusting the world for them?
As a representative of Gen X, I have to say that at the first mention of "step aside, old lady," I will whap that Millennial whippersnapper upside the head with my soon-to-be-non functioning iPod.
That being said, I work with quite a few Generation Y colleagues, and they are lovely people — hard workers, for the most part — smart, and motivated in the way of ambitious young people, not at all the special snowflakes or idiot savants 60 Minutes made them out to be.
There are, admittedly, a few generational differences. But in my mind, these center around the idea that technology is taken for granted among people who have spent most of their lives around it.
For instance, not that long ago when I was in college (and I'm certainly dating myself here), I was told that to pursue a future in graphic design, I would need to learn the appropriate computer skills on my own because the school lacked those resources. Also, our "social networking" was done via Telnet, in green text on a black screen, with only our imaginations and vocabularies enabling us to throw sheep at each other. Nowadays, both those cases would be unthinkable.
Similarly, fellow Network Hubster Tessa Parmenter recently blogged about how shocking it can be when someone lacks email in this day and age. The same day, Michael Morisy reported on the fact that Generation Y wireless customers are more fickle and likely to jump ship if their carriers don't deliver.
Both those examples show an insistence on connectivity — on technology that does what people want it to do — but (in my mind, at least) they don't scream "hold my hand or I won't work for you!"
So maybe it's not Generation Y, but the media hype machine, that needs to grow up.
---
May 29, 2008 6:32 PM
Sure, Carrie Bradshaw was mystified when her Mac died, but that's no reason to hate on Sex and the City.
As much as pop culture may have you believe that the worlds of beauty and brains lie as far apart as Mars and Venus (Ashton Kutcher's television "social experiment," Beauty and the Geek, comes to mind), the truth is that the world is made up of plenty of geeky girls and eye-candy boys — and individuals who defy stereotypes and combine the best of both worlds. And one of the lessons from Sex and the City (if you can believe an HBO comedy would have a lesson) was that love can come in many unexpected packages, from Carrie's Mr. Big to Charlotte's true love — short, bald, sweaty and hairy-backed Harry Goldenblatt. Carrie even once dated a comic book guy… though he looked more like an indie rocker than Jeff Albertson.
Of course, that doesn't mean that a few geeks won't gag a little at the mention of tomorrow's Sex and the City opening.
Nobody expects computer nerds to get giddy about satin pumps or the latest trends in foil highlighting. Leave the differential equations to the geeks and the eyebrow waxing to the so-called beauties, because if they try to swap, the results are not good — that's the kind of thing that makes Beauty and the Geek entertaining. For that matter, I don't even think the majority of men or many women care about that stuff.
But I do like to rail against the stereotype that women just can't gr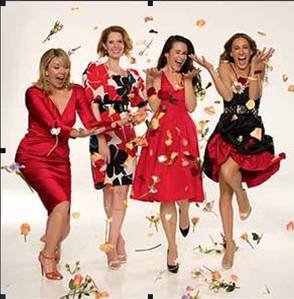 asp technology (or that geeky people can't also be pretty people, if they want to). So when I got an email from Ketchum PR this afternoon announcing an anti-Sex and the City promotion with Best Buy's Geek Squad, I decided to have a little fun.
The email started off with a typical publicity shot of the four Sex and the City ladies with the caption, "IF THIS PHOTO UPSETS YOU, READ ON." It followed by saying, "Sure Sex and the City will be adored by fanatic females that sip cosmos, adorn Manolos and look for their Mr. Big to get them out of credit card debt, but what about the unfortunate men that get dragged to this film?"
It went on to explain that Geek Squad agents will be handing out promotional packets at theaters in New York, Chicago and LA. The packets will contain four quarters and a list of excuses, so the geeks can run away to the safety of a video arcade. (Good luck finding that arcade, or an arcade game that runs for just four quarters!)
They also sent Geek Squad agents on the NYC "Sex and the City tour" to "become experts on the show." The video is pretty amusing:
Here was my reply. I hope geek girls everywhere are vindicated.
Your email message was more offensive than the photo — what about men who *like* Sex and the City, or females who don't like it, or the masses of well-rounded people who actually enjoy (gasp!) both their Manolos AND Mario Bros.? Can't I have my cosmo and play arcade games? And, incidently, I'll take Tony Stark to ease my debt over Mr. Big any day.

– Amy Kucharik, tongue firmly in cheek.
(In retrospect, I should have said that I'd rather be Tony Stark than have Mr. Big rescue me from debt.)
---
May 29, 2008 4:36 PM
When I finished up my taxes online some months ago I laughed a little when I saw a button that said "If you do not have an email address, click here to get your tax receipt mailed to you." I found it ironic because someone tech savvy enough to complete their taxes online would almost have to have something as basic as an email address.
I tried imagining the type of person who would have to click on that link. "Who in this day and age does not have an email address who uses the Internet?" I thought.
Although I'm embarrassed to admit, I couldn't help but think of someone of an older generation. A thought persists that those who have not grown up around technology are somehow out of touch with the modern world. It seems everyone has a great aunt or uncle who refuses to go online, has been taken in by a phishing scam, or at least is still stuck using dial-up.
From my own experience I know plenty of recent retirees who have not only used computers during their careers but are more tech savvy than myself. So who would have to click on that link?
Not long after I asked this question did I receive a phone call from a long lost pal. We met up and reconnected, and despite the differences between gender, geography and race, the only time I felt disconnected from him was when he told me he could count on one hand how many times he had ever even been on the Internet.
Needless to say he did not have an email account. He was not over the age of retirement. He was not Amish. He had nothing against computers or technology. This person was 24. It blew my mind how someone my age had barely even surfed the Web, let alone been without an email address. Come to think of it, I think he was one of the last few in Generation Y who had a land line and no cell phone.
So I found examples of those close to me who had overthrown the statistics and stereotypes. When it came down to it age didn't tie directly to one's amount of tech-savviness or lack thereof, but I wondered whether being technological made someone more connected not just with society but with other people.
---
May 20, 2008 7:58 PM
Either it's wishful thinking or some keen insight. Yesterday Eric Savitz, the west coast editor of Barron's, speculated that Cisco Systems might try to buy storage giant EMC Corp. He wrote that Paul Wick, manager of the Seligman Communications and Information Fund, a tech industry investment fund, told him that Cisco is overdue for a megadeal and that EMC is a perfect target.
A Cisco-EMC deal would probably lead to a big day on Wall Street, so it makes sense that the investment world would float such a rumor. Heck, it might even get the two companies talking. Perhaps Cisco CEO John Chambers and and his EMC counterpart Joseph Tucci read Savitz's piece yesterday and have booked a TelePresence chat to toss the idea around.
Regardless of whether Cisco and EMC might take it seriously, many blogs in the tech universe are atwitter about the idea and for good reason. Cisco has $24 billion in cash, which is probably enough to grab EMC, with a market capitalization of around $35.5 billion.
Cisco has made no secret of its interest in transitioning from a networking vendor to an overall IT vendor. Buying EMC would make Cisco the leader in enterprise storage technology. It would also have a controlling interest in EMC software subsidiary VMware, the leader in virtualization, and RSA, EMC's powerful security division. Cisco executives speak openly about the company's interest in expanding its market position in both the virtualization and security industries. And Cisco already owns a a 1.5% stake in VMware.
Savitz says his source has no idea if such a deal is even being discussed between the companies, but Cisco has the cash to spend. It has set ambitious growth goals for itself, even though it's already the dominant market leader in its core business – routing and switching. And EMC stock has been stagnant for awhile now (other than a brief boost late last year when VMware had a highly-publicized IPO), much to the consternation of its shareholders. A Cisco deal would no doubt cheer up EMC investors.
The question is – Is this good for the industry? Investors might like the deal, and it makes a whole lot more sense than a Blockbuster-Circuit City marriage. But how would the merger be handled? Would the world's biggest networking company be capable of managing the world's biggest storage company? How would a such a deal affect smaller players such as VMware, which has clearly benefited from a hands-off approach by EMC executives? Sometimes $30-to-$40-billion tech industry mergers don't work. Just ask Dan Hesse, CEO of Sprint-Nextel.
---
May 16, 2008 5:24 PM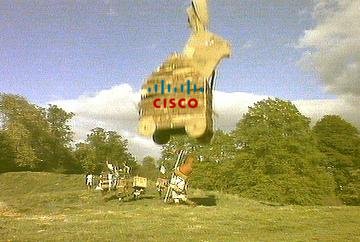 So it's not exactly breaking at this point, but scary nonetheless: The FBI's Operation Cisco Raider has led to a number criminal cases involving counterfeit Cisco products bought by military agencies and contractors, according to the New York Times.
What's so worrisome? Knockoff handbags and even iPhones aren't a direct security threat, but fake Cisco routers might be, as the Times reports:
The potential threat, according to the F.B.I. agents who gave a briefing at the Office of Management and Budget on Jan. 11, includes the remote jamming of supposedly secure computer networks and gaining access to supposedly highly secure systems.
Cisco says we're safe this time, and the counterfeiters' motives are a little more pedestrian:
"We did not find any evidence of re-engineering in the manner that was described in the F.B.I. presentation," said John Noh, a Cisco spokesman. He added that the company believed the counterfeiters were interested in copying high volume products to make a quick profit. "We know what these counterfeiters are about."
Today, it might (hopefully) be about making a quick buck, but an Ars Technica article underlines some of the Pentagon fears about of so-called "Manchurian chips":
There is no question that the technological infrastructure in the United States is under siege. We have seen a steady litany of attempted intrusions originating from abroad, most likely perpetrated by a mix of foreign governments and organized crime groups. An emerging concern is that the same agents behind those cyber-attacks could also have access to the chip fabrication facilities that make the components used in US military technology. Researchers say that virtually undetectable kill-switches and backdoors can be built into any of the countless integrated-circuit chips used in mission-critical military hardware systems.
So what can you do to make sure your own equipment is genuine? Not a whole lot, it appears. Amy browsed some forums for tips, but the best we could find was the old consumer adage: If a deal looks to good to be true, it probably is.
---