---
April 23, 2009 5:51 PM
This week Cisco announced a bunch of new cloud-based security and collaboration products, including a new cloud-based intrusion protection system (IPS) and Cisco ASA 5500 Series 8.2, with a new botnet traffic filter.  The company also announced that is re-branding the WebEx MediaTone Network, a series of eight data centers around the world that make up the WebEx cloud, as the Cisco WebEx Collaboration Cloud.  This cloud network now offers enterprise IT departments policy control over WebEx meetings, empowering IT to set policies about desktop sharing and file transfers. It also offers global load balancing and intelligent routing, making sure that users enter the WebEx cloud through the best ISP to the most convenient and least taxed data center in the network.
However, what caught my eye in this series of announcements was a new WebEx blade device designed for the ASR 1000 router series. The WebEx Node for ASR 1000 basically transforms Cisco's ASR 1000 router into a node on Cisco's WebEx cloud.
Here's how it works: Let's say a company wants to hold a WebEx training session for 500 employees. In the old days, each of these 500 employees would log onto WebEx individually across the wide-area network (WAN). With the WebEx Node blade, the ASR 1000 router acts as a broker between the users and the WebEx cloud. The blade establishes a single session with the WebEx cloud. The 500 employees connect through the corporate firewall to the ASR 1000 router and the router connects to the WebEx cloud. By having just one connection to the cloud, shared with hundreds of employees, an enterprise can reduce the amount of bandwidth consumed. This will be especially handy when a company wants to stream high-definition video or send voice-over-IP and/orlarge data sets through WebEx. Companies will avoid WAN bottlenecks and employees will enjoy a better user experience.
April 23, 2009 4:29 PM
Broadcom is making a $764-million hostile takeover bid for Emulex, a manufacturer of storage networking infrastructure, such as host bus adaptors and I/O controllers. Broadcom, a maker of wireless and wired networking semiconductors, appears to have Emulex's emergent Fibre Channel over Ethernet (FCoE) converged network adapters in its sites.
Cisco, Brocade and other networking vendors are evangelizing the concept of converged Ethernet for data centers, where storage and data networks are converged on a single network fabric. FCoE is a key element of this movement.  If it takes off, convergenced Ethernet could reduce the number of network connections on servers and simplify data center networking in general.
If Broadcom succeeds in grabbing Emulex, it would be well-positioned to produce the semiconductors that enable this new networking paradigm. Emulex leadership, however, seems uninterested in selling out to Broadcom. Broadcom first approached Emulex about a merger in January, but Exmulex said 'No thanks."
---
April 9, 2009 5:55 PM

Profile: Michael Morisy
Working on my story about learning games and the launch of Cisco Mind Share, I couldn't help but think of two other games I'd been pitched by vendors recently, one by NetQoS and the other by Cisco itself.
The former, Network Rockstar Challenge, was a Guitar Hero/Rockband-themed Flash game with some nifty production values: Professional voice over, slick art, the whole nine yards. They even give you two characters to choose from, complete with backstories and multiple outfits.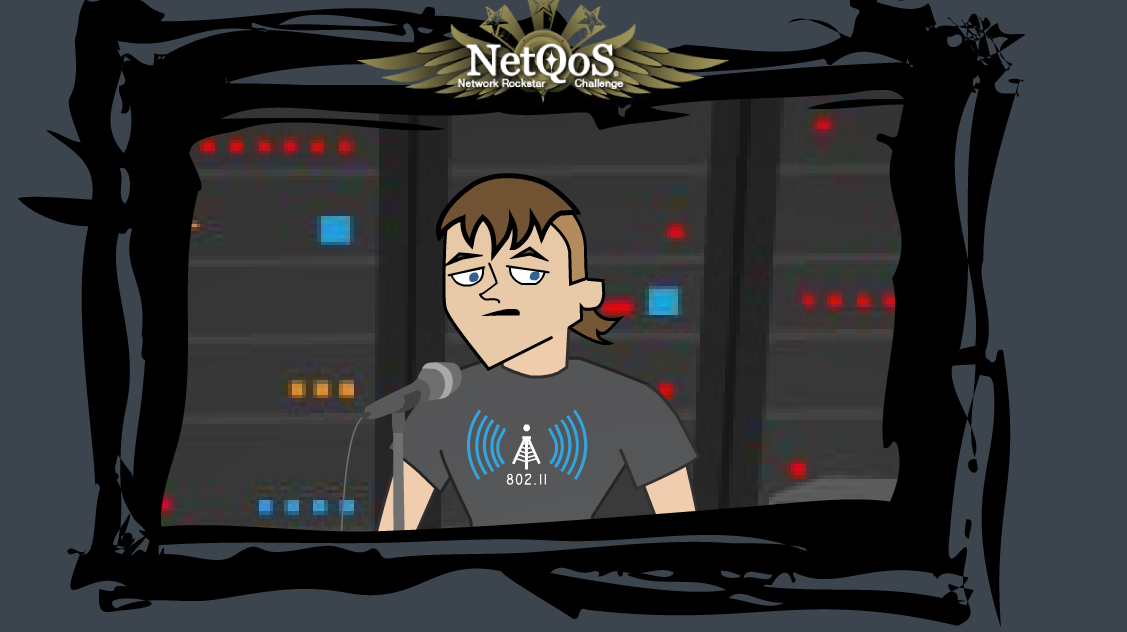 The long sound loading time and rock star trappings had me hoping for a network-themed rhythm game, but in the end it was a pretty standard 10-question quiz show. So much for my dreams of binary beat boxing.
Cisco's Edge Quest 2 has you pilot an ASR 9000 Series Router around 5 white rails, picking up green IP packets and network disruptions, which look just like IP packets but are red.
If you're curious, you can check out a somewhat chiding video review of the game's precursor, Edge Quest 1, at Network Performance Daily, which is oddly enough owned by … NetQoS. Or better yet, play it yourself at Cisco's website.
While both are priced right for this economy (Free!), user comments make me wonder how much time networking professionals are really interested in spending on corporate-sponsored timewasters, particularly if they're worried their jobs are on the chopping block.
As Erick Parsons, a networking professional, wrote back to me:
I'm still in class doing the CNAMS curriculum and am quite busy with that and work. When I catch up on ACL's and test for that (my first priority at the moment) I may find time to get to the mindshare game. […] I've only the demo right now and haven't had a chance yet to install it.
The game-vertisements lack much educational value, while longer games seem to be asking for too much of a commitment from some users. What's a bored keyboard jockey looking to better himself to do?
Maybe there is hope. The most fun I had was actually with another Cisco mini-game, the Binary Game. Your task is to knock out rising rows of binary equations by calculating their value. There's some handy guides and while I'll stick with my base 10 system, thank you very much, it strikes a great balance between learning and semi-mindless Flash game fun.
Games Networking Pros Play:
Have any more games to add to the list? E -mail me or leave a comment below!
---
April 6, 2009 3:50 PM
D-Link, a vendor of network and storage hardware for small and midsized businesses, announced last week that it will begin offering full lifetime warranties on its xStack switch line. This warranty applies to any switches bought on or after March 31, 2009. D-Link competitor Netgear also provides lifetime warranties on its switches.
Looking up the vendor food chain, HP ProCurve has been offering lifetime warranties on its hardware for a long time, and it extended that lifetime warranty to wireless LAN vendor Colubris when it bought that company last year.
In this economic climate, I wouldn't be surprised if other networking vendors introduce this kind of investment protection as they try to hold onto market share or attempt to steal market share from leading vendors like Cisco.
---
April 3, 2009 6:41 PM
Congratulations to our Cisco certification product giveaway winners:
Sailingswede
Kuroiinu
ITM
Jimbarino
Mukul
Smasiello
Maji
Indytex1
Criggl001
B3nny0
And thank you all for participating! You may have noticed that two extra winners made the list. This was because SearchNetworking.com's IT career and training expert, Ed Tittel, wanted to pitch in the two extra CCENT 640-822 Network Simulators left over from his previous contest: Cisco Press Supplies the Prizes, I Decide Who Gets Them!
Like his previous contest, Ed got to decide who our contest winners were. If you'd like to know how he decided, here was his method and message to all seeking certification:
Dear contestants,

I alphabetized the list of names, then rolled dice to randomly walk the list of unselected names to pick the winners. If you don't like the results, please rail against the laws of probability, not me!

What I noticed in the commentary from everybody is a renewed focus on the technical side of work, and a desire to improve upon your skills and knowledge bases. If you keep this up, it may not make much difference in the short run while our economic crisis works its way through the financial and other systems. But in the long run, self-improvement nearly always leads to improved employment situations and circumstances as well. Good luck with your exams, and with your career development paths.

Best wishes,
Ed Tittel
---
April 1, 2009 4:16 PM
As I was walking the floor of VoiceCon's exhibition hall today I noticed that Brocade had a rather large booth at the show, with quite a few sales guys patrolling the perimeter.
And I didn't see the word Foundry anywhere.
I asked one Brocade rep what a company known best for its storage networking products was doing at VoiceCon. He explained that Brocade was in town to promote Foundry switches as a platform for supporting IP telephony.  Brocade bought Foundry last year and Foundry has had booth presence at VoiceCon in the past.
But there's no trace of the Foundry brand at the booth. Just Brocade. It looks like I'll have to stop referring to them as Brocade/Foundry. The Brocade rep said all Foundry products will be branded as Brocade switches for now on.
I haven't heard much from Brocade since it bought Foundry, and I've been wondering about how the merger has been going. It looks like it's moving forward with a single Brocade brand, so customers better get used to referring to their Foundry switches and load balancers, etc., as Brocade boxes.
---
March 30, 2009 8:18 PM
Although Microsoft Conficker/Downadup infections were not a major threat a couple months ago, sources ranging from Brink to The New York Times (Computer Experts Unite to Hunt Worm) say that on April 1, 2009, the worm will be  programmed to run a mystery doomsday attack.
For those unfamiliar with the threat, it has been considered the biggest botnet ever. According to Microsoft's Malware Protection Center, on March 4, 2009, a peer-to-peer (P2P) mechanism has been added to the latest iteration of the worm — making this the fourth evolution (Conficker A/B/C and now D) since October of 2008.
No one knows exactly what the worm will do on April Fool's Day, as much Conficker disaster speculation abounds. While some guess it will bring down the Internet, such a feat would run contrary to the very nature of botnets. A network of viral computers usually send out spam — swindling victims out of money. If the Internet were down, whoever started the threat wouldn't make money. However, using the zombie computers to ping a site at the same time to create a denial of service (DoS) attack would be much more likely. This would enable the creator to steal confidential corporate data (Source: ABC news "Conficker Computer Worm Threatens Chaos").
The good news is that if you haven't been infected by Conficker already, there's a pretty good chance you won't. Computers on your network that have legal licenses of Windows and up-to-date anti-virus software won't be subjected to the threat (Conficker, Downadup worm hype?). Take SearchSecurity.com contributor Eric Ogdren's Microsoft Conficker worm offers attack prevention lesson if you're worried.
If you're still worried, let's just hope then that the Internet Corporation for Assigned Names and Numbers (ICAAN)-bird gets the worm.
---
March 20, 2009 8:04 PM
In light of Cisco's Unified Computing announcement — and to coincide with the wrap-up of IT career and training expert Ed Tittel's Cisco Press giveaway, we thought now would be the perfect time to run yet another Cisco certification contest. In the event you missed Ed's contest, there is still time (until April 1) to redeem yourself.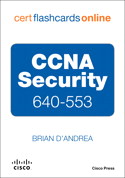 As it is the first day of spring, SearchNetworking.com would love to spring for your certification training material to help you in these tough economic times.
What type of material, you ask?
Six CCENT 640-822 Network Simulators
Two CCNA Security 640-553 Cert Flash Cards Online
Since these network simulators and flashcards are online, this means we can finally open up our contest to SearchNetworking.com members outside of the United States!
As IT Career JumpStart blogger, Ed Tittel, writes In today's job market, prospective employers want it all:
An abundance of candidates to choose from means that employers can become extremely selective about whom they'll bring on board to fill open positions…That means advanced degrees, serious certifications, and lots of direct relevant experience are what it takes to get through the door and on board these days.
If you find yourself lacking in any of these areas, now's the time to go to school, keep working (or volunteering if you don't have work), and start adding certifications to your resume. And we would like to do everything in our power to aid you with the certification process.
If you can follow these two steps, you can qualify to win the Cisco certification product of your choosing.

Contest Details:
First: Post to our blog (by clicking on the "comment" link at the bottom of this post) with responses to the following 5 questions:
What is your job title (if you are a student or not working just write "full-time student" or "unemployed")?
If applicable, what type of business do you work for?
What TechTarget websites do you use?
What do you use that site for?
What are your biggest work-related challenges?
Second: After you post your entry, send us an email so that we can contact you if you win. Make sure to include:
Your blog comment username
Your exam of interest (either the 640-822 or 640-553, but not both, please)
We're giving you until midnight of April 1 to respond. Contest winners will be chosen by Ed Tittel who will guest post for us on April 2 with the contest results.
Good luck to all, and thanks for participating!
---
March 20, 2009 7:52 PM
The pipes are getting bigger and bigger. This afternoon Infonetics Research published a new report claiming that the market for 10 Gigabit and 40 Gigabit Ethernet (GbE) grew by 47% in 2008 to $10.8 billion. These numbers include optical transport technology and shipments to both enterprises and service providers. Most of those port shipments were 10 GbE, the firm said, but 40 GbE port shipments nearly tripled in 2008.
Matthias Machowinski, Infonetics' directing analyst for Ethernet voice and data, said that 10 GbE port shipments in particular are driving overall growth in the Ethernet market. Enterprises are pushing to bring 1 GbE connections to desktops, which requires 10 GbE uplinks to the network edge. Because of this trend, 10 GbE port shipments grew by 78% last year, compared to overall Ethernet market growth of 2%.
The first pre-standard 100 GbE port shipments are expected to begin in late 2009. I'm already starting to hear from a few vendors about how they're going to position themselves for that.
---
March 17, 2009 6:37 PM
Yesterday was Cisco's big day. The networking behemoth ended months of speculation about its move into the server market by unveiling its Unified Computing System, codenamed "California." As I sat through yesterday's video conference helmed by Cisco CEO John Chambers, I kept waiting for the nitty-gritty details of the technology the company is introducing. Instead, I heard more than 90 minutes of chatter among Cisco executives and leaders from partners like VMware, EMC, BMC, Accenture and Microsoft about how well all these companies were working together to execute Cisco's vision. I was a little disappointed. The conference was much more conceptual than technical, and I think that's the way Cisco wanted the day to go. Cisco PR folks blitzed editors and analysts with fact sheets and press releases during and after the event, and there is a lot of meat in there. It just takes a while to read through it all.
Cisco's rivals, particularly its rivals in the networking market, are eager to offer their opinions on what Cisco is trying to do. Michael Morisy will take a deeper look into that with a story on SearchNetworking.com tomorrow. In the meantime, here's some of the feedback I've received from them over the last 24 hours.
Juniper
First up is Mike Banic, Juniper's vice president of product marketing for Ethernet platforms. He notes that Cisco's event was more conceptual than technical because Cisco may have been forced to unveil this project a little early.
There was a rumor that this event was happening a lot earlier than [Cisco] had planned because of the article in the Wall Street Journal on California. It looks like that reporter had a lot of good facts. So they moved this up because they didn't expect anybody to get these details and they needed to slowly unfurl the story. They'd rather be telling this story when they have more details to share. i don't think they're really there. If they wante dto show us how they coulud simplify management [of the data center], they would demonstrate that. Otherwise, it's just words.
Banic offered a contrast between Cisco's approach and Juniper's approach to simplifying management of data centers.
[Cisco is] not suggesting anything new here. Simplified management of compute resources and networks is something vendors in this market have been doing for awhile, like HP and IBM and newer entrants like VMware. For us, it's very different from our strategy. We've focused on being network pure-play. The network is our strength. We're not going to wander into knew worlds like servers. We're focusing on connections. [Cisco] is going to perpetuate the multi-layer network model, whereas the Juniper vision is to have the whole data center network look like one switch. It will be multiple switches, but it will all look like one switch [in the management console]. We already have something like that with our virtual chassis switch. We can build a single logical switch for the data center. That's what Project Stratus is.
Banic also noted that Cisco's entry into the server market will further drive a wedge between it and traditional server manufacturers like IBM and HP, which Cisco has partnered with in the past. "Those vendors are in a better position and have more expertise and history with servers than we as a networking vendor. And we're in a better position to work with those partners, like IBM."
Brocade/Foundry
Brocade has been positioning itself to become a player in the data center networking market, particularly through its acquisition of Foundry Networks.  Elizabeth Walther, Brocade's senior public relations manager, offered me the following observations:
Cisco's approach to Unified Computing is not revolutionary. Many companies with extensive experience in solving complex data center issues are already working on solutions
Cisco's approach is likely to be very capital intensive up front, which will be a major obstacle in light of today's global economy.
The challenge at hand — the evolution of the data center to a dynamic, fully virtualized state — is extremely complex and should leverage open architectures and industry standards.
Her second point, that it might be expensive, is a valid point. But I think companies that are looking to transform their data centers in this way know that they will have to lay down money to do it. Also, Cisco isn't expecting broad adoption of this technology until four or five years out. By then (we hope) the economy should be rebounding.
Brocade is arguing that, despite Cisco's talk about using open industry standards in Unified Computing, the initiative will still involve too much proprietary technology. Brocade offered this official statement, which expands on that point:
A dynamic and virtualized data center holds the promise of many compelling benefits for end-users including increased server utilization, decrease in power footprint and more efficient operations in general. However, achieving this goal is a complex challenge that can be best tackled by a broad ecosystem of industry partners and not based on a proprietary, singular architecture of one company.

In contrast, Brocade is already helping customers address these challenges by integrating our networking solutions with a range of mature computing, management and storage technologies from some of the strongest companies in the world. These partnerships are leveraging open interfaces/standards, co-developed technology, and products that are available today, which will lower costs and maximize return on investment for customers.
Blade Network Technologies
Blade CEO Vikram Mehta echoed Brocade's position on Cisco's ideas of industry standards will lock customers into a "proprietary world" while locking out vendors like HP and IBM that are "trusted open systems suppliers." He said the standards in Unified Computing are tantamount too "standards with a C" as in Cisco.
Methta trashed Cisco's announcement in his own blog with 10 reasons why Cisco's Unified Computing won't fly. Here are three of them.
Unified Computing means standards with a "C." According to Cisco, converged data and storage networking requires Cisco's Data Center Ethernet (DCE), thus eliminating freedom of choice with a sole-source Cisco-only server and network. This puts at risk integration and interoperability with vast existing installations. The rest of the industry is working on an open approached called Converged Enhanced Ethernet (CEE) using IEEE's Data Center Bridging (DCB) standards.
It's more about packaging than true innovation. For example, Cisco's fabric extenders carry the same cost structure as switches, as they utilize similar switching silicon, physical interface components, and management processors. When compared to traditional switches – sharing management via "stacking" – the fabric extenders are another example of packaging, not innovation. The more costly data center infrastructure components – CPUs, RAM, and networking silicon – remain unchanged, except Cisco's prices are higher and – surprise, surprise – more Cisco gear is needed to control them.
Follow the money – into Cisco's bank account. Cisco's "California" server approach requires Cisco's Nexus 5000 switches that start at $17K for a bare-bones Layer 2 switch and significant premiums for adding Layer 3 and FCoE functionality, so the total cost of ownership will be similar to the cost of living in California.
I should note that Cisco said Unfied Computing does not require investment in Nexus switches. Cisco executives told me the uplinks from a Unfied Computing System can plug into any vendors switches. Of course, customers will get the best performance out of the system by plugging it into Nexus switches, which offer the "unified fabric" technology that Cisco is promoting with Unified Computing.
As I receive more input from Cisco rivals, I will post updates here.
---