---
November 11, 2009 7:26 PM
Without the pomp and circumstance of say a Cisco or a Juniper, Fujitsu launched a 26 port, super low-latency addition to its line of 10 GigE switches. Fujitsu's selling point?
"We pass packets fast and we pass them reliably," said Jim Preasmyer, director of sales and business development, Advanced Technology Group, Fujitsu Frontech North America.
"Our customers say that they plug the switches in and they just work."
Imagine that.
Fujitsu has actually been in the Ethernet switch market since 2005, and this latest switch – the XG2600 – joins a family of Layer 2 Ethernet switches that include 12 and 24-port 10 GigE models, as well as 12 and 48-port 1 Gb/10GbE models.
"Our engineers developed a low latency ASIC and then built a switch box around it," Preasmyer said.
Fujitsu is also selling on energy efficiency promising use of under 130 watts on the 2600 switches.
As for target markets, Fujitsu will aim for any large enterprise looking for the right switching architecture to support high performance computing and ISCSI or NAS. The company will target universities, content delivery companies, and others that depend on fluid applications flowing between storage, the data center and beyond.
November 7, 2009 12:59 AM
Networking teams are increasingly asked to provide internal Service Level Agreements (SLAs) – which are not easy to create or live up to. Implementing ITIL v3 strategies may make it easier to provide internal SLAs, but at this point ITIL is often more theory than it is practice in the enterprise.
At the Large Installation Systems Administration (LISA) conference in Baltimore this week, Carolyn Hennings, senior consultant at Windward IT Solutions, discussed how enterprises can make ITIL a reality and how to address the dreaded internal SLA.
---
November 5, 2009 11:28 PM
Network monitoring tools have grown over the past couple of years to meet the needs of networking engineers, but often nothing fits the bill quite like an open source tool that enables tailor-made configuration and parameters. Still, these tools can also lead network engineers to be mired in development.
For The Church of Jesus Christ of Latter-day Saints, using Nagios to develop open source network monitoring has led to cost savings and efficiency — along with a couple of challenges. This week at the Large Installation System Administration (LISA) Conference in Baltimore, Adam Augustine, talked to SearchNetworking about using open source tools for network monitoring.
---
October 29, 2009 2:12 PM
In a full scale offense against Cisco, Juniper Networks unveiled an ecosystem of new hardware components, a software strategy and a super-speed chipset — as well as plans for a partnership to release blade switches. Juniper's re-branding effort and new technology will officially launch today on the NYSE floor.
Central to the release is the software strategy that includes a revamped version of Junos OS (Junos SDK), the Junos Space application platform (with open APIs) and the Junos Pulse network client that will provide security and identity management, VPN control, and connection control.
The new strategy ultimately extends Junos from network devices to the layers of the network, enabling users to program applications into the very layers of the network, enriching services, optimization and control.
The Junos Trio chipset with so-called 3D Scaling technology will be delivered in modular line cards for Juniper MX Series, providing two to four times faster throughput than the competition — up to 2.6 terabits per second.
Beyond speed, the chipset runs on a new architecture based on a "Network Instruction Set Processor" with software on the device that can be customized for network behavior control rather than general purpose instructions, writes Tom Nolle, president of the CIMI Corporation in his Uncommon Wisdom blog. He continues:
In this respect, the chip is almost like an ASIC, but unlike an ASIC it's programmable at the primitive NISP-instruction level, so new features can be added right down to the instruction level. It's this architecture that accounts for the considerable improvements in performance, scalability, power efficiency, etc. that Juniper has demonstrated (through independent lab tests).
Juniper also announced a host of new partnerships that will bring it directly in competition with Cisco in the data center. The Juniper-IBM OEM will be extended, with IBM now selling Juniper's SRX line. Under the Dell-Juniper agreement, Dell will sell Juniper's networking equipment (it has a similar deal with Brocade) and the companies will deploy a common OS (JUNOS) and management platform.
As part of another partnership, Blade Networks will develop blade switches running on JUNOS.
---
October 29, 2009 3:23 AM
Ok, so Juniper spent A LOT of money unveiling its new logo Wednesday night. The networking company hung video signage over the front half of the NYSE, and took over the stock exchange floor with a gala that flowed with Johnnie Walker and shrimp.
But does the costly rebranding reflect the importance of this latest technology push? Depends on who you ask.
Juniper was still short on technology details, withholding the actual announcement until Thursday at the official launch. But executives milling about confirmed a super-powered Juniper chipset that one managed service provider at the event said would ensure huge amounts of transport to the millisecond.
That may be what Juniper is referring to with its new marketing tag: "The New Network."
Juniper insiders also confirmed the launch of an open API network-based application platform that will enable developers to spin their own apps all running on JUNOS, Juniper's OS that stretches across all of its networking and security products. One executive said Juniper "realized it needed a software strategy" but didn't want to "buy other companies to make that happen." An obvious swipe at Cisco.
If there is a data center equipment plan, it appears to come in the form of an OEM partnership which Dell announced Wednesday afternoon. As part of that agreement, Dell will sell Juniper's networking gear (it has a similar deal with Brocade), and the companies will deploy a common OS (most likely being JUNOS) and management platform. That could position Juniper to take on Cisco in the data center, but is still not the execution of the "data center vision" it promised last winter.
"They have a 'data center vision', but no real plan still," said Yankee Group analyst Zeus Kerravala, questioning where the news was behind all of the hoopla.
Kerravala also criticized Juniper for lacking a plan to deliver mobile data. Cisco bought into that strategy when it acquired Starent this month.
As for the rebranding – Juniper executives denied there was serious extravagance involved, and said it is all necessary.
"The company didn't have a marketing bone in its body before," said Juniper channel chief Frank Vitagliano. "This is perfect timing now that we are coming out of a bad economic time."
So while endless appetizer shrimp + Wall Street still equal excess amid a recession to some, a top Juniper marketing executive promised the company's brand re-launch was within the "typical marketing budget" … to which Kerravala responded, "What's typical?"
---
October 27, 2009 5:01 PM
Don't get your data center hopes up. Juniper Networks is still mum on the big announcement planned for Thursday — the one executives have called the most significant in the company's 12-year lifespan. But Forbes reported last week (based on a leak) that the big release is a new chipset that will double the throughput of any router on the market (read kick Cisco's butt).
The Juniper processors – dubbed Trio — will be launched alongside a new application server with open APIs for developers to create their own apps that sit on modules alongside some of Juniper's own, including a new bandwidth optimization function according to the article.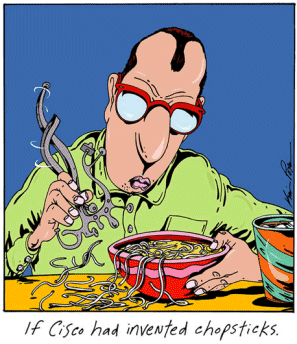 The cherry on the Sunday is yet another Juniper rebranding effort. Forbes got its hands on the new Juniper logo, which frankly is a little barebones in the pizazz department, though definitely not as strange as Juniper's old cartoon ad campaign, retired in February, that featured oddly misshapen engineers realizing Cisco had ruined their lives.
So is this all groundbreaking? Certainly beefing up the pipes to handle the ever-multiplying river of data crossing the net is crucial. And the speeds promised here are staggering. But whether this announcement is a game changer for Juniper remains to be seen. It's questionable whether companies can compete on speed and capacity alone when functionality and application delivery depend on so much more these days. It's also highly likely that competitors (yes, read Cisco again) will match the speed shortly.
Still, there may be plenty more to the announcement Thursday. We'll bring you as much detail as our capacity will allow.
---
October 26, 2009 7:05 PM
Extreme Networks, one of the smaller Ethernet switching vendors out there, has survived the recession so far, but its financial outlook has been dismal lately. Three weeks ago it Extreme warned Wall Street that its earnings would be down significantly for its first quarter, which ended Sept. 27. It's expecting earnings of $66 million, down from $83.5 million a year ago.
Now Extreme has hit the restructuring button has it tries to sail through continued rough waters. CEO Mark Canepa, who's been with Extreme since August 2006, has resigned. in order to "pursue other opportunities." He'll stay on board for a short time to help with the transition.
CFO Bob L. Corey has been named acting CEO as the company looks for a permanent replacement.
Extreme also laid off 70 people, about 9 percent of its workforce, in order to reduce quarterly operating expenses by $2.5 million.  This is part of an effort to make the company lean enough to break even with $70 million in quarterly revenue.
No details are available on where the layoffs came from within Extreme.
---
October 23, 2009 9:32 PM

Profile: Tessa Parmenter
When I first joined SearchNetworking.com I ran a survey asking you what the No. 1 security threat was in your industry. Your responses impressed me; even to this day I get haunted by the survey results: Across every vertical, a wild majority of networking professionals considered their own users to be their No. 1 network security threat.
Although these were findings from three years ago, the one thing that hasn't changed on the network is that people are still on it. No matter how technology changes, your users will be there. They necessitate a network, yet break the security of it. Why? There are all sorts of reasons, some of which you can resolve.
How you ask? Our network user management guide explains. In it we highlight several problem user scenarios, from the make-it-so CEO to the Internet novice who doesn't know the difference between the Internet and their website (yes, that was a The Website is Down reference). In these user profiles we determine their network threat level and how to mitigate their bad network behavior. But nothing could cover every user scenario. If you have a way of dealing with the 8th layer of the OSI model — people — let us know!
---
October 22, 2009 6:38 PM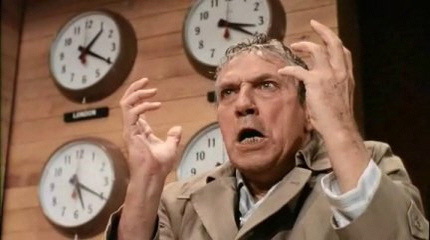 This is a story of a small-time vendor who, after years of being stepped on by a billion-dollar analyst firm, throws open the windows of its San Jose office and screams, "I'm mad as hell and I'm not going to take it anymore."
The question is, will anyone else join them?
ZL Technologies, an email archiving company who has languished in the niche corner of Gartner's Magic Quadrant for four or five years, is suing the analyst firm for $1.6 billion, claiming defamation, trade libel, unfair competition and negligent market interference, etc.
Gartner contends that it has a First Amendment right to express its opinions on technology markets. It's hard to argue with that.
As I have mentioned before, there are many people who dislike Gartner and its influence over the IT industry and claim that its Magic Quadrants are more about who you know and what you spend with Gartner than the quality of your product and your company.
My colleague Mark Fontecchio did a nice job of collecting some reaction to this lawsuit from the people who matter: IT decision makers.  It's clear that for all the ridicule that bloggers, out-of-favor vendors and competing analysts heap on the Magic Quadrant, the market measuring tool still has significant influence over buying decisions. One IT veteran said the Quadrant represents about 20% of the decision-making process while another said a CIO should always review a Quadrant with his CEO before buying a product.
IT executives have a fair amount of skepticism about the Quadrant but they still rely on it to some degree. Every time I write about one, the page views come pouring in. Cisco might be the leader for the 100th time in a row for enterprise Ethernet switching or wireless LAN, but everyone still wants to know the nitty gritty about the Quadrant.
So what could Gartner do to reduce criticism? Well, how about more disclosure? Exactly how does that magic box get drawn up? Maybe the mathemtaical model should be disclosed. How much money does each vendor on the Quadrant spend with Gartner?  How many hours has the analyst spent with each vendor? How many customers of each vendor were consulted? These are facts that inquiring minds want to know.
---
October 21, 2009 9:32 PM
Juniper Networks is planning a huge technology announcement next week. So big that the company has invited press to a gala Wednesday night and then a day packed with a press conference in the morning and executive break-out interviews all afternoon Thursday.
The company has pre-briefed every analyst in sight and clearly plied them with drinks, money or … something … because none of them will drop the dime on the announcement either.
What is clear is this: This announcement had better be data center related. After all, last February, Juniper announced it was working on the Stratus Project – a data center initiative meant to combine storage, compute, switching and networking all on Converged Enhanced Ethernet (CEE). But the announcement included no specific product details or actual release dates.
It appeared that Stratus was a slap back at Cisco, which "leaked" news of its upcoming blade server and Cisco Unified Computing data center architecture just a month earlier.
The thing is, Cisco followed swiftly (in March) with actual product announcements and release dates.
Juniper's non-announcement frustrated those in the networking community so much that one reader on NetworkWorld's Cisco Subnet Blog, wrote in:
"Juniper doesn't have anything or they would be releasing it! They got caught holding their imaginations and have no where to turn. 'I have a super special architecture that will crush all others, will blow your mind, run all OS's, run terabit Ethernet, and make coffee in the morning. Due out 2013.' Give me a break, its like little children on the playground."
That may have been a bit harsh, but it's time for Juniper to come forth with a solid data center plan if it really wants to be competitive. Since Juniper said that Stratus was meant to be an architecture that would be built on a number of vendor partnerships in combination with its existing technology, this very cryptic Juniper press invitation does lead one to believe the hoopla is, in fact, about the data center after all.
"This will be the company's most significant event in their 12-year history and will be hosted by Juniper's CEO, Kevin Johnson. The company will be unveiling new hardware and software products, new partnerships and new go-to-market programs as part of the event."
 Juniper set the stage, now it's time to put on the show. We'll be there to let you know if that actually happens this time around.
---