---
January 29, 2010 4:50 PM
For those of you who don't have a full-fledged network configuration and change management (NCCM) system, Solarwinds released a free tool this week that could make your lives a little easier. It's called Network Config Generator.
Here's a video where a couple of guys from Solarwinds showing how the product works.
Basically, this tool works like a configuration wizard. You enter the parameters you want for the configuration of a class of switches, routers, etc. The tool takes this information and outputs a configuration template in   Command Line Interface (CLI) code, which you can then cut and paste into the CLI consoles on any of your network devices.
It doesn't scale that well. If you want to configure 100 switches, you have to cut and paste the CLI it into each one. But if you have some sort of network configuration management tool, you can probably drop these templates into that. Solarwinds, of course, is suggesting you use its Orion Network Configuration Management tool to apply these templates across your network.
Also, if you go to Solarwinds' online community for customers, Thwack.com, you'll find that Solarwinds customers are sharing their own configuration templates generated by Network Config Generator. You're free to grab them and tweak them as you like with this free tool.
January 25, 2010 5:26 PM
We've heard all of the reasons why enterprises will move toward a cloud computing model (for networking read: less network to manage for better performing apps and accessible storage, plus simpler architecture). But there is very little talk about why networking teams (and their systems counterparts for that matter) are not likely to coax CIOs to go into the cloud anytime soon.
"If you are the network architect for a big company, you're not going to architect yourself out of a job," says researcher and analyst Kevin Tolly. "Who's going to say: 'We can save the company money by going to a cloud and then you can fire me?'"
If you believe, as Tolly does, that cloud computing will deliver on its promises (though we see a lingering "if" considering all of the security and management issues that abound), it's just as likely that network engineers will architect themselves into different jobs rather than no jobs.
Cloud computing proponents envision returning to a flat network that will cut out the aggregation/distribution layer, directly connecting access to the core. But that brings with it a host of problems that networking engineers will have to solve, including routing and management challenges.
But more importantly, network engineers will have to both build internal clouds and then inter-network enterprise and public clouds for a hybrid strategy.
Arista's Douglas Gourlay has this to say about it: "Cloud computing architectures, whether public or private, or frankly 'virtually private' (private cloud extending into public infrastructure with enterprise control and trust established) will need a set of networking systems and architectures," he wrote when he was still at Cisco. "As James Urquhart told me once, 'you can move the servers to the cloud, you can move the storage to the cloud, but you still have to connect to the cloud.'"
One thing is clear, until networking engineers figure out where they will fall in this transition to the cloud, they are likely to push against the change. The problem is, that won't work for long.
---
January 22, 2010 11:00 PM
Cisco Systems got word earlier this week that the IP router it launched into space in November passed its first networking test — it works.
Using Cisco's IOS platform…
The in-orbit test was conducted using SEAKR Engineering Inc.'s Application Independent Processor (AIP) which was used to host the router and software-defined radio functions necessary for on-board routing, enabling satellite routing capabilities to be reconfigured and updated dynamically from the ground.
The way I see it, all of this means one of three things:
As TorrentBomb speculates, it's Cisco's next step toward global (or perhaps intergalactic) domination.
Since the router is radiation-proof, we can confidently add Cisco routers to things that will survive the apocalypse (behind cockroaches and Twinkies).
Even in space (following aforementioned apocalypse), you will still inevitably be stuck next to That Guy who doesn't mute his iPhone email alerts.
According to Cisco, the move is just a small step in its Internet Routing in Space (IRIS) project.
They say the goal is to "route voice, data and video traffic between satellites over a single IP network in ways that are more efficient, flexible and cost effective than is possible over today's fragmented satellite communications networks."
Sure it is. Next they'll tell us there was only one gunman involved in the JFK assassination.
---
January 13, 2010 4:33 PM
Cisco's move to restructure its Asian operations is a clear sign that the HP-3Com acquisition has lit a fire under the router king's you know what. It's also yet another vote of confidence in the Chinese technology market.
Cisco's restructuring plan announced this week will involve the creation of a separate Greater China Theater that will include China P.R.C., Hong Kong and Taiwan, formerly all part of the Asia Pacific Theater. The remaining Asia Pacific countries will remain their own theater and Cisco's Japan operations will continue to be its own theater.
Cisco must do whatever it takes in China to hold down core networking considering 3Com controls 32% of that market — a percentage that will jump once the HP-3Com acquisition is finalized. In fact, many speculated that the 3Com acquisition was solely a geographic move maneuvered by HP specifically to kick Cisco the one place it hurts.
On another note, Cisco and HP will hold partner summits on the same day in different cities — never mind the fact that the companies have tons of cross-certified partners. After all, the former friends were once known for their cross-selling incentives.
And so the Cisco-HP battle ratchets up.
---
January 12, 2010 6:23 PM
Free education? What a concept. Packet Life blogger extraordinaire (also a network engineer) Jeremy Stretch has built a community lab that enables users to experiment with a host of networking devices.
The Packet Life Community Lab can be used for six-hour stretches to play with Cisco 1841s, 2811s, Catalyst 3550s, and ASA 5505s.
Users access the lab via Telnet and SSH sessions that are bridged directly to the physical console of each device by an Opengear CM4116, an open source console manager.
A full topology documentation of the lab is available on the Packet Life blog, as well as a behind-the-scenes look at the lab. While Packet Life Community Lab is completely free to users who register, donations to support the lab are accepted.
---
January 11, 2010 4:17 PM
The Channel Insider reports that Cisco is struggling to fill orders for core networking products after enterprises started buying products in greater numbers at the end of the year. In an official statement, Cisco told the web site that its suppliers are struggling to deliver to Cisco "based upon their labor and other actions taken during the downturn." Apparently Cisco is dealing with a shortage of the raw material used to manufacture semiconductors and other basic components of its switches and routers.
A similar supply chain crunch struck the wireless LAN industry last fall when a surge in orders for 802.11n enterprise wireless LAN gear caught many vendors off guard. Aruba was forced to push back a product announcement by a week, due to this shortage.
Now Cisco is dealing with its own unexpected surge in orders, and its supply chain is struggling to deliver.
Cisco helped create this supply chain disruption, according to Jerald Kolansky, of the consultancy Gerson Lehman Group and a former executive with semiconductor firm PLX Technology. Kolansky wrote on his firm's website that Cisco cut orders for supplies drastically in the fall of 2008 with little warning for its suppliers. This forced suppliers to make drastic cutbacks of their own and they are now struggling to ramp up production again. Kolansky wrote:
Firms such as Cisco have reaped what they sowed. If they had been more willing to share the pain and in fact had not overreacted in cutting orders they would not be in the situation they are in today.
---
January 8, 2010 7:40 PM
National unemployment remains at 10% (officially), but if you include people who are underemployed and who have given up looking for work that number is actually at 17.3%. Not pretty.
But Foote Partners LLC, the IT workforce management consultancy, points out that the country has experienced four consecutive months of growth in the IT jobs market (PDF).
On its face, that sounds nice. Four months of jobs growth? The country would love to see something like that for all job categories. However, Foote notes that the country gained about 7,600 IT jobs in December. That's not exactly an explosion of opportunities, but it is a flicker of hope.
Despite this job growth, it doesn't look like IT departments are actually hiring. Foote notes that the Department of Labor stats are showing the most growth in two categories: "Management & Technical Consulting Services" and "Computer Systems and Design and Related Services." This implies that the companies are bringing in consultants, contractors and managed services rather than adding new employees.
---
December 23, 2009 5:17 PM
While we're all twiddling our thumbs and waiting for Jan. 19 — when Avaya will announce which of Nortel's acquired unified communications products are staying and going — there is still plenty to chew on about the official closing of Avaya's buyout of the bankrupt telephony giant.
Despite analyst predictions to the contrary (oops — sorry, Zeus, we spoke a week too soon), Avaya will be hanging onto Nortel's data networking business as part of the UC vendor's strategy of "rewiring itself to be a fit-for-purpose company," said Todd Abbott, senior vice president of sales and marketing and president of global field operations, in a briefing Monday with SearchNetworking.com.
Branch offices getting outfitted for Avaya integrated voice solutions wouldn't need to involve a second vendor to buy the networking gear that goes along with such a deployment, he said.
"It was a strategic part of the acquisition. There are elements of the [UC and contact center] architecture that require a tight integration with data," Abbott said. "It is an enabler for UC and we will continue to invest in the product line."
OK, to be fair, Avaya didn't acutally say they're trying to compete with Cisco. In not so many words, they pretty much said the opposite:
"You're not going to find us in the carrier backbone networks. We don't need to be there and it's not a core element of the architecture … to deliver UC and CC [solutions]," Abbott said. "You're not going to see us expand the investment to be all things."
Where will they get the leg up? Maybe over UC/networking corporate cousins Siemens Enterprise and Enterasys?
Muddying the waters though is a little but important detail Network World's Tim Greene points out: Avaya will continue its partnership with Brocade and Extreme Networks. Little commentary on that so far in the blogosphere, but you've gotta imagine those guys aren't too happy with this.
---
December 11, 2009 7:42 PM
A new wireless standard that outpaces 802.11n in speed by tenfold — but at a much shorter range — was approved by the Wireless Gigabit Alliance this week.
The Multi-Gigabit Wireless Specification or WiGig 1.0 works on the little used 60 GHz band and supports data transmissions of up to 7 Gbps. But the technology creates only a 10-meter range wireless network – much smaller than the 100-meter network enabled by 802.11n Wi-Fi.
The technology can, however, be used with beamforming to automatically switch over to Wi-Fi at the 10-meter border, extending to a 100-meter network with throughput of 600 megabits per second.
WiGig 1.0 will likely be used for home entertainment and will be built into PCs, TVs, cameras and mobile devices. The technology will enable users in the same house to watch multiple streams of video in different rooms. It is possible that the technology will be used to supplement 802.11n to provide video over WLAN in a multitenant environment, which could include universities and enterprise scenarios.
Devices using the standard are expected to be available in Q1 of 2010.
---
December 9, 2009 3:30 AM

Profile: Tessa Parmenter
After watching this video on how to pick a tubular Kensington lock with a toilet paper roll, I had some serious doubts about my laptop's safety:
Had I watched this video when I forgot the keys to my Kensington MicroSaver Alarmed Computer Lock — generously given by CableOrganizer.com for review — I might have saved myself from disassembling an office desk with a screwdriver. Let me explain…
The laptop locking gaffe
Being a remote worker left little opportunity for me to truly test the Kensington MicroSaver Alarmed Computer Lock. Sure, I could see how my laptop looked chained to my home office desk, but that wouldn't have made for a very exciting blog post.
Shortly after I received the lock in the mail, did I coincidentally take a trip from the U.S. to the U.K. to put it to the test. Packing proved that the wire of the Kensington lock is not very flexible; you have to really work at coiling it up to fit it in small spaces. For those traveling, I'd recommend either not fitting it in small places or quickly wrapping it up with a few twist ties before it springs back on you.
***
When I set foot in the U.K. office, I was given the go-ahead to occupy the desk of a man who was absent. I started a file transfer over my corporate VPN towards the end of that day, in what seemed like minutes before my ride back to the hotel rushed into the room demanding I leave now.
"I can't go," I said.
They scratched their head.
"My progress bar says there are two more hours left for this file to transfer, and I need this downloaded before tomorrow morning," I explained.
They clearly weren't going to wait for me.
"Could I leave my laptop here?" I pleaded.
That was fine with them, and just as well for me since it gave me the chance to legitimately test my Kensington lock for review. I threaded the lock between a leg panel and table top — half-hoping the late-working employees or maintenance men would try to take it over night. Would anyone tamper with it? Would I hear the alarm sounding outside the brick walls of the building the next morning?
***
When I arrived the next day, it's what I didn't find that started the panic. I walked into the office to find the desk already occupied. The man (who didn't know I was borrowing his space) was already working at his desk next to my laptop, which was locked to his table. Imagine my face when I obligingly went to his desk to remove my laptop only to realize I had left the keys miles away at my hotel!
After some debate, and nervous laughter on my part, one employee said we should take the desk apart. It was a three-man operation: One person did the unscrewing; another held the desk panel as it fell; another held the table top so that it, too, wouldn't fall. Once the bolts were unscrewed, the man under the desk un-looped the lock from its offending location, and back together the desk went.
Attempting to pick a Kensington lock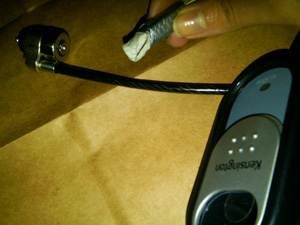 It wasn't until I returned to the states weeks later that I discovered the video. I had to try hacking it of course, but the lock wouldn't open. I blamed it on having an inferior toilet paper roll (if there is such a thing), or my lack of utility tape. I first tried with scotch tape, then started over using duck tape. Every time I attempted to pick the Kensington lock, I ended up with a mutilated piece of cardboard (shown right).
Maybe the Kensington MicroSaver Alarmed Computer Lock has better security than the one in the YouTube video — or maybe I lack the lock-picking finesse of the demonstrator. Either way, it brought me to a broader conclusion of laptop security.
Secure laptops like you would your network
A security expert once told me there's no such thing as perfectly secure data. If you wanted zero risk of data being stolen, you would have to keep your data off networks altogether. Network security offers prevention and protection methods — but they won't be 100% safe.
That's why security needs to come in layers. Enterprise network security expert Michael Gregg explains the concept of network security defense in depth in this expert response. Just as your network can't have only a firewall, or only anti-virus, your laptops need defense in depth to slow down corporate crackers. Password protect laptops; add laptop tracking software; figure out stolen laptop recovery if it ever gets that far.
CableOrganizer.com talked about seven ways to prevent computer and data theft by using all of these physical computer security products:
a laptop lock
a USB fingerprint reader
a notebook privacy filter
an anti theft PC security stand
a laptop lockbox
a CPU security cabinet
While not each and every security product is likely needed for every laptop — the idea of securing in layers is essential to any network, laptop or mobile device.
---