May 19 2009 5:09AM GMT
Posted by:
Yasir Irfan
Tags:
I was just looking for Network Management Systems over the net and figured out Solar winds is webcasting a webcast about IP address space management and some best practices to make things easier. They will cover the following
When to use public vs. private IP address space

Complexities caused by private address space

What you really need to know about IPv6 today

Best practices for assigning and tracking IP addresses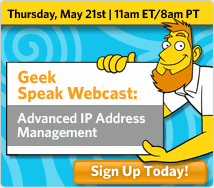 Topic: Geek Speak: Advanced IP Address Management
  Date: Thursday, May 21st, 2009
 Time: 11:00 am ET / 10:00 am CT / 8:00 am PT
So what are you waiting for Join them for their web cast on 21st of May, 2009. Register Now…..