Dec 30 2009 6:20AM GMT
Posted by:
Yasir Irfan

Cisco Devices
,
How to configure netflow
,
Netflow
,
NetFlow Configurator
,
Network Technologies and Trends
,
SNMP
,
Solar wind is offering a free Net flow configurator
,
Solar Winds
Netflow is an important tool and it has become an important factor especially when it comes to managing the network and vigilantly watching the bandwidth utilization.  Solar Winds designed a free NetFlow confrigurator which is the easiest tool I have seen, the Solar winds NetFlow confrigurator is capable of configuring the NetFlow v5 via SNMP on supported Cisco® devices. The free NetFlow Confrigurator also facilitates setting up collectors for Cisco NetFlow data, specifying the ports on which the collectors are listening, and enabling monitoring of inbound and outbound (ingress/egress) traffic data per interface.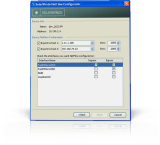 Here is a cool video from Solar Winds which demonstrates how to configure NetFlow in Cisco Devices.
 [kml_flashembed movie="http://www.youtube.com/v/rP_PvRbeQIM" width="425" height="350" wmode="transparent" /]