Jun 27 2009 4:24PM GMT
Posted by:
Yasir Irfan
Tags:
I started my career as a Structured cabling Designer, I am certified Systimax SCS guy, for me there is no better product than Systimax. I was literary addicted to the products from Systimax. I know Systimax since the days of AT&T, then Lucent Technologies, Avaya Systems and at this stage a Comscope company. No doubt Systimax SCS products are great. By it was my friend working as Area Manager R & M Saudi Arabia changed my perspective about R & M SCS products.
R & M happens to be Swiss cabling Specialist Company, which recently launched the new generation of its LC Duplex compact fiber-optic connector system. For the first time ever, this system has integrated laser protection and a lock for the connector. With these safety features, LC can now be used more easily in office buildings, residential buildings and highly com-pact computing centers.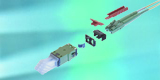 According to the press release from R & M
"A laser shutter provides integrated protection against laser beams, an international first in this product category. A flat spring in the adapter opens when the connector is unplugged and covers the fiber stub. No laser beam can escape from the adapter. Any danger of injury is therefore ruled out, allowing the LC to be utilized risk-free in publicly accessible applications such as Fiber-to-the-Desk and Fiber-to-the-Home. R & M  also offers a semi-transparent dust cap that enables the connection to be visually checked safely."