---
November 29, 2015 11:18 AM
CCIE
,
Cisco
,
Cisco Press
,
cloud
,
Internet of Things
,
Network
,
Network programmability
,
NFV
Cisco has announced a major revamp for their CCIE  and CCDE written exams, starting July 26,2016 Cisco will include a new section titled "Evolving Technologies". Except CCIE Data Center all other CCIE Lab exams remains intact. So those who will be appearing for CCIE and CCDE  written exam after July 26,2016 should master the following  Evolving technologies domain
Cloud
1.1: Compare and contrast Cloud deployment models
Infrastructure, platform, and software services (XaaS)
Performance and reliability
Security and privacy
Scalability and interoperability
1.2: Describe Cloud implementations and operations
Automation and orchestration
Workload mobility
Troubleshooting and management
OpenStack components
Network Programmability
2.1: Describe functional elements of network programmability (SDN) and how they interact
Controllers
APIs
Scripting
Agents
Northbound vs. Southbound protocols
2.2: Describe aspects of virtualization and automation in network environments
DevOps methodologies, tools and workflows
Network/application function virtualization (NFV, AFV)
Service function chaining
Performance, availability, and scaling considerations
Internet of Things
3.1: Describe architectural framework and deployment considerations for Internet of Things (IoT)
Performance, reliability and scalability
Mobility
Security and privacy
Standards and compliance
Migration
Environmental impacts on the network
Looking at the new topics, one can assume how important technologies like cloud, network programmability, Internet of things are. And these topics covers 10% of the total score. Cisco is ensuring that  evolving technology does play a vital role in coming days.  The new recalibrated  exam topics shown below are something which candidates need to focus on.
Written Exam Topics Used for

Testing BEFORE July 25, 2016

Written Exam Topics Used for Testing On

July 25, 2016 and Beyond

CCIE Routing and Switching
Existing exam topics version 5.0
Recalibrated exam topics version 5.1
CCIE Wireless
Existing exam topics version 3.0
Recalibrated exam topics version 3.1
CCIE Security
Existing exam topics version 4.0
Recalibrated exam topics version 4.1
CCIE Service Provider
Existing exam topics version 4.0
Recalibrated exam topics version 4.1
CCIE Collaboration
Existing exam topics version 1.0
Recalibrated exam topics version 1.1
CCDE
Existing exam topics version 2.0
Recalibrated exam topics version 2.1
CCIE Data Center
Existing written exam 350-080 and its corresponding exam topics will be available for candidates who are scheduled to take the test BEFORE July 25, 2016.
The new unified exam topics version 2.0 will be used for the new written exam (400-151) and lab exam and is recommended for candidates scheduled to take the test on July 25, 2016 or beyond.
I believe it's a welcome move from Cisco and I could see Cisco wants to capitalize the market by ensuring the new CCIEs are aware of these new evolving technologies at least at some extent. Also I expect Cisco Press will come out with the appropriate study guides and titles.
November 28, 2015 3:22 PM
Cisco
,
Java
,
Jitter
,
Latency
,
link
,
OpenStack
,
OpenVPN
,
TCP
Yesterday I received an email from Cisco VIRL about their new release of VIRL 1.0.0
Hello VIRL Family! Happy Thanksgiving (if you're celebrating!)

We are very happy to announce the release of VIRL 1.0.0 – a major upgrade release packed full of new features! 🙂
The VIRL team really surprised their customers with the release of new version especially when we are not expecting any major release from them.  The new  VIRL release 1.0.0 has some major changes , as Cisco VIRL is moving from Openstack Icehouse to Openstack Kilo. Those who have previous release of VIRL cannot upgrade to the new version. They must have received an email from Cisco with the download link for the new version as Cisco is also stoping the support for VIRL 0.9.293 on 25 December 2015.
The new release contains the following version
Openstack Kilo
VM Maestro 1.2.4 Build Dev-363
AutoNetkit 0.20.9/0.20.22
Live Network Collection Engine 0.7.20
VIRL_CORE 0.10.21.7
Platform reference model VMs included in the new release
IOSv – 15.5(3)M image
IOSvL2 – 15.2.4055 DSGS image
IOSXRv – 5.3.2 image
CSR1000v – 3.16 XE-based image
NX-OSv 7.2.0.D1.1(121)
ASAv 9.5.1
Ubuntu 14.4.2 Cloud-init
Linux Container images included in the new release
Ubuntu 14.4.2 LXC
iPerf LXC
Routem LXC
Ostinato LXC
Some of the new features which grabbed my attention are as follows
OpenVPN –  allows users to connect from their laptop to their VIRL server.
Link Latency, jitter and packet-loss controls – Users can now set latency, packet loss and jitter directly on the link.
Static TCP port allocation controls – Users can now specify the tcp port numbers they wish to when connecting to the console, auxiliary or monitor port of a particular node in their simulation.
Web Editor – User can run an ALPA release of topology design tool which can be run within a web-browser.
VM Maestro Java Runtime Environment bundled – Users don't need to install the java to use VM Maestro
VM Maestro active canvas
One can also capture  a packet in the newly released VIRL. More details can be accessed from the VIRL community portal.
---
November 26, 2015 4:41 AM
Administrator
,
Decryption
,
Ethernet
,
Firewalls
,
HA
,
Interface
,
LAYER3
,
Loopback
,
NAT
,
Palo Alto Networks
,
Security policy
,
tunnel
,
VLAN
We all know Palo Alto Network Firewalls offers quite flexibility deployment options, one can also deploy Palo Alto Networks in Virtual Wire or V-Wire mode. This is the beauty of Palo Alto Networks Firewalls , the flexibility it offers cannot be matched by some of the leading firewall vendors. Though other vendors offers the same feature  better known as transparent firewalls.
Virtual Wire mode can be deployed by pairing a set of two physical interfaces into a single set and in V-Wire mode one does not needs to assign either an IP Address or a mac address.  Virtual Wire is also referred to as a "Bump in the Wire" of "Transparent In-Line". By default certain Palo Alto Networks Firewalls comes with preconfigure Virtual Wire mode and Ethernet ports 1 and 2 are part of that default V-Wire.

These kinds of deployment comes very handy, especially when one does not wants to do any kind of  switching or routing  and simply wants to plug and play with the Palo Alto Networks firewall.  The biggest value Palo Alto Networks offers in Virtual Wire mode is, it supports features like App-ID, decryption , Content-ID , User-ID and NAT by using all these features one can certainly inspect the traffic passing through Virtual Wire and can apply the security policy. In upcoming  post lets configure a Palo Alto Firewall in Virtual -Wire Mode and see how it works.
---
November 23, 2015 5:24 AM
Administrator
,
Applications
,
Ethernet
,
Firewalls
,
HA
,
Interface
,
LAYER3
,
Loopback
,
Palo Alto Networks
,
tunnel
,
VLAN
In one my recent post we discussed what is TAP mode in Palo Alto Networks Firewall and the flexibility it offers when it comes to deployment.
I have a Palo Alto Networks Firewall 3050 connected to a Cisco Catalyst 2960 Switch and I am using the following topology to demonstrate TAP configuration. As you can see the Laptop is connected to Cisco switch on port no G1/0/8 and the Palo Alto Firewall is connected to Cisco Switch port G1/0/1 . We will configure a SPAN in Cisco Switch and our source will be G1/0/8 ( Laptop) and the  destination will be G1/0/1 ( Connected to Palo Alto Firewall). Basically we will monitor all the traffic from the host Laptop towards Internet. You can also configure RSPAN the principle remains the same.

Step 1
Lets configure SPAN in  Cisco Catalyst Switch using following CLI commands
monitor session 1 source interface gigabitEthernet 1/0/8 both

monitor session 1 destination interface gigabitEthernet 1/0/5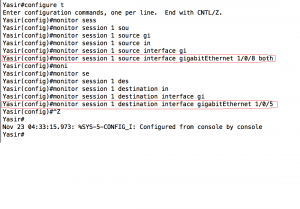 Step 2
Configure  Ethernet 1/5 as TAP mode by  going to Network -> Interface -> ethernet1/5 -> Interface Type  and select Tap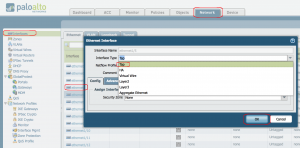 Step 3
Assign a Security Zone to ethernet 1/5 as with out this we cannot create Security Rule to monitor the traffic
Network-> Zone->Add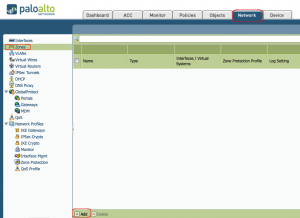 Name : Name of the zone you want  -> Type : Should be TAP and add ethernet 1/5 to be part of new Zone you are creating as shown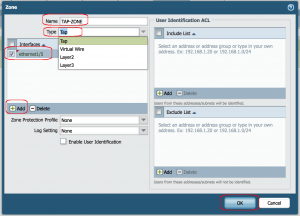 Step 4
Create a Security policy so that we can monitor the traffic in the logs tab and can also see the details in ACC tab, without configuring the Security Policy one cannot monitor the traffic spanning through the Palo Alto Network Firewall in TAP mode. Ensure that the rule is at the top and both the source zone and destination zone are same as demonstrated below
Policies -> Security -> Add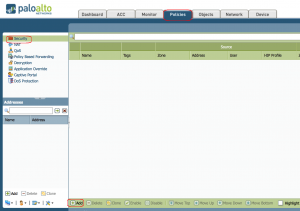 You can use any name you want

Add Source Zone – In our case its TAP_ZONE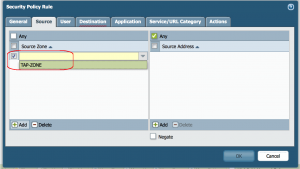 Add Destination Zone – In our case its TAP_ZONE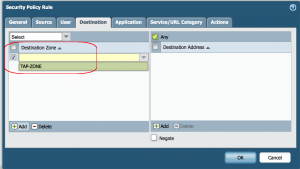 Allow the traffic and click ok and commit to save the policy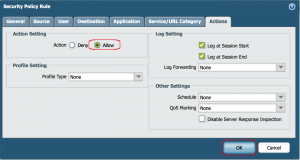 You final policy should be like this

One can now see what kind of traffic is passing through the Palo Alto Network Firewall in TAP mode
Monitor -> Logs -> Traffic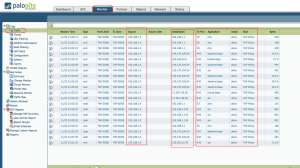 Also one see more details like the risk level and what application are accessed  in Application Command Center (ACC)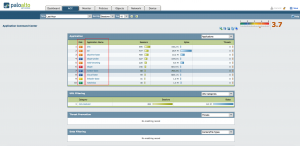 So far I have never experience such a granular report offered by any firewalls. This kinds of value added features obliviously makes Palo Alto Networks Firewall a leader in Next Generation Firewall.
---
November 22, 2015 6:52 AM
Cisco
Cisco Certification Tracking Tool is not working since almost a week , looks a like some major compromise happened with this portal.  Once you login to any of the tracking sites you will some of these errors
http://www.cisco.com/c/en/us/training-events/training-certifications/cert-tool.html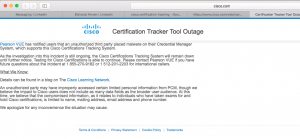 https://www.cisco.com/web/learning/certifications/general/cert-tracker-announcement.html

https://i7lp.integral7.com/durango/do/login?ownername=cisco&channel=cisco&basechannel=integral7

Cisco also published a blog about this outage, well its quite unfortunate that an unauthorized third party placed malware on their Credential Manager System, which supports this Cisco Certifications Tracking System. Until this issue is fixed no one can verify Cisco Certifications.
I hope Cisco will fix this and have a permanent fix for this issue.
---
November 21, 2015 8:27 AM
BGP
,
Cisco
,
Cisco certifications
,
Cisco Press
,
EIGRP
,
Network design
,
Networking
,
OSPF
,
Protocols
,
VPN
Since I received the "CCDE Study Guide" from Jamie Shoup till date, I simply couldn't able resist reading such a wonder book from Marwan Al-shawi.  I believe it was a great initiative from Marwan Al-shawi to write this book. Since I read this book from cover to cover I believe it's the right time for me to write a complete review of this book.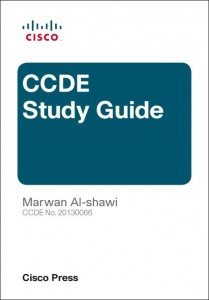 As mentioned in my initial review , Marwan did a great job in penning down this title, he has gone an extra mile to come out with this title. The topics are organised well and he addressed almost all the topics of CCDE blue print at very high level. The "CCDE Study Guide" is divided into 6 parts with following chapters
Part I Business-Driven Strategic Network Design

Chapter 1 Network Design Requirements: Analysis and Design Principles

Part II Next Generation – Converged Enterprise Network Architectures

Chapter 2 Enterprise Layer 2 and Layer 3 Design
Chapter 3 Enterprise Campus Architecture Design
Chapter 4 Enterprise Edge Architecture Design

Part III Service Provider Networks Design and Architectures

Chapter 5 Service Provider Network Architecture Design
Chapter 6 Service Provider MPLS VPN Services Design
Chapter 7 Multi-AS Service Provider Network Design

Part IV Data Center Networks Design

Chapter 8 Data Center Network Design

Part V High Availability

Chapter 9 Network High-Availability Design

Part VI Other Network Technologies and Services

Chapter 10 Design of Other Network Technologies and Services
I enjoyed reading almost all the topics, yet got bored on the topics which I don't have much exposure. The book is addressed at very high level. In order to enjoy this book one should posses good understanding of the concepts be it MPLS, MPLS TE, MPLS VPN or as simple as of Layer 2 Network Design. Marwan is no where attempting you to understand topics from grasp level. I can understand Marwan must have gone through tons of technical resources to come with such a wonderful title. His experience and knowledge  is quite visible in the content he developed.
Few things which I really liked in this title are
The design scenarios presented are quite useful and there are plenty of them
The design goals one should consider
The business driven factors
Enormous  amount of Diagrams which complement the text.
The seamless flow of topics
Design related Questions
Further Reading Section
Its also good to see this title now part Safari Online, those who have Safari subscription can enjoy reading this book even for enhancing their design principles.
This title would have added extra value if the following things were considered
A small design challenge at the end of each chapter based on exam pattern
Typos
Hyperlinking  all the reference materials ( few hyperlinks are there)
Over all a must read book not only for those who are perusing CCDE but also for those who are involved in Designing complex networks. Also I would like to thank  Marwan Al-shawi  for coming out with such a great book as its quite helpful to me.
---
November 19, 2015 6:44 AM
CCIE
,
Cisco
,
Cisco Press
,
VXLAN
With the introduction of ACI, Nexus 9k and many other SDN components I was expecting Cisco will soon announce the new version of CCIE Data Center.
As anticipated Cisco announced the revision of CCIE Data Center from Version 1.0 to 2.0, to be a CCIE Data Center v2.0, Cisco will be testing the candidate's knowledge and capabilities on the latest skill and technologies which are broadly classified into six domains.
CCIE Data Center v1.0

CCIE Data Center v.20

Cisco Data Center Architecture
Cisco Data Center Infrastructure-Cisco NX-OS
Cisco Storage Networking
Cisco Data Center Virtualization
Cisco Unified Computing System
Cisco Application Networking Services

Cisco Data Center L2/L3 Technologies
Cisco Data Center Network Services
Data Center Storage Networking and Compute
Data Center Automation and Orchestration
Data Center Fabric Infrastructure
Evolving Technologies
When you compare Domain topics of CCIE Data Center v1.0 and Data Center v2.0 form above shown table one could notice Cisco is introducing  more technology centric topics, the interesting catch here is Evolving Technologies . One could certainly experience below technical topics like in CCIE Data Center v2.0 exams
VXLAN
EVPN
LISP
Policy Driven Fabric (ACI)
Following are the some of the key hardware changes in the CCIE Data Center v.2.0 blueprint
APIC Cluster
Nexus 9300
Nexus 7000 w/ F3 Module
Nexus 5600
Nexus 2300 Fabric Extender
UCS 4300 M-Series Servers
I believe Cisco took a strategic decision to announce the new version of CCIE Data Center exam as this will empower them to capitalise the huge SDN market share, its been a general tendency of the customers to adopt the SDN solutions based on the availability of technical resources. I hope Cisco will certainly add value to their CCIE certifications and ensure strict guidelines are followed when it comes to delivery of the exam and also make their exams more realistic.
Those who are preparing for the CCIE Data Center v1.0 exam don't need to panic as they have time until July 2, 2016.
Last day to test for the v1.0 written – July 22, 2016
First day to test for the v2.0 written – July 25, 2016
Last day to test for the v1.0 lab – July 22, 2016
First day to test for the v2.0 lab – July 25, 2016
One more change one is going to experience in CCIE Data Center v2.0 lab is the introduction of Diagnostic module which lasts for 60 minutes and focuses on the skills required to properly diagnose network issues, without having device access. The main objective of the Diagnostic module is to assess the skills required to properly diagnose network issues. These skills include:
– Discerning multiple sources of documentation (in example e-mail threads, network topology diagrams, console outputs, logs, and even traffic captures.)
In the Diagnostic module, candidates need to make choices between pre-defined options to indicate:
·  What is the root cause of an issue
·  Where is the issue located in the diagram
·  What is the critical piece of information allows us the identify the root cause
·  What piece of information is missing to be able to identify the root cause
However the Configuration and Troubleshooting module follows the same pattern of  CCIE Data Center v1.0 , basically it consists of one topology  where the candidate has to complete the given tasks in 7hours of time.
Since the introduction of Diagnostic module in CCIE R&S v 5.0  Cisco is keep on adding this module every new version of CCIE exams be it CCIE Service Provider or CCIE Data Center.
I wish all the CCIE Data Center aspirers a best of luck and I am pretty sure soon training materials will be out by Cisco Press and INE as they seems to be pioneers when it comes to CCIE Study Materials.
---
November 16, 2015 7:39 PM
Ethernet
,
Firewalls
,
Interface
,
Palo Alto Networks
,
Switch
As discussed in one my post, we all know Palo Alto Networks Firewall allows us to implement in many modes, one such mode is TAP Mode. Now you all might be wondering what is a TAP mode?
TAP Mode is basically used to monitor the traffic passing through the firewall, basically a TAP Mode interface can be easily used for
POC of Palo Alto Network Firewalls
To monitor passively all the traffic passing across a network using SPAN or mirror port
One can easily configure SPAN/RSPAN in his/ her network Switch and pass the traffic thought the Palo Alto Firewall to monitor the traffic, by doing so one can have a complete visibility of the network and Palo Alto Networks really comes with a some great reports as well. This kind of monitoring can be done in TAP mode only, it reads all the spanned traffic and there will be a visibility in Palo Alto Network Firewall ACC tab.
To place a Palo Alto Networks Firewall one doesn't  need to do any changes to their existing network design also in TAP Mode the traffic will not blocked or any URL filtering can be enabled. It's a really a cool feature from Palo Alto Networks Firewall , in my next post lets see how a Palo Alto Networks can be configured in TAP mode. One nice little feature Palo Alto Network Firewall supports is, it  can process the encrypted SPAN traffic.
---
November 7, 2015 3:54 PM
CCIE
,
Certifications
,
Cisco
,
Juniper Networks
,
Palo Alto Networks
As these days my focus is more into Network  security and my current job demands more of the security. Being a CCIE I thought rather than investing my time, energy  and money on one more CCIE,  I thought of  staring the journey of JNCI-SEC . I was totally banking on assumptions and expectations , those who comes from Cisco back ground they know,  technically there are no prerequisites to be a CCIE or CCDE. My assumptions were wrong and baseless, in reality one has to start from the scratch, especially if some one is planning to his/her start Juniper Certification track.
I was little disappointed but this never stopped me from planning certifications in the Network Security tracks, I changed my vision and realigned my plans and started focusing on Palo Alto, F5  and Cisco CCDE Certifications. I am currently focusing on CCDE as I did passed the Palo Alto PCNSE 7 exam and it was a great experience. Though we have some of the Juniper Firewalls in our setup yet  I am not motivated to jump into the journey of JNCI-SEC because of the prerequisites.
Now coming back to Juniper Networks, I strongly believe they need to realign their vision and approach towards their expert level certifications, as at time those who hold expert level certifications from other vendors do get demotivated to start their journey from entry level certificate and then to professional and finally the expert level certifications. I am pretty sure if Juniper removes the prerequisites for their expert level certifications lot of experts would jump in to challenge themselves with Juniper Expert Level Certifications like JNCIE.
---
November 6, 2015 6:13 PM
Administrator
,
Ethernet
,
Firewalls
,
HA
,
Interface
,
LAYER3
,
Loopback
,
Palo Alto Networks
,
tunnel
,
VLAN
When it comes to Palo Alto Networks Firewall it supports  wide range of deployment options and interface types as well. One can easily mix and match the interface types in real world deployments.
Most of the Palo Alto Networks Firewall support following interface types
Ethernet – These are physical interfaces and can be configured as the following types

Tap
HA
Virtual Wire
Aggregate
Layer 2
Layer 3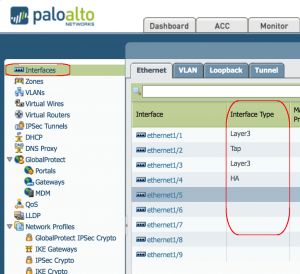 It's a know fact that one can use tap mode, virtual wire mode , layer 3 mode , layer 2 mode etc in a single Palo Alto Firewall. This is the beauty of Palo Alto Networks Firewall.
Also Palo Alto Networks Firewall supports following Interface Types
VLAN
Loopback
Tunnel
Decrypt Mirror
I will try to address in detail about all the above mentioned interfaces in the upcoming post.
---