---
June 5, 2009 8:11 AM
As I am blogging about the books required to pass Cisco CCNA 640-802 exams , while before proceeding to second part I found a great opportunity for you all folks to win a free CCNA Portable Command Guide, 2e which is a great book to master the topic covered in the Cisco CCNA 640-802 exams.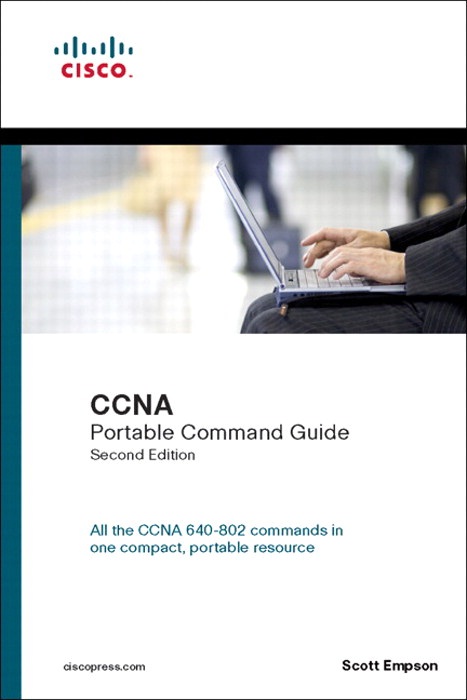 You are entitled to win the free CCNA Portable Command Guide, 2e  just by signing up for a FREE Safari Books Online 10 day trial during the month of June!
May 30, 2009 9:30 AM
You might be wondering what books or materials will be help full to pass the Cisco CCNA 640-802 exams. Cisco Network Academy is great but every one might be not able to attend the course and of course saving money especially during this economic slowdown is a great idea.
So I would suggest some books and materials which will help you to successfully pass the Cisco CCNA 640-802 exams. The only thing required is your determination and sincere efforts. The suggested materials are good for self study with simple networking background who knows the basics well.
The objective is just not only to pass the Cisco CCNA 640-802 exams but also to have a clear understanding of handling Cisco networking devices. Cisco Press always comes to my mind first ,as the books produced by Cisco Press are  good and always meets with objectives of the exams.
When it comes to the Cisco CCNA 640-802 exams following books are good and worth reading and practicing the exams.
The CCNA Official Exam Certification Library (CCNA Exam 640-802), 3rd Edition published by Cisco Press is worth reading and it does comes with the practice exams from Boson Exsim which are really great and very useful once you are done with the reading of  The CCNA Official Exam Certification Library (CCNA Exam 640-802), the author Wendell Odom has successfully authored books which are easily understandable even a newbie can understand the concepts easily.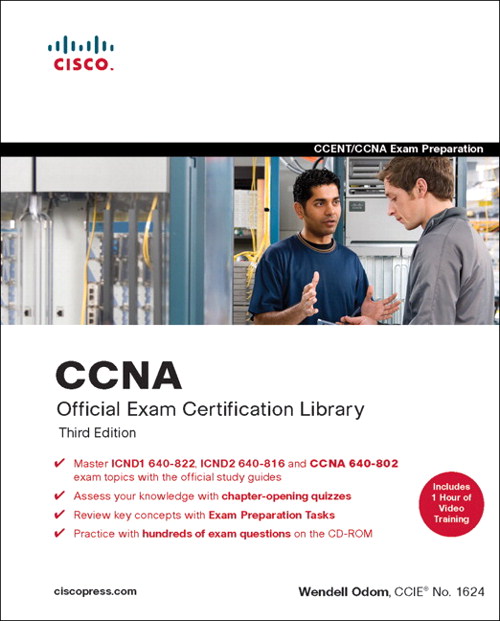 By Wendell Odom.
Published by Cisco Press.
Series: Exam Certification Guide.
ISBN-10: 1-58720-183-6; ISBN-13: 978-1-58720-183-7; Published: Sep 4, 2007; Copyright 2008; Dimensions 7-3/8×9-1/8; Pages: 1475; Edition: 3rd.
You can purchase this book directly from Cisco Press as well from Amazon for 59.99 $ if you are a Cisco Press member you are entitled to get 30% discount wow. Do register yourself as a member of Cisco Press and enjoy the discounts.
These products not only help you learn the topics, but also include tools for knowledge review and exam preparation.
In up coming posts I will discuss other books and materials useful to pass Cisco CCNA 640-802 exams.
---
May 30, 2009 8:38 AM
Dear Friends, if you are leaving Middle East there is good chance for you to experience the Seminar conducted by Cisco Systems which is worth attending. Here is the agenda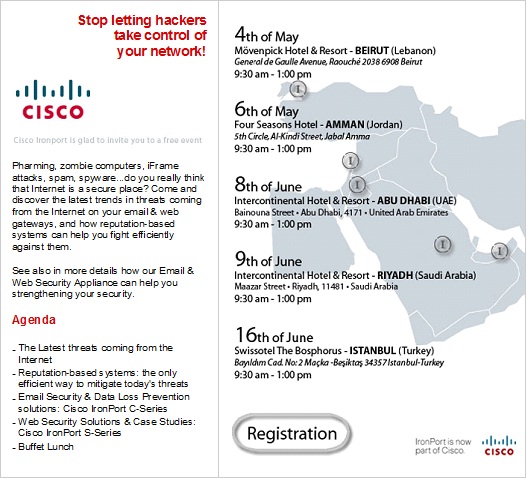 Registration URL: http://form.declic3000.com/ironport-moyen-orient/?sid=TEST
---
May 27, 2009 12:26 PM
I was just browsing the regional technical portal and came to know that HP is cutting another 6,000 jobs due to poor second quarter results.  The second quarter results dropped by 17% from the same quarter last year, to $1.7 billion. which forced the giant company like HP to axe 6000 more jobs. The economic crisis has forced many companies to cut down their investments, research plans etc. which is going to affect the industry in coming decade, if the world failed to come out of this economic crisis.
Mark Hurd, HP chairman and CEO commented: "Disciplined focus on operational efficiencies and execution drove record cash flow. Our services business continued to deliver strong profitability with an increased deal pipeline and the EDS integration tracking ahead of schedule."
More at  http://www.itp.net/index.php?option=com_content&view=article&id=556313&newsletter=1  http://www.damiansaunders.net
---
May 27, 2009 5:22 AM
InformIT  has just released the VCP VMware flash cards, which is better to use as a preparation tool for VCP 310 exam.  The VCP VMware flash cards cover all the objectives of the VCP 310 exam.  Flash cards are always helpful as they happens to be the alternative learning format which are easier to access with a  unique approach  which complements the traditional self study formats.  This VCP VMware flash card is better to use at the later stage of the preparations for the VCP 310 exam.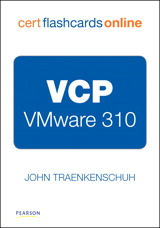 Published Apr 1, 2009 by Pearson Certification. Part of the Cert Flash Cards Online series.
Copyright 2009
Dimensions 5-3/8 x 7-21/32
Pages:
Edition: 1st.
ISBN-10: 0-7897-4214-4
ISBN-13: 978-0-7897-4214-8
VMware Cert Flash Cards Online is a custom flash card application loaded with 300 total questions that test your skills and enhance retention of exam topics. Questions are organized by exam objective, allowing you to focus your study on selected topics. You can choose to view cards in order or at random, and you can create custom sets from the entire bank of cards.
---
May 24, 2009 11:35 AM
Imagine you have a Cisco Catalyst 6500 Switch, you were asked to figure out the Serial number for the Supervisor Engine Installed in your Cisco Catalyst 6500 Switch , it can done by using issuing the following command  "show idprom module" as shown in the below example.
ITKE-DAC-6500-BB01#show idprom module 7
IDPROM for module #7
  (FRU is 'Supervisor Engine 720')
  OEM String = 'Cisco Systems'
  Product Number = 'WS-SUP720-3B'
  Serial Number = 'SAD084608JG'
  Manufacturing Assembly Number = '73-9740-01′
  Manufacturing Assembly Revision = 'A0'
  Hardware Revision = 4.0
  Current supplied (+) or consumed (-) = -4.50A
ITKE-DAC-6500-BB01#
---
May 24, 2009 7:52 AM
On May 1, 2009, Cisco announced the new Certification Online Support tool; the Online Support tool is now available in English, Japanese, Spanish, and Chinese. In addition to the new languages, the Support tool introduced new functionality. The latest version of the Certification Online Support tool includes a new support home page, a Top Answers section, and upgraded search capabilities with easy to find answer navigation.
---
May 24, 2009 7:45 AM
Cisco announced revised certification requirements for CCIE Routing & Switching (CCIE R&S), the expert level certification for network engineers. The new certification standards reflect the job skills employers look for at the expert level. To support the certification changes, the Cisco 360 Learning Program for CCIE R&S is also being updated with new lessons on MPLS and Troubleshooting, additions to the instructor-led workshops, lab exercises for self-paced practice, and new performance assessments.
Hear Maurilio Gorito's account of the v4.0 changes and what they mean for candidates.
---
May 19, 2009 5:58 AM
Cisco announces the launch of new Cisco® Catalyst® 4500 Supervisor Engine 6L-E optimized for high-performance enterprise access.
The new Cisco 4500 Supervisor Engine 6L-E is a high-performance, basic Layer 3 extension to the Cisco Catalyst 4500 Series, enabling rich media collaboration and energy and operational efficiency in the wiring closet.
The supervisor engine extends the Cisco Catalyst 4500 E-Series facilitating performance, enabling services, and protecting investments for enterprises and small and medium-sized businesses (SMBs) deploying business-critical applications. The competitive pricing on the supervisor engine makes it an ideal entry-point offering.
Product Overview
The Supervisor Engine 6L-E provides a fourfold increase in per-slot switching capacity from previous-generation basic Layer 3 Cisco Catalyst 4500 supervisor engines at 24 Gbps per slot. Primary Supervisor Engine 6L-E performance features include:
• Centralized 280-Gbps switching capacity with 225 mpps of throughput
• IPv6 support in hardware, providing wire-rate forwarding for IPv6 networks
• Dynamic hardware forwarding-table allocations for easy IPv4-to-IPv6 migration
• Advanced quality of service (QoS) support with eight queues per port, dynamic queue sizing, and hierarchical policing
---
May 19, 2009 5:32 AM
To celebrate Earth Day, Inform IT is offering a 40% discount on the list price of all their eBooks, plus Cert Flash Cards Online. Visit their Store for a complete list of eBook titles and enter the coupon EARTHDAY during checkout. Offer valid through 5/31/2009.

Articles and Sample Chapters
Articles and chapters by John Lamb, author of The Greening of IT: How Companies Can Make a Difference for the Environment
Green IT: The Key to Energy Efficiency
A discussion with John Lamb and associates at IBM about the significance as well as benefits of going green in your data center.
The Importance of Green IT
John Lamb explains the basic environmental impact of IT—including data centers' consumption of fossil fuel-based electric energy—and lays the foundation for solutions to those problems.
Collaboration Is Key for Green IT
In this chapter John Lamb describes how to continue collaboration among groups within your company to achieve global green IT success.
Article by Douglas Alger, author of Grow a Greener Data Center: A guide to building and operating energy-efficient, ecologically sensitive server environments, Rough Cuts
Top 10 Questions to Ask To Find a Great, Green Data Center Site
Douglas Alger provides 10 questions to ask about property being considered for your next data center that can help you choose a suitable site and put you on your way to a productive, green server environment.
Article by K.J. McCorry, the president and founder of Officiency, Inc., a professional productivity and efficiency consulting company. McCorry also serves on the board of the Colorado Sustainable and Environmental Business Association.
Becoming the Paperless Office
K.J. McCorry outlines the complexities of eliminating paper in the workplace.
---