---
October 26, 2008 5:55 AM
Dear Friends the Cisco 6500 Series Catalyst Switch comes in different models like Cisco Catalyst 6503-E Switch, Cisco Catalyst 6506-E Switch, Cisco Catalyst 6509-V-E Switch, Cisco Catalyst 6509-E Switch and Cisco Catalyst 6513 Switch. But is there any specific slot assigned in these switches to install the Supervisor Engine SUP720? Yes there are specified slots assigned to install the Supervisor Engine SUP720  in any of the Cisco 6500 Series Switches.
Picture Courtesy: Cisco Systems
Now let's find out these details,
The Cisco Catalyst 6503-E Switch comes with three slot chassis. In the Cisco Catalyst 6503-E Switch the first two slots are reserved for Supervisor Engine SUP720, if you have one Supervisor Engine SUP720 then you can install the Supervisor Engine SUP720 module either in slot 1 or slot 2.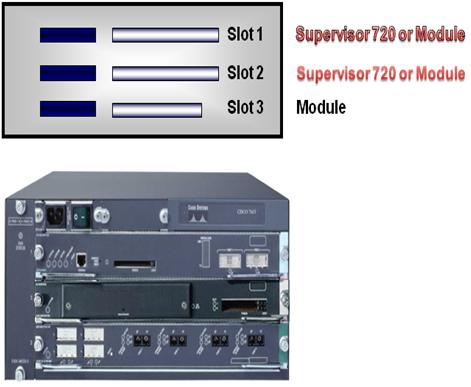 I will cover these details for other models in my next post.
October 23, 2008 9:27 PM
Tata Communications, a leading provider of the new world of communications, announced the launch of its TelePresence rooms available for public use in the United States and United Kingdom, linking to additional public rooms in Mumbai, Bangalore and Chennai, India. The collaboration between Tata Communications and Cisco is the first managed telepresence service in the world to deliver public and private Cisco TelePresence  rooms to companies globally. This new service will allow companies and individuals to use Cisco TelePresence  for one-off meetings.Tata Communications is working with Cisco, Taj Hotels owner, the Indian Hotels Company Limited, and the Confederation of India Industry (CII) to offer public telepresence facilities which are available for rent on an hourly basis. The first phase of public rooms was launched in India in July at the Taj Hotels in Mumbai and Bangalore, and CII offices in Bangalore and Chennai. Tata plans to make 100 rooms available globally by the end of 2009.For further information on Tata Communications Telepresence Services visit www.tatacommunications.com/telepresence
---
October 23, 2008 9:16 PM
The Cisco 360 learning program has been launched. What is it? Its Cisco authorized training for the CCIE Routing and Switching exam. The Cisco 360 learning program is designed to help Network professionals to transform into certified network experts.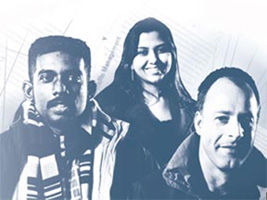 Courtesy:Cisco
The Cisco 360 learning program for CCIE Routing and Switching begins with a four-hour pre-assessment for core routing and switching technologies, allowing organizations to send only qualified network professionals to the program. Once a candidate qualifies, students participate in a 360-degree learning experience that includes skills building, assessments, and mentoring to gain knowledge. Students and their managers can establish milestones and metrics through an online Learning Management System as the individual moves through the program.Students receive training and mentoring from the most proficient, expert-level instructors in the networking business today.
In addition, Cisco uses only authorized Cisco Learning Partners to deploy the new program. Trained and endorsed by Cisco for their competency and ability to deliver unprecedented expert-level training, Cisco Learning Partners are the only organizations to employ Certified Cisco Systems Instructors (CCSIs) and deliver Cisco authorized and approved content. The Cisco 360 Learning Program for CCIE Routing and Switching will be made available November 1, 2008, through select Authorized Cisco Learning Solution Partners and Cisco Learning Partners globally. Access the Cisco Learning Partner Locator here, November 1, 2008 to find an authorized Learning Partner in your region offering the program.
---
October 21, 2008 11:41 AM
Recently I came across new Network Management software, which happens to be good NMS systems I have ever seen. Always I try to follow and find the latest technological developments and I always love to test the trial version of latest Network Management Software's from any vendor.
Luckily one fine day I received an email form Packet trap to try their Packet Trap perspective and Packettrap pt 360 tool suite. I thought let me Packettrap pt 360 tool suite.

Though Packet Trap is a new but it seems the team posse's great experience in building  Packettrap pt 360 tool suite.
Packettrap pt 360 tool suite is windows based Network Management as well as Diagnostic tool. The best thing about Packettrap pt 360 tool suite is its download size and it never consumes more memory resources in the PC. Packettrap pt 360 tool suite is a light weight application and can run on almost any windows XP/ Vista machine with minimum configuration requirements.
The first look of Packettrap pt 360 tool suite is very impressive and it's too simple to use with easy navigation and menu options.  The dashboard has nice looks and more over it come with drag and drop components.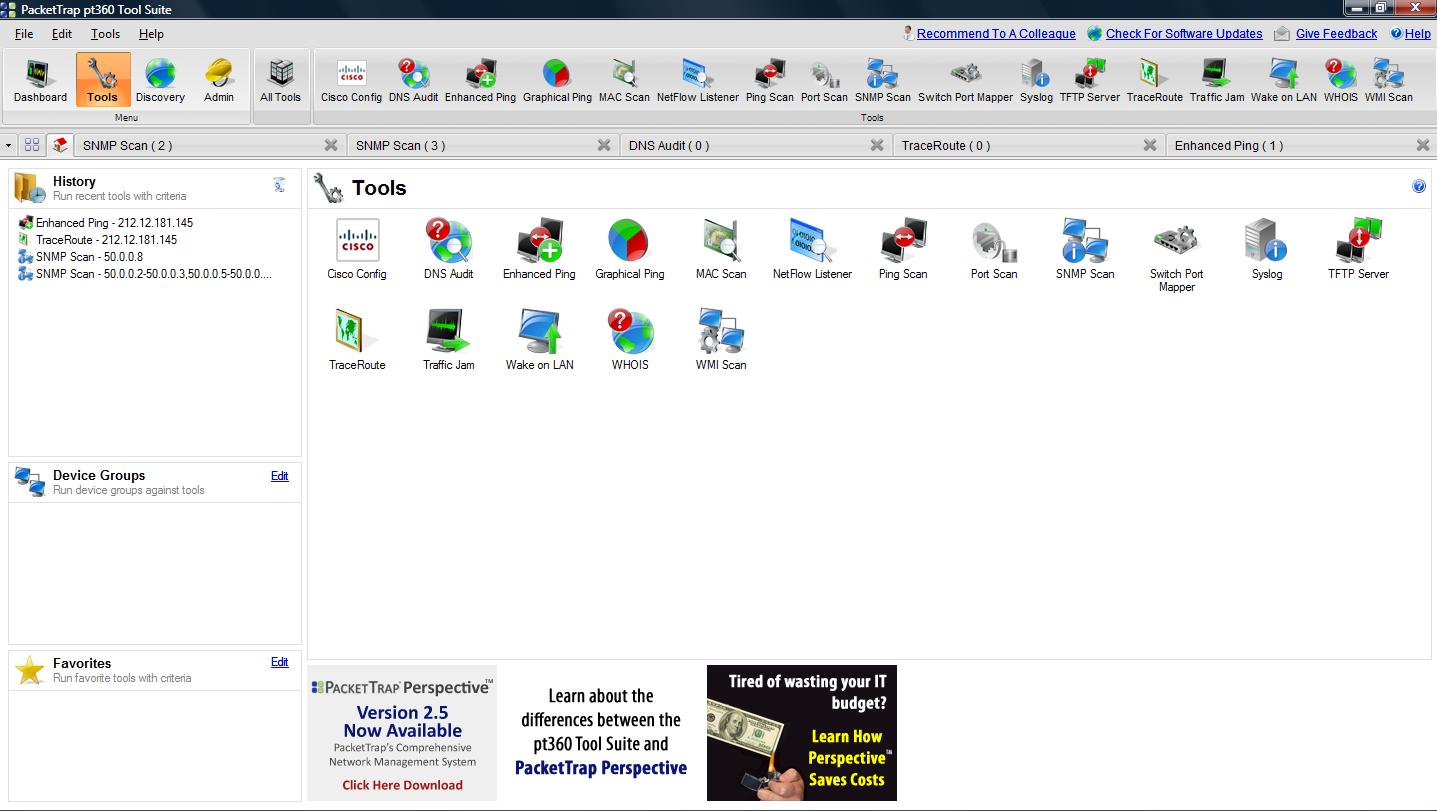 The Packettrap pt 360 tool suite is quite useful to Cisco Network Administrators as well as good tool for Windows Administrators. I would strongly recommend Packettrap pt 360 tool suite , just have a try. One more good news from Packet Trap is their PT360 Pro Network Management Diagnostic Tool Suite  is free forever. So make use of this opportunity.
In next series I will try to focus on the features available with Packettrap pt 360 tool suite. Later on I will focus on their core product Packet Trap perspective
---
October 20, 2008 5:33 AM
UAE Vice President, Prime Minister and Ruler of Dubai, His Highness Sheikh Mohammed bin Rashid Al Maktoum has opened this year's GITEX TECHNOLOGY WEEK amidst great expectations of a week of announcements and knowledge exchange.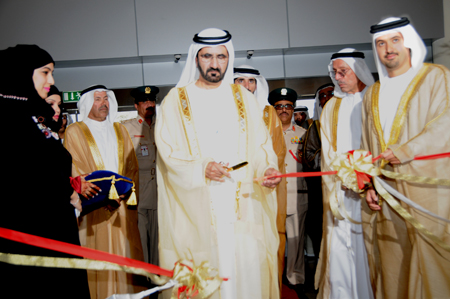 Dear Friends GITEX happens to be the biggest technological exhibition or fair in this part of world. If you happen to be in Dubai I would strongly suggest to visit GITEX 2008.
More than 3,300 companies from 83 countries are exhibiting at this year, including major international companies such as Blackberry, Dell, Du, Etisalat, Google, HP, Microsoft, Oracle, Panasonic, Samsung, Sharp, Sun Microsystems and Symantec, according to organisers the Dubai World Trade Centre.
GITEX 2008 is open from 1pm to 7pm on Oct. 19, 10am to 7pm on Oct. 20-22 and 10am to 5pm on Oct. 23. The exhibition is open to trade and business professionals only.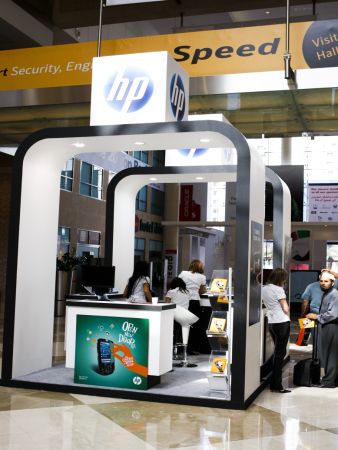 [kml_flashembed movie="http://www.youtube.com/v/VFsH4sXi_ms" width="425" height="350" wmode="transparent" /]
---
October 20, 2008 5:06 AM
In the first series we just started to know about SNMP Version 3 and we just created a SNMP View called ITKEView. Now let's proceed further and create a SNMP group called "ITKEGroup". This group is granted an access to view "ITKEview" which we created in the previous step. 
ITKE(config)# snmp-server group ITKEview v3 auth
Finally let's create a SNMP username called   "ITKEuser" and grant it an access to the "ITKEGroup" that we created in previous step. We will provide an authentication password as well as privacy password which will serve as an encryption key for the SNMP protocol. ITKE(config)# nmp-server user ITKEuser  ITKEGroup  v3 auth md5 ITKEpass priv des56 ITKEpass2
---
October 15, 2008 5:56 AM
Cisco announced the winner of the Cisco® I-Prize innovation contest, a global competition held to identify a major business opportunity for Cisco. The winning team , is based in Germany and Russia, came up with a business plan for Cisco that improves the energy efficiency by taking an advantage of Cisco's leadership in Internet Protocol (IP) technology.
Since the winning team based in two counties they relied on Cisco's collaboration portfolio of Cisco TelePresence, Cisco Unified Communications and the new Cisco WebEx® Connect application platform, to virtually present their idea to Cisco.
The winning team was led by Anna Gossen, a computer science student at the Karlsruhe University in Germany. With the help of Niels Gossen, a computer science student at the University of Applied Sciences in Germany, and Sergey Bessonnitsyn, a systems engineer from Russia, the team is eligible to receive US$250,000 in cash to be equally shared among the team members. The team may also be considered for opportunities to join Cisco.
---
October 14, 2008 3:52 PM
Cisco's "Think Inside the Box" Contest invites developers to compete amongst their peers to build exciting applications for the Cisco Application Extension Platform (AXP).
The prize? One hundred thousand U.S dollars in total prize money with three winners getting U.S$50K, U.S$30K and U.S$20K respectively.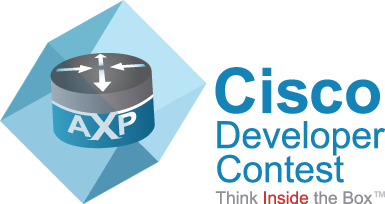 Details of the contest, including terms and conditions are on the official Cisco Developer Contest website. 
[kml_flashembed movie="http://www.youtube.com/v/tb9KGqD95_0" width="425" height="350" wmode="transparent" /]
---
October 14, 2008 5:18 AM
Cisco Systems has recently announced the launch of the New LAN Lite switches that help small branches, small and medium-sized businesses, and others in space-constrained environments upgrade basic networks to fully managed networks.
So what is this LAN Lite? 
LAN Lite is software which provides desktop Fast Ethernet connectivity for wiring closet and small branch-office networks to provide basic LAN services. The LAN Lite Cisco IOS Software provides entry-level security, quality of service (QoS), and availability capabilities while lowering the network's total cost of ownership.
Cisco offer Cisco Catalyst 2960 Switches with LAN Lite software.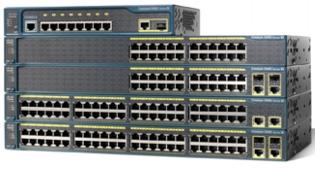 Courtesy: Cisco Systems
---
October 12, 2008 5:17 AM
Configuring SNMP Version 3 in a Cisco Catalyst Switch is bit more complicated compared to SNMP v1 and v2.  But after configuring SNMPv3 you can relax as the SNMPv3 provides more security by adding authentication (username and password) as well as encryption to the protocol.  
What is SNMPv3 ?Simple Network Management Protocol version 3. The specification for this Full Standard protocol is published in RFCs 3410 and 3418. SNMPv3 provides a Full Standard administrative framework (authorization, access control, etc.) and a remote configuration/administration MIB. Also check the SNMPv3 documentation from Cisco Systems. 
How to configure SNMPv3 in a Cisco Catalyst Switch ? 
First we begin with configuration of SNMPv3 on the Cisco Catalyst Switch by creating a SNMP "view". A "view" defines what information can be accessed by the SNMP user/group when they query the SNMPv3 enabled  Cisco Catalyst Switch.  In the below example we will create "view" called ITKEView. We will enable "system" , "internet" and  "interfaces" SNMP OIDS on the Cisco Catalyst Switch. 
ITKE(config)# snmp-server view ITKEView internet includedITKE(config)# snmp-server view ITKEView system includedITKE(config)# snmp-server view ITKEView interfaces included 
To be continued in next series
---