---
August 16, 2008 11:12 AM
Changing an IP address in a Cisco Switch is quite simple, where as in HP Procurve Switches if you try to change an IP address for any existing vlan you get an error message  The IP address (or subnet) 10.0.0.122/23 already exists.. 
I will demonstrate how to change an IP address for an existing VLAN. In this example we have a VLAN 100 assigned with an IP address 10.0.0.99/23 in a HP Procurve Switch.
vlan 100
   name "VLAN100″
   ip address 10.0.0.97 255.255.248.0
   tagged 25-26
   exit
We will try to change the IP address in a normal way as we do in a Cisco Catalyst Switch.
ICU(config)# vlan 100
ICU(vlan-100)# ip address 10.0.0.122 255.255.254.0
The IP address (or subnet) 10.0.0.122/23 already exists.. 
The moment you enter the IP address command you will get an error message mentioned above.
In order to change an IP address do the following things
Log in to the Switch thro a console port.
Then from the global parameters use the following commands
vlan 100
 name "VLAN100″
 no ip address 10.0.0.97 255.255.248.0
 ip address 10.0.0.122  255.255.248.0
However, you can't do that if you connect to the switch remotely. As soon as the "no ip address" command is received and processed by the switch, your session will be disconnected and you won't be able to get to the switch.The trick to get around this issue is to make this IP address change through the switch's built-in menu system instead of using the plain old CLI.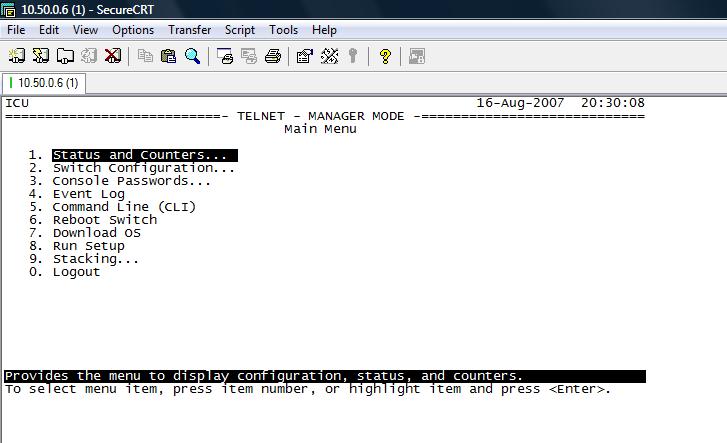 1. Type "menu", hit Enter
2. Select "Switch Configuration"
3. Select "IP Configuration"
4. Navigate to Edit, hit Enter
5. Change the IP and then Save
you will be disconnected once you save it but you will be able to reconnect using the new IP.
August 12, 2008 6:56 AM
Juniper Networks is expanding its network and security management capabilities across routing, switching and security infrastructure with the launch of the Network and Security Manager (NSM).
The new Network and Security Manager (NSM) offers centralized management for Juniper Networks J-series services routers, EX-series Ethernet switches, Secure Access SSL VPN and firewall/VPN and Intrusion Detection and Prevention appliances, and the newly announced Unified Access Control (UAC) solution.
The Network and Security Manager (NSM) enables high-performance businesses to consolidate and simplify the management of their network infrastructure to increase security, reduce cost and realize operational gains.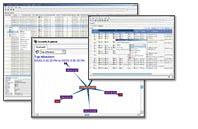 Overview
Network and Security Manager (NSM) is a powerful, centralized management solution that controls the entire device life cycle of firewall/IPSec VPN, Secure Access (SSL), Infranet Controller (IC), J-series and EX-series switches (JUNOS® software). NSM handles the basic setup and network configuration with local and global security policy deployment for these products. Unmatched role-based administration allows IT departments to delegate appropriate levels of administrative access to specific users, minimizing the possibility of a configuration error that may result in a security hole. NSM can scale from small to large enterprises with NSMXpress and NSM Central Manager as a plug-and-play appliance preloaded with the latest version of NSM software.
Datasheets
Brochures
---
August 11, 2008 1:37 PM
As we all know how important is a Telnet client.  But by default, Telnet client is not installed with Windows Vista, but you can always install telnet client in Widnows Vista by following the steps below.
1)      Click on Start – Control Panel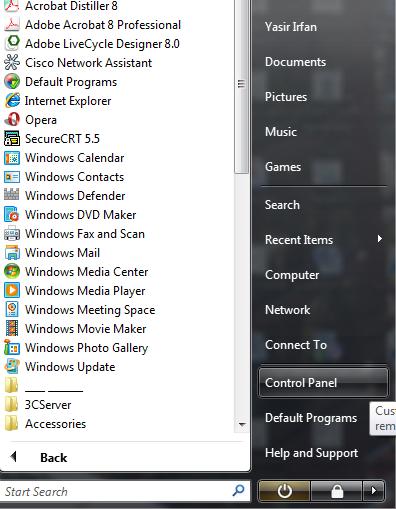 1)      Click on Programs.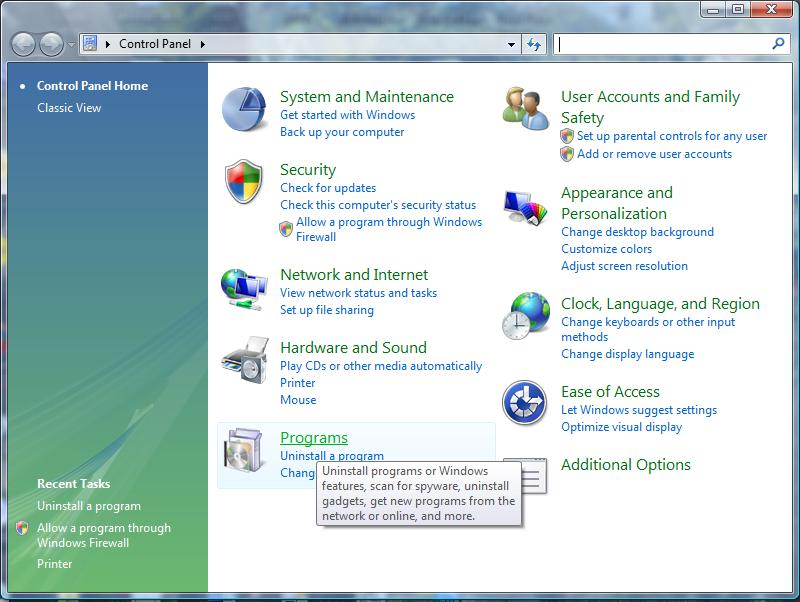 3) Click on Turn Windows features on or off.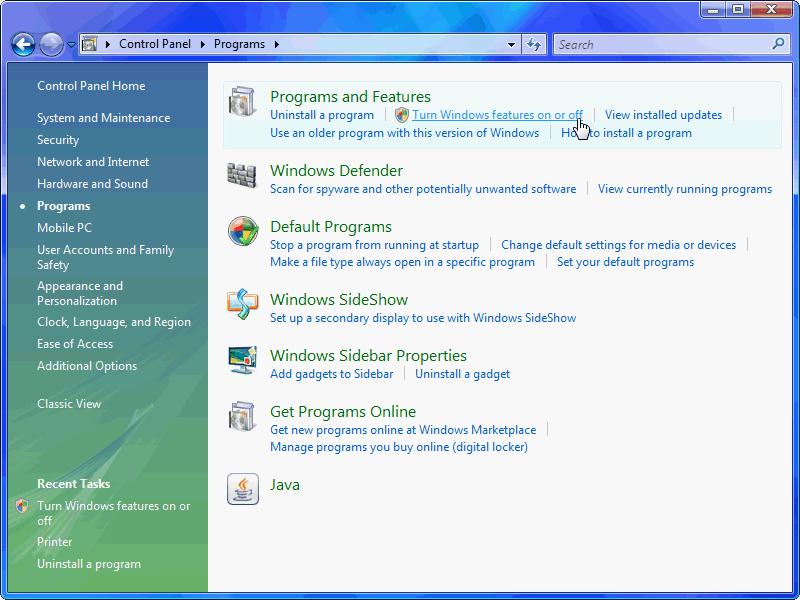 4) In the Windows Features dialog box, select the Telnet Client check box.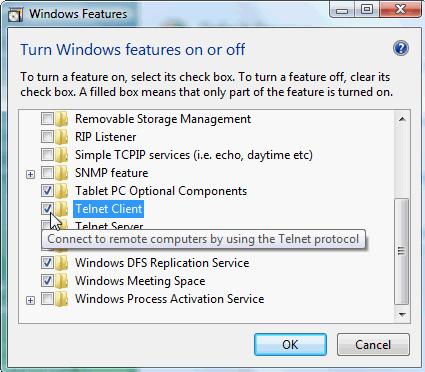 5) Click on OK.
6) Windows will now install and enable Telnet so it is available from command line.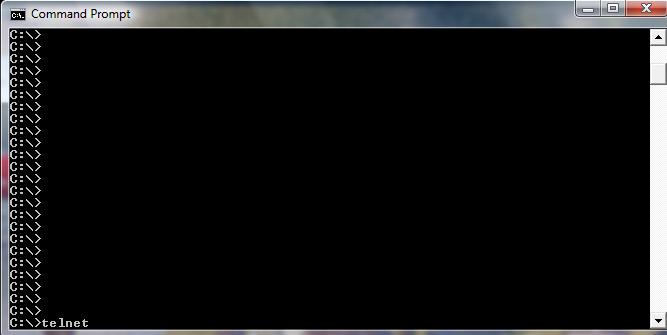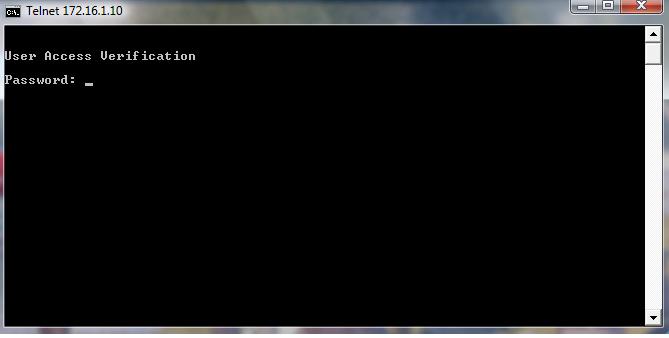 ---
August 9, 2008 6:35 AM
Now there is a good news for networking professionals who are aspiring for Cisco Certifications.  You can retake the exams for free under Cisco "Come Back" program.
Cisco and Pearson VUE have partnered to give networking professionals the opportunity to re-invest in their careers with the Cisco "Come Back" program, but this offer expires soon. You may have let your Cisco certification lapse, but now's a great time to come back.
Register now to take any Cisco certification exam at the regular price, and—if you need it—you'll get a retake exam for FREE!*. Both exams must be taken before this offer expires on October 15, 2008, so it's important that you schedule your exam soon, in order to allow adequate time for you to take advantage of the free retake.
Visit www.pearsonvue.com/cisco/comeback for more details or to schedule your Cisco exam.
Wishing you the best on your career investment,
---
August 5, 2008 7:20 AM
Microsoft is continuing its Research to come out with some interesting touch screen devices, first it was a coffee table, then the wall and now they are coming up with the Sphere. According to Gizmode the latest spherical mutli touch surface device, (still in concept stage) is going to unveil Microsoft Research Faculty Summit 2008. Check out this video[kml_flashembed movie="http://uk.youtube.com/v/V3HGfIy_zCI" width="425" height="350" wmode="transparent" /]
---
August 5, 2008 6:52 AM
In my previous post I tried to cover some of the show commands which are quite useful to any Network Administrator to manage the day to day activities. In this post I will try to complete the set of 10 show commands I selected.
1. Show access-list
The show access-list displays the contents of each access list. It is very helpful in troubleshooting filtering issues.  But this command does not show you where each access list is applied.
2. Show ip interface
The show ip interface command displays very useful information about configuration & status of IP protocols, it services on all available interfaces.  The show ip interface command also provides information about the access lists applied in all interfaces and also in which direction. This kind of information is not shown by the "show access-list" command. Even the "show run" command displays the information about access lists.
3. Show cdp neighbor detail
The show cdp neighbor detail command displays the information about all the neighboring devices connected with most valuable information like IP addresses, platform and host names. The show cdp neighbor details is very helpful to troubleshoot the connectivity issued and can also used to find out how devices are connected to each other especially when there is nor proper network layouts.
4. Show version
The show version command displays the detail information about the IOS installed, file named used for the IOS along with the version of IOS, router configuration register, model of the router , when the router was rebooted last time of course the amount  of RAM and flash.
 5. Show flash
The show flash command displays the contents of the flash and the size of the IOS files and the size of the flash and freely available flash. It's useful whenever the IOS is upgraded to check the amount of free space available.  
---
August 4, 2008 5:26 AM
Security company Kaspersky Lab is warning of a new worm that targets MySpace and Facebook users.The worm variants are spread through the popular social networking sites, turning infected machines into zombies – PCs illicitly controlled by hackers to carry out tasks like denial of service attacks.
The Net-Worm.Win32.Koobface.a is activated when a user accesses their MySpace account, and is spread when it automatically comments on linked friend's sites. Facebook is targeted by Net-Worm.Win32.Koobface.b, which sends messages to the infected user's contacts through the Facebook site.
Both worms then direct would-be victims to a bogus Youtube link, where they will then receive a message telling them that they need to install the latest version of Flash Player. Instead of downloading the latest version of Flash Player however, the link then installs the worm, which installs the Facebook version of the worm if the user visited the site from MySpace, and vice versa, to increase the infection rates from the worm.
Do access Kaspersky web site for more information.
---
August 2, 2008 6:43 AM
Some of the widely used commands in Cisco routers are just simple unavoidable, among the most commonly used commands in a Cisco Routers are "show" commands. These commands are essential to Network Administrators. Here is a list of those commands. I will try to cover this in two series. Here is the first series
1. Show running-configuration
The show running-configuration command shows the complete current running configuration in a router, firewall or a switch. Using show running-configuration command a network administrator can troubleshoot almost all issues related routing, filtering secure access, encapsulation, interface mismatch, and many more issues.
2. Show startup-configuration
The show startup-configuration command shows the configuration that is saved on the NVRAM. It is helpful in knowing the configuration that will be applied the next time the routers is reloaded. And also this command is useful in knowing the configuration that was loaded at the start-up of the router before making changes to it.  3. Show Interface
The Show interface command shows the status and statistics of the router interfaces. The show interface command is useful to troubleshoot the routing and link issues. The show interface command output includes interface status, interface IP address and subnet mask, protocol status on an interface, encapsulation type, bandwidth, utilization and much more information related to interface operation.
4. Show ip route
The show ip route command shows the routers routing table.  Routing protocols used and what networks these protocols are advertised. The show ip route command is used to troubleshoot routing problems.
5. Show ip protocols
The show ip protocols displays the routing protocols used in a router and the networks to which these protocols are advertised. It also shows the sources of the routing updates received and very helpful to troubleshoot routing issues.
---
July 30, 2008 12:59 PM
We all know much about Kiwi Syslog Software.  For many years I am using Kiwi Cat tools for configuration management and automate many of daily tasks. Kiwi Cat tool really helped me to perform many tasks like configuration backup, telnet, SSH and much more. The free version just supports 5 devices; hence I started looking at open source community and came across this wonderful application called Zip Tie.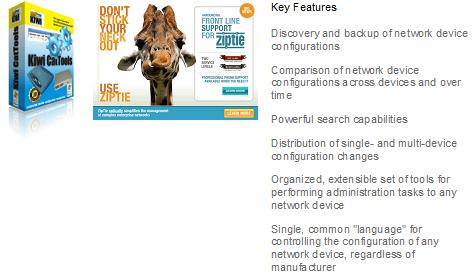 What is Zip Tie? ZipTie is a framework for Network Inventory and Configuration Management. ZipTie allows you to easily discover all devices in your network to create a comprehensive inventory and to manage the configuration of those devices. Every installation includes a suite of tools to help manage your network. In addition, ZipTie is constantly under development and leverages a large community of network experts who share their tools, device adapters, and experience. It allows you to create or import your own custom tools or download them from the ZipTie community. The software is free to download, use, and distribute. ZipTie.org is the community site and tools exchange for Open Network Inventory and Configuration Management. (Courtesy Zip tie) For a more detailed explanation of ZipTie, please read this technical white paper by Roger Castillo, AlterPoint's CTO entitled ZipTie Network Inventory Management Framework – enabling the next era of network management tools.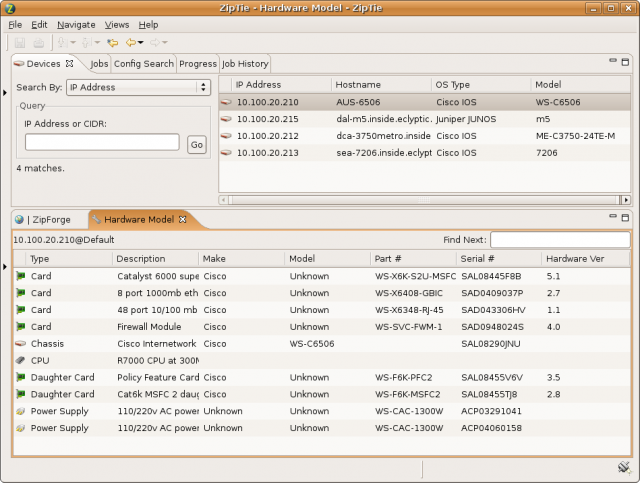 Screen shot courtesy Zip Tie web site
---
July 22, 2008 9:02 AM
Dear friends , I was preparing Network Diagram for our ourganisation,  but our I.T Director was never happy with the outcome. I was just following the standards to prepare the network diagram.  In order to convince the Director I just mailed him the link which has some really amazing network diagrams http://www.ratemynetworkdiagram.com/.
He simply compared my diagram with some of the top rated network diagrams in ratemynetworkdiagram and easly got convinced and appreciated my efforts.If you want to take any ideas how a good network diagram should look just access http://www.ratemynetworkdiagram.com/
---