---
October 15, 2008 5:56 AM
Cisco announced the winner of the Cisco® I-Prize innovation contest, a global competition held to identify a major business opportunity for Cisco. The winning team , is based in Germany and Russia, came up with a business plan for Cisco that improves the energy efficiency by taking an advantage of Cisco's leadership in Internet Protocol (IP) technology.
Since the winning team based in two counties they relied on Cisco's collaboration portfolio of Cisco TelePresence, Cisco Unified Communications and the new Cisco WebEx® Connect application platform, to virtually present their idea to Cisco.
The winning team was led by Anna Gossen, a computer science student at the Karlsruhe University in Germany. With the help of Niels Gossen, a computer science student at the University of Applied Sciences in Germany, and Sergey Bessonnitsyn, a systems engineer from Russia, the team is eligible to receive US$250,000 in cash to be equally shared among the team members. The team may also be considered for opportunities to join Cisco.
October 14, 2008 3:52 PM
Cisco's "Think Inside the Box" Contest invites developers to compete amongst their peers to build exciting applications for the Cisco Application Extension Platform (AXP).
The prize? One hundred thousand U.S dollars in total prize money with three winners getting U.S$50K, U.S$30K and U.S$20K respectively.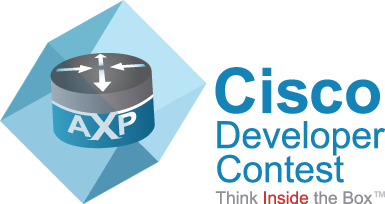 Details of the contest, including terms and conditions are on the official Cisco Developer Contest website. 
[kml_flashembed movie="http://www.youtube.com/v/tb9KGqD95_0" width="425" height="350" wmode="transparent" /]
---
October 14, 2008 5:18 AM
Cisco Systems has recently announced the launch of the New LAN Lite switches that help small branches, small and medium-sized businesses, and others in space-constrained environments upgrade basic networks to fully managed networks.
So what is this LAN Lite? 
LAN Lite is software which provides desktop Fast Ethernet connectivity for wiring closet and small branch-office networks to provide basic LAN services. The LAN Lite Cisco IOS Software provides entry-level security, quality of service (QoS), and availability capabilities while lowering the network's total cost of ownership.
Cisco offer Cisco Catalyst 2960 Switches with LAN Lite software.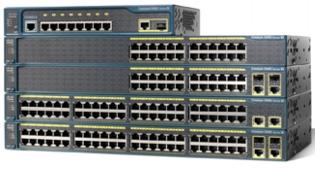 Courtesy: Cisco Systems
---
October 12, 2008 5:17 AM
Configuring SNMP Version 3 in a Cisco Catalyst Switch is bit more complicated compared to SNMP v1 and v2.  But after configuring SNMPv3 you can relax as the SNMPv3 provides more security by adding authentication (username and password) as well as encryption to the protocol.  
What is SNMPv3 ?Simple Network Management Protocol version 3. The specification for this Full Standard protocol is published in RFCs 3410 and 3418. SNMPv3 provides a Full Standard administrative framework (authorization, access control, etc.) and a remote configuration/administration MIB. Also check the SNMPv3 documentation from Cisco Systems. 
How to configure SNMPv3 in a Cisco Catalyst Switch ? 
First we begin with configuration of SNMPv3 on the Cisco Catalyst Switch by creating a SNMP "view". A "view" defines what information can be accessed by the SNMP user/group when they query the SNMPv3 enabled  Cisco Catalyst Switch.  In the below example we will create "view" called ITKEView. We will enable "system" , "internet" and  "interfaces" SNMP OIDS on the Cisco Catalyst Switch. 
ITKE(config)# snmp-server view ITKEView internet includedITKE(config)# snmp-server view ITKEView system includedITKE(config)# snmp-server view ITKEView interfaces included 
To be continued in next series
---
---
October 4, 2008 12:21 PM
In the first series I was talking about the TFTP severs, now let's proceed further, one more key thing you must consider before starting an IOS upgrade for a Cisco Catalyst 6513 Switch with Supervisor Engine SUP720 is the Compact flash memory. The Supervisor Engine SUP720 comes with two slots for memory. Recommended part number
| | |
| --- | --- |
| | Cat6500 Sup720 Compact Flash Mem 256MB |
The Compact flash memory is required in order to avoid any failure IOS file upload through TFTP server. As before uploading the file the current IOS file is deleted from the boot flash memory of the switch. Before starting the IOS upgrade in the  Cisco Catalyst 6513 Switch with Supervisor Engine SUP720 issue a boot command to boot from the flash memory if the Cisco Catalyst 6513 Switch with Supervisor Engine SUP720 fails to boot from the boot flash memory by issuing following command.

Note:  the Compact flash memory is inserted in the slot 1 of the Supervisor Engine SUP720.
---
October 3, 2008 11:04 AM
Cisco has announced the availibity of beta version of CCDE Practical exam, Cisco will be offering this beta delivery of the exam on October, 1 in Chicago, Illinois USA – at a Pearson Professional Testing Center. Only candidates that have a passing score on the CCDE qualification exam may register and participate in this exam.
The cost to participate in the beta delivery of the CCDE Practical is $980US and will only be delivered in Chicago on Oct 1, 2008. The estimated cost for the CCDE Practical exam after the October delivery will be $1,400.
For more details do check this article from Cisco Learning Center
---
September 29, 2008 12:26 AM
Today I successfully upgraded the IOS for a Cisco Catalyst 6513 Switch with Supervisor Engine SUP720. Couple of years I faced some problems while I was upgrading the IOS for Catalyst 6513 Switch. In this series I will try to focus on the things to be considered before upgrading an IOS in Cisco Catalyst 6513 Switch.
First and foremost is the TFTP server. The main problem you face is the file size limitations with the TFTP servers. Most of the TFTP servers won't support more than 30 MB of IOS file to transfer. At that time I was using Solar Winds TFTP server which is an excellent software but cannot support more than 30 MB. The IOS transfer failed exactly after 30 MB of transfer. I was worried what might be the problem, after careful observation I figured out the problem lies with the Solar Winds TFTP server .Then I tried Cisco's old TFTP server but the same problem. Later on I figured out TFTP server can support more than 30 MB of file transfer.
Hence after changing to 3Coms 3CDaemon Server  &  PacketTrap pt360 Tool Suite FREE edition I could able to transfer the IOS files more than 30 MB. So the main point is to make sure your TFTP server can support more than 30 MB of file transfer as always the image file for Cisco Catalyst 6513 Switch is more than 30 MB in size. Presonally I would recommend the TFTP server from PacketTRAP pt360  Tool Suite
---
September 27, 2008 7:33 AM
Cisco announced the launch of latest set of collaborative solutions, which Cisco believes will help them to tap the 34$ billion market for collaborative solutions.This launch includes more than 40 products, which includes key updates & new additions for unified communications including Web 2.0 and video platforms. Cisco CEO and Chairman John Chambers in a video briefing with journalist said "decade of productivity and a decade of innovation, in which people all around the world will be able to participate".Earlier this month Cisco launched Virtual Office for home workers, is set to release more offerings to tap into the demand for flexible working. The launch also includes the latest version of Cisco Unified Communication 7.0. The latest version of Unified Communication includes the compatibity with windows mobile to increase the mobility usage. Cisco also plans to introduce integration with Apple iPhone by next year.For more details about this launch do check this article.
---
September 24, 2008 6:27 PM
Guess what your Routers  support zone-based policies, which really helps with multi-interface restrictions (rather than just one outside & one inside interface with individual access list applications). Likewise, it now supports application inspection to catch those scandalous peer-to-peer programs.  

Courtesy: Cisco
Cisco IOS® Software Release 12.4(6)T introduced Zone-Based Policy Firewall (ZFW), a new configuration model for the Cisco IOS Firewall feature set. This new configuration model offers intuitive policies for multiple-interface routers, increased granularity of firewall policy application, and a default deny-all policy that prohibits traffic between firewall security zones until an explicit policy is applied to allow desirable traffic. For more details do access this document from Cisco.
---