---
March 9, 2009 5:14 AM
What do you think what happens? If a new Cisco Catalyst® switch is placed between any two VTP domains, the Cisco Catalyst® switch will join the VTP domain identified by the first VTP update it receives. Just check the below example.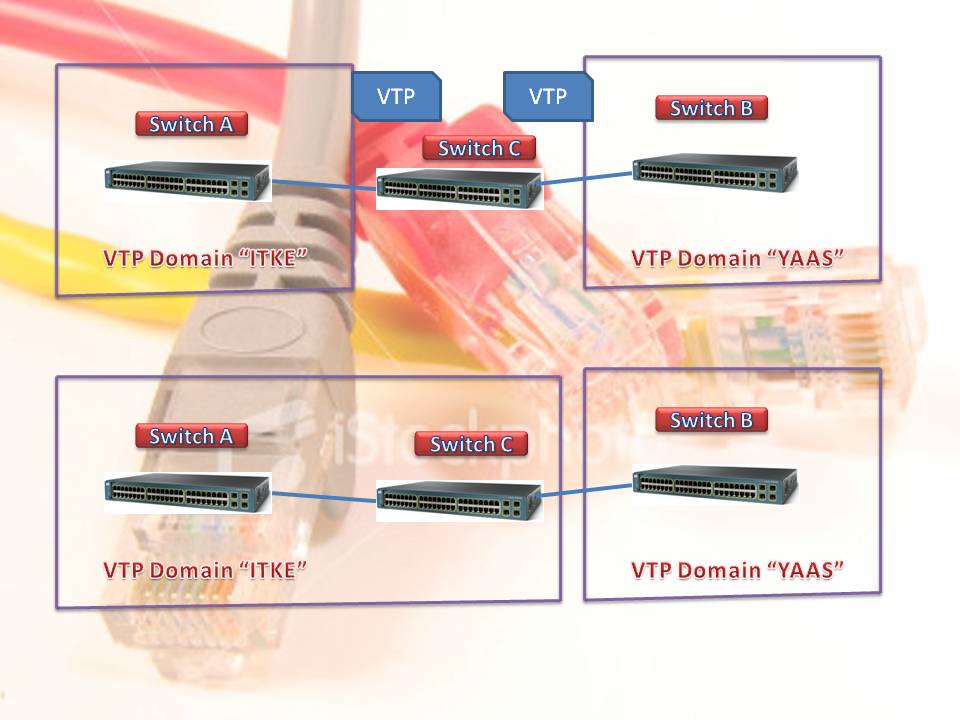 The VTP domain can be changed to another in a Cisco Catalyst® switch by using the CLI prompt, this is the only way you can change.
March 4, 2009 9:02 PM
CCENT 640-822 Network Simulator is a simply great simulator for the CCNA Certification aspirers covering all the ICND1 topics.
 The  state-of-the-art, interactive simulation software enables you to practice your networking skills with 98 structured labs designed to help you learn by doing, which is the most effective method of learning.
The CCENT 640-822 Network Simulator is divided into three categories, Skill Builder, Configuration Scenario and Troubleshooting Scenario.   The best part of the CCENT 640-822 Network Simulator is its very fast consumes less CPU processing power & it's a java based application. The lab scenarios included in the CCENT 640-822 Network Simulator are far more complex, challenging you to learn how to perform realistic network configuration and troubleshooting tasks. The CCENT 640-822 Network Simulator is best for the CCNA Certifications aspirers especially for the guys who have less exposure to real environment.
The best thing about the CCENT 640-822 Network Simulator is the organization of labs. The Skill builder consists of three parts; even the Configuration Scenario consists of three parts where as Troubleshooting scenario has one part. These labs are quite handy and useful. The moment you open any lab the corresponding pdf file opens with the lab instructions. You are supposed to answer few questions in the labs, the LAB topology is explained well.
I would strongly recommend the CCENT 640-822 Network Simulator for anyone who is depended on the self study. CCENT 640-822 Network Simulator is available only as a download, and is a subset of the CCENT 640-822 Network Simulator, covering all the ICND1 topics.
---
March 3, 2009 8:07 AM
Safari Books Online is now fully-optimized to support the top mobile devices in the United States. Get searchable access to thousands of the best technology resources online, and now search and access more than 6,500 mobile-friendly books (including Cisco Press) directly from your BlackBerry, Nokia, Windows Mobile, and iPhone smartphone or mobile device!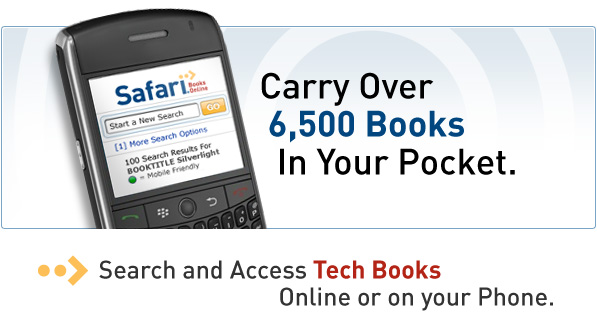 Get a Free 15-Day Trial Plus 15% Off for a Limited Time
http://www.safaribooksonline.com/informit/mobile/?cid=200903-informit-facebook-mobile
---
February 27, 2009 12:36 PM
The power is at your fingertips. Play, challenge a friend, and see if you score high enough to win. The top three eligible scorers at the end of each week could win great prizes.
Play Now: www.cisco.com/go/edgequest
[kml_flashembed movie="http://www.youtube.com/v/SZAE96kVVmk" width="425" height="350" wmode="transparent" /]
Cisco Edge Quest 2 is an online game that is fast and fun. Players are encouraged to release the power of the Cisco ASR 9000 Series Aggregation Services Routers by maneuvering a craft through various levels in order to handle the increasing demands on IP networks. It is fast and fun, and the learning comes through playing.
The Edge Quest 2 tournament starts on Monday, February 23, 2009 and ends on Friday, March 6, 2009. Play as many times as you want to master the game: your top score might qualify you to win prizes worth up to $500. Prizes will be awarded to each week's top eligible scorers.
For official terms and conditions for participation in the Cisco Edge Quest 2 Tournament: visit www.cisco.com/go/edgequest.
Don¹t miss this opportunity to play, learn, and network. Also, you can practice your skills and challenge your friends with the new Edge Quest 2 iPhone and Facebook applications.
---
February 25, 2009 7:13 PM
As I posted before about the Cisco Saudi – Expo 2009 which was held at King Fahd Cultural Center, Riyadh ,Saudi Arabia on 9 & 10th February 2009. The conference was opened by Dr Mohammed Al-Suwaiyel, President of King Abdullah College of Science and Technology, and a keynote from Dr Badr Al Badr, managing director of Cisco Saudi Arabia.
The two-day event for customers and partners included sessions on a number of emerging technologies, including unified communications, collaboration, managed services, and Cisco's Connected Home and Smart Education systems.The two-day event for customers and partners included sessions on a number of emerging technologies, including unified communications, collaboration, managed services, and Cisco's Connected Home and Smart Education systems.
The technical presentations were simply great I would say they were meeting the Networkers standards.
Some of the topics covered as follows which can be downloaded.
A Nation's Security The Netcentric Response (PDF – 4,153KB)
Carrier Ethernet – Cisco's Vision and the Alignmnent with the IP NGN.pdf (PDF – 4,221KB)
CCIE new tracks.pdf (PDF – 1,916KB)
CCIE Security.pdf (PDF – 2,661KB)
Change the World – Connected Real Estate.pdf (PDF – 6,035KB)
Cisco Certified Design Expert (CCDE).pdf (PDF – 2,520KB)
Cisco Clinical Collaboration.pdf (PDF -1,573KB)
Cisco Collaboration.pdf (PDF – 4,081KB)
Cisco Connected Real Estate Solutions.pdf (PDF – 6,487KB)
Cisco Digital Media System.pdf (PDF – 3,752KB)
Cisco Services Capitalize on your Network Investment.pdf (PDF – 1,174KB)
Cisco WiMAX E2E Solution Architecture.pdf (PDF – 2,858KB)
Countering the Economic Downturn.pdf (PDF – 1,135KB)
Data center Application Acceleration and Security.pdf (PDF – 7,542KB)
Data Center Architecture Strategy and Planning.pdf (PDF – 6,404KB)
Data Center Virtualization.pdf (PDF – 3,096KB)
Data Leakage Definition, Impact and Prevention.pdf (PDF – 2,162KB)
Deploying IPv6 for Service Providers.pdf (PDF – 2,163KB)
Design and deployment of wireless networks.pdf (PDF – 2,801KB)
Education for a Connected World.pdf (PDF – 7,043KB)
Emerging Threats.pdf (PDF – 3,121KB)
Enterprise Multilayer and Routed Access Campus Design.pdf (PDF – 3,301KB)
Femto Solution Overview.pdf (PDF – 1,893KB)
GMPLS Lambda Aware.pdf (PDF – 2,955KB)
How Video Can Change Our Lives and Lifestyle.pdf (PDF – 3,156KB)
IP Video Surveillance Design and integration.pdf (PDF – 700KB)
IP Video Surveillance introduction.pdf (PDF – 1,125KB)
IPoDWDM 40G, 100G, and Beyond.pdf (PDF -1,211KB)
ISP Security Routing & Switching.pdf (PDF – 829KB)
Layer 2 Attacks and Mitigation T.pdf (PDF – 1,667KB)
Mobility for Retail.pdf (PDF – 2,003KB)
NetVersity.pdf (PDF – 2,277KB)
Operational Firewall and IPS Management Using Cisco Security Manager and Cisco Security MARS.pdf (PDF – 5,018KB)
Policy Control Architecture for Wireline Networks.pdf (PDF – 3,974KB)
Protecting your Goldmine The End Points.pdf (PDF – 3,853KB)
Software as a Service Web 2.0 Solutions.pdf (PDF – 2,349KB)
Tough Economic Times for Your Business Try the Managed Services Antidote.pdf (PDF – 1,166KB)
UC 7.0.pdf (PDF – 2,416KB)
---
February 25, 2009 11:23 AM
In Cisco Catalyst® switches the VTP domain can be added through CLI configuration or else it can be learnt from an adjacent VTP Cisco Catalyst® switch. Let's see this from the below example

Switch C is added to the network connecting via a trunk port to Switch B with no VTP domain configured, in this mode when the Switch C receives the first VTP update from the adjacent Switch B , it will become the part of the VTP domain ITKE as identified in the VTP update.

---
February 25, 2009 5:34 AM
If you all are looking for a complete green solution for your Data Center using Cisco Catalyst® switches, there is good news with Cisco EnergyWise software.  The most interesting fact of the innovative Cisco EnergyWise technology for Cisco Catalyst® switches that measures, reports and reduces the energy consumption of Internet Protocol (IP) devices such as phones, laptops and access points. Cisco also announced industry partner solutions along with an intelligent middleware acquisition that will ultimately enable the management of power consumption for entire building systems such as lights, elevators, and air conditioning and heating.
[kml_flashembed movie="http://www.youtube.com/v/58n8bRIZy0E" width="425" height="350" wmode="transparent" /]
Facts:
Cisco EnergyWise was purpose-built in alignment with Cisco's vision of how networking technology can support a low-carbon economy, cut energy use and promote overall environmental sustainability.
Cisco EnergyWise is part of the company's technology roadmap for changing the value-chain of information technology (IT) by placing the intelligent network squarely at the center of how companies reduce greenhouse gas (GhG) emissions across their entire organization.
Cisco EnergyWise will roll out in three phases to improve IT and building system energy utilization:

In the first phase (February 2009), Network Control, Cisco EnergyWise will be supported on Catalyst switches and manage the energy consumption of IP devices such as phones, video surveillance cameras and wireless access points.
In the next phase (Summer 2009), IT Control, there will be expanded industry support of EnergyWise on devices such as personal computers (PCs), laptops and printers.
In the final phase (Early 2010), Building Control, Cisco EnergyWise will be extended to the management of building system assets such as heating, ventilation and air conditioning (HVAC), elevators, lights, employee badge access systems, fire alarm systems and security systems.

Cisco EnergyWise provides real-time, granular measurement capabilities to give chief information officers better visibility into energy savings across an entire organization as well as specific places in the network such as the campus, branch office and data center .
Cisco EnergyWise supports currently deployed Catalyst switches worldwide with a free software upgrade and new Catalyst switches beginning in February 2009.
Cisco is working with Schneider Electric for building utility management, SolarWinds for network monitoring, and Verdiem for monitoring PC power in order to extend EnergyWise as a platform for power management across IT and the building systems of an organization by early 2010.
Cisco also announced the acquisition of Richards-Zeta's intelligent middleware to provide simplified and cost-effective interoperability and integration between building infrastructure, IT applications and Cisco EnergyWise.
The new Cisco Green Business Value Calculator provides customers with projected cost and GhG emission-saving results from adopting Cisco EnergyWise and other green technologies such as Cisco TelePresenceTM, Cisco WebExTM and Cisco Unified Communications.
Cisco also introduced adaptive power management functionality in the Cisco Wireless Control System to save power by enabling customers to turn off redundant radios during off hours.
Supporting Quotes:
"Cisco believes that information technology has the power to transform the way the world manages its environmental and energy challenges. With EnergyWise, Cisco is uniquely positioned to help our customers gain a networkwide view of energy consumption that encompasses not only device-level power, but in the future entire network efficiency, building operations and business practices across an entire organization," said Judy Lin, senior vice president of the Ethernet Switching technology group for Cisco.
"With the organizationwide visibility that Cisco EnergyWise provides, we anticipate potential annual reduced energy savings of 15 to 20 percent conservatively across our portfolio of commercial office buildings. This could equate to energy savings of 19 to 33 cents a square foot, which over the course of a year could be thousands of dollars in energy related savings," said Jeff Ton, vice president of IT for Lauth Property Group.
"As a global specialist in energy management, we help our customers to make the most of their energy," said Jean-Pascal Tricoire, CEO of Schneider Electric. "Today, through the monitoring and control of energy usage with energy efficiency products, Schneider Electric's solutions deliver up to 30 percent energy savings to residential, commercial and industrial buildings. Using the network as a platform through Cisco EnergyWise, we will be able to bring additional reductions in energy consumption, offering our customers an efficient, simple, and reliable infrastructure."
"With SURVEYOR, Verdiem's commitment to reducing the environmental impact of technology has already helped our customers save up to 60 percent of their PC networks' energy consumption. Verdiem is proud to be working towards a Cisco EnergyWise enterprise network energy management agreement because not only is EnergyWise good corporate citizenship, but in the future it will also help improve business performance and most importantly, gives corporations a reliable way to meet their sustainability goals," said Jeremy Jaech, Verdiem's CEO.
"SolarWinds provides powerful, simple and affordable network management solutions to thousands of IT organizations around the world. Within the year, the integration of Cisco EnergyWise and SolarWinds Orion Network Performance Monitor will allow network engineers to easily manage energy use alongside the other metrics they monitor on a daily basis," said Kenny Van Zant, chief product strategist.
Supporting Resources:
---
February 23, 2009 6:35 AM
In my previous post I just introduced the VLAN trunking protocol; let's talk about the VTP domain.
The VTP domain consists of a group of logical group of Cisco Catalyst Switches that are part of the same VTP management domain. A  Cisco Catalyst Switch can belong only to one VTP domain at any time,
The VTP domain is a logical group of switches that will share VLAN information. Each switch can belong only to one VTP domain in addition to sharing the VLAN information with all other Cisco Catalyst Switches in the same VTP domain. Cisco Catalyst Switches in different VTP domains drops any VTP updates received from Cisco Catalyst Switches.
---
---
February 19, 2009 2:03 PM
If you are preparing for your CCNA then it's better to know about the dynamic routing protocols.  Cisco Routers support many dynamic routing protocols for learning routes in a complex network topology. The routing protocols supported are the following:
       RIP
       OSPF
       BGP
       IS-IS
       IGRP
       EIGRP
Each routing protocol has its own Administrative Distance (AD), which is a value representing the trustworthiness of the specific routing protocol. If a router learns a destination route from two or more routing protocols, it selects the route from the protocol having the smallest Administrative Distance.
The below table shows the default Administrative Distance (AD) values for each routing protocol:
| | |
| --- | --- |
| Routing Protocol | AD Value |
| Connected | 0 |
| Static | 1 |
| eBGP | 20 |
| EIGRP | 90 |
| IGRP | 100 |
| OSPF | 110 |
| IS-IS | 115 |
| RIP | 120 |
| iBGP | 200 |
Now, if the router learns a specific destination route from both OSPF and RIP, it will select the route learned from OSPF because this protocol has a smaller AD compared to RIP (110 instead of 120).
---