---
June 27, 2009 4:41 PM
I am really thankful to IT KNOWLEDGE EXCHANGE for providing me an opportunity to blog with them; it's my privilege to be associated with IT KNOWLEDGE EXCHANGE. I learned a lot while blogging to this wonderful knowledge portal. It's the vigorous support and guidance from the team of IT KNOWLEDGE EXCHANGE encourages any individual to be the part of this great portal. I would siege this opportunity to thank Brent Sheets the community manager, Jenny Mackintosh  and Sean Brooks.
Cheers
June 27, 2009 4:24 PM
I started my career as a Structured cabling Designer, I am certified Systimax SCS guy, for me there is no better product than Systimax. I was literary addicted to the products from Systimax. I know Systimax since the days of AT&T, then Lucent Technologies, Avaya Systems and at this stage a Comscope company. No doubt Systimax SCS products are great. By it was my friend working as Area Manager R & M Saudi Arabia changed my perspective about R & M SCS products.
R & M happens to be Swiss cabling Specialist Company, which recently launched the new generation of its LC Duplex compact fiber-optic connector system. For the first time ever, this system has integrated laser protection and a lock for the connector. With these safety features, LC can now be used more easily in office buildings, residential buildings and highly com-pact computing centers.
According to the press release from R & M
"A laser shutter provides integrated protection against laser beams, an international first in this product category. A flat spring in the adapter opens when the connector is unplugged and covers the fiber stub. No laser beam can escape from the adapter. Any danger of injury is therefore ruled out, allowing the LC to be utilized risk-free in publicly accessible applications such as Fiber-to-the-Desk and Fiber-to-the-Home. R & M  also offers a semi-transparent dust cap that enables the connection to be visually checked safely."
---
June 27, 2009 6:24 AM
We are working on building a new Data Center for our Organization, mean while I did lot of research and gathered some information on what standards the data center to be established. These days everyone is talking about the green Data centers, which triggered me and I was just thinking about our planet. Yes we will plan a green data center, but to do so we need some guidelines and standards.
 I figured out an ideal data center can be only established if we follow the TIA 964 standards. Following resources helped me to come out with an ideal RFP for the tender which we are releasing soon.
First and foremost the document published by Search Datacenter is good you should have a look at this document and the website has many valuable information related to data centers.  
APC does have lot of documents, the white paper published by APC by the title "Data Center Projects: Standardized Process" did help me a lot to draft the RFP.
Cisco Systems even though they never build data center but they do provide solutions and does have a dedicated section called Cisco Data Center 3.0 where you can find lot of valuable information.
[kml_flashembed movie="http://www.youtube.com/v/yJkZZdhaEks" width="425" height="350" wmode="transparent" /]
Other web site which really amazed me was of Panduit, they really have data center solutions, especially the cable management stuff and the specially designed Net Access cabinets for the Cisco Nexus 7000 series Switches.   
R & M the Swiss cabling specialist does have special cabling products for the data center as well as their white paper is worth while reading as it contains all the information needed to build a green data center.
Hopefully we try to establish our data center based on the TIA 964 standards and ofcourse it will be green.
---
June 26, 2009 10:13 AM
It seems that everyone is busy this time making their trip to San Francisco to be physically there at Cisco-Live, 2009 which starts at 27th of June. It's amazing to be there but for the folks who cannot be there physically don't panic, the technology helps you out to be there virtually. You can experience the Cisco Live Virtual in multiple ways.
Cisco Live Virtual offers you the opportunity to gain knowledge in a powerful way. Whether you are planning to attend Cisco Live 2009 in person, or you will be participating as a virtual attendee, Cisco Live Virtual is a new and innovative way to experience Cisco Live from all angles – including session content, networking with your peers, and getting the latest information on technology solutions from Cisco and our partners. View a quick demo of Cisco Live Virtual.
There are multiple ways to experience Cisco Live Virtual:
Cisco Live Virtual: Free
Unable to join Cisco Live in San Francisco for Cisco Live? Register for the complimentary Cisco Live Virtual and get two days of live and on-demand technical training sessions in parallel with the onsite event in San Francisco giving you access to the Cisco customer community, Keynotes, Super Sessions, and the Virtual World of Solutions. Register for Cisco Live Virtual and see for yourself all that this community has to offer.
Cisco Live Virtual Premier: Full Access for $395.
In addition to the benefits of the 2-Day Cisco Live Virtual pass the Premier pass will give you a wider array of live virtual programming taking place in parallel with the onsite event in San Francisco, PLUS you'll also receive an annual subscription to Cisco Live Virtual, where you can access over 300 technical sessions and interact with a community of thousands of Cisco customers year-round. Register today for your Cisco Live Virtual Premier pass and start experiencing the power of knowledge for yourself.
---
June 23, 2009 1:29 PM
Finnish firm Nokia Siemens Networks announced Tuesday that it is to work with Juniper Networks a specialist networking Technologies Company, to create an end-to-end solution to enable interoperation between IP and optical networks.
The companies said that they will work together to develop cost-optimized 10G, 40G and 100G IP over DWDM solutions with management integration and GMPLS control plane interworking.
 For more info do check the press release by Juniper Networks
---
June 23, 2009 1:19 PM
Cisco anounces the launch of  the Cisco Security Blog, an external platform for Cisco community of security experts to share insights and engage in valuable online discussions. With the launch of the security blog, the security community can converse about current, top-of-mind security issues, including threat behavior, best practices, compliance, policy, products, or the latest security trends.
Source: blogs.cisco.com
---
June 21, 2009 6:11 AM
Once you are done with the CCNA 640-802 Network Simulators , it's a good idea to have more preparation and practice, if you are confident then don't wait for anything just register yourself for the Cisco CCNA 640-802 exams and best of luck , yes you can do it.
If you think you need some more practice and brush up it's always a good idea to follow your folks at the Cisco Learning Network , which is full of resources, with some practice exams, presentations and videos.
Start Here: CCNA
For a General Overview of CCNA, View the Syllabus.
| | | | | |
| --- | --- | --- | --- | --- |
| ICND1 Exam | | | | |
| ICND2 Exam | | | | |
| CCNA Single Exam | | | | |
Also CCNA 640-802 Cert Flash Cards Online can provide you some value added experience and confidence. The CCNA 640-802 Cert Flash Cards Online  is a online exam preparation tool consist of a custom flash card application loaded with over 300 total questions that test your skills and enhance retention of exam topics.
With this kind of vigorous practice and study nothing can stop you from achieving the Cisco CCNA 640-802 exams. More over you are preparing with the number one CCNA selling titles. Wish you the best and hopefully this will help you to pass the Cisco CCNA 640-802 exams
---
June 17, 2009 7:56 AM
It's my habit to always  try something new or some interesting. As we have a huge project coming up, hence  I am in the process of testing many windows supported netflow analyzers.  Since I am aware of Manage Engine Netflow analyzer I thought for a change let me start over with Scrutinizer netflow analyzer.
I just went to the Scrutinizer web site and downloaded the latest Scrutinizer netflow analyzer; there support seems to be good, the moment I downloaded the  Scrutinizer netflow analyzer;  I received an email offering a trial key with few faqs of the Scrutinizer netflow analyzer.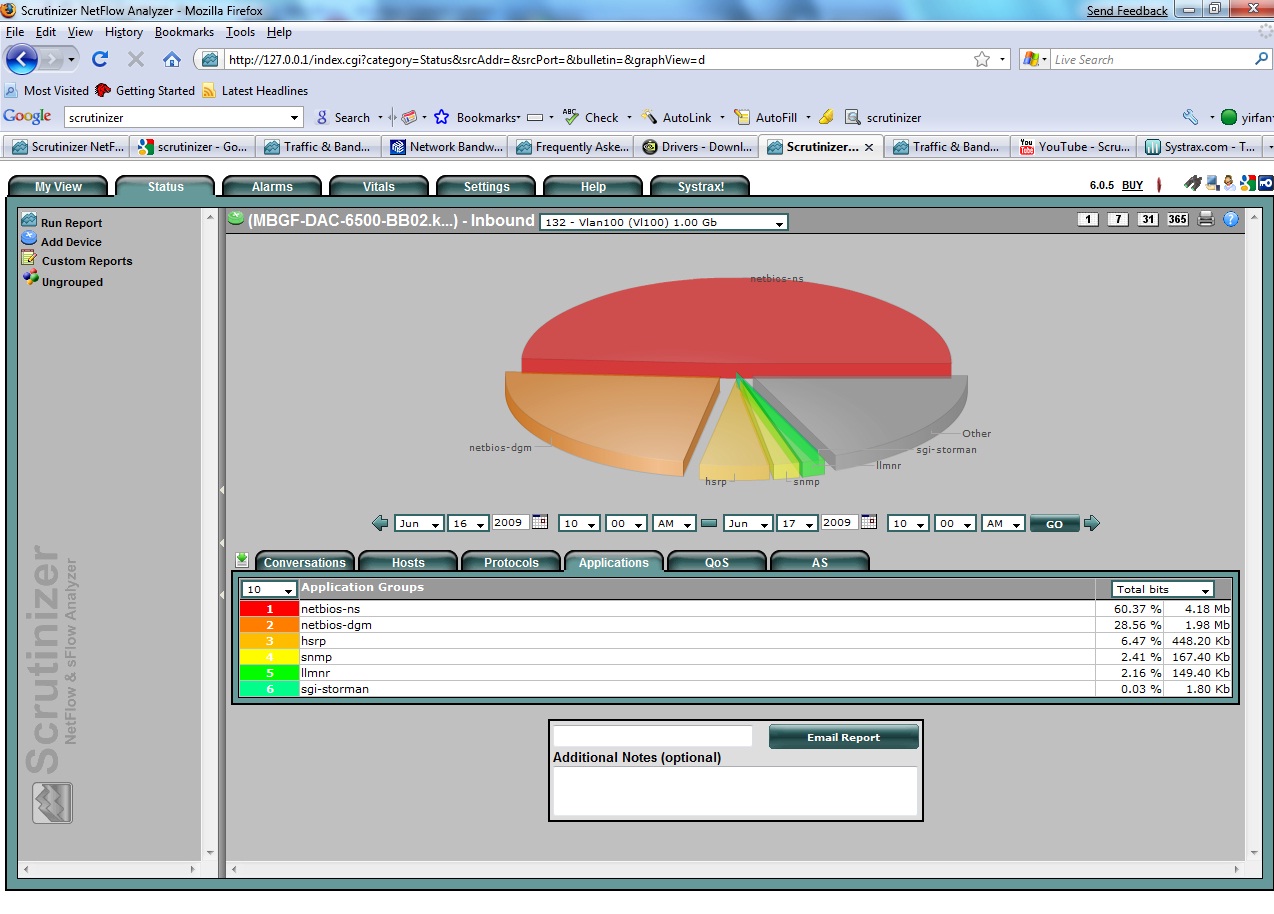 ---
June 15, 2009 1:14 PM
On 3rd June 2009, the FC-BB-5 working group of T11 completed the development of the draft standard and unanimously approved it as the final standard. The following day the plenary session of T11 approved forwarding the FC-BB-5 standard to INCITS for publication as an ANSI standard.
Cisco Systems has significantly contributed to the definition of FCoE in the FC-BB-5 standard through multiple technical submissions. Cisco has led the FC-BB-5 working group holding the chairman position with Claudio DeSanti.
One of the most significant technical challenges for the working group has been the definition of the addressing mode for FCoE, with two schemes proposed, FPMAs (Fabric Provided MAC Addresses, proposed by Cisco) and SPMAs (Server Provided MAC Addresses, proposed by Brocade). The final standard recognizes the superiority of the Cisco scheme by stating that FPMAs are the only addresses mandatory to implement.
The standard is at:
http://www.t11.org/ftp/t11/pub/fc/bb-5/09-056v5.pdf
---
June 15, 2009 6:08 AM
Other day I was looking for an upgrade for the Cacti in Google, while searching I came across this wonderful ready to use virtual appliance based on FreeBSD UNIX.

To brief about the Cacti is a complete network graphing solution designed to harness the power of RRDTool's data storage and graphing functionality. Cacti provide a fast poller, advanced graph templating, multiple data acquisition methods, and user management features out of the box. All of this is wrapped in an intuitive, easy to use interface that makes sense for LAN-sized installations up to complex networks with hundreds of devices.

The creator of this appliance Ernie did a great job by including nice collection of pre- configured open source software's which includes the following
    – FreeBSD UNIX v6.2 RELEASE built to Ernie's specifications
    – PERL v5.8.8 and many carefully selected modules
    – PHP v5.2.4 that I custom compiled from source
    – Apache v2.2.6 that I custom compiled from source
    – Net-SNMP v5.4 that I custom compiled from source
    – MySQL v5.45 that I custom compiled from source
    – RRDTool v1.23 that I custom compiled from source via FreeBSD's Ports
    – Cacti and Many Plugins:
    – Various other key ingredients compiled from source with the help of the FreeBSD Ports Collection
        – OpenSSL
        – OpenSSH
        – GD
        – NTop
        – Tripwire
    And even more!
This VMware Cacti Appliance is really helpful, easy to install and manage. More over you will find the installation guide with illustrations as well Wow.  Download the VMware Cacti Appliance here.
---