---
October 21, 2009 5:57 AM
Cisco's TechWise TV is webcasting a  60 minute Episode on 29th of October 2009  with a title '"Routers Are Dead. Long Live the Router!" where you can learn the Cisco integrated services router will dramatically simplify your branch architecture and greatly reduce your network management workload.
 [kml_flashembed movie="http://www.youtube.com/v/BTebfzQkDhE" width="425" height="350" wmode="transparent" /]
By registering to this web cast you will get the chance to see the technological advances that will enable you to create a truly borderless network, while giving you the convenient, powerful network management features you crave in today's resource-challenged IT environment.
The Agenda
ISR G2: New Model New Story
The ISR Autopsy
New Modules
Security Innovation in the ISR
Collaboration Enablement
The Service Ready Engine
Universal IOS
Long Live the Router
October 18, 2009 6:09 AM
I was just accessing the rough cuts for the Cisco CCIE Routing and Switching Official Certification Guide, 4th Edition. I had a great first impression. I had a chance to read "LAN Switching" part. It was a great firsthand experience. This segment is organized well and the approach is similar to CCNA, CCNP books, starts with a brief introduction and then the most useful section of Cisco Press Books "Do I Know This Already?" Quiz followed by "Foundation topics and "Foundation Summary".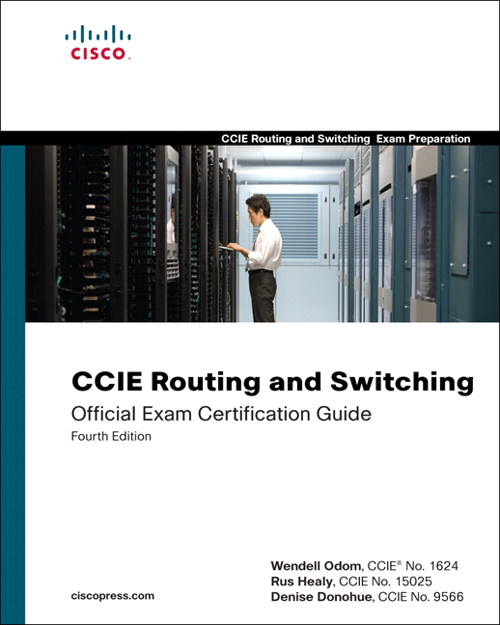 Pic Courtesy: Cisco Press
The Cisco Press authors Wendell Odom, Rus Healy and Denise Donohue did a credible job; I liked the way they presented the topics, since I spent most of my time on Switching I really enjoyed the "LAN Switching" part. Though I am familiar with most of the things they were talking but it was great experience to refresh my info.
The CCIE Routing and Switching Official Certification Guide 4th Edition is to be released on 19th of November 2009 by Cisco Press, they are offering great discount do check Cisco Press web site for more details, but make sure you registered yourself to Cisco Press website to get more discount. Once the book released I will try to write a review on this book.
---
October 15, 2009 10:32 PM
I am using Windows 7, since beta days and then now with RC release.  Couple of week's back I was attending a Seminar "Introducing Windows 7" organized by Microsoft for their partners. I did asked few questions; one of them was related to Windows restore and hibernation. I asked them if I have a complete Backup of my computer in my external USB hard disk, is it possible to restore Windows 7 and all applications in a new hard disk. The gentleman said it's not possible. I was not convinced thought of testing myself.
 First using the Systems and Security menu from Control panel I selected the option "Backup your Computer" and I selected I created a System Image in my External USB hard disk.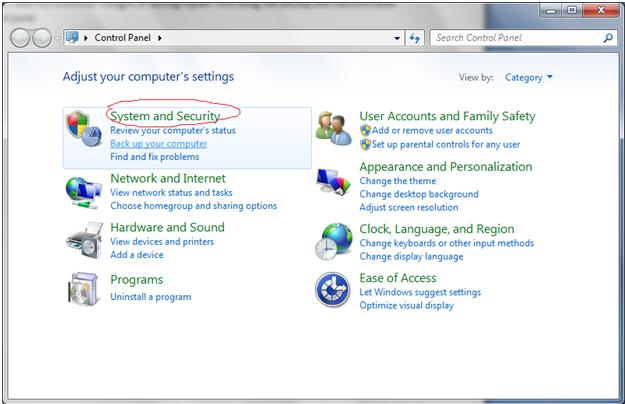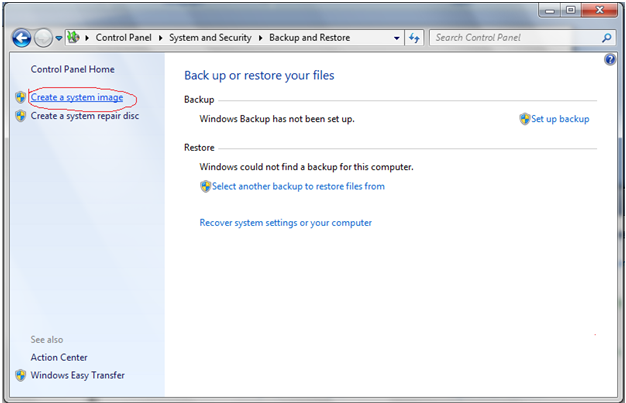 Then I created a System repair disk by using the menu "Create a system repair disk" from the Systems and Security menu from Control panel.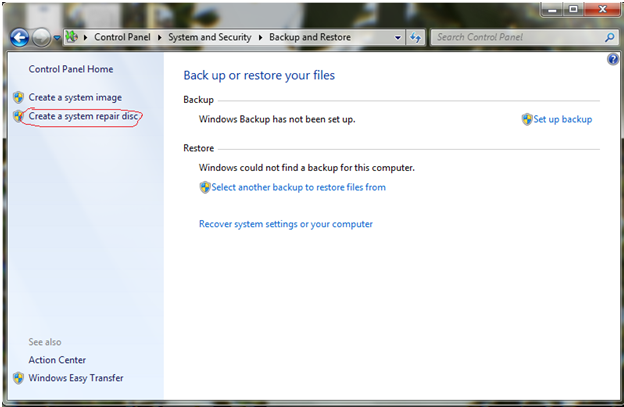 Once I am done with these things I replaced the existing hard disk in my laptop with a new one. Then I installed Windows 7 in my laptop, after completion of Windows 7 installation I restarted my laptop with the restore disk I created and I made sure my External USB hard disk is connected my laptop as well. I booted the laptop using the System repair disk and then I click next once I got this menu,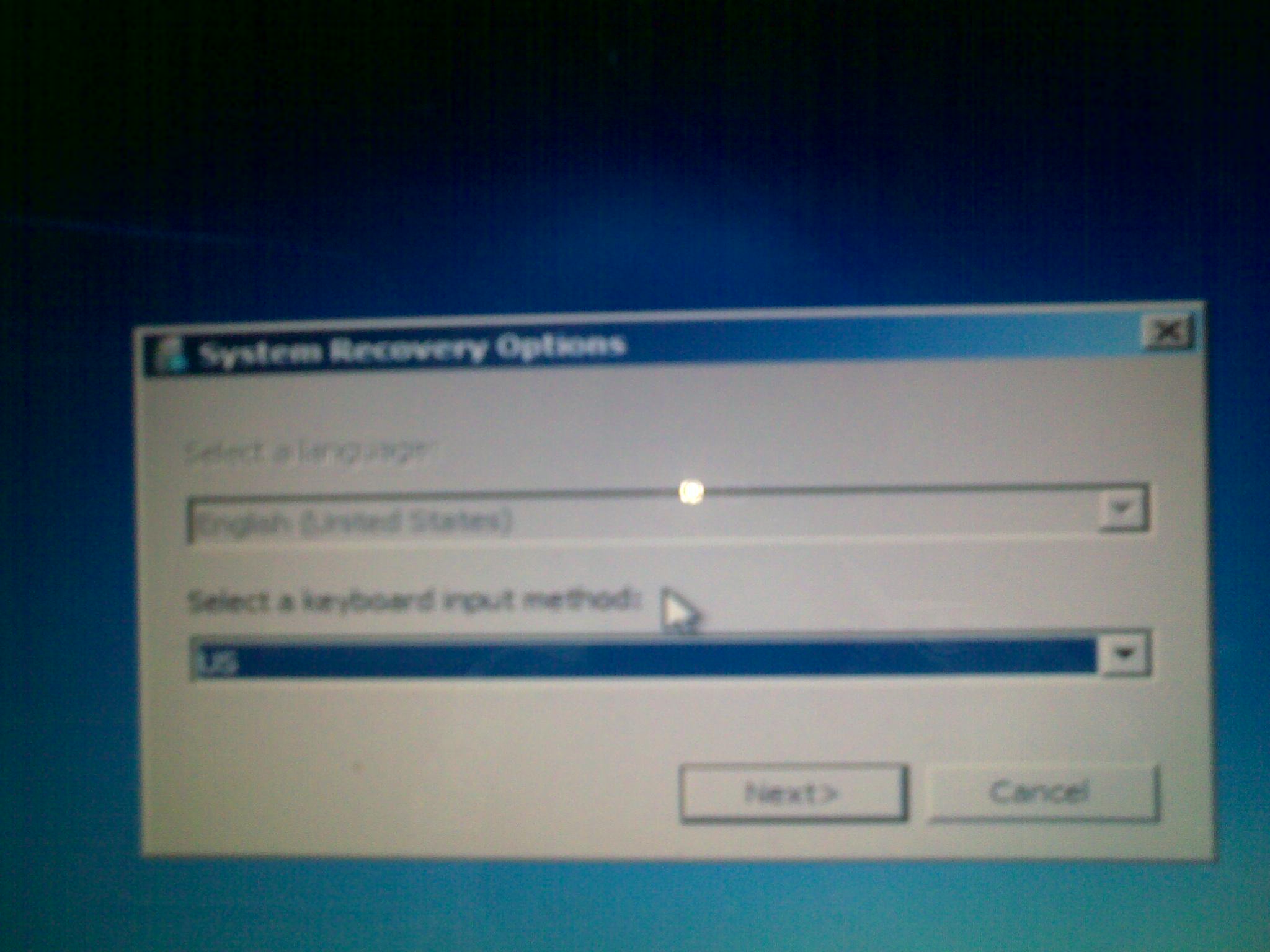 And then I selected the option "Restore your computer using a system image that you created earlier"
Then I selected the latest available system image which by default selected the image stored in my external USB hard disk,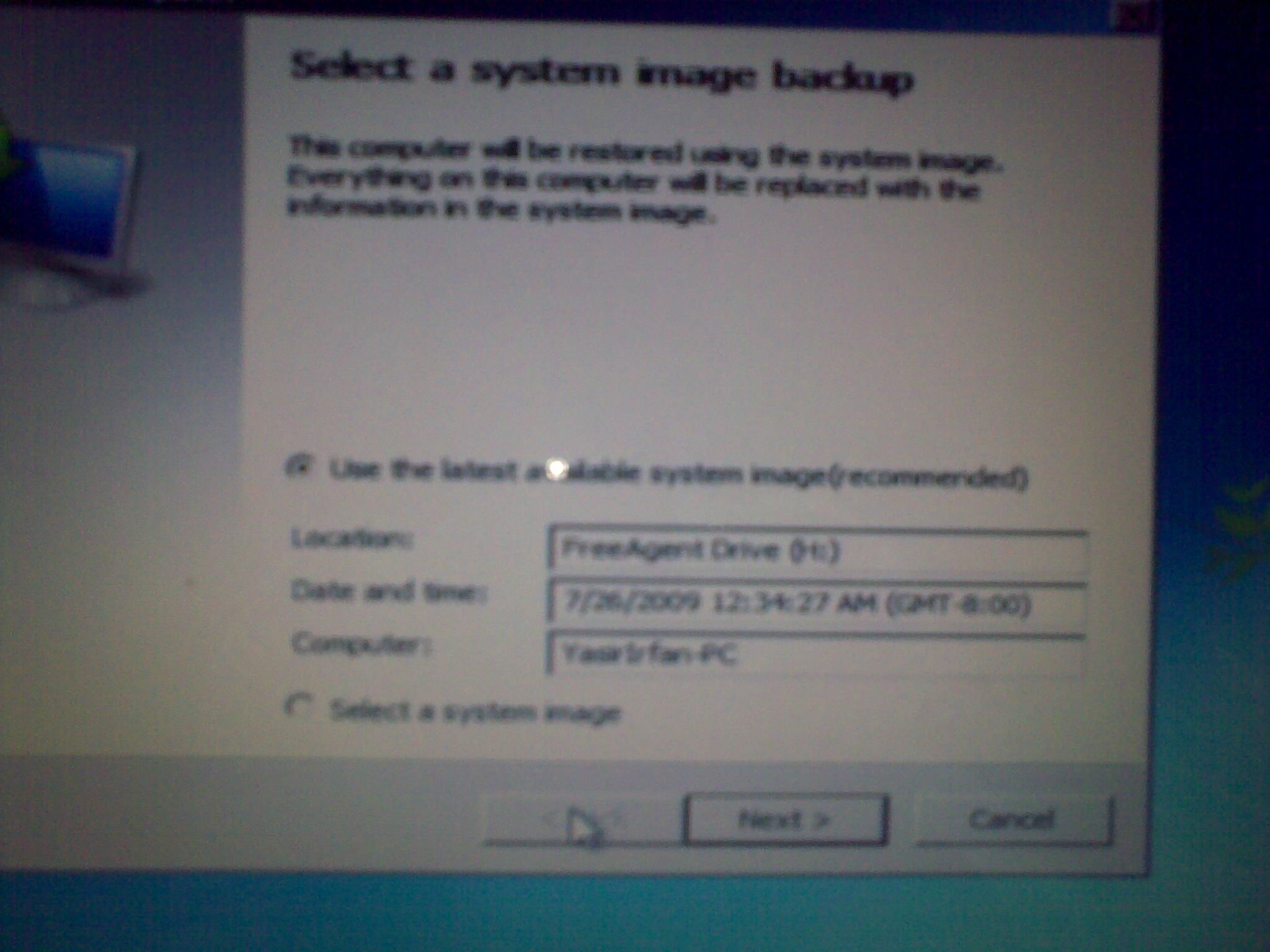 If by change if the latest system image is not shown you always have an option to select the image manually. Once I selected the image file stored in my external USB hard disk I was able to restore my laptop with all applications and documents stored in my original hard disk. Cool utility that too GUI from Microsoft in Windows 7. For some reason I forget to take the backup of my contacts in my Microsoft Outlook 2007 so again I removed the new hard disk and replaced it with the original one. When I restarted the laptop with the original hard disk, the laptop started back from the Hibernation mode. As I forget to shutdown my laptop before starting this whole operation. It was hibernated with lot of open files and windows. Amazing isn't it.
---
October 14, 2009 5:58 AM
Yet another acquisition is planned by Cisco Systems. Cisco Systems is planning to buy advance wireless telecommunication equipment makers Starent Networks Corp for 2.9 billion dollars to boost its product offerings as phone carriers build out next-generation networks. This will be a second major acquisition this month for Cisco Systems after billion buyout of videoconferencing leader Tandberg for roughly 3 billion dollars.
According to a post in Cisco blogs, by acquiring Starent Networks Corp – Cisco Systems can expand their product portfolio in mobile internet market. As we all know the Emerging markets are seeing the success of Wi-Max technology. Surely this acquisition will help Cisco to broaden its presence in the Wi-Max area.
"The growth of smart mobile devices and net books has fundamentally changed consumer behavior with regards to how they use the Internet," said Ned Hooper, Cisco's chief strategy officer who also oversees the consumer business.
By first half of year 2010, the acquisition is expected to close. Until then Cisco Systems and Starent Networks Corp  will continue to operate as separate companies. Upon completion of the transaction Starent Networks Corp will become the new Mobile Internet Technology Group led by Starent President and CEO Ashraf Dahod. Starent was founded in 2000 and completed its initial public offering in 2007. The company is based in Tewksbury, Mass., and has approximately 1,000 employees worldwide.
---
October 13, 2009 1:25 PM
One of the leading Telecom operators in India, IDEA Cellular an Aditya Birla Group Company was able to shift two million daily calls from live agents to a self-service voice portal that increased customer satisfaction and reduced average hold by using the Cisco Unified Customer Voice Portal.
[kml_flashembed movie="http://www.youtube.com/v/UpZRSq-Rl2I" width="425" height="350" wmode="transparent" /]
With the use Cisco Unified Customer Voice portal, IDEA Cellular is catering more than 47 million customers. Yet another business success story by using Cisco solutions. The solution was implemented by IMB India.
---
October 11, 2009 6:05 AM
During base lining or troubleshooting activity you may need to determine out the CPU Utilization of your Cisco router or Switch. While exploring to find out the top 10 ten CPU utilization process in a Cisco router, I discovered the sorted option of the "show processes cpu" command.
The sorted option is really a beneficial option in the "show processes cpu" command which can help you to find out the load of your Cisco router or a Switch over the last 5 seconds, 1 minute and 5 minutes. Starting in IOS 12.2 T, the "show processes cpu history" command gives a nice CPU utilization graph.
At times it is helpful to sort the processes by their percentage of CPU utilization. To do this you can use the show processes cpu sorted command as follows:
Some of the sample output is as follows
…. rest deleted……
---
October 10, 2009 5:59 AM
October 20th, we can all experience the architectural vision for Borderless Networks Cisco is creating, on 20th October, 2009 at 11 AM PST Cisco System is conducting a virtual event "Borderless Networks Experience".  If you are in different time zone no probs, Cisco Systems is hosting this virtual even in three different time zones. So just pick that one which suits you the best and enjoy the latest innovation. The details are as follows
The Borderless Networks Experience: The World is Your Workspace
Tues., Oct. 20; 11:00 PDT (18:00 GMT)

Imagine a world where you can use video in innovative ways with your customers, business partners and employees. Imagine a world where customer satisfaction is improved by making interactions more personal and immediate. In this world, the workspace is seamlessly transformed to be more global, efficient and fun.
This webcast will explain how new technologies can transform your business to make the Borderless Network Experience a reality.
Live Q&A
Cisco experts will be available throughout the webcast to answer your questions regarding this new, ground-breaking technology.
Agenda
o   Cisco networking experts unveil industry-changing innovations for delivering the ultimate workspace experience
o   Industry leading IT managers describe how these innovations are already transforming their businesses.
o   Discover how to make your organization borderless
So have fun and check this cool video as well.
[kml_flashembed movie="http://www.youtube.com/v/jDi0FNcaock" width="425" height="350" wmode="transparent" /]
---
October 8, 2009 10:10 PM
Cisco Systems have come up with a security appliance which is a dedicated antispam, antivirus and antiphisihing appliance which virtually eliminates email threat right out of box. Cisco named this security appliance as The Cisco Spam and Virus Blocker, which is aimed at small business segment and can support up to 250 users. More over the SC Magazine has awarded all star rating for the Cisco Spam & Virus Blocker i.e. 5-star rating
The Cisco Spam and Virus Blocker acts as an email gateway and message transfer agent, typically deployed between the internet edge and the email server. The appliance secures email using anti-malware, anti-spam and content filtering.
The good news is Cisco Systems is offering a 30 days money back guarantee and if you are among first 100 customers to fix an appointment chances are high to receive an iPod shuffle.
Some of the salient features of Cisco Spam and Virus Blocker are as follows
·         Protects small businesses by providing powerful protection against spam, viruses and other email threats to secure your network and business data while improving productivity.
·         Stops spam right out of the box, unlike other products that require ongoing and time-consuming administration to work effectively.
·         Reduces operational costs through simple setup in minutes and continuous automatic updates.
·         Enhances the performance of networks, servers, and computers by helping eliminate unwanted email.
·         Provides peace of mind with a complete solution including hardware, software, updates, and product support in a single package.
Overall the Cisco Spam and Virus Blocker is an impressive device as an entry point into the small business market. Smaller organizations with the budget and need for granular security options can enjoy the full featured enterprise-class nature of the product, as well as the support.
---
October 6, 2009 12:04 PM
IBM Middle East is conducting an event "Storage Innovations for a Dynamic Infrastructure" in three major cities of Saudi Arabia. The event will held in Jeddah, Riyadh and Al Khobar on 12th, 13th and 14th of October 2009.
Pic Courtesy : IBM Middle East
In this event the storage virtualisation technology of IBM seeks to address the challenge of infrastructure management complexity by providing a feature rich centralised point of management for heterogeneous storage environments for both block and file data.
Find out more on the solutions provided by IMB by joining them in one of the events in a city near you.
The location and dates are as follows
October 12, 2009- Intercontinental Hotel- Jeddah
October 13, 2009- Marriott Hotel- Riyadh
October 14, 2009- Carlton Al Moaibed Hotel- Al Khobar
The Agenda for the Event is as follows
Agenda

Time

Description

09:00

Welcome and Registration

09:30

Introduction and Market Overview

10:00

Simplifying the storage infrastructure through Virtualization

11:15

Coffee Break

11:30

Advanced data de-duplication for medium and large enterprises

12:45

STOP PRESS – IBM System Storage New Announcements

13:15

Lunch and Networking
---
October 6, 2009 7:55 AM
According to CNET latest updates, thousands of Windows Live Hotmail passwords have been leaked online due to phishing attack.  Some sources say more than 10,000 Windows Live accounts briefly appeared on web site PasteBin, including accounts on email domains like @hotmail.com, @msn.com, and @live.com. The list of leaked addresses starts with A & B. This news is raising fears among the Windows Live Hotmail users.
Microsoft has confirmed this news and it was first reported by Neowin. So if you're a Live Hotmail user and you suspect you may have been affected, now's the time to change that password and security credentials. If you are using the same password for other sites it's strongly recommended to change the passwords and security credentials as well. Do act now
Do check the Windows live blog for more updates as well. And Microsoft strongly recommends its customers to using the following protective security measures
Renew their passwords for Windows Live IDs every 90 days
For administrators, make sure you approve and authenticate only users that you know and can verify credentials
As phishing sites can also pose additional threats, please install and keep anti-virus software up to date
Neowin was to first act by reporting this incident immediately to Microsoft's Security Response Center and to Microsoft's PR teams in the UK and US. After leaning this breach, Microsoft "immediately requested that the credentials be removed and launched an investigation to determine the impact to customers," it wrote on its Windows Live blog. 
---