---
February 10, 2010 6:32 AM
Pearson Education a global leader in Education and Professional publishing releases it first ever iPhone/iPad reader applications for both technical and professional communities as well as home and office communities. The newly released Apps are available as single or multi-book libraries, are a new learning format for Pearson and complement the suite of product types already available, such as traditional print books, online reference libraries, e-books, video, simulation and more.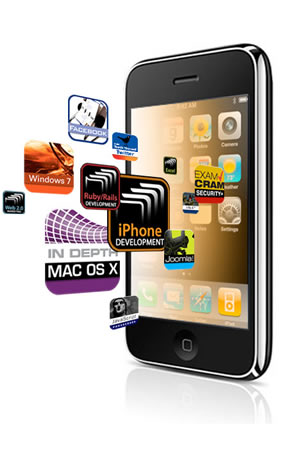 It's a new step from Pearson to provide its titles in smartphones especially the iPhone. Thought the first App launched was "The iPhone Developer's Library but I downloaded the Cisco CCNA 640-802 cert flash card. I could easily find cert flash cards for Cisco CCNA Wireless, Voice and CCNA Security exams. As we all know the importance of Cert Flash cards available for Cisco Certification exams. The Pearson Apps seems to be very handy and very helpful for Cisco Certifications. Moreover most of Cert Flash cards are priced less than 10 dollars. You can always try a demo version before buying the full version.
For IT Professionals who are interested in pursuing certifications you can find iPhone Apps for Cisco CCNA 640-802, MCSE, CompTIA and much more.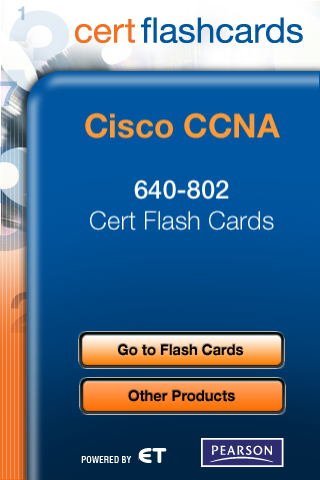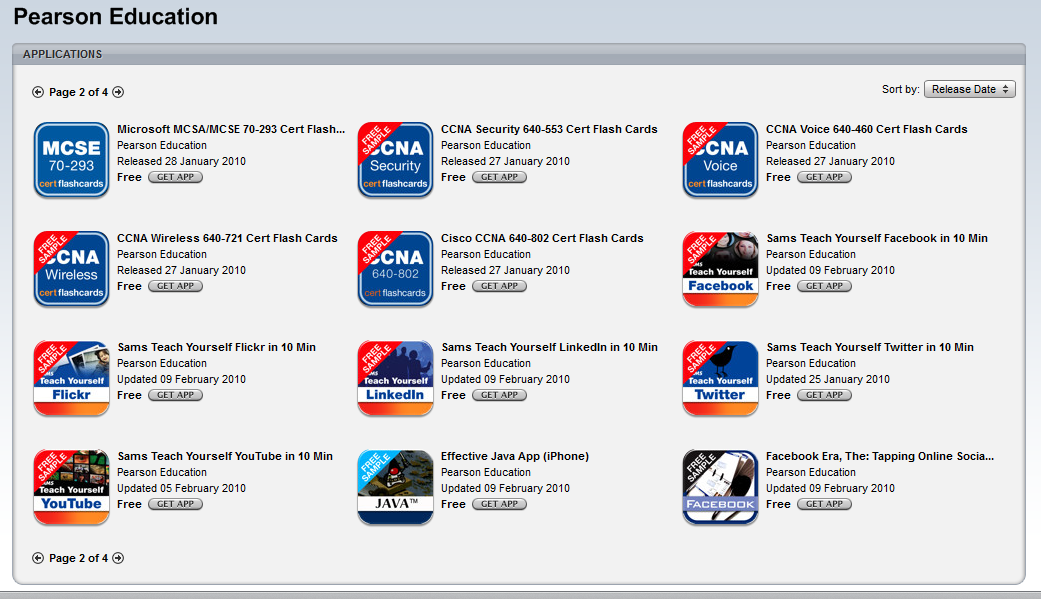 Some of the free latest Apps from Pearson are available to download form iTunes stores are : Effective Java MAC OS X Snow Leopard, in depth Microsoft Windows 7 Unleashed and much more. For more details check informit website.
February 8, 2010 4:13 AM
Year 2009 was proved to be a great year for Android but according the Kaspersky, 2010 could be a challenging for Android just not because of a lack of awesome devices or not because Android OS won't move forward significantly,. But it's the hackers who are expected to target Android users with malwares and viruses.
"Currently the rules are very simple, you pay $25 dollars and your program gets posted, and Google does not do anything to check or manage this process. This is a serious weak point for the platform at this point," Aleks Gostev stated. "There's already malware for Android so the appearance of new malware is just a matter of time, not technology."
Gostev says that Google will need to address the problem as a priority, but that it won't be easy.
Aside from third-party application Android vulnerability, Kaspersky Lab predicts that 2010 will see Google Wave become a target for cybercriminals as well. Other threats high on their list include mobile malware, not just for Android devices, but also the iPhone along with more peer-to-peer (P2P) and torrent attacks.
From a Kaspersky Press Release issued couple of weeks back
"An increase in attacks on iPhone and Android mobile platforms. 2010 promises to be a difficult time for iPhone and Android users. The first malicious programs for these mobile platforms appeared in 2009, a sure sign that they have aroused the interest of cybercriminals. The only iPhone users currently at risk are those with compromised devices; however the same is not true for Android users who are all vulnerable to attack. The increasing popularity of mobile phones running the Android OS combined with a lack of effective checks to ensure third-party software applications are secure, will lead to a number of high-profile malware outbreaks."
---
February 1, 2010 5:10 AM
If you have an innovative idea then make sure you build your dream team to en cash your team's brilliant idea with $250,000 as prize money. The good news is Cisco launched there I-Prize contest, an open global innovation competition in which entrepreneurs worldwide can collaborate and submit their proposals with the potential to be Cisco's next billion-dollar business idea. Following last year's competition, which drew nearly 2,500 entrants, this year innovative thinkers will have access to an expanded portfolio of Cisco® collaboration solutions to build on as they share their ideas with other participants around the world. The winning team will be eligible for $250,000 in prize money.

CONTEST DETAILS
·        Idea submissions should fall into one of four categories:
o   The future of work: Use the power of the network to bring together customers, suppliers and associates to propose solutions that will change the way companies and organizations do business. 
o   The connected life: Describe technological advancements that will dramatically improve living conditions and culture. This category will require people to envision a life of seamless connectivity. 
o   New ways to learn: Create innovative solutions that will transform when, where and how people learn and educate.
o   The future of entertainment: Devise next-generation solutions that will change how people play.
·        I-Prize contest participants will have access to the following Cisco collaboration solutions, which can help break down communication barriers associated with global innovation:
o   Cisco Show and Share, a social video community where contest participants can record, edit and share video; comment, rate and tag interesting content; and use speech-to-text translation for easy video search and viewing.
o   Cisco Pulse, a search platform that dynamically tags content as it crosses the network, allowing contest participants to accurately locate and rapidly connect with the best available experts and information on a particular topic.
o   Cisco WebExTM, an online meeting platform for audio and Web conferencing that enables users to share documents and desktops in real time.
o   Cisco TelePresenceTM, an immersive, virtual meeting experience that combines innovative real-time video, audio and interactive technologies to give people in distributed global locations a wide variety of face-to-face collaboration experiences.
·        I-Prize participants will also enjoy access to a unique management platform, powered by Spigit, which enables participants to buy and sell ideas on an open market. The idea market lets contest participants establish the value of their ideas through trades. Shares of ideas are purchased with virtual currency awarded to participants based on the value of their contributions on the platform.
·        Entries will be evaluated according to the judging criteria outlined in the terms and conditions, including an entry's technological innovation and business. All submissions must use the IP network as a platform.
·        For more information, contest rules and entry forms, please visit http://www.cisco.com/iprize.
Visit Cisco I-Prize on Facebook
Cisco I-Prize Questions & Answers
[kml_flashembed movie="http://www.youtube.com/v/UYj3hr8rNNY" width="425" height="350" wmode="transparent" /]
---
January 26, 2010 5:58 AM
Yesterday Cisco announced some major updates for the most popular Cisco CCNP Certification program. Currently three new CCNP exams are revamped i.e. ROUTE 642-902, SWITCH 642-813, and TSHOOT 642-832, wow  titles looks great for me.
In the prevision version you were required to pass four exams BSCI, BCMSN, ISCW and ONT.  Whereas the new updated version of CCNP requires only three exams to pass. The exams will be available in March/April 2010. The current CCNP track is available until July 2010.
 News Facts:
The previous version of the CCNP required four exams: BSCI, BCMSN, ONT and ISCW. The revised certification now requires three 120-minute exams:

ROUTE #642-902 Implementing Cisco IP Routing
SWITCH #642-813—Implementing Cisco IP Switched Networks
TSHOOT #642-832——Troubleshooting and Maintaining Cisco IP

The new CCNP courses and e-learning materials are available now. The exams will be available in March/April 2010.
CCNP is the second most popular Cisco Certification, after CCNA®.
No other imprint publishes to the CCNP certification
Cisco Press CCNP products can be purchased at your favorite local bookstore, computer/electronic store, online bookseller, or ciscopress.com.
By February you can expect new CCNP Products from the official publisher Cisco Press, thanks to updates shared by
Jamie Adam's. According to the press release
the new suite includes three Certification Guides and introduces a new product line for mid- to late-stage exam preparation, the Cert Kits, available for all three exams. Each Cert Kit provides a value-priced package combining video, print and electronic quick reference sheets, and online flash card preparation tools.
Pic Courtesy: Cisco Press
A complete listing of new CCNP products is available at www.ciscopress.com/ccnp.
Available February 2010
CCNP ROUTE 642-902 Official Certification Guide / 1587202530 / 9781587202537
CCNP SWITCH 642-813 Official Certification Guide / 1587202433 / 9781587202438
CCNP TSHOOT 642-832 Official Certification Guide / 1587058448 / 9781587058448
*Discount-bundled package of all three Certification Guides:
CCNP Routing and Switching Official Certification Library / 1587202247 / 9781587202247
So start preparing for the new suite of most prestigious CCNP certification. Better luck. Do let me know if you pass the new CCNP Certification.
Some useful links
http://www.cisco.com/web/learning/le3/le2/le37/le10/learning_certification_type_home.html
https://learningnetwork.cisco.com/docs/DOC-6393
http://blogs.cisco.com/ciscotalk/cin/comments/new_ccnp_requirements_-_new_ciscopress_resources/?awesm=fbshare.me_AFKrd&utm_medium=fbshare.me-facebook-post&utm_source=facebook.com&utm_content=fbshare-js-large
---
---
January 23, 2010 12:47 PM
Imagine you are trying to ping a device from your Cisco Switch or a Cisco Router, but by mistake you type a wrong IP address, instead of waiting for the device to give a request time out you can about the ping sequence in your Cisco Device by pressing <CTRL-SHIFT-6> twice in succession. The Cisco Switch or a Cisco Router mentions there is an escape sequence, but doesn't tell you what it is!
From above picture notice that the ping sequence stopped at 3rd packet.  -5 packets is the default. This combination works for trace route as well pings, both extended and regular.
---
January 23, 2010 5:14 AM
Are you interested on the benefits ofunified computing in your data center, and then good news is here. Cisco TechWise TV team is coming back with a new broadcast on 4th February 2010.
For sure it will be a great opportunity to learn how this new architectural approach will dramatically reduce your server, cabling, cooling, provisioning, and management needs. And learn how you can take a building block approach to a unified data center, while enjoying significant ROI at each step. This event comes to you with the participation of Intel, VMware and BMC.
[kml_flashembed movie="http://www.youtube.com/v/nR5fObZ3coU" width="425" height="350" wmode="transparent" /]
So book your calendar, register here  and have fun on February 4th at 1:00 pm EST
Agenda
·         Mapping the Journey
·         Intel and Cisco: Joined at the Chip
·         Cisco and the C-Series Servers
·         VMware and Virtualization-Aware Networking
·         BMC and Unified Computing
---
January 20, 2010 7:29 AM
We all know how important a Cisco Discovery Protocol (CDP) to troubleshoot the network, but sometimes this may leads to a problem. These days lot of free CDP discovery utilities is available. Anyone can download the CDP utility and start gathering info about your network. It's always recommended to disable the Cisco Discovery Protocol (CDP) on all the interfaces in your Cisco devices. The only interfaces need to use the Cisco Discovery Protocol (CDP) are the ones which are connected to your Cisco Routers and Cisco Switches. Cisco Discovery Protocol (CDP) can be disabled by using "no cdp enable" command in the entire interface you need.
In my access Switch the CDP is enabled in all interfaces, you can determine this by using a command "show cdp interfaces" you can see CDP is enabled in  all the interfaces.
ITKE-AS01#sho cdp interfaces
FastEthernet0/1 is down, line protocol is down
  Encapsulation ARPA
  Sending CDP packets every 60 seconds
  Holdtime is 180 seconds
FastEthernet0/2 is down, line protocol is down
  Encapsulation ARPA
  Sending CDP packets every 60 seconds
  Holdtime is 180 seconds
FastEthernet0/3 is up, line protocol is up
  Encapsulation ARPA
  Sending CDP packets every 60 seconds
  Holdtime is 180 seconds
FastEthernet0/4 is down, line protocol is down
  Encapsulation ARPA
  Sending CDP packets every 60 seconds
  Holdtime is 180 seconds
FastEthernet0/12 is down, line protocol is down
FastEthernet0/24 is up, line protocol is up
  Encapsulation ARPA
  Sending CDP packets every 60 seconds
  Holdtime is 180 seconds
ITKE-AS01#
Let's see to which interface the router is connected
ITKE-AS01#show cdp neighbors
Capability Codes: R – Router, T – Trans Bridge, B – Source Route Bridge
                  S – Switch, H – Host, I – IGMP, r – Repeater, P – Phone,
                  D – Remote, C – CVTA, M – Two-port Mac Relay
Device ID        Local Intrfce     Holdtme    Capability  Platform  Port ID
MOHMPLS          Fas0/24          176            R       2620XM    Fas 0/0
ITKE-AS01#
Let's disable the CDP in all the interfaces expect fast Ethernet 0/24
ITKE-AS01#configure t
ITKE-AS01(config)#interface range fastEthernet 0/1 -23
ITKE-AS01 (config-if-range)#no cdp enable
In the above example I have disabled CDP in all interfaces except the one connected to the router.
---
January 20, 2010 5:56 AM
 Cisco, NetApp and VMware have joined hand to present an elegant solution that may help you to imagine and achieve virtually anything, sounds great right. Then just register to the event and enjoy the executive discussions with Tony Bates, Cisco; Tom Georgens, NetApp; Paul Maritz, VMware; and a special guest and participate in a live Q&A with technical experts from all three companies.
The event is scheduled on 26th of Jan 2010 and timings are as follows
9:00–10:00 a.m. Pacific
12:00–1:00 p.m. Eastern
---
January 18, 2010 6:01 AM
Cisco Systems launched recently a Wireless access point targeting the Small to Midsize business. The Cisco AP 500 Access Point is easy to install and manage.  The clustering technology with simplifies the deployment and of Cisco AP 500 AP by creating single point of administration for multiple Cisco AP 500 Access Points. Currently Cisco is offering one model AP 541.
The Cisco AP 500 comes with clustering technology, Gigabit Ethernet LAN interface for higher throughput, 802.11n compliance and dual band user selection for either 2.4 GHz or 5 GHz and more over it supports voice roaming.
Some of the features of Cisco AP 500 are as follows
Cisco AP 500 Series Wireless Access Points offer a range of features:
Clustering Technology: Simplifies wireless deployments by creating a single point of administration for multiple access points. Clustering technology replicates a configuration, pushes it out to other access points, and continuously manages the frequency channels for each device, reducing network interface.
Superior Performance: Gigabit Ethernet LAN interface for higher throughput. Wireless radio complies with 802.11n wireless technology, using MIMO technology to enhance network coverage, capacity, and throughput for data and multimedia applications, while allowing for backward compatibility with a, b, and g clients.
Robust Security: Supports business-class security encryptions (WPA2, 802.1x supplicant) and authentication for client compatibility, MAC address authentication, client isolation, and rogue access point detection.
Voice Roaming: Allowing for client fast roaming while maintaining good voice quality with 802.11i pre-authenticated standards.
Power Options: Uses both standard AC power and Power-over-Ethernet (PoE), simplifying installations in locations such as drop ceilings where power outlets may not be accessible.
[kml_flashembed movie="http://www.youtube.com/v/muvJBupjyrc" width="425" height="350" wmode="transparent" /]
---