---
December 2, 2008 7:17 AM
Dear Friends
Are you interested in understanding the latest security trends, if yes then there is a golden opportunity for you all waiting on 16th of December, 2008 at 11:00 CET a Webcast series will be hosted by Cisco which is dedicated to discussing the latest security trends and the solutions available to address these emerging issues .

Pic Courtesy: Cisco Systems
Topics Include:
How today's business challenges are increasing the need for security

Evolving technology and staying secure

Driving a systems approach with a Cisco Self-Defending Network

An update on Cisco's Security Solutions Portfolio

Case studies – Insight into how a variety of organizations have used Cisco Solutions to ensure they stay secure

Live Q&A
Don't miss the opportunity to join this online event and have your questions answered live, by a Security expert.Register to attend here 
 
November 29, 2008 12:51 PM
Cisco has extended the recertification for the networking professionals whose certifications are lapsing soon. With this special offer you start recertifying by taking an exam at the regular prick and if you don't succeed in your first attempt no need to panic , you'll get a second opportunity to pass the exam that too free.

Picture Courtesy:Cisco Systems.
So, what's holding you back?
Cisco exams are challenging—that's one of the reasons they're so highly valued by IT professionals and employers alike. Because Cisco certification is an investment in your future, we're offering you a way to help secure your investment. To get details on this special offer and sign-up for a risk-free exam, visit www.pearsonvue.com/cisco/recertify today.Click here to view the Cisco recertification policy.  http://www.cisco.com/web/learning/le3/learning_about_recertification.htm 
How to Recertify
Renewal requires certification holders to register for and pass the appropriate Cisco recertification exam(s). In order to recertify, exam requirements must be met prior to the certification expiration date. Individuals with an expired certification(s) must repeat the entire certification exam process in order to regain their certification(s). Visit the Cisco Career Certifications Tracking System to check the status of your certification(s).
Next Steps
---
---
November 26, 2008 5:59 AM
Dynamic ARP inspection is a security feature which validates ARP packet in a network. Dynamic ARP inspections validates the packet by performing IP to MAC address binding inspection stored in a trusted database (the DHCP snooping database) before forwarding the packet. Dynamic ARP intercepts, logs, and discards ARP packets with invalid IP-to-MAC address bindings. This capability protects the network from certain man-in-the-middle attacks.
Dynamic ARP inspection ensures that only valid ARP requests and responses are relayed.
The switch performs these activities:·        
Intercepts all ARP requests and responses on untrusted ports ·        
Verifies that each of these intercepted packets has a valid IP-to-MAC address binding before it updates the local ARP cache or before it forwards the packet to the appropriate destination·        
Drops invalid ARP packets
---
November 22, 2008 12:56 PM
 So here we go, with the configuration of DHCP snooping on a Cisco Switch. This feature protects the network by allowing the Cisco Switches to accept DHCP response message only from the authorized servers connected to the trusted interfaces in a Cisco Switch.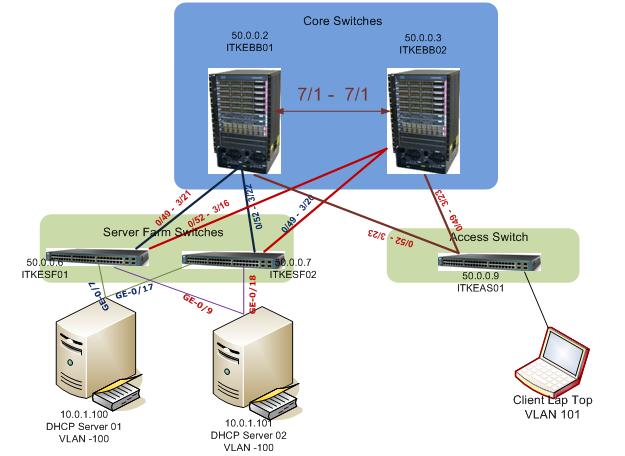 All Switch to  Switch connections are configured as 802.1 1Q Trunk ports.
IP Address and HSRP Details for the Core Switches 

From the above scenario we have two Cisco 6513 Series Switches as a Core/ Distribution with three VLANS one for management of Switches VLAN 50,VLAN 100 for all the servers and VLAN 101 for clients. Two Cisco 3560 Series Switches as Server Farm Switches and a Cisco 3560 Series Switch as an Access Switch.There are two DHCP servers with an IP address 10.0.1.100 and 10.0.1.101 connected with Server Farm Switches with HP NIC teaming. We configure DHCP Snooping based on above scenario. 
The first step to configure DHCP Snooping is to turn on DHCP snooping in all Cisco Switches using the "ip dhcp snooping" command. 
All Cisco Switches (config)#ip dhcp snooping  Second step is to configure the trusted interfaces, from the above scenario all trunk ports are configured as trusted ports as well as the interfaces G0/7,(ITKESF01 50.0.0.6),  G0/17,(ITKESF02 50.0.0.7),  G0/9 ITKESF01 50.0.0.6)  and G0/18 ITKESF02 50.0.0.7)  connected to DHCP servers with IP 10.0.1.100 and 10.0.1.101. Lets configure all trunk ports in ITKEBB01 
ITKEBB01(config)#interface range  gigabitEthernet 3/21 – 23
ITKEBB01 (config-if)#ip dhcp snooping trust 
Now let's configure all trunk ports in ITKEBB02 
ITKEBB02(config)#interface range  gigabitEthernet 3/21 – 23 ITKEBB02 (config-if)#ip dhcp snooping trust 
ITKEBB02 (config)#interface gigabitEthernet 3/16
ITKEBB02 (config-if)#ip dhcp snooping trust 
Now let's configure the trusted ports for the DHCP servers  
ITKESF01(config)#interface gigabitEthernet 0/7
ITKESF01 (config-if)#ip dhcp snooping trust 
ITKESF01(config)#interface gigabitEthernet 0/17 ITKESF01 (config-if)#ip dhcp snooping trust 
ITKESF02(config)#interface gigabitEthernet 0/9
ITKESF02 (config-if)#ip dhcp snooping trust 
ITKESF02(config)#interface gigabitEthernet 0/18 ITKESF02 (config-if)#ip dhcp snooping trust 
Now let's configure the trunk ports  Access Switch ITKEAS01 
ITKEAS01(config)#interface range  gigabitEthernet 0/49 – 52
ITKEAS01 (config-if)#ip dhcp snooping trust 
Finally we are going to configure VLANS for DHCP snooping DHCP snooping will used on all the VLANs (VLAN 100 & 101)except management VLAN 50 . Also we will limit the requests rate received in the Access Switch (ITKEAS01)  ALL SWITCHES(config)# ip dhcp snooping VLAN 100,101 
ITKEAS01(config)#interface range  gigabitEthernet 0/1 – 48
ITKEAS01 (config-if)#ip dhcp snooping limit rate 20
Displaying the DHCP snooping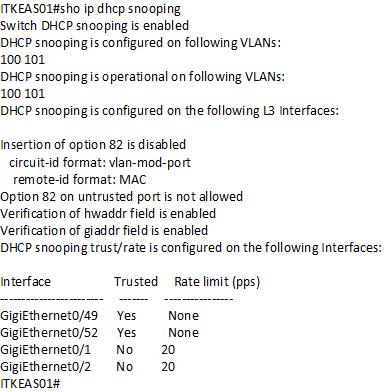 For further reference please do check this article from Cisco about DHCP snooping.
---
November 22, 2008 7:22 AM
Dear FriendsIn my previous post I was discussing about the DHCP Snooping, it may be hard to believe a DHCP sever can lead to lot troubles in your network. Consider a host sends out DHCP discovery packets, it listens for a DHCP offers packets and accepts the first available offer from a DHCP server. Guess what happens if the host gets a DHCP offer from a rouge DHCP server? The host could end up with using rouge DHCP server with an IP address and the default gateway. The host cannot access any of the resources from your network. 
Yes we can prevent this with DHCP snooping thanks to Cisco. DHCP snooping classifies interfaces as either trusted or untrusted. DHCP messages received on trusted interfaces will be permitted to pass through the Cisco switch, but DHCP messages received on untrusted interface in a Cisco Switch results in putting the interface into error disable state. Configuring DHCP snooping in a Network is quite troublesome job but I will try to make things easier for you by using a scenario, which hopefully I am going post soon.
---
November 20, 2008 7:54 AM
Dynamic Host Configuration Protocol (DHCP) Snooping is a security feature which filters untrusted DHCP messages, this security feature can protects the devices on the network from associating with an unauthorized DHCP server. When the Dynamic Host Configuration Protocol (DHCP) Snooping feature is enabled on a Cisco Switch , the Cisco Switch builds a table of MAC address, IP address lease time , binding type and interface information. In coming posts I will try to explain to how to enable and configure the Dynamic Host Configuration Protocol (DHCP) snooping security feature in a Cisco Switch.
---
November 17, 2008 5:16 AM
Dear Friends in one of my previous post I did explained in which slot the Supervisor Engine SUP720  to be installed in a Cisco 6500 Series Switches. Now let's proceed further and figure out in a Cisco Catalyst 6506-E Switch, in a Cisco Catalyst 6506-E Switch the  Supervisor Engine SUP720 is either installed in slot 5 or 6.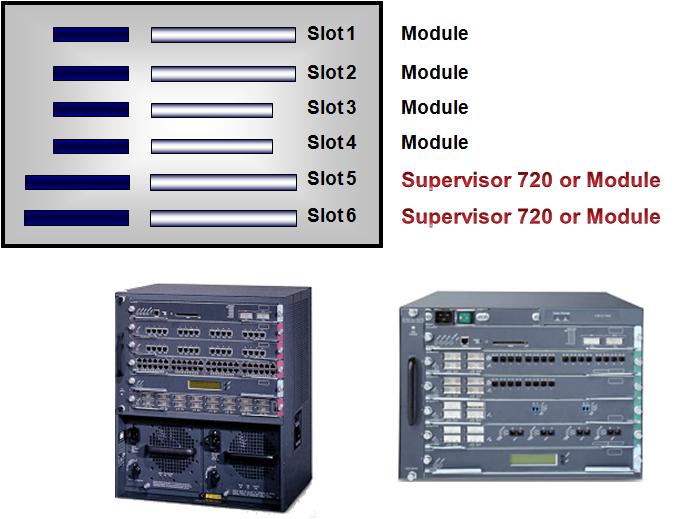 ---
November 12, 2008 12:56 PM
Dear Friends In my previous post I was talking about the HSRP error generated in Cisco 6513 Switches with a Duplicate IP Address. I did open a TAC case with Cisco Systems. I should first of all salute Cisco for the great support to solve this issue.  Cisco TAC Engineer Mr. Pradeep was in constant touch with me in this case to resolve the issue. The best part of their support is the use of technology. Mr. Pradeep initiated a Web Ex meeting with me and spent more than hour to check step by step.  He helped me a lot and did learned lot of things from Cisco TAC team, like how to approach the problem and what measures should be taken to trouble shoot any problem. Finally we came to the conclusion there are no bugs or errors in the IOS we are using. There are no problems either in hardware or in the current configuration.I would like to quote the solution provided Mr. Pradeep TAC Engineer, Cisco Systems "Let me summarize this issue. You told me that there is one Trojan affected PC/ Host, which is connected to your access switch. Further, you got some duplicate IP address messages on your core switch. During troubleshooting, I have checked and verified that the Cisco's Switches are working fine. Their configurations were correct. Generally duplicate IP addresses can be impounded by "broken HSRP links" or "incorrect DHCP pool configuration", or by misconfiguration of switches or STP. I found that this entire setup is configured correctly. Furthermore, I would like to inform you that Cisco's IOS cannot resolve Trojan issue on any PC. PC has got its own Operating System, and IOS can work only and only on "Cisco's device"
 So now it's quite clear if you face this kind of problem make sure the infected PC is removed from the network and make sure it s free from any sort of Trojans or Virus.
---
November 12, 2008 5:27 AM
Dear Friends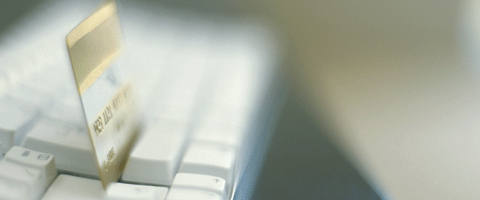 Today at 9 a.m. – 5 p.m. Eastern Time there is an IT Security Forum. It's an online Interactive conference. Cisco is committed to share information you will find indispensable in managing threats.

 The following speakers are expected to take part in this online conference.
Bob Bragdon
Publisher, CSO Magazine
Chris Christiansen
Program VP, IDC – Security Products and Services Group
Michael Hall
Chief Information Security Officer, DriveSavers Data Recovery, Inc.
Mike Helinsky
Director of Information Technology Operations, Brooks Rehabilitation
Mark Hogan
Chief Information Officer, Cleveland Airport System
Bob Russo
General Manager, PCI Security Standards Council
John Stewart
Vice President and Chief Security Officer, Cisco
Marie Hattar
Vice President of Network Systems and Security Solutions, Cisco
Christopher Burgess
Director, Senior Security Advisor, Corporate Security Programs Organization, Cisco
Dave Goddard
Vice President, Technical Support, Cisco
Patrick Peterson
Vice President of Technology, IronPort Systems, a Cisco Business Unit
Fred Kost
Director, Security Solutions Marketing, Cisco
The IT Security Forum will feature:
Cisco executives John Stewart, Chief Security Officer, and Marie Hattar, VP, Network Systems and Security Solutions, on virtualization and collaboration
A review of PCI Data Security Standard v 1.2
Exclusive data leakage survey results
2008 Cisco Annual Security Report preview
Panel discussions with industry leaders
Virtual exhibit floor where you can interact with Cisco experts
Please do register to this online conference and make use of this opportunity. 
---