---
March 12, 2010 3:56 AM
On March 9th 2010, Cisco announced a major advancement in internet, the Cisco® CRS-3 Carrier Routing System (CRS)  an advanced platform designed to deliver new wave of video, mobile and data center and much talked cloud services.
According to Cisco Systems, the Cisco® CRS-3 Carrier Routing System (CRS) the entire population of the China can make a video call at once , the entire printed collection of the Library of Congress to be downloaded in just over one second; . Every single motion picture ever created can be streamed in less than four minutes.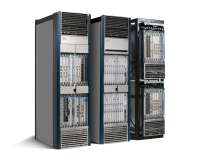 Pic Courtesy:Cisco Systems
The Cisco® CRS-3 Carrier Routing System (CRS) – designed to serve as the foundation of the next-generation Internet and set the pace for the astonishing growth of video transmission, mobile devices and new online services through this decade and beyond.
With more than 12 times the traffic capacity of the nearest competing system, the Cisco CRS-3 is designed to transform the broadband communication and entertainment industry by accelerating the delivery of compelling new experiences for consumers, new revenue opportunities for service providers, and new ways to collaborate in the workplace.
Overview:
The Cisco CRS-3 triples the capacity of its predecessor, the

Cisco CRS-1 Carrier Routing System

, with up to 322 Terabits per second, which enables the entire printed collection of the Library of Congress to be downloaded in just over one second; every man, woman and child in China to make a video call, simultaneously; and every motion picture ever created to be streamed in less than four minutes.

The Cisco CRS-3 enables unified service delivery of Internet and cloud services with service intelligence spanning service provider

Internet Protocol Next-Generation Networks

(IP NGNs) and data center.  The Cisco CRS-3 also provides unprecedented savings with investment protection for the nearly 5,000 Cisco CRS-1 deployed worldwide.  Cisco's cumulative investment in the Cisco CRS family is $1.6 billion, further underscoring the company's commitment.

AT&T

, one of the world's largest telecommunications companies, recently tested the Cisco CRS-3 in a successful completion of the world's first field trial of 100-Gigabit backbone network technology, which took place in AT&T's live network between New Orleans and Miami.  The trial advances AT&T's development of the next generation of backbone network technology that will support the network requirements for the growing number of advanced services offered by AT&T to consumer and business customers, both fixed and mobile.

The Cisco CRS-3 is currently in field trials, and its pricing starts at $90,000 U.S.
February 26, 2010 10:05 AM
Blue Coat Systems is the technology leader in Application Delivery  announced that it will demonstrate how the on-demand security intelligence of its industry-leading Secure Web Gateway solution provides proactive layers of defense against new and evolving Web-based threats at RSA Conference 2010, March 1-5, in San Francisco. 
On Friday, March 5, Blue Coat Senior Malware Researcher Chris Larsen will break down recent real-world attacks to examine how link farms, botnets and gray search engines are used to create multi-staged attacks during a session titled, "Is This Link Safe? – Exploiting Trust Through Search Engine Manipulation." The session will also evaluate the role and relative value of a coordinated defense that includes existing and new technologies, policies and procedures, and user education. The session begins at 9:00 a.m. in the Blue Room 104.
In its booth, Blue Coat will demonstrate the on-demand security intelligence delivered by its Secure Web Gateway solution. Blue Coat® ProxySG® and ProxyAV™ appliances, ProxyClient™ software and the WebPulse™ cloud-based collaborative defense work together to enable businesses to consistently enforce corporate IT policies across the distributed enterprise and to prevent Web-based malware and malicious content from compromising application security or performance. 
Blue Coat will also host the following partners in its booth:
IBM: On Tuesday, Blue Coat announced that IBM will provide a new Managed Security Service Secure Web Gateway offering to new and existing clients that use Blue Coat appliances, extending an existing relationship to provide a managed service that enables greater protection against Web-based threats and enforcement of corporate IT policies, while lowering overall management costs.
Code Green Networks:  The Code Green TrueDLP™ and Blue Coat ProxySG appliances deliver a fully integrated enterprise data loss prevention solution that automatically enforces corporate data security policies to prevent the loss or theft of confidential and proprietary information, enabling enterprises to address regulatory compliance and customer privacy requirements.
FaceTime Communications:  Working together, FaceTime's Unified Security Gateway (USG) and Blue Coat ProxySG appliances provide more granular controls to a wide spectrum of instant messaging and unified communications platforms and more than 4,000 Web and Internet applications. Social media controls also enable enterprises to take bidirectional control of content posted and received from the Internet.
The RSA Conference brings together thought leaders and information security professionals from around the world to discuss security issues and best practices for building a comprehensive approach to cyberthreats.
Boiler Plate: 
---
---
February 23, 2010 11:24 AM
SonicWall adds Deep Packet Inspection for SSL traffic in its latest SonicOS 5.6 release. Whenever you upgrade your SonicWall firewall with the latest SonicOS 5.6 OS it will help counter the growing risk from encrypted threats, and from legitimate encrypted applications which may bypass content filtering and leak valuable information or expose networks to attacks from malware.
The OS upgrade includes DPI seamlessly applied to SSL traffic, and can inspect inside all SSL sessions across all ports, independently of the protocol, resulting in both encrypted and decrypted data being scanned, monitored and protected.. It also includes SonicWall's Re-Assembly Free Deep Packet Inspection (RFDPI) engine.
"Encryption is obviously an essential tool in security.  Yet encryption is now being used as a tool to defeat security," said Patrick Sweeney, vice president, Product Management. "With SonicWALL's DPI-SSL inspection capabilities, companies can ensure that security tools are working for them, not against them. Companies are put back in control of the data that leaves their network while controlling what web sites users' access."
---
February 21, 2010 3:32 PM
Cisco will not renew the reseller contract with HP which is due to end by April 2010. Which means HP will no longer be a Cisco Certified Channel Partner or Global Service Alliance Partner. The increased competition between two giants in the Data Center Sector is the main reason for this split, Keith Goodwin, Senior Vice President of Cisco's Worldwide Partner Organization said on a webcast.
Keith Goodwin, senior vice president of Cisco's worldwide partner organization said in a statement: "Being a Cisco Certified Channel Partner has numerous benefits including access to proprietary information (such as product roadmaps) and partner profitability initiatives. Given the evolution of our relationship it simply no longer makes sense to provide these benefits to HP."
According to figures from Dell'Oro Group Cisco had more than two-third of the Ethernet Market Share in last third quarter, whereas HP and 3Com were at second and third place. HP is no shaping up to be not just a competitor to Cisco but also it might be Cisco's biggest rival. With acquisition of 3Com, HP has a fair line up of both routing and switching product.
 [kml_flashembed movie="http://www.youtube.com/v/CeB1Y-Wadgo" width="425″ height="350″ wmode="transparent" /]
---
February 21, 2010 10:31 AM
I am always a great fan of David Hucaby; he comes up with pretty good titles, which can be easily used for achieving Cisco Certifications by self-study. His latest addition to the world of Cisco Certification is CCNP SWITCH 642-813 Official Certification Guide.  Thanks to Cisco Press and David to release this title so soon.
Thanks to Cisco Press and Jamie in especial for making this happen. I don't believe that I have a CCNP SWITCH 642-813 title with me. As we all know Cisco came up with a new version of CCNP Certification which requires only three exams to pass compared to four in the prevision version of CCNP.
The current CCNP SWITCH 642-813 book is much lighter compared to the CCNP Switch 642-812 book.  It's divided into 6 parts. I liked the way topics are distributed. This book is written in an easy way it covers all the exam topics and also provides some good troubleshooting steps especially I liked the VTP troubleshooting part.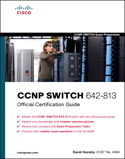 Pic Courtesy: Cicso Press
A chapter dealing with Securing Switch access is amazing I liked the best practices used for securing Switches. The Author David Hucaby did a commendable job. The CCNP Switch 642-812 title come with 100 practice questions for the CCNP 642-813 exam developed by Cisco Press and delivered by Boson. The CCNP SWITCH 642-813 title is up to date and most of the info referred deals with the latest IOS versions.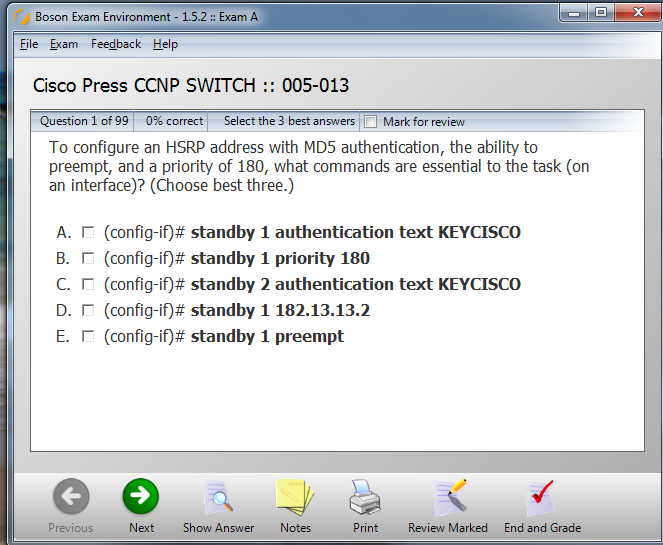 Overall this entire book is an excellent source for preparing for Cisco CCNP 642-813 exams, my advice is to buy this book along with CCNP Routing and Switching Quick Reference  book. With these two, you should have everything you need! Best of luck to you all CCNP Certification aspirers.
---
February 19, 2010 12:27 PM
According to Internet Security Vendor NetWitness computer network security firm. A botnet has been terrorizing corporate computers around the World over last 18 months.
The malicious program, or botnet, can commandeer the operating systems of both residential and corporate computing systems via the Internet. Such botnets are used by computer criminals for a range of illicit activities, including sending e-mail spam and stealing digital documents and passwords from infected computers. In many cases they install so-called keystroke loggers to capture personal information.
"Many security analysts tend to classify ZeuS solely as a Trojan that steals banking information, but that viewpoint is naïve," said Alex Cox, the NetWitness analyst that discovered Kneber when installing his company's software at a company. The new botnet he said, has been used to harvest a wide variety of data from corporations.
According to a white paper published by NetWitness Thursday — which includes some interesting analysis among the product pitches – the company's researchers found 75 GB of stolen data, which contained more than 68,000 stolen credentials obtained over a four-week period. More than 3,500 of those were Facebook credentials, another 2,500-plus were Yahoo usernames and passwords.
 If you want to know more about botnet check this article from Symantec.
The top five sources of infected computers are Egypt, Mexico, Saudi Arabia, Turkey and the U.S.
---
February 17, 2010 1:15 PM
We all know when we log in to any Cisco Routers or a Cisco Switch; in user mode we cannot see some of the show help commands, as demonstrated below
We can enable a Cisco Switch or a Cisco Router to display the all available commands when help (?) is used on the "show" command. To enable this feature on a Cisco Router or Cisco Switch use the command "terminal full-help" from the user mode as shown below.

Here is the example of "show?" command after "terminal full-help" (I have underlined some of the commands with red line, compare with first figure to see the difference)
This Cisco (terminal full-help) command is a simple little know feature, which definitely helps the user who has no access to privilege level in any Cisco Router or Cisco Switch.
---
February 13, 2010 5:46 AM
Cisco Systems announced the introduction of Cisco ASR 5000 mobile multimedia services solution. The addition of the ASR 5000 gives Cisco a comprehensive end-to-end Internet Protocol Next-Generation Network (IP NGN) architecture and offers mobile operators a platform specifically designed to accommodate the rapid growth of mobile Internet traffic and mobile multimedia applications.
This Cisco mobile Internet network architecture increases network and customer intelligence, offers world-class performance in each solution, and allows service providers to utilize Cisco networking expertise across any access, including 2G/3G/4G mobile network — from cell site to packet core to data center. With this new architecture, consumers will enjoy faster mobile Internet speeds and more seamless mobile multimedia experiences.
Primary Features
High performance across capacity, throughput, and transaction rate metrics
Integrated packet voice, data, and multimedia for service flexibility
High-touch deep packet inspection for enhanced charging and user understanding
Simple scalability with no function-specific cards
High reliability with session recovery and geographic redundancy
Major Innovations
Multiple functions supported in a single node
In-line Services for highly flexible service control and operational simplicity
Detailed protocol monitoring, debugging, and subscriber statistics
---
February 10, 2010 6:38 AM
As you might already have heard – the most successful Microsoft Learning Certification campaign ever, named Second Shot, is back – available from now onwards at any testing center until June 30 2010.
Second Shot means, that an exam taker will get 1 free re-take in case of a fail on the first try of a Microsoft Certification exam (eligible exams: IT Pro, Developer and Dynamics).



Important to know: To receive this free re-take named "Second Shot" the exam taker has to register online before taking the first exam (or alternatively buy a voucher from the testing center, that has second shot included. All vouchers bought from Prometric at or after January 13 2010 include second shot).
For details please go to: http://www.microsoft.com/learning/en/us/offers/Career.aspx#certification
Take advantage of our Second Shot offer and get a free retake when you do not pass an IT professional or developer Microsoft Certification exam the first time. You must take both the first and (if necessary) the retake exam before June 30, 2010.
·         Register to acquire a voucher for a Second Shot (Prometric.com)
---