---
April 21, 2010 5:53 AM
Cisco is providing you an opportunity to share your knowledge with the Cisco Learning Network Community and win a Flip Video Camcorder. Cisco values your experience and knowledge,as they are important to the Cisco Learning Network Community. It's very simple to participate in "Share the Wealth" contest. The contest closes on April 30, so do act now.

Pic Courtesy: Cisco Learning Network
Steps to Participate:
·         Step 1 – Register for the Cisco Learning Network. If you're not already registered: click here.
·         Step 2 – Develop and submit a piece of original Cisco Certification IT learning content in any format (technical article or white paper, PowerPoint presentation, audio/video podcast) and for any certification track (Entry, Associate, Professional, Expert, and Specialist). Technical articles, white papers and PowerPoint presentations should be no longer than 10 pages in length. Podcasts should be no longer than 20 minutes. Formats accepted for podcasts: MP3, MP4, WAV, MOV. All submitted content must be in English. To submit content, click here.
·         Step 3 – Upload learning content: Within 24 to 48 hours after completing the online submission form, you will receive an email with instructions on how to upload your learning content to our FTP server.
·         Step 4 – Cisco judges will choose five (5) semi-finalists: One (1) from each of the certification categories (Entry, Associate, Professional, Expert, and Specialist). You will be contacted via email if you have been chosen or not as one of the five (5) semi-finalists.
Step 5 – Community votes to select Grand Prize winner from the five (5) semi-finalists.
If your content is selected as one of five semi-finalists, it will be voted upon by the Cisco learning community to determine the winner. The winner will take home the Flip Video camcorder. All semi-finalists will win a Cisco Press book and Pearson VUE exam voucher. Be recognized by your community and win a prize! [Learn More]
·         March 18 to April 30 – Contest open for submissions
·         May 3 to May 7 – Review of submissions by Cisco judges and selection of five (5)semi-finalists
·         May 10 – Announcement of the five (5) semi-finalists
·         May 11 to May 18 – Community voting to select the winner
May 19 – Announcement of Grand Prize winner
April 20, 2010 8:30 AM
Most of the times I have noticed, whenever someone configures a NAT in a Cisco PIX firewall 525 or a Cisco ASA firewall, he says my NATing is not working.  This is true especially if you are configuring a NAT for a real IP (which is in use) to private IP. The moment NAT is configured in a firewall he assigns the private IP to his machine and check whether the NAT is working?  Usually it fails to work. The reason behind is the arp cache is not cleared in the firewall, switch and the router.
Next time whenever you configure a NAT for a used real IP make sure you clear the arp by "clear arp-cache" in your Cisco router and Cisco Switch. "Clear arp" in your Cisco firewall . To do so simply use the below command from the privilege mode in your Cisco device
ITKE-ROUTER#clear arp-cache
ITKE-SWITCH#clear arp-cache
ITKE-FIREWALL#clear arp
---
April 18, 2010 5:11 AM
We all know about the Cisco 7900 series IP Phones, there are many organizations who cannot afford those phone in their IP Telephony network. I myself know few organizations that are using Cisco UC for their IP telephony but when it comes to IP phones they are opting for alternatives cheaper phones. Now no worries Cisco have an answer.
A recent Cisco's press release points out coming June 1 2010, three models of the Cisco 6900 series IP Phones are designed for "budget-constrained deployments" Cisco has a couple of other lower-specked series — the 500 and 3900 series — which are aimed at small business and low-usage scenarios.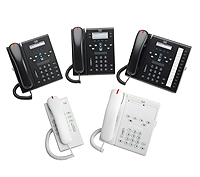 The 6900 series comes in three models: the 6921, 6941 and 6961, which support two, four and 12 lines respectively. Colors available are white and black, and the devices can be ordered in two different handset styles.
The Cisco 6900 Series is full-duplex speakerphone with LAN and PC Ethernet connections, and supports several dozen languages, an optional headset, some XML applications on the LCD screen, different ringtones, and multiple codecs and so on.
Full specifications for the Cisco 6900 Series phones are available from Cisco's website.
---
April 13, 2010 5:35 AM
These days' people are talking about the borderless networks; some of the presentations in the recently concluded Cisco Networkers in Bahrain were exclusively about the borderless Networks. As we all know Cisco Borderless Networks deliver intelligent, adaptive services to streamline your operations and increase flexibility, resiliency, and security.
I was wondering how I can attain more knowledge about Borderless Networks, Cisco Press has answers. They just launched the title "Securing the Borderless Network: Security for the Web 2.0 World" by Tom Gills.
This title deals with Securing the Borderless Network reveals new techniques for securing advanced Web 2.0, virtualization, mobility, and collaborative applications
Discover how Cisco's innovations in switching, routing, security, and mobility can get you started today.
Learn more about borderless networks: 
·         Borderless Networks At-A-Glance
·         Eliminating Borders to Enable Any Place, Any Time, Any Device Access White Paper
---
March 31, 2010 1:56 PM
According to a recent Cisco survey, only 20 percent of small businesses know what "cloud services" are, even though 75 percent of SMBs polled are already using some kind of hosted or subscription-based service to enhance their business goals. Read rest of the story by following this link.
---
March 31, 2010 12:51 PM
 

Cisco Systems has been named one of the World's Most Ethical Companies in 2010 by Ethisphere Institute. The World's Most Ethical Company designation is awarded to those companies that have leading ethics and compliance programs, particularly as compared to their industry peers. Interested to know who all is in this list access link.
---
March 31, 2010 4:21 AM
Yesterday I passed ITILv3 Foundation exam, these days I am on my vacation in Bangalore. Since arrived I was thinking of ITILv3. I started contacting ITILv3 training centers and figured out VYOM labs is the best training center in this part of the World. Initially the training dates in Bangalore were conflicting with my brother's wedding date, so I started looking other leaders in ITIL training in Bangalore.
Somehow things didn't work well for me in Bangalore for training; again I approached VYOM labs for any training schedule in and around Bangalore on 26 & 27th of March. Pune was the only destination where ITIL v3 foundation training was conducted. I decided to attend the Pune ITIL v3 training offered by VYOM labs. It was worth attending the training. The instructor Ms. Beena Dhage an ITIL expert conducted the training in excellent way. I would strongly recommend to attend her training sessions if you are planning for ITIL v3 foundation. Two days of rigorous fun filled training and little practice can help you achieve IITL v3 foundation. I did also enjoy the company of my fellow trainees who were very supportive and most of them too pass their ITILv3 exam at first attempt. Congrats to them.
I hope to start next step in ITIL by preparing for life cycle modules " Service Strategy or Service Transition" may be this time I will go for an online training with VYOM labs as they are offering both foundation and Intermediate trainings.
You can contact VYOM labs for more information on training info@vyomlabs.com
---
March 26, 2010 8:53 AM
Till yesterday when it comes to unmanaged Switches only 3Com comes to my mind, but now Cisco Systems launched unmanaged switches "Cisco 100 Series Unmanaged Switches". The Cisco 100 Series Switches deliver powerful network performance and flexibility for small business networks, without the complexity. With no installation software and nothing to configure, you get an affordable, reliable network that just works, right out of the box.
The Cisco 100 Series Switches proves to be useful to very small organizations or home users to establish network connectivity, especially the games savvy users can enjoy the great features offered by Cisco 100 Series Switches with life time warranty, some of the features of Cisco 100 Series Switches are
Choice of Fast Ethernet and Gigabit Ethernet connectivity
Available in desktop or rack mount models
Sets up in minutes with no software to install or configuration requirements
Automatic cable detection, so you don't have to worry about using the wrong cable type
Automatic speed and full- and half-duplex sensing helps ensure that you're running at the right network speed
Auto quality of service (QoS) on all models prioritizes network traffic to keep critical network applications running at top performance
Fanless design so switches run silently and unobtrusively
Power-saving technology is able to enter sleep mode, turn off unused ports, and adjust power as needed
Flexible network design mini Gigabit interface converter (GBIC) expansion slots
Compatibility with network devices from other vendors
Ability to trade up to a Cisco or Cisco Small Business switch at any time and receive full credit for the value of their switch
Limited Lifetime Warranty to protect your investment
---
March 26, 2010 7:09 AM
On Thursday 25th of March 2010, Microsoft delivered the new Community Technology Preview (CTP) of the next generation of the company's Microsoft Dynamics CRM software, codenamed CRM5.
Microsoft has delivered a new Community Technology preview (CTP) of the next generation of the company's Microsoft Dynamics CRM software, codenamed quot;CRM5. quot; The March 25 release is the third CTP (CTP3) of the quot;CRM5 quot; technology and it is aimed at software developers.
Rest of the article can be viewed at the following link.
---
March 13, 2010 1:34 AM
Here is a cool tip for saving your time when ever your telnet to your Cisco Switch or a router. By using no login command you can telnet directly to your Cisco device without any authentication, this proves to be good only in lab environment to save time but its hardly recommended not to use this feature in real networks.
To configure this feature follow the below configuration steps.
           ITKE01>enable
           ITKE01#configure terminal
           ITKE01 (config)#line vty 0 4
           ITKE01 (config-line)#no login
Testing:
           C:\>telnet 192.168.0.1
          ITKE01>
Notice that no authentication was required. You are taken directly to user mode.
---