---
June 15, 2009 1:14 PM
On 3rd June 2009, the FC-BB-5 working group of T11 completed the development of the draft standard and unanimously approved it as the final standard. The following day the plenary session of T11 approved forwarding the FC-BB-5 standard to INCITS for publication as an ANSI standard.
Cisco Systems has significantly contributed to the definition of FCoE in the FC-BB-5 standard through multiple technical submissions. Cisco has led the FC-BB-5 working group holding the chairman position with Claudio DeSanti.
One of the most significant technical challenges for the working group has been the definition of the addressing mode for FCoE, with two schemes proposed, FPMAs (Fabric Provided MAC Addresses, proposed by Cisco) and SPMAs (Server Provided MAC Addresses, proposed by Brocade). The final standard recognizes the superiority of the Cisco scheme by stating that FPMAs are the only addresses mandatory to implement.
The standard is at:
http://www.t11.org/ftp/t11/pub/fc/bb-5/09-056v5.pdf
June 15, 2009 6:08 AM
Other day I was looking for an upgrade for the Cacti in Google, while searching I came across this wonderful ready to use virtual appliance based on FreeBSD UNIX.

To brief about the Cacti is a complete network graphing solution designed to harness the power of RRDTool's data storage and graphing functionality. Cacti provide a fast poller, advanced graph templating, multiple data acquisition methods, and user management features out of the box. All of this is wrapped in an intuitive, easy to use interface that makes sense for LAN-sized installations up to complex networks with hundreds of devices.

The creator of this appliance Ernie did a great job by including nice collection of pre- configured open source software's which includes the following
    – FreeBSD UNIX v6.2 RELEASE built to Ernie's specifications
    – PERL v5.8.8 and many carefully selected modules
    – PHP v5.2.4 that I custom compiled from source
    – Apache v2.2.6 that I custom compiled from source
    – Net-SNMP v5.4 that I custom compiled from source
    – MySQL v5.45 that I custom compiled from source
    – RRDTool v1.23 that I custom compiled from source via FreeBSD's Ports
    – Cacti and Many Plugins:
    – Various other key ingredients compiled from source with the help of the FreeBSD Ports Collection
        – OpenSSL
        – OpenSSH
        – GD
        – NTop
        – Tripwire
    And even more!
This VMware Cacti Appliance is really helpful, easy to install and manage. More over you will find the installation guide with illustrations as well Wow.  Download the VMware Cacti Appliance here.
---
June 13, 2009 5:38 AM
In my first post  I was talking about the books required to pass Cisco CCNA 640-802 exams, once you are done with The CCNA Official Exam Certification Library (CCNA Exam 640-802), and with the boson Exsim practice exams which are always very helpful to understand the concepts as well as an idea about the questions you might face in the real Cisco CCNA 640-802 exams.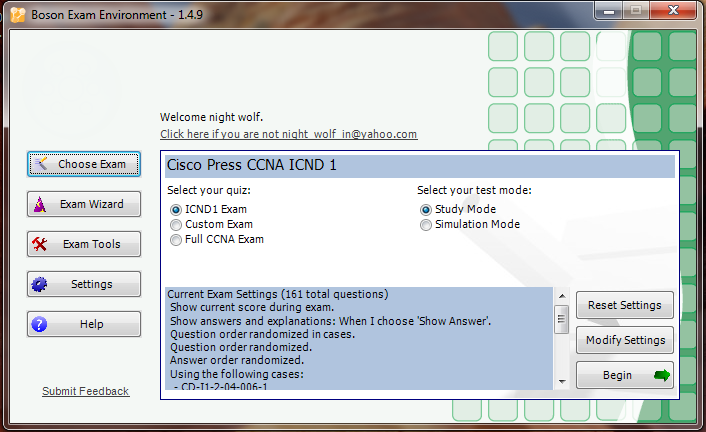 The best idea would be to practice the labs , in order to ease this Cisco Press came up with an excellent product CCENT 640-822 Network Simulator, which is good for the gentlemen who has no exposure to real routers and switches, it's good for hands on experience.  Also I have reviewed the CCENT 640-822 Network Simulator which explains the details of labs included with screen shots as well.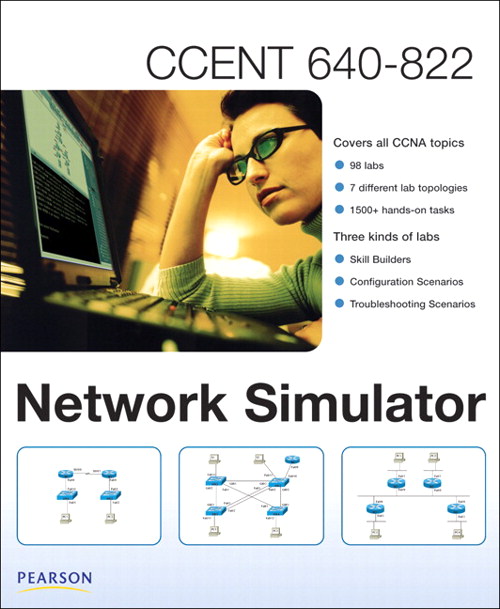 Cisco Press will release the next part of the CCNA 640-802 Network Simulator on 24th of June 09. SO that you can practice well for the labs covered in the Cisco CCNA 640-802 exams.
---
June 5, 2009 8:11 AM
As I am blogging about the books required to pass Cisco CCNA 640-802 exams , while before proceeding to second part I found a great opportunity for you all folks to win a free CCNA Portable Command Guide, 2e which is a great book to master the topic covered in the Cisco CCNA 640-802 exams.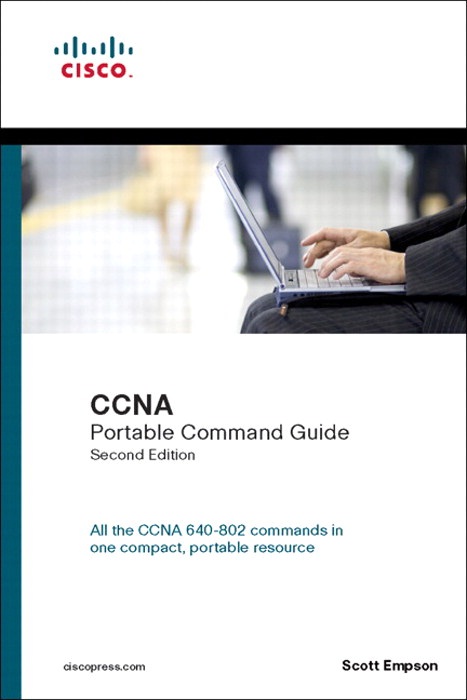 You are entitled to win the free CCNA Portable Command Guide, 2e  just by signing up for a FREE Safari Books Online 10 day trial during the month of June!
---
May 30, 2009 9:30 AM
You might be wondering what books or materials will be help full to pass the Cisco CCNA 640-802 exams. Cisco Network Academy is great but every one might be not able to attend the course and of course saving money especially during this economic slowdown is a great idea.
So I would suggest some books and materials which will help you to successfully pass the Cisco CCNA 640-802 exams. The only thing required is your determination and sincere efforts. The suggested materials are good for self study with simple networking background who knows the basics well.
The objective is just not only to pass the Cisco CCNA 640-802 exams but also to have a clear understanding of handling Cisco networking devices. Cisco Press always comes to my mind first ,as the books produced by Cisco Press are  good and always meets with objectives of the exams.
When it comes to the Cisco CCNA 640-802 exams following books are good and worth reading and practicing the exams.
The CCNA Official Exam Certification Library (CCNA Exam 640-802), 3rd Edition published by Cisco Press is worth reading and it does comes with the practice exams from Boson Exsim which are really great and very useful once you are done with the reading of  The CCNA Official Exam Certification Library (CCNA Exam 640-802), the author Wendell Odom has successfully authored books which are easily understandable even a newbie can understand the concepts easily.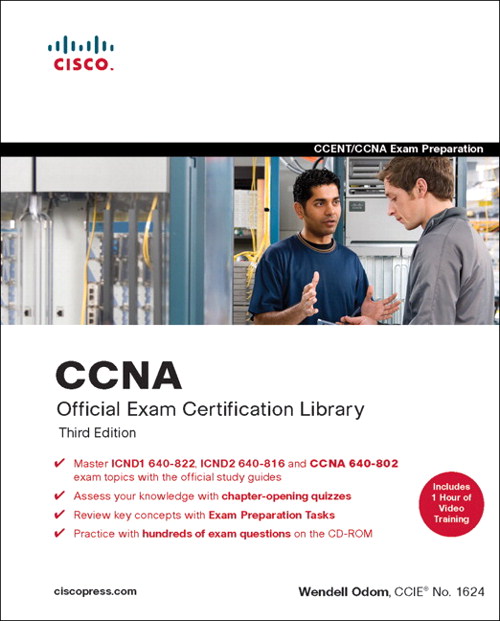 By Wendell Odom.
Published by Cisco Press.
Series: Exam Certification Guide.
ISBN-10: 1-58720-183-6; ISBN-13: 978-1-58720-183-7; Published: Sep 4, 2007; Copyright 2008; Dimensions 7-3/8×9-1/8; Pages: 1475; Edition: 3rd.
You can purchase this book directly from Cisco Press as well from Amazon for 59.99 $ if you are a Cisco Press member you are entitled to get 30% discount wow. Do register yourself as a member of Cisco Press and enjoy the discounts.
These products not only help you learn the topics, but also include tools for knowledge review and exam preparation.
In up coming posts I will discuss other books and materials useful to pass Cisco CCNA 640-802 exams.
---
May 30, 2009 8:38 AM
Dear Friends, if you are leaving Middle East there is good chance for you to experience the Seminar conducted by Cisco Systems which is worth attending. Here is the agenda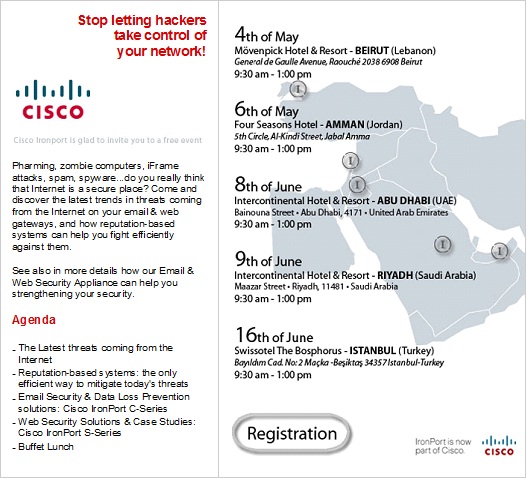 Registration URL: http://form.declic3000.com/ironport-moyen-orient/?sid=TEST
---
May 27, 2009 12:26 PM
I was just browsing the regional technical portal and came to know that HP is cutting another 6,000 jobs due to poor second quarter results.  The second quarter results dropped by 17% from the same quarter last year, to $1.7 billion. which forced the giant company like HP to axe 6000 more jobs. The economic crisis has forced many companies to cut down their investments, research plans etc. which is going to affect the industry in coming decade, if the world failed to come out of this economic crisis.
Mark Hurd, HP chairman and CEO commented: "Disciplined focus on operational efficiencies and execution drove record cash flow. Our services business continued to deliver strong profitability with an increased deal pipeline and the EDS integration tracking ahead of schedule."
More at  http://www.itp.net/index.php?option=com_content&view=article&id=556313&newsletter=1  http://www.damiansaunders.net
---
May 27, 2009 5:22 AM
InformIT  has just released the VCP VMware flash cards, which is better to use as a preparation tool for VCP 310 exam.  The VCP VMware flash cards cover all the objectives of the VCP 310 exam.  Flash cards are always helpful as they happens to be the alternative learning format which are easier to access with a  unique approach  which complements the traditional self study formats.  This VCP VMware flash card is better to use at the later stage of the preparations for the VCP 310 exam.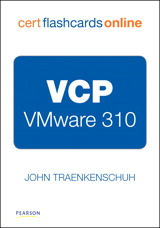 Published Apr 1, 2009 by Pearson Certification. Part of the Cert Flash Cards Online series.
Copyright 2009
Dimensions 5-3/8 x 7-21/32
Pages:
Edition: 1st.
ISBN-10: 0-7897-4214-4
ISBN-13: 978-0-7897-4214-8
VMware Cert Flash Cards Online is a custom flash card application loaded with 300 total questions that test your skills and enhance retention of exam topics. Questions are organized by exam objective, allowing you to focus your study on selected topics. You can choose to view cards in order or at random, and you can create custom sets from the entire bank of cards.
---
May 24, 2009 11:35 AM
Imagine you have a Cisco Catalyst 6500 Switch, you were asked to figure out the Serial number for the Supervisor Engine Installed in your Cisco Catalyst 6500 Switch , it can done by using issuing the following command  "show idprom module" as shown in the below example.
ITKE-DAC-6500-BB01#show idprom module 7
IDPROM for module #7
  (FRU is 'Supervisor Engine 720′)
  OEM String = 'Cisco Systems'
  Product Number = 'WS-SUP720-3B'
  Serial Number = 'SAD084608JG'
  Manufacturing Assembly Number = '73-9740-01′
  Manufacturing Assembly Revision = 'A0′
  Hardware Revision = 4.0
  Current supplied (+) or consumed (-) = -4.50A
ITKE-DAC-6500-BB01#
---
May 24, 2009 7:52 AM
On May 1, 2009, Cisco announced the new Certification Online Support tool; the Online Support tool is now available in English, Japanese, Spanish, and Chinese. In addition to the new languages, the Support tool introduced new functionality. The latest version of the Certification Online Support tool includes a new support home page, a Top Answers section, and upgraded search capabilities with easy to find answer navigation.
---