---
June 8, 2010 5:32 AM
Last night when I  read the WWDC 2010 opening notes and the release of iPhone 4 by Steve Jobs for a moment I was shocked when I saw the name iOS, what is Cisco Systems IOS doing here with Apple.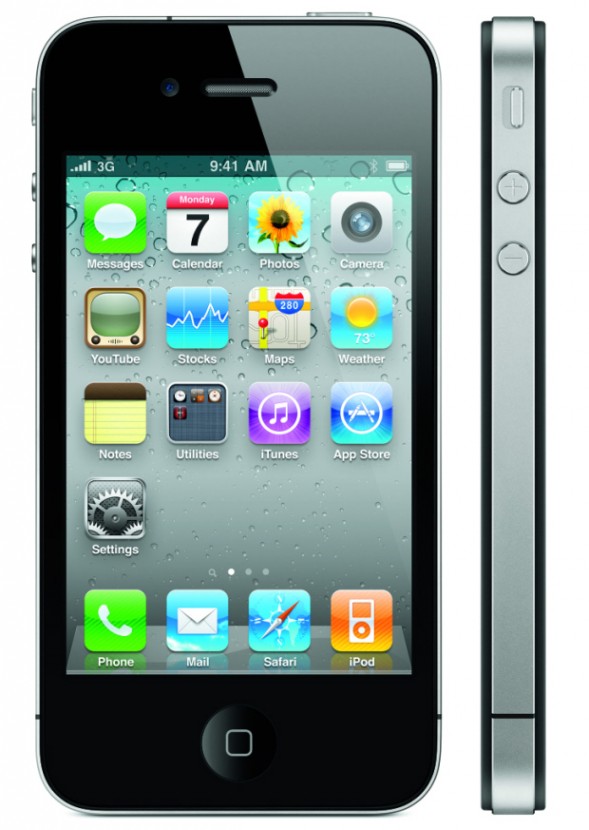 It's clear Apple has changed the name of iPhone OS to iOS. We all know IOS is around more than two decades a popular Cisco operating system for Cisco devices.
Cisco has agreed to license the iOS trademark used for its core operating system to the Cupertino company which has decided that should be the new name of the OS powering the iPhone, iPod touch and iPad.
June 6, 2010 5:59 AM
Since long time we are used to Cisco IOS version and few Cisco Switches with CatOS, now the era of NX-OS is coming. These days I am seeing more and more Organizations are moving towards Nexus Switches for their Core and Server farm. Since Nexus Switches are pretty new and they work with NX-OS.  NX-OS is different from IOS, in this article I will try to highlight on some of the key differences between NX-OS and IOS.
We are familiar with the traditional Cisco IOS command line interface (CLI); the CLI interface of NX-OS is pretty similar to Cisco IOS.
One of the key differences I have noted is NX-OS is when you first log into NX-OS, you go directly into EXEC ode.
NX-OS features are based on license model, where as in IOS what matter was the type of IOS you installed. A good beginning from Cisco as you can install the required features, more over you can try a 120 day license grace period for testing.  After 120 days of testing the features will be automatically removed. This is some thing you never experienced in Cisco IOS.
Cisco NX-OS has the capability to either enable or disable the features OSPF, BGP, etc. by using the feature configuration command.
I will try to come up with some more details in the upcoming post.
---
May 31, 2010 9:11 PM
We all know it's the era of Social Networking, I am pretty sure most us are enjoying twittering, facebook, linkedin, buzz, mysapce etc. Hardly I know a Professional without any association with Social Networking.
These days huge corporations are banking on Social Networking sites, infact major vendors are developing their communication products keeping in mind of Social Networking sites. One among those is Avaya communications. There Call Center solution does address these issues. Dell generated more than $3 million in sales using a Twitter account @DellOutlet.
Now Cisco Systems is conducting their first ever live chat on Twitter about the growing impact of social software and collaboration tools within the enterprise on Wednesday, June 9th from 11:00am – 12:00pm PT using the #CollabChat hashtag.
The Cisco enterprise collaboration experts Panel participants include:
Phil Heyneker, Manager, Collaboration Solutions Marketing
Lawrence Liu, Product Manager, Enterprise Collaboration (@LLiu)
Lynn Lucas, Senior Director, Collaboration Solutions Marketing (@Lylucas)
Paul Russell, Business Development Manager, Enterprise Collaboration (@parussel)
Joe Schueller, Sales Business Development Manager, Collaboration Business Transformation (@JoeSchueller)
Vishnukant Varma, Software Engineer, Enterprise Collaboration (@vishnukvarma)
Discussion will include:
The role of enterprise policy in Enterprise 2.0
The importance of interoperability and open integration
How the unified content model enables collaboration
Submit questions in advance to @CiscoCollab or submit by posting a comment below (log in with cisco.com userid to post a comment).
What is a TweetChat?
Tweet chats are online conversations, held at a pre-arranged time, between a group of Twitter users, and using a specific Twitter hashtag to identify the discussion.
How Do I Participate?
On the day of the event, login to www.tweetchat.com and follow the #CollabChat hashtag.  Alternatively, you can use your favorite Twitter client (i.e. Tweet Grid, TweetDeck) or TwitterSearch to follow the chat hashtag.  During the event, you can follow the discussion, contribute questions, and submit your own comments by using the same hashtag
---
May 31, 2010 4:31 PM
In this article we will see how a Cisco Catalyst Switch 3750 – POE switch can be configured to support the Nortel IP phone and the power modes supported by the Cisco 3750 Switch.
The Cisco Catalyst Switches 3750-24PS and 3750-48PS support 370 Watts of inline power, and by default, the power mode of a port is set to auto.
Use the command show power inline to check the inline power configuration and status as demonstrated below
ITKE-AS01#sh power inline
Module Available Used Remaining
(Watts) (Watts) (Watts)
—— ——— ——– ———
1 370.0 114.8 255.2
Interface Admin (Watts) Power Class Max
Oper Device
——— —— ———- ——- ——————- —– —-
Gi1/0/1 auto on 15.4 Ieee PD 3 15.4
Gi1/0/2 static on 15.4 Ieee PD n/a 15.4
There are three modes of PoE configuration on Cisco Catalyst 3750 Switch.
1) Auto (Default, recommended with Nortel IP phones)
The switch automatically detects if the connected device requires power. If the switch
discovers a powered device connected to the port it grants power.
2) Static
The switch pre-allocates power to the port and guarantees that power will be available for the port even when no powered device is connected, the switch allocates the port configured maximum wattage. Any powered device that uses less than or equal to the maximum wattage is guaranteed to be powered when it is connected to the static port. However if the powered-device IEEE class is greater than the maximum wattage, the switch does not supply power to it.
3) (Never) Off
The switch disables powered-device detection and never powers the PoE port. Use this mode only when you want to make sure power is never applied to a PoE-capable port.
---
May 31, 2010 1:18 PM
Recently Cisco Press released the CCIE Routing and Switching v4.0 Configuration Practice Labs in eBook format. This title can be downloaded from the Cisco Press website. The CCIE Routing and Switching v4.0 Configuration Practice Labs provides you an opportunity to practice the theoretical knowledge you gained.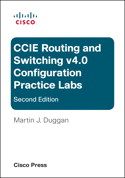 The title allows you to test each lab and compare configurations and routing table with the required answers. The point scoring for each question let's you know whether you passed or failed each lab. Definitely a great practicing manual for the CCIE aspirers, thanks to Cisco Press as they are offering the extensive set of practice labs that sell for hundreds of dollars elsewhere
---
May 31, 2010 5:19 AM
Last week Cisco Systems announced the first offering in its "Connected Grid" portfolio, a transformational Router and Switch that will help utilities more reliably and efficiently deliver electric power from generation facilities to businesses and homes, resulting in better energy management, as well as economic and environmental benefits.
"Right now [utilities] have to run different lines for different types of communication — data, voice and so on — and they're paying a lot in operating expenses for those leased lines," said Sanket Amberkar, Cisco's senior director of Smart Grid Strategy.
Facts / Highlights:
·         The Cisco 2010 Connected Grid Router (CGR 2010) and Cisco 2520 Connected Grid Switch (CGS 2520) are purpose-built for the most demanding utility substation environments. 
·         They are designed specifically for the Smart Grid communications infrastructure and are the first in Cisco's new Connected Grid portfolio, a family of products that will deliver highly secure, end-to-end and standards-based communications solutions for the smart grid from generation facilities to businesses and homes.
·         Together, the Cisco CGR 2010 and Cisco CGS 2520 form a secure communications infrastructure to capture and analyze information in near-real-time from multiple intelligent electronic devices in the substation.  This helps utility operators better manage and maintain power transmission and distribution equipment, as well as increase the reliability of power delivery by quickly identifying, isolating, diagnosing and, at times, automatically repairing faults.  This will also help utilities better integrate renewable energy into the grid.
·         The Cisco solution also extends network-based security and management policies to substations, supporting remote engineering access and proactive maintenance programs.
·         The products are based on Cisco IOS Software, an operating system that delivers high reliability and resiliency as well as multiple network services including support for supervisory control and data acquisition, or SCADA, protocols. 
·         Cisco IOS Software consolidates network security, quality of service and network segmentation on a common communications platform, delivering mission-critical reliability and reducing operational expenses.
·         Cisco's Connected Grid products represent the latest in Cisco's energy management offerings, which include Cisco EnergyWise and the Network Building Mediator
[kml_flashembed movie="http://www.youtube.com/v/F3zCxOu-wN4" width="425" height="350" wmode="transparent" /]
---
May 29, 2010 6:14 AM
In my last post I reviewed the CCNP ROUTE 642-902 Cert Flash Cards Online, as its quite clear the CCNP Route 642-902 Cert Kit is a great self study tool at the later part of preparation.
The Routing Video Mentor by Kevin Wallace is an excellent certification preparation material for CCNP Certification aspirers who wants to view and learn the Cisco router configurations.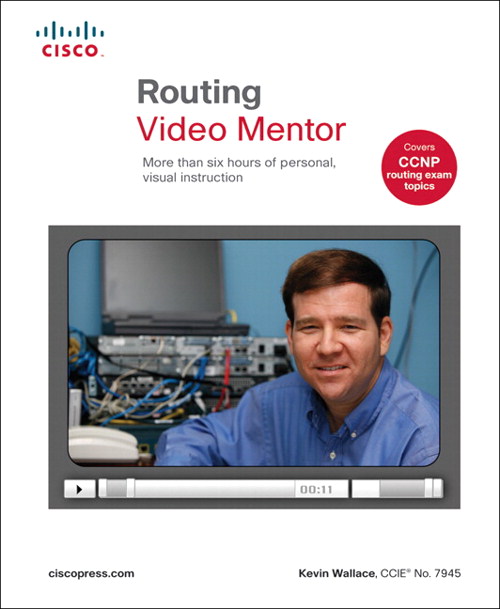 Pic Courtesy: Cisco Press
The Routing Video Mentor is designed in such a way it fulfils the requirements of CCNP Routing Certification aspirer either they are pretty new to this field or even the experienced professionals can have a quick glance which is always great to recall the concepts we might forgot. One of the greatest advantage of the Routing Video Mentor is it can be viewed any number of times until you understand the concept quite clear. The videos are presented clearly and it's easy to understand.
The CCNP Routing Video Mentor covers everything in depth from Static routes to RIP, EIGRP, OSPF, IGP Redistribution, BGP, Policy-based routing, IPV6 etc.
The Routing Video Mentor consists of 15 labs and lab lasts for 20 – 30 minutes each.
To summarize I would say a great study asset for CCNP Route 642-902 Certification exam.
[kml_flashembed movie="http://www.youtube.com/v/ENuv0wn5Fr0" width="425" height="350" wmode="transparent" /]
---
May 23, 2010 5:40 AM
As claimed by Cisco Press the title CCNP Route 642-902 Cert Kit is certainly a best breed of preparation package especially at the later stage. I am always motivated to read and write reviews for Cisco Press products, thanks a Jamie Adams (Senior Publicist at Cisco Press ) for her continued support, without her support I doubt of writing any reviews for any of the Cisco Press titles.
The title CCNP Route 642-902 Cert Kit  is a combination of three self-study tools namely flash cards, a DVD mentor and quick reference guide. Flash cards consist of 300 exam review questions which tests your skills and enhance your retention of the following topics.
• Planning Routing Services
• Implementing an EIGRP-Based Solution
• Implementing a Multi-Area OSPF Network
• IPv4 Redistribution
• Path Control
• Policy Based Routing (PBR)
• Connecting to Internet
• Implementing an IPv6-Based Solution
• Implementing Basic Teleworker and Branch Services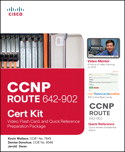 Pic Courtesy:Cisco Press
The best thing I liked about the CCNP ROUTE 642-902 Cert Flash Cards Online is the you can choose to view cards in order or at random, more over you can create 10 customs sets from the entire bank of the cards and also you can write notes on each question and you have the liberty to get them in a printable PDF. It's a good way to make notes of questions you missed and can be handy tool for final review as well.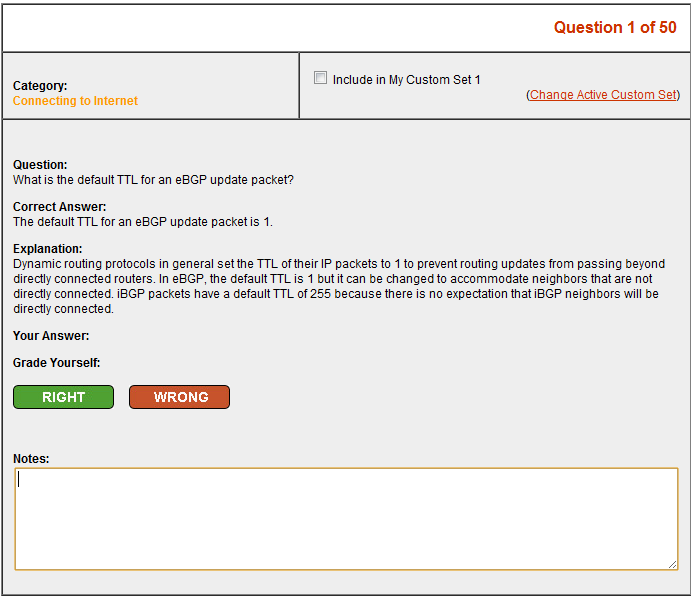 In short the CCNP ROUTE 642-902 Cert Flash Cards Online  is quite handy and useful for the final review of the CCNP Route 642-902 exams. I strongly recommend these practice exams for CCNP aspirers especially who are new to the Cisco Networking world. This will surely boost the confidence.
CCNP ROUTE 642-902 Cert Flash Cards Online is available in both desktop and mobile device formats, allowing you to test yourself at home, at work, or on the go.
In my upcoming post I will try review the DVD which comes with theCCNP Route 642-902 Cert Kit . Until then enjoy your preparations for CCNP Route 642-902
---
May 22, 2010 9:07 AM
Ubuntu was always an Interesting OS I was looking at, when I got an opportunity to get a book on Ubuntu from our community Manager Michael Morisy I readily accepted to get one copy of the title "Ubuntu Unleashed" published by SAMS. Thanks a lot Michael Morisy for your continued support.
Finally after a long wait I got the chance to review some parts of this book. I am not much into Linux platforms but I did tried Red hat, Fedora, Ubuntu, Ubuntu flavors of Linux.
Since I am not an expert in this area Networking I figured out the title "Ubuntu Unleashed"more useful especially I liked Installation, System Administration and Ubuntu housekeeping part of this book.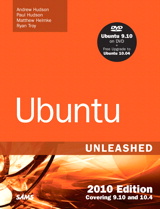 Pic Courtesy:Informit
Since I am newbie to Linux I was comfortable in Understanding the title "Ubuntu Unleashed" as found the language was simple and easy. The author did a marvelous job as the organization of the title is great I really liked it in particular. There are 32 chapters which are not only focused on Ubuntu but it does cover Linux distribution as well. Someone who is interested in Linux and Ubuntu should grab this title as it might be a great asset for them. I figured out this title goes well either with beginners or with the persons who are fairly new to Ubuntu. Experienced and seasoned Linux gurus have a different opinion on this title.
The title is divided into five parts
Part I, Installation and Configuration is about 260 pages.
Part II, System Administration, is about 170 pages.
Part III, Ubuntu as a server, is about 175 pages. It introduces Apache, Postfix, and other services.
Part IV, Programming, introduces Perl, Python, PHP, and some tools to use with C/C++ (but nothing on those languages themselves)
Part V, Housekeeping revists and amplifies Part II.
---
May 22, 2010 6:56 AM
Last week one of my friend called me there have a serious problem with their Network, none can print in their Network Printer, only few people can access the internet. Since it's a Small Business Organization with less than 100 people working they had a pretty simple Network Setup mainly for internet, email and printing. They are using most of the Linksys's Access Points for their Wireless Network. But often people fail to consider the following while installing multiple Access Point in their offices.
1)      Most of the people fail to disable the DHCP services in the access points which lead to multiple gateways in a small network which leads to problem in accessing the internet and other services they are using.
2)       One more common mistake I noticed is they configure SSID in the same channel which leads to channel over lapping.
3)      Forget to disable DHCP services in their Internet gateway even though they have a dedicated DHCP server.
---