---
July 25, 2010 6:25 AM
In today's World we have many written scripts to automate our common tasks at work, we quite often use scripts in programming language, Linux, UNIX or even windows. But when it comes to networking to be more specific on Cisco devices there was no scripting language. However Cisco Systems realized the importance of automating the things and they come adding the "Tool Command Language in short TCL in Cisco IOS. This feature is enabled in the IOS starting from 12.3(2) T. I know most of us are not aware of this powerful scripting language.
TCL is a very powerful dynamic scripting language and it is based on open programming language developed by John Ousterhout.
Infact Cisco Press come out with a title named TCL Script for Cisco IOS which was released on June 9, 2010.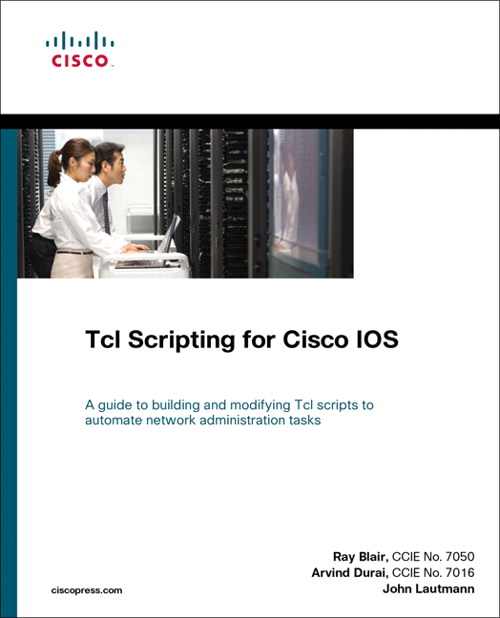 In upcoming articles I will try to address TCL commands how it can enabled and some sample scripts which can be used in day to day networking activities on Cisco Routers and Cisco Catalyst Switches.
July 24, 2010 6:20 AM
Are preparing for CCNP Certifications? Then here is good news waiting for you. On 28th July 2010 Cisco Press will release a new title CCNP Routing and Switching Foundation Learning Library, this new library is aiming to provide foundation-learning guides for the new CCNP certification exams ROUTE, SWITCH and TSHOOT. Each book consists of review questions, chapter objectives, summaries, definitions, case studies, job aids, and command summaries to provide comprehensive foundational learning for the new CCNP courses.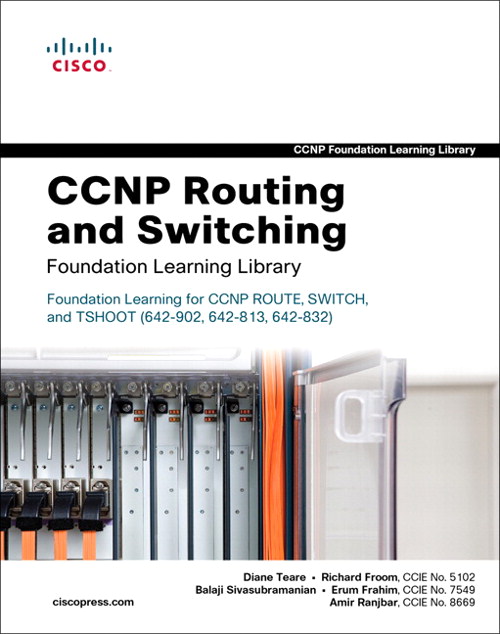 This Library includes the three foundation-learning guides help you understand the topics on the three CCNP exams: ROUTE, SWITCH, and TSHOOT exams. Each book includes review questions, chapter objectives, summaries, definitions, case studies, job aids, and command summaries to provide comprehensive foundational learning for the new CCNP courses.
The following topics are covered in the CCNP Routing and Switching Foundation Learning Library, once I get an access to these titles definitely you can expect a review from me. Pre order this foundation-library and avail early discount as well from Cisco Press .
SWITCH
Module 1: Analyzing Campus Network Designs
Module 2: Implementing VLANs in Campus Networks
Module 3: Implementing Spanning Tree
Module 4: Implementing Inter-VLAN Routing
Module 5: Implementing High Availability in a Campus Environment
Module 6: Implementing a First Hop Redundancy Protocols Solution
Module 7: Minimizing Service Loss and Data Theft in a Campus Module 8: Integrating Wireless LANs into a Campus Network
Module 9: Accommodating Voice and Video in Campus Networks
Appendix A Answers to Review Questions
Appendix B Configuration Exercise Equipment Requirements and Backbone Configurations
TSHOOT
Module 0: Curriculum Overview
Module 1: Planning Maintenance for Complex Networks
Module 2: Selecting Maintenance and Troubleshooting Tools and Module 3: Planning Troubleshooting Processes for Complex
Module 4: Maintaining and Troubleshooting Routing Based Solutions
Module 5: Maintaining and Troubleshooting Campus Switching Based Problems
Module 6: Maintaining and Troubleshooting Network Security Solutions
Module 7: Maintaining and Troubleshooting Network and Applications Services
Module 8: Troubleshooting Branch Office and Remote Worker Problems
Module 9: Maintaining and troubleshooting integrated, complex enterprise networks
Appendix A Answers to Review Questions
Appendix B Configuration Exercise Equipment Requirements and Backbone Configurations
ROUTE
Module 1: Planning Routing Services to Requirements
Module 2: Implementing an EIGRP-based Solution
Module 3: Implementing a Scalable Multiarea Network OSPF-based Solution
Module 4: Implement an IPv4-based Redistribution Solution
Module 5: Implement Path Control
Module 6: Configuring Policy Based Routing
Module 7: Connecting an Enterprise Network to ISP Networks
Module 8: Implementing IPv6
Module 9: Implementing Routing Facilities for Branch Offices and Mobile Workers
Appendix A Answers to Review Questions
Appendix B Configuration Exercise Equipment Requirements and Backbone Configurations
---
July 18, 2010 6:34 AM
Mark your calendar and make yourself free on 21st of July 2010 as Cisco Systems along with APC by Schneider Electric, BMC, EMC, Emerson Network Power, Intel, NetApp and Panduit conducting a day-long event which addresses the new IT challenges emerging from sophisticated virtualization, workload mobility and application complexity.
Register and participate in live roundtable discussions with leading industry experts on subjects ranging from networking, storage, applications and physical infrastructure.
Take advantage of this opportunity to join other IT and data center decision makers in this unique virtualized environment packed with informative resources. You can also network with colleagues and peers and chat with subject matter experts in our staffed partner rooms.
Apart from offering this wonderful live virtual event Cisco Systems is offering you a chance to win an Apple iPad. Register now and who knows you might be holding an iPad as a prize from Cisco Systems.
---
July 11, 2010 5:52 AM
Day 1 of Cisco Live 2010 kicked off with full force with exciting news announcements. Over 10,500 people joined live virtually among them I was one, and over 23,000 people were present physically at Nevada, Las Vegas. Cisco CEO John Cambers opened the Cisco Live with the announcement of Cisco Cius, Cisco Systems tablet device basically targeted at Enterprises to enjoy and access the full range of Cisco collaboration and communication applications including HD video. Soon I will come out with a post on Cisco Cius lets see what Cisco is offering into the tablet business.
Cisco also announced the winner of the 2nd I-Prize competition,an open, global innovation contest developed to encourage collaboration among entrepreneurs and help identify new potential billion-dollar business ideas for Cisco . A team of five university students from Mexico submitted the winning idea of a 'Life Account' that gathers information about users through connected devices in the physical world and online data available in the virtual world. The winners receive a cash prize of $250,000!
---
July 6, 2010 6:13 AM
In one of my previous articles I was talking about the POE compatibility issues between Cisco Catalyst 3750 E Switches and Cisco Aironet 1250 Series Access Point, I was getting following error.
Jun 21 08:30:28.447: %CDP_PD-2-POWER_LOW: All radios disabled – NEGOTIATED WS-C3
750E-48PD (8843.e17f.f60d)
Jun 21 08:31:28.451: %CDP_PD-2-POWER_LOW: All radios disabled – NEGOTIATED WS-C3
750E-48PD (8843.e17f.f60d)
After some research I figured out Cisco 3750 E Switch is capable of enhance POE , which can provide POE power of 20 Watts compared to standard 15.4 Watts per port, I updated the IOS for one my Cisco Catalyst 3750 E Switch from 12.2(35)SE5 to 12.2(53)SE2
 Once the IOS update was done I used the following command on the particular port to provide 20 watts of power
ITKE-AS01(config-if)# power inline port max 20000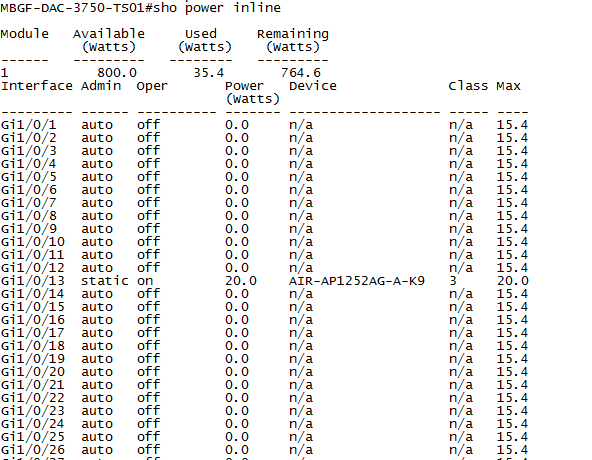 Then AP Started working normally and all the wireless radios were up and running as demonstrated below.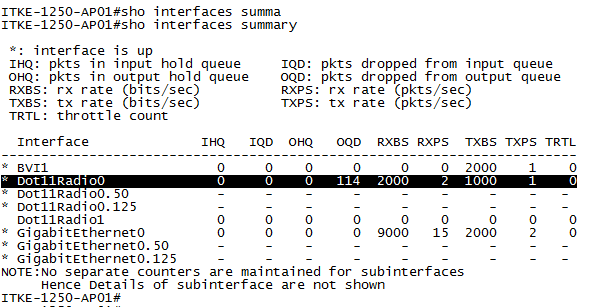 ---
June 29, 2010 1:14 PM
We are facing some problems with couple of Cisco IP Phones, lucky we had SMARTNET. I was out of my office; I was thinking how I can open a TAC case. I managed to get the toll free number for Cisco TAC center. I called them and placed my compliant. Within few moments I received the service request number and the support Engineer assigned to my case. In matter of five minutes I got the confirmation email from the Cisco support Engineer stating that our hardware will be replaced and he reconfirmed me back the shipping address. I never thought or expected a quick fast reply from Cisco support team. Hats off to Cisco as they value their customers and for Cisco, customer support seems to be the number one priority.
I strongly recommend all Cisco customers to have a SMARTNET for all their Cisco devices, to enjoy the privilege of getting support as soon as possible. You can always avoid the down time and can fix the problem at the earliest. If there are any hardware issues Cisco always try to ship the failed hardware at the earliest based on type of SMARTNET support you have.
---
June 28, 2010 6:18 AM
As we all know the biggest event of the year for Cisco Systems has already started at Mandalay Bay Hotel in Las Vegas. Most of the Cisco Experts are already there enjoying the biggest Technical party. Just for your info Cisco Live 2010 comes in two flavors
 –Cisco Live , which will be in Mandalay Bay Hotel  in Las Vegas
–Cisco Live  virtual, – June 29 to July 1st -which offers an opportunity to visit the Cisco booth, including the Data Center of the Future demo (see below) and attend on line numerous speaking sessions


Pic Courtesy: Cisco Systems
The theme of this year is "Knowledge is Power" , which perfectly reflects the main purpose of the show – Thousands of visitors will attend hundreds of informative sessions, delivered by Cisco trainers and partners designed to educate them on new concepts and new solutions . In addition, Labs and demos (World of Exhibitions) will give an opportunity to go deeper.
Tuesday  June 29th  
10:00-11:30am  John Chambers, Chairman and Chief Executive Officer, Cisco
11:45 -12:15 pm  Executive chat session with Carlos Dominguez Senior Vice-President, Office of the Chairman and CEO, Cisco
12:30-2:20 pm   Bridging in the Data Center, with or without Spanning Tree
2:45 -3:45 pm  Understanding of Application Performance and Network Usage in the Data Center – Ward Cobleigh, Business and Partnership Development Director, Fluke Networks
Wednesday June 30th
10:30-11:30 am  Padmasree Warrior, Chief Technology Officer, Cisco
11:45- 12:15 pm   Executive Chat Session with Padmasree
12:30 – 2:30 pm   Cisco Announcing New Innovations for Breakthrough Data Center 3.0 Architecture
2:45 -3:45 pm  Video: What Next? – Featuring Marthin De Beer, Senior Vice President, Emerging Technologies Group, Cisco
Thursday July 1st
10:30-11:30 am   Ben Mezrich,author  "The Accidental Billionaires: The Founding of Facebook: A Tale of Sex, Money, Genius and Betrayal;"
 12:30 -2:30 pm  Planning the Migration to Cisco Unified Computing System or
12:30 -2:00 pm  Data Center Customer Panel: Insights on Data Center, Computing, and Virtualization  
Since I am in other part of the Globe I will be attending Cisco Live virtual and I will try to keep you all updated on the sessions and activities. Don't miss this opportunity as the theme of the event "Knowledge is Power" is more than enough to experience some new concepts and new solutions. You still have a chance to be part of this event virtually.
---
June 24, 2010 9:19 PM
BISCI announced its newest standard, BISCI 002-2010, Data Center Design and Implementation Best Practices. The new standard BSCI 002-2010 is intended to reflect the growing complexity of the Data Center deployments and the need for Companies to understand the electrical, mechanical and telecommunications requirements while designing new infrastrucre of Data Centers.
The new standard BISCI 002-2010 includes the best practice, requirements and consideration for the Data Centre design including factions such as site selection, thermal systems, layout and security, and also the new standard is compatible with existing data center standards.

Pic Courtesy:BISCI
Jonathan Jew, Co-chair of the Data Center Standards Subcommittee and lead editor of the standard said: "BICSI 002 is a great resource for data center designers and operators because it provides a wealth of information on the subjects important to this audience-all in one place. It is the culmination of the efforts of more than 150 subject matter experts in a wide variety of disciplines related to data center design."
"This is truly a great achievement for BICSI and our membership as BICSI 002-2010, Data Center Design and Implementation Best Practices is the ultimate standard for anyone working in the data center arena," said Brian Hansen, RCDD, NTS, CSI, and BICSI President. "I'd like to extend a thanks to all of the Data Center Subcommittee members for their hard work and dedication in producing what we believe to be the most comprehensive data center standard to date."
BICSI 002 is available for purchase at www.bicsi.org/standards. BICSI members qualify for a reduced fee.
---
June 24, 2010 12:10 PM
We are leaving in the era of social networking, these days social networking sites like Facebook, LinkedIn and Twitter are becoming part of our work culture. No doubt we are all enjoying these new features of social networking to reach out the new height of business success.
Seems to be inspired by the success of social networking, Cisco Systems is coming out with a new social collaboration platform aimed at Enterprises called Cisco Quad. Cisco Systems designed the Cisco Quad to take popular social networking tools and trick and blend them into a single platform purely for business use which is due to be released for limited uses in the first quarter of Cisco's financial year 2011. Cisco Quad initially will be available in the U.S., Canada, the United Kingdom, Australia and New Zealand.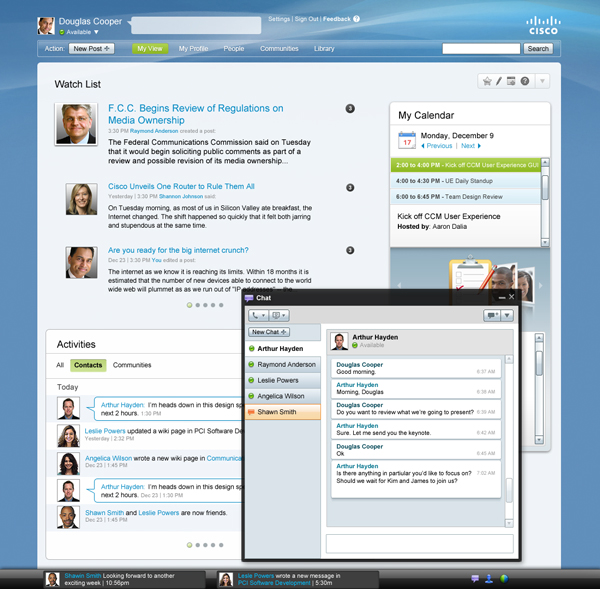 It's a social way of dealing with everyday business, according to Murali Sitaram, vice president and general manager of Cisco's Enterprise Collaboration Platform.
"We've borrowed from the Web 2.0 world," Sitaram said, noting that Cisco has been working on Quad for about three years. "It's a manifestation of social capabilities."
I am looking forward to test Cisco Quad, which looks to be a useful platform.
[kml_flashembed movie="http://www.youtube.com/v/j_DHOqcavIo" width="425" height="350" wmode="transparent" /]
---
June 22, 2010 5:53 AM
In my previous post I was talking about the POE issues related to Cisco Aironet 1252 AP and the Cisco Catalyst 3570 E Switch, to resolve this Cisco Systems have an answer "Enhanced Power over Ethernet.
After posting my article I did a little search on Cisco.com and I found the following white paper
"Cisco Enhanced PoE
To support new and emerging technology, many of Cisco's customers have an immediate requirement for PoE in excess of 15.4W per port. For example, Cisco has introduced a new wireless access point compliant with the IEEE 802.11n draft 2.0 standards. This wireless access point, the Cisco Aironet® 1250 Series Access Point, supports two radios, which use MIMO and other new technologies to increase the throughput, reliability, and predictability of the wireless network. However, to function at full capability, the Cisco Aironet 1250 requires 18.5W of PoE.
Powering the Cisco Aironet 1250, with its 18.5W power requirement, from a switch that supports only the IEEE 802.3af standard decreases network efficiency, because network managers must either add more equipment and cable to provide the additional power needed or resort to utilizing only one radio in the Cisco Aironet 1250. Although the Cisco Aironet 1250 could easily receive full power from an IEEE 802.3at-compliant PSE, that standard has not yet been ratified.
That is why Cisco developed Cisco Enhanced PoE, Cisco's extension to the IEEE 802.3af standard that delivers as much as 20W per port of inline power for devices that support Cisco Discovery Protocol (CDP). Cisco Enhanced PoE is offered on Catalyst 3750-E and Catalyst 3560-E switches starting in February 2008 with Cisco IOS® Software Release 12.2(44)SE. The Catalyst 6500 Series10/100/100 PoE linecards support Enhanced PoE with 12.2(33)SXH2 or later and the Catalyst 4500 E-Series support Enhanced PoE with 12.2(44)SG or later. When, for example the Cisco Aironet 1250 is connected to a Catalyst switch supporting Cisco Enhanced PoE, the access point can use Cisco Discovery Protocol to request a power level from the switch that is higher than the 15.4 Watts described in the IEEE 802.3af standard. After the Catalyst switch receives the Cisco Discovery Protocol message for higher power, it will grant the increased wattage to the Cisco Aironet 1250.
Cisco Enhanced PoE is by no means a replacement for or in competition with the IEEE 802.3at (PoE+) standard. It is simply a means of delivering PoE in excess of 15.4W per port to those customers who must immediately implement technologies requiring it and cannot wait for the 802.3at standard to be finalized."
To read the complete white paper click this link. Also I am thankful to all those gentlemen who posted their comments and tried to provide a solution. The current IOS version of the Cisco Catalyst 3750 E Catalyst Switch I have  is 12.2(35)SE5, let me upgrade the IOS and see whether I can enjoy the enhance power capabilities of 3750 E Switch.
---