---
August 30, 2010 7:59 AM
The leader in providing highly technical information security conferences is coming to Middle East, yeah Black Hat Security event will make its debut on November 8th to 11th at Emirate Palace, Abu Dhabi, UAE.

Black Hat will comprise training and briefings on the latest developments in cyber security, taking a vendor neutral approach. The UAE Computer Emergency Response Team (aeCERT), Khalifa University of Science and Technology and United Business Media (UBM) are responsible for bringing the event to the region.
Jeff Moss, founder and managing director of Black Hat commented: "Amid growing recognition of the need for advanced IT security we feel the best people to advise on issued faced and recommended solutions are those that know it best, by inviting industry experts to submit their ideas we can make sure that delegates are exposed to high-end technical information revealing new vulnerabilities and original content."
Pre-registration for the event has already started and for more info please check Black Hat web site.
August 29, 2010 10:07 AM
It's amazing to see giant like Cisco Systems is into community services, true to their slogan "Human Network" are committed not only to delivering amazing networking technology and products but also involved in uplifting the quality of life of the flood affected communities in Karnataka. Cisco Systems hander over more than 500 houses to the Government of Karnataka as part of "Project Samudaya"
During October 2009 as part of its commitment to corporate social responsibility, Cisco announced a donation of US $10 million commitment comprising cash, services, solutions and equipment over two years to support rehabilitation and reconstruction efforts in the Raichur district of Karnataka.  Through the use of public-private partnerships towards helping build sustainable communities, Cisco committed to reconstruct five villages in the flood affected Raichur district: N. Malkapur, Khataknur, Talmari, Bichali and Chikkamanchal. The handing over of more than 500 houses marks the completion of the first phase of this project.
This is really what drives Cisco to be a unique organization. For more info please do check the news release from Cisco Systems.
---
August 28, 2010 8:23 AM
AMD has revealed details of two of its next generation x86 processor cores, codenamed Bulldozer and Bobcat.
The newly revealed two core designs are meant for high end PCs and servers, and low power notebooks and small form factor PCs respectively, and have been created from the ground up, according to AMD, to meet the requirements of specific form factors and usage models.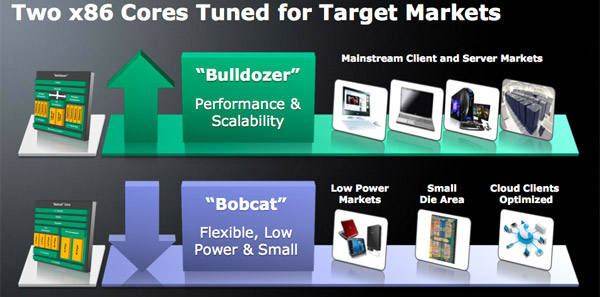 The Bulldozer core is  built on 32nm technology, which includes advanced power management features, and has been designed to balance dedicated and shared compute resources, for highly compact, high core count processor designs, along with new x86 instruction support (SSE4.1, SSE4.2, AVX, and XOP including 4-operand FMAC).
The newly revealed Bobcat core is designed specifically for small mobile devices, and is capable of providing 90% of the performance of mainstream PC performance in half the area of silicon, according to AMD. The core power gating and microarchitecture are optimized for low power, enabling sub-one watt operation, along with out-of-order instruction execution for higher performance.
"In my opinion, Bulldozer and Bobcat are not only two of the greatest technical achievements in AMD's rich history, but two of the most important for the industry as well," said Chekib Akrout, senior vice president and general manager, AMD Technology Development
---
August 28, 2010 7:53 AM
All CCNP Certification aspirers, who ever have purchased CCNP SWITCH 642-813 Official Certification Guide new supplement content is available to cover up the additions made to the Cisco Switching Exam 642-813 after the above mentioned title was mentioned. You can directly download the additional contents from the Cisco Press page –look on the catalog page under "Updates".
I went through the supplement content "How to prepare for the Planning Topics on the Exam". The new supplement replaces the current content in the page 13 of the title CCNP SWITCH 642-813 Official Certification Guide. It deals with how to prepare for the planning topics on the exam, when compared to the book I could notice some changes, Cisco is emphasizing on the CCNP certified professionals to know more about planning and documentation ,though the exam might not directly test you to create a plan.  But the supplement does guide you to come up with an implementation plan, it deals with the business requirements, business constraints and technical requirements.
Cisco expects you to be aware of creating plans for implementing a network, and you may get a scenario, based on the scenario you are supposed to figure out what specific features you'll need, what steps you'll need to configure for each feature, which switch you'll have to visit to type in configuration commands, and so on.
Even as you work through a scenario on the exam, you should spend time creating a verification plan so you can test and make sure each feature you have configured actually works as it should. Otherwise, whatever you typed into the switch emulators might not be correct and might not earn you valuable points.
Do download these additional supplements which are quite useful for the CCNP aspirers.
---
August 24, 2010 7:10 AM
Fortify Software is company which creates software for security testing of application through all stages of the development process through development, Fortify is a privately held software security assurance company based in San Mateo, Calif.
Already HP and Fortify software  have collaborated on an advanced security analysis technology, 'Hybrid 2.0′, and will HP says that it will now be able to accelerate development of this technology to give clients the accuracy and prioritization they need around security vulnerabilities to build scalable enterprise application security programs.
With the acquisition of Fortify Software, HP will offer a complete, market-leading solution that helps organizations reduce business risk, meet compliance regulations and protect against malicious application attacks by integrating security assurance seamlessly across the application life cycle.
"Businesses operate in a world of increasing security and compliance challenges, and the applications and services that they rely on are core to the problem and the solution," said Bill Veghte, executive vice president, Software and Solutions, HP. "With Fortify's leadership in static application security analysis combined with HP's expertise in dynamic application security analysis, organizations will have a best-in-class solution to improve the security of their applications and services."
For further info do read the new release from HP,
---
August 23, 2010 7:30 AM
When it comes to management of IP Address for Small and Home offices, there are lot of IP address management software's. Some are freeware's and some are shareware. When it comes to freeware's you need to be very selective and need to search for easily manageable software.
I found a freeware known as Infoblox IP address Management (IPAM) which is available as a VMware image.  The Infoblox IPAM Freeware is a complete solution with the complete feature set of the Infoblox IP address manager, including Smart Folders, Network Map (with subnet management) and leading IPv6 capabilities. 
The installation of IPAM is quite simple just download the VMWare image file and run it with a VMware player 2.5 or above.  The Infoblox IPAM is a built on linux based kernel and it takes very little resources on your system. The GUI Dashboard provides various widgets for viewing and managing the data.
With Infoblox IPAM Freeware you can manage a maximum of 500 active IP addresses and it provides  reliable and manageable platforms for core network services like domain name resolution, IP address assignment and IP address management.
The Infoblox IPAM Freeware allows you to:
Store specific data filters and get dynamic, real-time results;
Quickly visualize blocks of network address space and manage subnets with up to 500 IP addresses; and
Better manage your migration to IPv6.
I would recommend this freeware utility which is simple manage and install to any small organization with less than 500 users.
[kml_flashembed movie="http://vimeo.com/12094007" width="undefined" height="undefined" wmode="transparent" /]
---
August 21, 2010 8:18 AM
Intel the leading chip maker is hoping to step into the arena of security software and services, by acquiring McAfee for $7.68 billion. After the announcement about the deal on Thursday , Intel CEO Paul Otellini said that the deal will give Intel a 'third pillar' in computing, to complement its drives for power efficiency and connectivity, in future computing models.
"In the past, energy-efficient performance and connectivity have defined computing requirements. Looking forward, security will join those as a third pillar of what people demand from all computing experiences," Otellini said in a statement.
"The addition of McAfee products and technologies into the Intel computing portfolio brings us incredibly talented people with a track record of delivering security innovations, products and services that the industry and consumers trust to make connecting to the Internet safer and more secure," he added.
I am hoping McAfee will reach its new heights at the hands of Intel as these days I feel they are losing their glory.
---
August 21, 2010 8:03 AM
We all know the importance of WebEx these days; especially it's widely used by Cisco TAC team to solve your TAC tickets. At least I have encountered this lot. In fact these days our Organization is setting up most of our meetings using Cisco WebEx, a powerful technology which even works well at a limited bandwidth.  Now imagine yourself having a web conferencing solution similar to Cisco WebEx– but for free! Yes you can, you don;t need to just imagine but  also can experience it. Thanks to Cisco Systems for their WebEx Meet. Which is currently in its beta form and its available for free, though it's not as rich as Cisco WebEx when it comes to features, but an awesome technology to use.

The Cisco WebEx Meet is ideal for giving a presentation or viewing a client's desktop or even recording a meeting. At maximum you can setup the WebEx meeting with four people which is good for small and mid-size organizations even it can used for family meetings as well. I tried to setup a trail meeting which proved to be a successful one,  the quality of video was of a high and  also I had the privilege of sharing documents and applications with my peers.
Still in its early stage, but still I can predict a great success for Cisco WebEx Meet which can surely meet the bigger demands for smaller and mid-sized companies who cannot afford to buy complex, integrated Web conferencing solutions.  For more info do visit the Cisco WebEx site and start trying Web EX meet for free as the service is still in beta.
---
August 18, 2010 7:29 AM
Yeah it's right, last week I received an email from Pearson folks about a Webcast by Kevin Wallace, an expert trainer and best-selling author of the CCNP TSHOOT 642-832 Official Certification Guide and Network Troubleshooting Video Mentor.
On of 31st of August 2010, Kevin Wallace takes you on a tour of a troubleshooting scenario which you might expect on the CCNP TSHOOT exam. Kevin will talk about troubleshooting an HSRP ticket. By attending this webcast you will get a chance to review the theory of HRSP followed by a live troubleshooting demonstration and concluding with a Q&A session.
Already few questions are ticking in my head. Don't wait just register to this webcast to experience the troubleshooting tips as well as few tips for CCNP TSHOOT exam.
 Cisco CCNP TSHOOT: Troubleshooting HSRP
Tuesday, August 31, 2010
3:00 – 3:30 PM Eastern Time — FREE
---
August 10, 2010 5:33 AM
As technology is evolving the importance of Unified Communications is growing, yet until now I thought Cisco is a leader when it comes to Unified Communication especially after the introductions of Tele presence and WebEX, but others vendors too are competing hard. Avaya took over Nortel when it was in crises, to enhance its product line. Now its Microsoft and Polycom are entering into an alliance, which provides an opportunity for them to jointly develop, sell and market Unified Communication products based Polycom endpoints and Microsoft Communication Server 14.
Polycom's solutions for Microsoft Communications Server 14  will span markets ranging from the enterprise, to small and medium-sized businesses, to governments, the statement said. The promised integration aims to help bring Microsoft's UC product together with Polycom's conferencing tools, which the companies said over time will make the two systems easier for IT and telecommunications staff to manage.
"Microsoft and Polycom solutions play a critical role within our current and future unified communications strategy," said Martin Smale, IT director at NDS, a News Corp. company. "We're already benefiting from improved collaboration, increased productivity, and significant ROI based on our existing UC network, and we're looking forward to leveraging the expanded offerings from two of our most valued vendors in the UC space."
"Our research shows that nearly 70 percent of the companies considering a unified communications solution are thinking of deploying Microsoft Office Communications Server," said Brent Kelly, senior analyst and partner at Wainhouse Research. "These enterprises need seamless integration and interoperability between Office Communicator on the desktop and personal, group, and telepresence video solutions like those offered by Polycom for executive offices, meeting suites, and conference rooms. By working together, Microsoft and Polycom are making it easier for organizations to have a true end-to-end unified communications environment, which includes high definition video."
For further details on the alliance have a look at the press release from Microsoft.
---