---
December 28, 2010 5:44 AM
In my previous post we came to know briefly about Virtual Device Contexts (VDC) and what are the advantages of Virtual Device Contexts (VDC) as well.
Configuring Virtual Device Contexts (VDC)   Cisco Nexus 7000 Series switch is as simple as just entering the VDC name, by following below mentioned steps we can create VDC named VDC-Admin
Step 1
Connect to Cisco Nexus 7000 Series switch using a console port.
Step 2
Create a VDC named DC-CORE1
N7000-ITKE01#configure t
N7000-ITKE01 (config)#vdc  DC-CORE1
Step 3
Verify the created VDC by using following commands "Show vdc" and "show vdc VDC-CORE1 detail" as demonstrated below.
N7000-ITKE01# sho vdc
vdc_id  vdc_name                          state               mac            
——  ——–                          —–               ———-     
1       VDC-Admin                         active              00:26:98:07:1c:c1
2       DC-CORE1                          active              00:26:98:07:1c:c2
3       DC-AGG1                           active              00:26:98:07:1c:c3
The show VDC command shows VDC id based on which VDC created first.BY default VDC id is assigned to the default VDC. In this case it is VDC-Admin.
VDC-Admin# sho vdc DC-CORE1 ?
  <CR>       
  >           Redirect it to a file
  >>          Redirect it to a file in append mode
  detail      Show detailed vdc information
  membership  Show vdc interface membership information
  resource    Show resource configuration for VDC
  |           Pipe command output to filter
N7000-ITKE01# sho vdc DC-CORE1 detail
vdc id: 2
vdc name: DC-CORE1
vdc state: active
vdc mac address: 00:26:98:07:1c:c2
vdc ha policy: RESTART
vdc dual-sup ha policy: SWITCHOVER
vdc boot Order: 1
vdc create time: Wed Dec 28 08:44:51 2010
vdc reload count: 0
vdc restart count: 0
N7000-ITKE01#
In upcoming post I will show how to allocate physical interfaces to the newly created VDC.
December 27, 2010 6:22 AM
The Virtual Device Contexts (VDC) is a new feature introduced in Cisco Nexus 7000 NX-OS, so does it happens to be the first Data Center Switch to provide Virtual Device Contexts (VDC) capabilities. The Virtual Device Contexts (VDC) allows a Cisco Nexus 7000 Series switch to be logically segmented into four different virtual switches (device contexts). The logical separation of single Nexus 7000 into multiple logical devices provides the following benefits:
Administration and management separation
Change and failure domain isolation from other VDSs
Address, VLAN, VRP and vPC isolation.
When the Cisco Nexus 7000 Series switch is first booted, all interfaces of all line cards in the modular switch platform are placed in the default VDC (VDC 1).  Up to four VDCs can be created including the default VDC, but an interface can only belong to one VDC.  Interfaces from different line cards can be placed in different VDCs.  Once an interface is placed into a VDC, the interface can no longer be managed in the default VDC context.
The Cisco Nexus 7000 Series switch shares some components between VDC(s), which include the following:
A single instance of the kernel which support all of the processes and VDCs.
Supervisor Modules
Fabric Modules
Power Supplies
Fan trays
System fan trays
CMP
CoPP
Hardware SPAN resources.
---
December 26, 2010 5:46 AM
 Our Network Infrastructure is currently being under major revamp. We are expanding our Data Center as well our enhancing our services to our customers with the introduction of IP telephony, better internet speed and of course better systems.
When we started planning for this project lot of solutions were presented, starting from Nortel, Juniper and Cisco. We opted for the Cisco recommended solution. In the new solution we are having Cisco Nexus 7010 as our Core Switches.
Since still we are staging our Cisco Nexus 7010 switches, while doing so I figure out there are no more Giga Ethernet or Ten Giga Ethernet interfaces in the Cisco Nexus 7010 Series Switch. All interfaces are known as Ethernet ports.
VDC-Admin-DC-ITKE1(config)# interface ?
  ethernet      Ethernet IEEE 802.3z
  loopback      Loopback interface
  mgmt          Management interface
  port-channel  Port Channel interface
  vlan          Vlan interface
VDC-Admin-DC-ITKE1 (config)# interface ethernet 1/26
VDC-Admin-DC-ITKE1 (config-if)# speed ?
  10     10Mb/s
  100    100Mb/s
  1000   1Gb/s
  10000  10Gb/s
  auto   Auto negotiate speed
VDC-Admin-DC-ITKE1 (config-if)#
 But nothing to worry they will not just support 10Mb/s but even they can support 10 GB/s. This is one of key difference I found between Cisco Catalyst 6500 Series and Nexus 7000 Series Switches. As we proceed further I let you all know the major differences between Cisco Catalyst 6500 Series and Nexus 7000 Series Switches. One fact to known about Nexus 7000 Series Switches run by Cisco NX-OS software. It was specifically designed for the most mission-critical place in the network, the data center.
---
December 21, 2010 5:29 AM
In my previous post I was discussing about Gateway Load Balancing Protocol (GLBP), now let's see how Gateway Load Balancing Protocol (GLBP) does load balancing?  Basically there are three different types of Load balancing algorithms applied
Round Robin:
This method is the default method used by Gateway Load Balancing Protocol (GLBP).
In this method the when the client sends ARP requests to resolve the MAC- address of the default gateway , the reply contains the MAC address of the next possible router in round-robin fashion
 Weighted:
 Gateway Load Balancing Protocol (GLBP) places a weight on each device to calculate the amount of load sharing that will occur through MAC assignment
The routers participating in GLBP will advertise its weight and AVG will act based on that value
For example if we have two routers named ITKE-Router A and ITKE-Router B. If the ITKE-Router A has double the bandwidth capacity then the ITKE-Router B. ITKE-Router A will be configured with the double weighting value of ITKE-Router B
Host-Dependent
Each Client will always get the same Virtual MAC address.
The Mac-address of the host is used to determine which AVF's mac the host is directed towards.
This method is used when the client needs a consistent gateway MAC -address.
Host dependent GLBP is not recommended in situation where there are small number of hosts, for example, less than 20
In upcoming posts let's see how to configure Gateway Load Balancing Protocol (GLBP) in Cisco devices.
---
December 8, 2010 7:59 AM
GLBP better known as Gateway Load Balancing Protocol (GBLP) is a Cisco proprietary protocol especially designed overcome the limitations of Hot Standby Routing Protocol (HSRP) and Virtual Router Redundancy Protocol (VRRP). The added feature to Gateway Load Balancing Protocol (GLBP) is it can load balance between the gateways where as in HSRP and VRRP, the standby routers are configured for redundancy and act as standby only and become active only when the active router fails.
The Gateway Load Balancing Protocol (GLBP) provides load balancing over multiple routers (gateways) using a single virtual IP address and multiple virtual MAC addresses. The forwarding load is shared among all routers in a GLBP group rather than being handled by a single router while the other routers stand idle. Each host is configured with the same virtual IP address, and all routers in the virtual router group participate in forwarding packets. GLBP members communicate between each other through hello messages sent every 3 seconds to the multicast address 224.0.0.102, User Datagram Protocol (UDP) port 3222 (source and destination).
The Gateway Load Balancing Protocol (GLBP) elects one router as active virtual gateway (AVG) based on highest priority value or highest IP address in the group, if there is no highest priority.  The active virtual gateway (AVG) to respond to ARP requests sent to the virtual gateway IP address replying different virtual MAC addresses depends on which load-balancing algorithm is configured.
All routers participating in GLBP group gets the necessary virtual MAC addresses from the active virtual gateway (AVG). Up to four virtual MAC addresses can be used in any group. Each of these routers is referred to as an active virtual forwarder (AVF), forwarding traffic received on its virtual MAC address. Other routers in the group serve as backup or secondary virtual forwarders, in case the AVF fails. The AVG also assigns secondary roles.
The Gateway Load Balancing Protocol (GLBP) is part of CCNP 642-813 Exam curriculum and you must master this protocol as you can expect few questions.
In upcoming posts I will try to highlight on load balancing techniques used and how to configure Gateway Load Balancing Protocol (GLBP) in Cisco Routers and Cisco Catalyst Switches .When it comes to Catalyst Switches GLBP is currently available with Catalyst 6500 Supervisor 2 with IOS Release 12.2(14) SY4 or later and Supervisor 720 with IOS Release 12.2(17a) SX4 switch platforms.
---
December 5, 2010 8:43 AM
Juniper Networks strengthening their Wireless Product range as Juniper Networks and Belden Inc. have entered into a definitive agreement under which Juniper will acquire Trapeze Networks for approximately $152 million. Juniper is expected to complete the acquisition by the fourth quarter of 2010.
This acquisition will expand the Juniper's portfolio and make WLAN infrastructure one of their key business areas.
"With the acquisition of Trapeze Networks, we extend our industry leading routing, security and switching portfolio with proven and innovative WLAN technology that will enable our customers to provide a seamless, high-quality, secure experience to their users regardless of where and how they access their network," said David Yen, executive vice president and general manager, Fabric and Switching Technologies at Juniper Networks. 
Now Juniper customers can build their new networks based on Juniper's end-to-end routing, security, wired and wireless switching infrastructure that improve users' experience and increase their productivity regardless of location.
"Juniper's strong history of technology execution combined with Trapeze's accomplished team ideally positions the company to deliver end-to-end high-performance networking for the world's most demanding networks," added Yen.
"As the leader in high-performance networking, Juniper represents the ideal provider for us to unlock the value of Trapeze Networks in the global enterprise market," said John Stroup, president and CEO of Belden Inc. "This agreement enables our organization to remain focused on the long-term growth opportunities for wireless technology in our core markets, including the nascent industrial networking market."
I have seen Trapeze Networks wireless products closely for sure they are going to add value to Juniper portfolio.
---
November 30, 2010 5:02 AM
After acquiring Cognos, IMB announces the launch of the latest version of business intelligence application IBM Cognos 10.
According to IMB the latest Cognos update aims to take analytics to mobile devices such as an iPhone and Blackberry, after acquiring IMB gave a new look to Cognos 10. The Cognos 10 has much to offer especially its ability to include the external data within a report. The new feature allows users to easily add a spreadsheet or CSV data to their report. IBM also took care of security by allowing administrators to restrict access to this capability so hopefully it will be used only when absolutely needed.
"The Cognos 10  software delivers a completely new user experience, which allows users to achieve collective intelligence by connecting with others, sharing insights and establishing decision networks, therefore redefining the traditional methods of interaction organizations use with information and the way users collaborate with their peers," said Bashar Kilani, Bashar Kilani, Business Unit Executive, IBM Software Group, IBM Middle East.
IBM is also conducting 48 live events across North America to helps users to get an up-close, in-depth look at IBM Cognos 10. I suggest you not to  miss this opportunity.
By attending this event, you will see how IBM Cognos 10 enables organizations to outperform by providing:
Analytics everyone can use in a BI workspace that sharpens individual skills to answer key business questions
Collective intelligence with built-in collaboration and social networking to better connect people and insights to gain alignment
Actionable insight everywhere in mobile, real time, and business processes to instantly respond at the point of impact
---
November 29, 2010 5:01 AM
Starting December 13, 2010 doesn't get shocked for not downloading IOS images for any of your Cisco Products from Cisco Website. As of today if anyone having a valid SMARTNET contract with a valid CCO id can download IOS for any Cisco Catalyst Switches, Cisco Routers , Cisco security, voice  and wireless products. It will not be same effective December 13, 2010. Cisco Systems is coming up with a new policy. All software download on Cisco.com will be verified against Products registered on your Services contract.  Attempts to download Software for Products not registered on your Services contract will not be permitted.
Cisco Systems wants improve customer experience and protect your investments in Cisco Products. The major change is Cisco Systems will ask their customers to complete the following action before December 13, 2010
Verify all applicable Cisco Products are covered under Cisco Service contracts, and that you have a valid license for Cisco Software.
Verify your Services contracts are accurate and make necessary corrections – serial numbers, part ID's and locations must be accurate on each Services contract.
Associate all Services contracts to applicable Cisco.com user ID's
Verify all Cisco.com user IDs for your company are valid and properly assigned to individuals in your company.
So make sure all your SMARTNET and service contract are up to date and make sure you manage all your active contacts by associating with a valid Cisco.com user ID's via the Service Access Management Tool (SAMT). This tool enables administrators to manage which individuals are allowed to request Service from Cisco (e.g. technical support/TAC, hardware replacement/RMA).
Cisco.com users can use the Cisco.com Profile Manager to view which Services contracts are associated to their profiles.
---
November 28, 2010 5:12 AM
With introduction of the Cisco Carrier Packet Transport (CPT) System, Cisco Systems into packet optical transport system market. According to Cisco Systems the newly designed solutions assists for migrating service provider transport infrastructures to support next-generation IP-based services. Cisco claims this solution combines the reliability of the transport network with efficiencies of packet technology to deliver current and future services.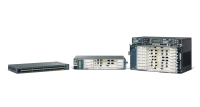 Pic Courtesy: Cisco Systems
The Cisco Carrier Packet Transport System family includes the 6 RU CPT 600, the 2 RU CPT 200, and the CPT 50. This last pizza-box platform operates as a satellite to the CPT 600 or CPT 200, offering port extension up to 80 km away from its master platform. Ports on the CPT 50 are operated as if they were part of the master platform, says Cisco's Stephen Liu.
The Cisco CPT system supports MPLS-TP Ethernet with quality of service and virtual local area network manipulation capabilities, as well as optical transport network and reconfigurable optical add-drop multiplexer functionality.
Currently the Cisco Carrier Packet Transport (CPT) System is in field trains with several service providers like Verizon in US and BT in UK and the scheduled date of availability is in the first quarter of 2011.
Supporting Quotes (Courtesy: Cisco Systems)
Glenn Wellbrock, director optical transport network – architecture and design, Verizon
"Next-generation transport solutions should be clearly aimed at making packet transport suitable for carrier transport networks. Features such as standards-based operations, performance monitoring, administration, management, and sub-50-milliseconds protection switching are critical requirements in the Verizon packet transport network and we support Cisco's decision."
---
November 27, 2010 6:49 AM
I hope by now you have made your mind to kick off your preparations for CCNP Routing and Switching Certification. And to start with you might have opted to go with Switch# 642-813 Exam and might have placed an order for CCNP Switch 642-813 Official certification guide from Cisco Press. Your CCNP Switch# 642-813 Exam companion.
The  CCNP Switch 642-813 Official certification guide is an amazing title, which can trust for Switch # 642-813 Exam. The author David Hucaby CCIE 4594 carries an honor of writing many titles for Cisco Press especially when it come to switching he is master.
The  CCNP Switch 642-813 Official certification guide comes with seventeen chapters covering wide range of topics
The first chapter emphasizes on the importance of planning for CCNP Switch# 642-813 Exam. In this chapter Cisco Systems have made very clear what they are anticipating for the CCNP Switching and Routing professional and what skill he/she should possess to be CCNP R & S.
In this chapter the author talks about Cisco's approach to the life cycle of the Network, it is PPDIOO
Prepare – organizational requirements, strategy, financial justification
Plan – network requirements, gap analysis with existing network infrastructure, project plan
Design– design specification created (used for implement phase)
Implement – network is built, additional components added
Operate – maintaining network health, day-to-day operations
Optimize – proactive management, potential to spir network redesign
Tips for the implementation plan
The implementation plan consists of several phases ( for eg : installation of hardware, IOS check, configurations,-over to production, etc.).  It is important to remember the following steps for each phase:
Description of the step
Reference to design documents
Detailed implementation guidelines
Detailed rollback guidelines in case of failure
Estimated time needed for implementation
---