---
October 31, 2011 11:57 AM
Recently Cisco announced the introduction of new portfolio of switching products to augment the Cisco Unified Fabric product range. This range consists of Nexus data center switches and MDS storage switches that connect servers, data storage, and corporate networks seamlessly within the data center and cloud.
With the introduction of Cisco Nexus® 7000 48-Port 1 and 10 Gigabit Ethernet F2-Series Module, Cisco has unveiled second generation capabilities for the Nexus 7000 family switches. The Cisco Nexus® 7000 48-Port 1 and 10 Gigabit Ethernet F2-Series Module offers outstanding flexibility and wire-rate performance on each port. The module enables the deployment of high-density, low-latency, scalable data center architectures.

The Cisco Nexus 7000 Series Switches provide the foundation of the Cisco® Unified Fabric. They are a modular data center-class product line designed for highly scalable 10 Gigabit Ethernet networks. The fabric architecture scales beyond 15 terabits per second (Tbps), designed to support future 40 and 100 Gigabit Ethernet interfaces. To meet the requirements of the most mission-critical network environments, the switches deliver continuous system operations and virtualized services. The Cisco Nexus 7000 Series is powered by the proven Cisco NX-OS Software operating system, with enhanced features to deliver real-time system upgrades with exceptional manageability and serviceability. Its innovative unified fabric design is purpose built to support consolidation of IP and storage networks on a single lossless Ethernet fabric.
For further details check this link.
October 31, 2011 5:10 AM
Cisco Systems announces the new Fabric 2 modules for Cisco Nexus 7000 Series switches.  The newly announced Cisco Nexus 7000 Series Fabric-2 Modules for the Cisco Nexus 7000 Series chassis are separate fabric modules that provide parallel fabric channels to each I/O and supervisor module slot. From a scalability perspective, the new Fabric 2 module, enables the deployment of up to 768, 10 GbE ports in a Nexus 7000 chassis. The Fabric 2 module can deliver up to 550 Gbps per slot of performance. The new module also delivers connectivity, for only 9 watts of power per port.
Through the parallel forwarding architecture, a system capacity of more than 15 Tbps is achieved with the five fabric modules. The fabric module provides the central switching element for fully distributed forwarding on the I/O modules.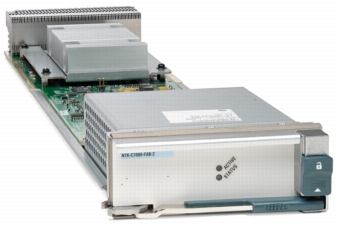 The newly announced  Fabric 2 modules for Cisco Nexus 7000 Series switches is available for Cisco Nexus 7009, 7010 and 7018 Chassis. It seems Cisco Systems are coming out with a 9 slot chassis for Nexus 7000 Series Switch. The Fabric 2 module in combination with the supervisor and I/O modules supports virtual output queuing (VOQ) and credit-based arbitration to the crossbar switch to increase performance of the distributed forwarding system. VOQ and credit-based arbitration facilitate fair sharing of resources when a speed mismatch or contention for an uplink interface exists. The fabric architecture also enables future support for lossless Ethernet and unified I/O capabilities.
Some of the features and befits of the Cisco Nexus 7000 Series Fabric Modules are as follows
| | |
| --- | --- |
| Feature | Benefit |
| High availability and redundancy | The fabrics support multilevel redundancy, where all available fabrics are active, and provide redundancy for all other fabric modules. All I/O module slots receive a fair share of the total fabric bandwidth, helping ensure lossless forwarding in the event of failover. |
| Scalable fabric | The combined fabric modules deliver 10 channels per I/O module and 5 channels per supervisor module, for a scalable capacity of more than 15 Tbps for forwarding performance, which can be increased as your needs grow. |
| Nondisruptive addition and removal of fabric modules | The switch capacity can scale with the addition of modules, with transparent upgrades for continuous operations. |
| Arbitrated crossbar for unicast | Class-of-service-aware forwarding is delivered in a fully distributed forwarding system that allows future enhancements to Ethernet to support unified I/O. |
| VOQ | In conjunction with the supervisor module, VOQ provides a quality-of-service (QoS) aware lossless fabric, avoiding the problems associated with head-of-line blocking. |
| Multistage crossbar fabric | System forwarding performance is enhanced by a combination of local fabric switching between ports on the same module and centralized forwarding through the fabric for ports on different modules. |
| Superframing and frame segmentation | Crossbar efficiency is optimized by the use of superframing and frame segmentation to provide deterministic latency and throughput. |
| ID LED | Using the beacon feature, the administrator can clearly identify the chassis and fabric module. |
---
October 30, 2011 5:27 AM
When it comes to preparation for Cisco CCNP TSHOOT 642-832 exam, you are not left with many choices, among the available the best sources are Cisco Press books.  Personally for me, my experience helped me to pass the Cisco CCNP TSHOOT 642-832 exam.  But for those who are new to industry they are dependent on study guides and CBT nuggets.
When it comes to study guides still Cisco Press titles are far superior to other publications.  The Cisco Press title "CCNP TSHOOT 642-832 Official Certification Guide" follows the typical Cisco Press approach, each chapters begins with "Do I know this Already?" quiz and then followed by the subject. This approach is good as it lets you know to determine the knowledge level of the topic; it gives a brief idea to plan out the approach for each chapter. The title comprises of 15 chapters and the final chapter deals with the final preparations for the exam.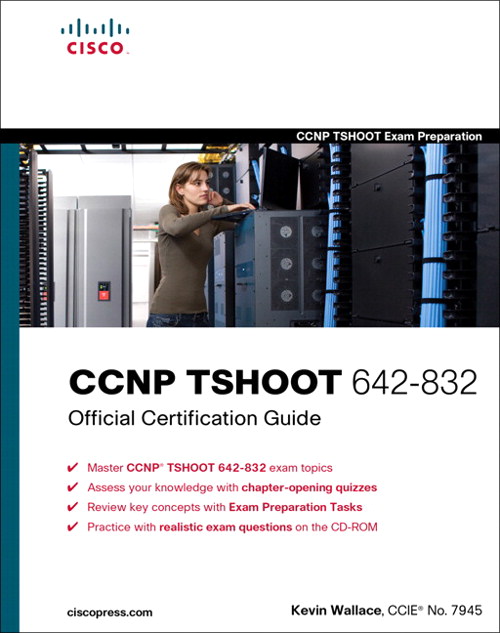 The good thing I like about this title is the way how author "Kevin Wallace" presented the known topics from different perspective. Yeah he was quite successful in engaging with his readers and presenting the troubleshooting techniques. The inclusion of many case studies enhanced the author's presentation and he was quite successful in reaching out the mass. Especially for those who passed CCNP Route and Switch exam they find not much in this title, but they will learn the troubleshooting and maintenance techniques for complex networks. The troubleshooting scenarios and methodology grabbed my attention and I like the way troubleshooting tickets were presented.
I have few suggestion to Cisco Press is to include the pdf version of the title with the CD. The CD also came with the Boson Exam Environment Engine (BEE), it was a huge disappointment for me as the practice exam failed to contain the simulated scenarios. The BEE contained only multiple choices, single choice, drag and drop style questions.
Overall the Cisco Press title "CCNP TSHOOT 642-832 Official Certification Guide" is a good source for anyone who is preparing for Cisco CCNP TSHOO 642-832 exams and a helpful guide for those who wants to master troubleshooting.
---
October 29, 2011 4:46 AM
Last week Cisco Systems announced its intention to acquire BNI Video, headquartered in Boxborough, Mass.,. BNI Videos are involved in supping video products to service providers that offer video back-office and content delivery network (CDN) analytic capabilities. This announcement is quite evident about Cisco intention to expand its capabilities in its Videoscape TV platform. The main aim of videoscape is to allow service providers to deliver compelling video experiences to any device over any Internet Protocol (IP) network.
"Cisco is committed to working with our service provider customers to deliver next-generation IP-based video experiences across devices," said Marthin De Beer, senior vice president and general manager of Cisco's Emerging Business Group. "Service providers globally are embracing our Videoscape vision, and today with the acquisition of BNI Video, we are augmenting our Videoscape platform and giving customers a clear migration path to Videoscape."
"As a founding investor in BNI Video, Comcast Ventures recognized the potential for this technology to play a critical role in advancing video experiences for Comcast's customers," said Tony Werner, chief technology officer, Comcast. "With the combined expertise in IP video systems, Cisco and BNI Video offer service providers a compelling software and infrastructure platform to efficiently deliver video content to multiple devices."
"Time Warner Cable invested early in BNI Video, as it brought a unique software platform to market that addresses the back-office complexities of delivering TV Everywhere services," said Mike LaJoie, chief technology officer, Time Warner Cable. "Combining forces with Cisco presents an opportunity to take video service providers to the next level with Internet video, helping to manage networks more efficiently to deliver advanced TV entertainment experiences to consumers."
Upon the close of the acquisition, BNI Video employees will be integrated into Cisco's Service Provider Video Technology Group. Under the terms of the agreement, Cisco will pay approximately $99 million in cash and retention-based incentives in exchange for all shares of BNI Video. The acquisition is subject to various standard closing conditions and is expected to be complete in the second quarter of Cisco's fiscal year 2012.
---
October 22, 2011 6:11 AM
For those who are new to Cisco Domain, I strongly recommend them to read the Cisco Press title which for sure will help them to understand the approach they must apply, especially whenever they are troubleshooting any problem in a complex Cisco Network.  Also I strongly suggest building a GNS3 topology based on solutions provided in the Cisco Press title "CCNP TSHOOT 642-832 Official Certification Guide" and you can also make use of Cisco Press title "CCNP TSHOOT Lab Manual".
The best thing I like about this lab manual is all configuration files can be downloaded from Cisco Press website. Practice makes man perfect; by troubleshooting various scenarios, which you can build using the above mentioned resource can help you in mastering CCNP TSHOOT topics and can, learn the various approach adapted to trouble shoot more complex Cisco networks. Of course nothing can replace the practical experience but when you simply don't have that privilege, you can make use of GNS3.
I am hopeful by simply passing Route and Switch exam; you will gain enough confidence and expertise to pass the Cisco TSHOOT exam. Better luck for those who are appearing for the TSHOOT exam, make sure you watch THSOOT Strategies on YouTube by Kevin Wallace which does give you an idea how the real exams look like and do practice the CCNP TSHOOT demo exam available at Cisco web site.
---
October 22, 2011 6:09 AM
Dear CCNP Certification aspires, the moment you pass the Cisco CCNP Route (642-902) and CCNP Switch (642-813) exams consider yourself you are ready for the Cisco CCNP TSHOOT (642-832) exam. The Cisco CCNP Troubleshooting and Maintaining Cisco IP Network (CCNP TSHOOT, 642-832) exam basically aims at testing you knowledge and skills to plan and perform regular maintenance of complex Enterprise Switched and routed networks  along with testing your skills well known network maintenance models like Cisco Lifecycle Services, FACPS, ITIL and TMN.
The secret behind passing the Cisco CCNP Troubleshooting and Maintaining Cisco IP Network (CCNP TSHOOT, 642-832) exam depends on how good you are at troubleshooting, your experience on maintain and managing complex networks, and of course the courage to challenge yourself by focusing and thinking logically on tickets appear on the real TSHOOT exam.
Since I passed the Cisco CCNP Troubleshooting and Maintaining Cisco IP Network (CCNP TSHOOT, 642-832) exams I was mentally ready to take the challenge of Cisco TSHOOT exam, but my busy schedule was preventing me. Finally I set the date when should I appear for the Cisco TSHOOT exam and I came out passing the exam. Believe me, it was the easiest Cisco Certification exam I appeared till date in my life.
When it comes to exam preparation I got hold of Cisco Press title "CCNP TSHOOT 642-832 Official Certification Guide" and checked the latest exam topology published by Cisco Systems. Yes Cisco System does reveal the topology which appears on the real exam, which itself will ease your burden of preparations. Since I possess over a decade of experience on maintaining and managing Complex Cisco Networks I didn't find myself reading the Cisco Press title from cover to cover. Just read first two chapters for the sake of curiosity. But prepared the GNS3 topology based on the exam topology published by Cisco Systems and practiced few scenarios. I will cover the approach need to be adopted by CCNP aspirers who are pretty new to Cisco Networks in the upcoming post.
---
September 27, 2011 10:50 AM
Currently we are working on the power calculation and the heat dissipation by the Data Center Switches. Rather looking at each individual catalog, I figured out  Cisco Systems are offering a dynamic tool which helps to calculate the total power required, typical output power, total heal dissipation.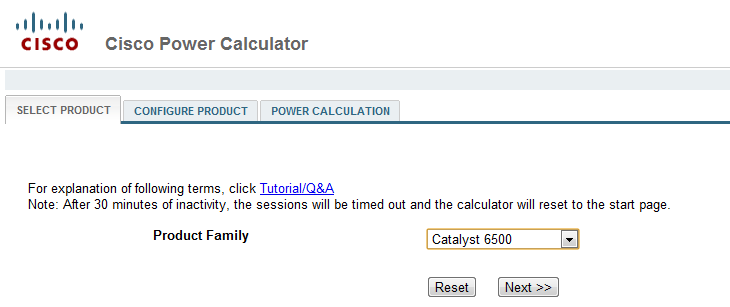 The tool is known as Cisco Power Calculator (CCO login required):/
This utility asks you the type of switch you are using, what kinds of modules you are using, type of supervisor engine etc. After providing all the details the utility provided you a in depth report and you can download the same in an excel sheet or in pdf format. I am attaching the sample report which I calculated for one of our Cisco Catalyst 6513 Switch.powercalc_catalyst_6500_09-27-2011
---
September 27, 2011 5:04 AM
The Middle East's biggest IT event better known as GITEX (Gulf Information Technology Exhibition) Technology Week is scheduled from 9th to 13th October 2011 at Dubai International Convention and Exhibition Centre, Dubai. GITEX not only happens to be one of largest and most important ICT events around the world, but also it provides a leading platform for exhibiting latest innovations in the Information Technology industry. Not to forget Microsoft launched Windows 7 at GITEX 2009 ahead of the rest of the world in a special deal organized by the CEO of GITEX. GITEX has an impressive track record of attracting the biggest names in the IT sector, connecting over 3,500 domestic and international IT vendors with more than 136,000 ICT professionals.
This high-energy consumer show attracts a diverse audience that includes IT professionals, technology enthusiasts, students and consumers as well as regional traders.
Cisco Systems to are participating in GITEX Technology Week Under the theme 'Within, between and beyond the Cloud', Cisco will be showcasing its innovations with a main focus on Cloud, that will increase value to customers, create new business opportunities for partners and drive technology advances in the region. Cisco will examine the most current and critical trends and issues facing the Cloud and Virtualization landscape, and how Cisco is different with utilizing the network as the fundamental foundation that interconnects the world of many clouds while focusing on Data Center, Virtualization, Collaboration and Borderless Networks.
"Cisco's ability to innovate is why customers rely on us as a strategic business partner rather than merely a product technology vendor," said Wayne Hull, director and general manager, Cisco UAE. "Our aim is to leverage GITEX Technology Week as a platform to showcase our product innovation, whereby customers and partners will have the opportunity to explore how the network has become the most strategic IT asset today. Furthermore, GITEX is also an important event to connect with key business decision makers and continue to build relationships with customers and partners."
Cisco's stand will be located at the Zabeel Hall, GulfComms, stand number Z-B, 30. So if you happens to be in this part of the world its worth attending this exhibition
---
September 26, 2011 5:51 AM
In one my articles "How to pass CCNP Route Exam?" I talked about the resources required to peruse CCNP route 642-902. One of the very useful resources is Cisco CCNP Route 642-902 CBT Nuggets Series. I though why not write a review for this product.
As we all know CBT nuggets happens to provide world class training for IT Certifications. They hire best trainers in the industry and deliver excellent training materials for aspiring IT Professionals. When it comes to Cisco Certifications Jeremy Cioara is my favorite. Why? You will discover soon.
He has authored various Cisco books some of them are CCNP Voice Official Certification Guide, Cisco IP Telephony (CIPT), CCNA Exam prep and CCNA Practice questions.  Most important contribution to Cisco Certifications he has made is his affiliation with CBT nuggets to produce world class Cisco training stuff staring from CCNA, CCNP, to CCIE.
When it come the Cisco CCNP Route 642-902 CBT Nuggets Series it's an awesome series with 28 videos covering all the topics required to pass the CCNP Route exam. What make this series outstanding are the speaking skills of Jeremy Cioara and the in-depth technical knowledge he possess. Jeremy connects with audience as if he is talking to you directly; the way he teaches any concept is amazing. Especially his personalized stories and tips he shares make this series outstanding.
I don't want to emphasize on the contents of this series as its covers A to Z of CCNP route exam, one thing I would like to highlight about this series is the inclusion of GNS 3 labs , it does gives hands on experience for the CCNP route exam starting from EIGRP to OSPF, BGP and IPv6.  One more key element of this series is inclusion of MP3 files which are quite handy while you are driving or travelling, again it's the quality of great speaker who manages you to learn the concept even without watching them.
A valuable asset for CCNP aspirer, I strongly recommend all CCNP aspirers to buy this series.
---
September 19, 2011 5:45 AM
When it comes delivering power to Cisco Access Points and Cisco IP Phones we all know about the IEEE 802.3af standard which defines standard Power over Ethernet (PoE).  But what is Cisco Universal Power over Ethernet (UPOE)? This is new term for most of us.
It's a new innovation from Cisco Systems which happens to the industry's first 60-watt Power over Ethernet technology which Cisco called Universal Power over Ethernet (UPOE).
Cisco Universal Power over Ethernet (UPOE) can offer twice the power per port of products from competing switch vendors – providing both power and network access to a greater range of devices through a single standard Ethernet cable. This can surely help to lower the total cost of IT operations. By using Cisco's new UPOE line card and UPOE splitter, any device requiring up to 60-watt power can now be powered by Cisco's Catalyst 4500E Switches. This includes Cisco IP phones, personal telepresence systems, compact switches and Cisco wireless access points.
[kml_flashembed movie="http://www.youtube.com/v/RASdhbNdFQU" width="425" height="350" wmode="transparent" /]
Currently Cisco is working with IEEE and third-party device manufacturers to standardize UPOE in next-generation, network-enabled devices. Which for sure may lead to new PoE standard from IEEE?
Currently  Samsung zero client desktop virtualization devices and BT IP turrets have integrated Cisco UPOE technology into their devices to allow customers the immediate advantage of using their existing Cisco network to power these solutions. This is good sign for this emerging technology. Cisco also tested many devices using UPOE technology like Oracle Sun ray clients.
Currently the Cisco Universal Power over Ethernet is available with a new line card on the Cisco Catalyst 4500E switch. The Single Cisco Catalyst Switch 4500E chassis can support up to 120 UPOE ports. The OPOE is utilizes the existing UTP Cabling standard Cat 5e or higher and RJ 45 connectors for deployment. This helps the customers to make use of their existing cabling infrastructure.
---