---
August 10, 2011 7:41 AM
When it comes to the line cards of Nexus 7000 Series Switches, they operate in either in shared mode or dedicated mode.  So what is the difference between shared mode and dedicated mode operation?
In shared mode operation say four interfaces of 10 Giga are grouped together and they offer in total of 10 GB of bandwidth, which creates an over subscription of 4:1
Take an example of Cisco Nexus 7000 Series 32-port, 10-Gigabit Ethernet module (N7K-M132XP-12), this 32 port 10 GE module have an 80 GB fabric connection so they are over 4:1 subscribed , in this module by default four interfaces grouped together either in odd numbers such as 1,3,5,7 or even numbers such as 2,4,6,8. Rather than offering 40 GB of bandwidth they offer just 10 GB of which results in over subscription. This mode of operation is known as shared mode operation, which is on by default in on all the Nexus 7000 Series Switch line cards except N7K-M108X2-12L line card.

In upcoming post I will talk about the dedicated mode and how we can configure ports to work in dedicated mode in Nexus 7000 Series Switch. Nexus 7000 Series Switch  line cards, N7K-M108X2-12L line card,
July 31, 2011 1:16 PM
According Juniper Networks press release their second quarter net revenues rose by 15%.
"We delivered solid year-over-year growth in the June quarter. However, we saw some moderation in certain areas of the business, which resulted in revenues coming in below our expectations. I'm pleased with our diligent expense control, which enabled us to generate earnings within our guidance range," said Robyn Denholm, chief financial officer at Juniper Networks. "We have taken decisive steps to ensure our cost structure takes into account the near term revenue environment while preserving investments that support our multi-year growth agenda."
For more details check their press release.
---
July 31, 2011 1:07 PM
In one my post I talked about the new announced SUP 2T by Cisco Systems for Cisco 6500 Series Switch. There is a great video by Tech Wise TV which briefs about the SUP 2T. It's worth watching. Please check this demo.
[kml_flashembed movie="http://www.youtube.com/v/qF540av0KxM" width="425" height="350" wmode="transparent" /]
---
July 31, 2011 12:59 PM
Whenever you are trying to place an order or trying the figure out the details of the Nexus 7000 Series line care follow the below breakdown of how to read the nomenclature and understand what it is tell you.
Example N7K-M132XP-12
N7K = denotes Nexus 7K chassis blade
M1 = denotes L2 and L3 capable line card; F would denote only L2 capable
32 = 32 ports are supported
X = each port is capable of 10Gbps
P = SPF+ port types
-1 = first generation fabric line card
2 = means that 2 crossbar fabric cards are required to use this line card at its full potential.
---
July 31, 2011 12:52 PM
The Connectivity Management Processor (CMP) is separate processor on the Cisco Nexus 7000 Series supervisor module that is in addition to the main control processor (CP). The CMP provides a second network interface to the device for use even when the CP is not reachable. You can access the CMP to configure it and to perform system operations, such as taking over the CP console or restarting the CP. The CMP can reset all system components, including power supplies; it can also reset the host supervisor module to which it is attached, enabling a complete system restart.
The Connectivity Management Processor (CMP) available even if its supervisor module is in standby mode or the device is down because of issues such as over-temperature alarms. Each CMP gets power from an auxiliary power bus in the device that remains operational so long as you have at least one power cable attached to the device.
All these options are available through the Connectivity Management Processor (CMP) because it contains its own RAM, bootflash, and front panel management Ethernet port.
The Connectivity Management Processor (CMP) provides the following functions:
• Communicates with the supervisor module and I/O modules even if Cisco NX-OS device is not responding on the mgmt0 port.
• Maintains connectivity when you reboot the supervisor module.
• Monitors the supervisor module console port.
• Reboots the local supervisor module or the entire system.
• Takes over the supervisor module console port.
• Collects failure logs and watches bootup diagnostic messages.
---
July 31, 2011 12:32 PM
Currently Supervisor Engine 1 is the only supervisor Engine Module available for the Nexus 7000 Series Switch, which is designed to provide a scalable control plane and management functions based on dual core processor. Cisco recommends to have two supervisor Engines per chassis in an active/standby mode.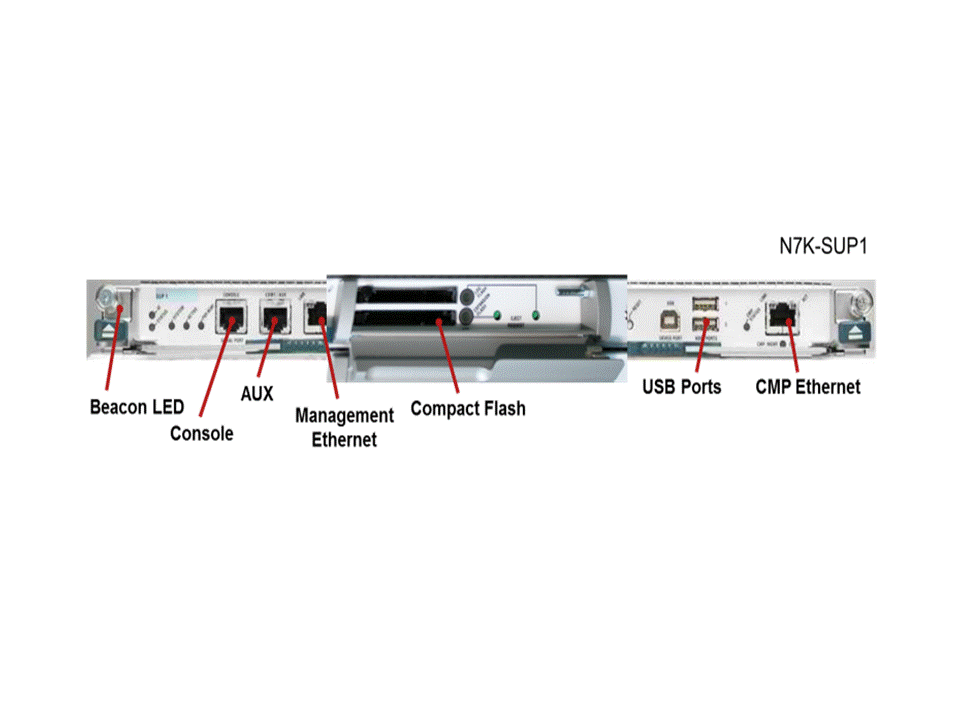 The Supervisor Engine 1 Module provides the following
Dual-core 1.66Ghz Intel Xeon processors with 4GB DRAM
2MB NVRAM, 2GB internal boot disk, 2 external compact flash slots
10/100/1000bps management port
Console and Auxiliary serial ports
USB file transfer port
Connectivity Management Processor (CMP) with separate 10/100/1000 Ethernet access that will support 802.1ae LinkSec encryption in the future.
Supervisory modules run in Active/Standby mode for continuous operation
The most interesting part of Supervisor Engine 1 for me is the Connectivity Management Processor (CMP) which is basically designed to support remote management and troubleshooting of the system. Since a lot of information is available about Supervisor Engine 1, in my next post I will try to highlight the importance of Connectivity Management Processor (CMP) in the Supervisor Engine 1.
---
July 31, 2011 10:23 AM
Microsoft is ready with RTM (Release to Manufactures build) of its news "Mango" update for its Windows Phone operating System.  This allows the mobile manufacturers to start using the Mango OS on their forthcoming mobile handsets.
According industry experts the first ever Mango powered phone is expected to hit the selves later this year; however an official timescale for release has not yet been disclosed.
Terry Myerson, Corporate Vice President of Windows Phone Engineering said, "This marks the point in the development process where we hand code to our handset and mobile operator partners to optimize Mango for their specific phone and network configurations. Here on the Windows Phone team, we now turn to preparing for the update process. The Mango update for current Windows Phone handsets will be ready this fall, and of course will come pre-installed on new Windows Phones."
The new Windows Phone Mango update will bring close to 500 new features to the OS. Some of these include integration with Internet Explorer 9 and app multi-tasking. I am waiting eagerly to see how Microsoft will try impact the smartphone market with its new OS.
---
July 31, 2011 9:54 AM
One more difference I came across among Nexus 7010 and Nexus 7018 Switch is the power supplies, the Nexus 7010 Switch can hold up to three load sharing, fault tolerant , hot-swappable power supplies.  Whereas the Nexus 7018 switch can hold up to four load sharing, fault tolerant, hot-swappable power supplies. The Nexus 7010 Switch requires 9kW of max power , where as the Nexus 7018 Switch requires 15 kW of max power
When it comes to power supplies, same power supplies can be used in both the Nexus 7010 and 7018 switches.
Currently there are three power supplies for the Nexus 7000 switches, two that are AC powered and one that is DC powered.   There is a 6000 kW AC (N7K-AC-6.0KW), a 7500 kW AC (N7k-AC-7.5KW), and finally a 6000 kW DC (N7K-DC-6.0KW) power supply.
The Nexus 7000 Series Switches can be configured in four power redundancy modes as follows
1)      Combined
2)      Power Supply redundancy (N+1)
3)      Input Source redundancy ( grid redundancy)
4)      Power Supply and input source redundancy (full redundancy)
The Nexus 7000 Series Switches are sensitive to variations in voltage supplied by the AC power source. Over voltage, under voltage and spikes can erase data from the memory or cause components to fail. To protect against these kind problems it's highly recommended to ground power cables.
Pictures of the power supplies are below with the 6000 kW on the left, the 7.5KW on the right and the DC powered one below.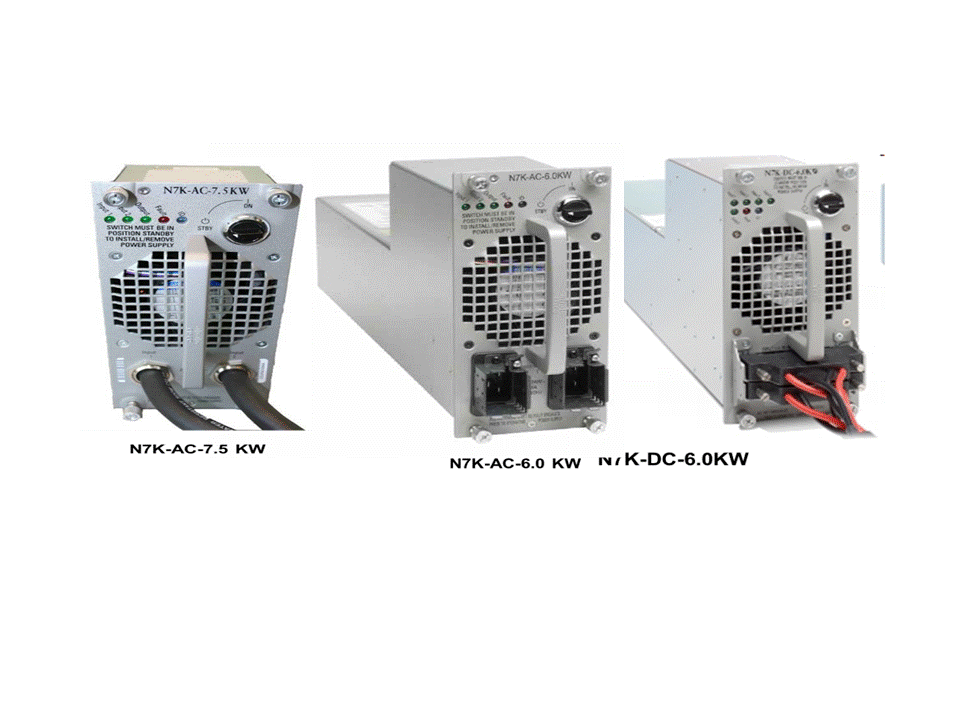 ---
July 31, 2011 8:09 AM
The other difference I have noticed between a Nexus 7010 and Nexus 7018 Switches is the way the cooling works. The Nexus 7010 and Nexus 7018 Switches are cooled using the fan trays which are found at the back of Nexus 7000 Series chassis.
The Nexus 7018 Switch applies side to side airflow , the Nexus 7018 fan module  (N7K-C7018-FAN) is larger and contains more fans compared to Nexus 7010 fan module.  The Nexus 7018 chassis houses dual fan modules in a fully redundant architecture and provides efficient cooling using variable speed fans.
The advantage of side to side airflow in Nexus 7018 increases the system density within a 25-rack unit footprint, optimizing the use of rack space.
The Nexus 7018 Switch dissipates up to 51,195 BTUs per hour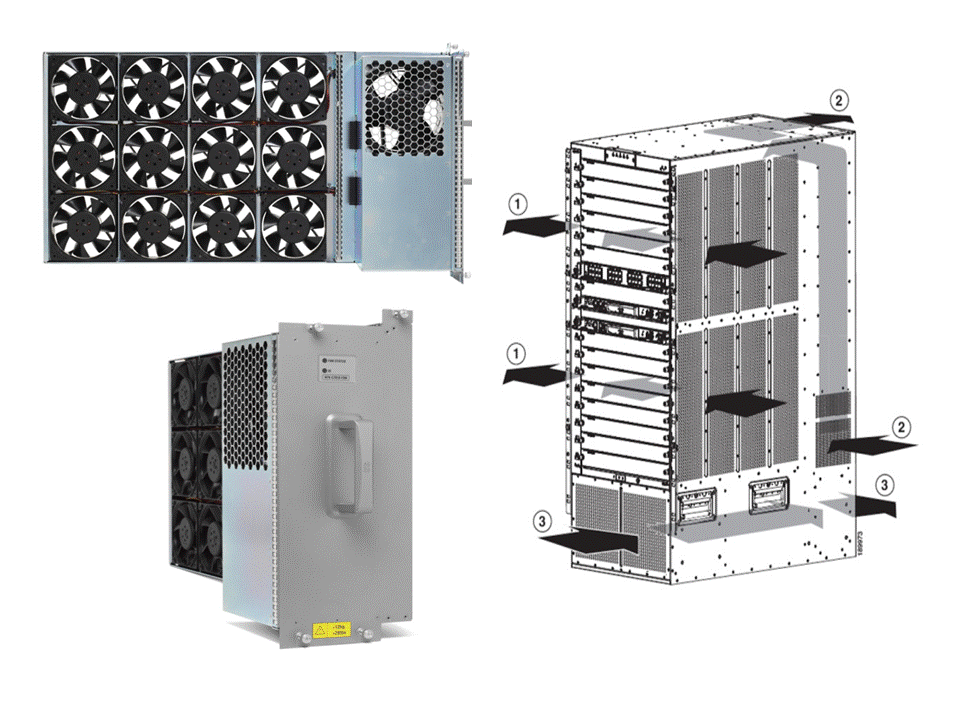 Whereas the Nexus 7010 Switch applies front to back airflow, and the 7010 fan module (N7K-C7010-FAN) is a smaller due to the chassis airflow is front to back.
The Nexus 7010 Switch dissipates up to 35,162 BTUs per hour.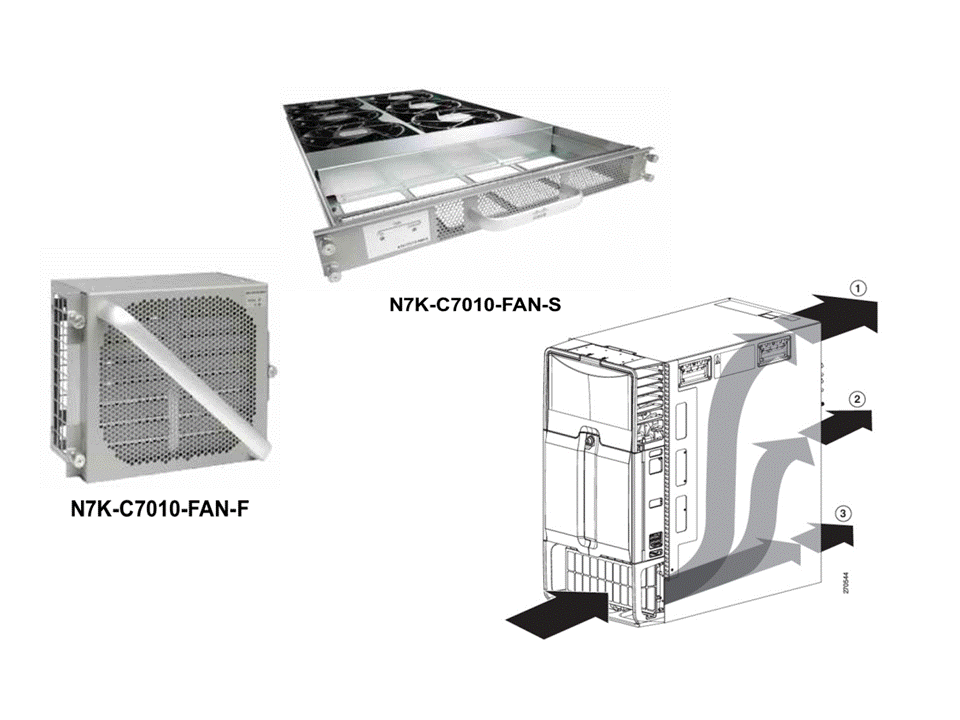 When it comes to the Nexus 7018 Switch airflow, Panduit has an excellent solution and special rack to accommodate the airflow in a cold aisle/hot aisle data center.
---
July 31, 2011 5:27 AM
In my previous post I mentioned about the physical difference about Nexus 7010 and 7018 Switches, apart from physical differences there are some other difference between these switches.
The next difference between a Cisco Nexus 7010 and a Nexus 7018 Switch is the slot capacity and performance.
The Nexus 7010 Series Switch is a modular 10-slot chassis with slots 5 and 6 are reserved for Supervisor Engines (SUP 1) and can accommodate up to eight line cards.  Whereas the Nexus 7018 Series Switch is an 18 slot chassis and slots 9 and 10 are reserved for supervisor engines, with 16 slots available for the line cards.
The Nexus 7010 and Nexus 7018 Series Switches can accommodate up to 5 fabric modules, you cannot use the same fabric cards for Nexus 7010 and 7018 switches, as the Nexus 7010 Switch is designed to mount line cards or fabric cards vertically whereas the Nexus 7018 Switches are designed for horizontal mount. Whereas all other line cards and Supervisor Engines, are interchangeable between Nexus 7010 and 7018 Switches. The Fabric Card slots are designed at the back side of the Nexus switches.
The Nexus 7018 Switch fabric module (N7k-C7018-FAB-1)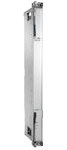 The Nexus 7010 Switch Fabric module (N7K-C7010-FAB-1)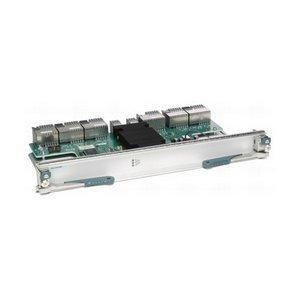 Currently the Nexus 7000 Series Switches performance specs are as follows
Up to 1.2 Tb/s system bandwidth.
Up to 480 mpps system switching.
Up to 80 Gb/s and 60 mpps per slot.
---