---
October 22, 2010 6:11 AM
Cisco announced major changes in the CCVP certification, now CCVP will be known as CCNP Voice.
The new CCNP voice certification retains the 5-exam model with updated versions of CVOICE (642-437) CIPT1 (642-447), CIPT2 (642-457), TVOICE (642-427) and CAPPS (642-467). TUC is renamed as TVOICE and QOS is no more in the CCNP voice however some of the QOS topics are moved to CVOICE. CAPPS is the new entry to the CCNP voice better known as Cisco Unified Communication Applications (CAPPS).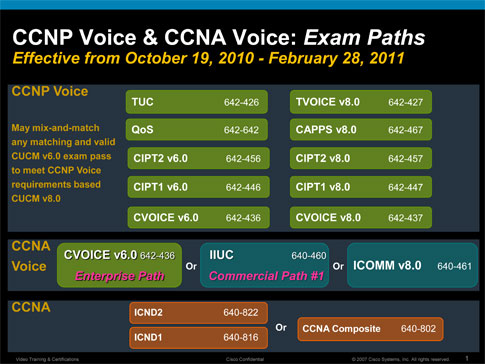 Pic Courtesy: Cisco Learning Network
Cisco Press is always there to assists you whenever Cisco announces any major revisions for their certifications; here are tentative dates from Cisco press to publish the CCNP Voice self-study resources
CVoice 642-437 Quick Reference (eBook)-Coming January 2011
Cvoice Self Study Guide
Rough Cut Edition-Coming January 2011 (Rough Cuts provide online access to pre-publication manuscript)
Print and eBook Eidtions-Coming May 2011
CIPT1 642-447 Quick Reference (eBook)-Coming January 2011
CIPT1 Self Study Guide
Rough Cut Edition-Coming December 2010 (Rough Cuts provide online access to pre-publication manuscript)
Print and eBook Editions-Coming April 2011
CIPT2 642-457 Quick Reference (eBook)-Coming January 2011
CIPT2 Self Study Guide
Rough Cut Edition-Coming December 2010 (Rough Cuts provide online access to pre-publication manuscript)
Print and eBook Editions-Coming April 2011
TVoice 642-427 Quick Reference eBook-Coming January 2011
CAPPS 642-467 Quick Reference eBook-Coming February 2011
Mean while just check out this sample chapter taken directly from the CCVP CVOICE Self-Study Guide (3rd Edition). This sample chapter will discuss H.323 protocol stack and how to implement H.323 on gateways, MGCP stack and how to implement MGCP on gateways and SIP enterprise features and how to implement SIP on gateways. Read now.
For more information on CCNP voice please check this link.
October 20, 2010 6:01 AM
Cisco Systems announced the updates for its voice certification track. Now CCVP will be known as CCNP Voice sounds good!.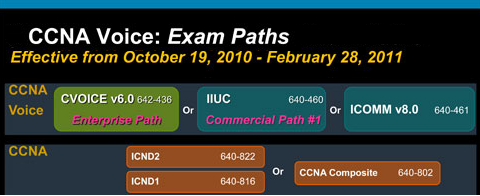 Cisco Systems introduces ICOMM  640-641 as the new exam for CCNA Voice certification.The newly introduced ICOMM  640-641 exam  will replace the existing IIUC 640-460 and CVOICE  642-436 exam for individuals working toward achieving the CCNA Voice certification. The last day to test using the IIUC #640-460 or CVOICE #642-436 exams is Monday, February 28, 2011.
The newly introduced ICOMM  640-641 exam will test the certification aspirers the architecture, components, functionalities, and features of Cisco Unified Communications solutions. It also tests the knowledge needed to perform tasks such as system monitoring, moves, additions and changes on Cisco Unified Communications Manager, Cisco Unified Communications Manager Express, Cisco Unity Connection, and Cisco Unified Presence.
In order to know more information regarding CCNA Voice Certifications please access CCNA Voice syllabus page.
---
October 18, 2010 5:05 AM
With Media Flow Controller Juniper Networks is extending its reach into Network Media business, In a latest press release Juniper Networks unveiled its  Media Flow Publisher, a Juniper Networks Media Flow Controller application, which facilitates the introduction of premium multi-screen video services. With Juniper Networks Media Flow Publisher, cable operators, Internet Protocol Television (IPTV) providers and content publishers can now more easily introduce innovative new services by delivering high-quality video content to a variety of end-user devices, while ensuring a superior user experience.
This is the era of iPads, tablet pcs, smart phones with an increasing wireless access is often driving the consumption of premium video entertainment content out of the living room. On-the-go consumers now expect access to a variety of content on any device at any time. Delivering premium content to multiple screens in the form of new services can represent a tremendous business opportunity for cable operators, IPTV providers and content publishers; however, it also presents a number of technical challenges.
Media Flow Controller can be deployed on industry-standard x86-64 servers, or purchased pre-installed on the VXA Series Media Flow Engines. Optional applications such as Media Flow Publisher can further increase the functionality and value of Media Flow Controller. /. A demonstration of Media Flow Controller's adaptive streaming capability is available at: www.junipernetworks.tv.
Juniper Networks Media Flow Publisher will be demonstrated in booth 453 at the upcoming SCTE Conference, October 20-22 in New Orleans.
---
October 12, 2010 5:49 AM
Wireshark is a great open source packet analyzer used for network troubleshooting installed in our laptops or desktops. What if you want to troubleshoot a problem in a Cisco Nexus 7000 Switch and your laptop doesn't have Wireshark installed?  No worries Cisco Systems did a great job as the Cisco Nexus 7000 Switch comes with a built-in Wireshark, amazing isn't it!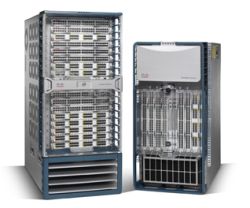 Cisco simply based their Cisco NX-OS Ethanalyzer on the command-line (cli) version of Wireshark, also known as T-shark. The syntax is very similar to tcpdump in linux, as demonstrated below with the following command
VDC-Admin# ethanalyzer local interface inband capture-filter test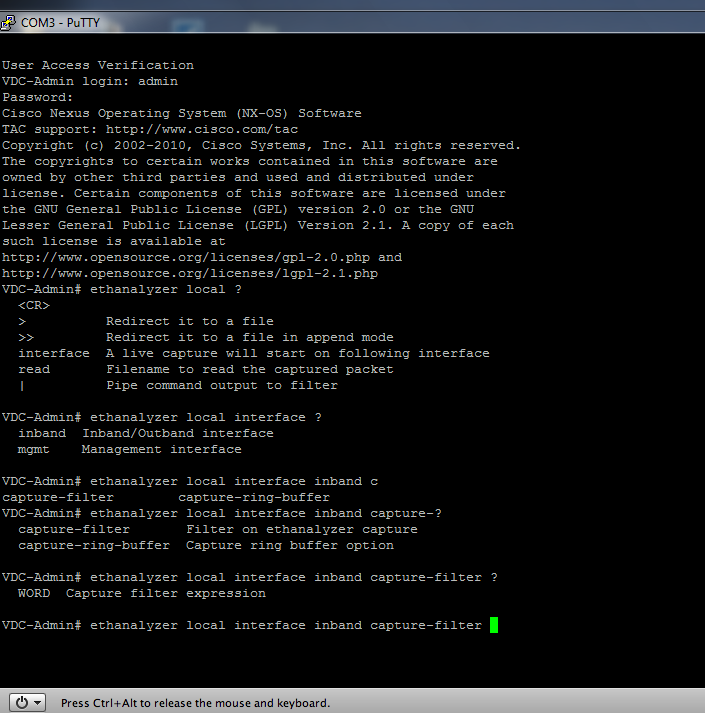 In upcoming posts I will try to provide some tips and some useful commonly used commands  in Cisco Nexus 7000 Series Switches.
---
October 8, 2010 1:22 PM
Cisco's Telepresence is entering home, thanks to Cisco's systems "ŪMI" (pronounced as 'you-me'). The latest revolution from Cisco Systems, ŪMI is a piece of hardware developed by Cisco Systems, which will allow people to connect and start using their HD television for videoconferencing.  Interesting isn't it!, also you can establish video messaging and video recording, between ŪMI and any PC with a webcam and Google video chat.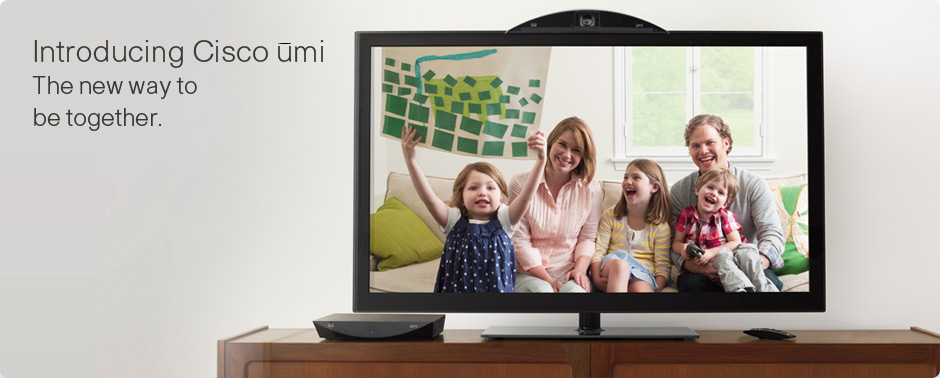 Pic Courtesy: Cisco Systems
Those who want to enjoy by getting close with their friends and family members must need to ŪMI device including their friends and family members. The ŪMI comes with high-definition camera embedded microphone, a set-top box & remote. Users also need a high-speed broadband internet (approximately 3.5 Mbps) connection as well.
"Cisco is bringing people together, driving new video experiences that change the way we communicate, connect, and enjoy entertainment – in the home, at work, and on the go," said John Chambers, chairman and CEO of Cisco. "Cisco ūmi will bring the unique telepresence experience into living rooms and change the way we are able to be together with family and friends. We envision a future where technologies like this will play a role in connecting consumers with businesses to enable the delivery of new services, ranging from education, to health care, to financial services – to the home."
Ūmi is due for a US-only launch on 14th November, and is expected to cost around $599 for the hardware plus a $25 monthly subscription that allows unlimited video calls.
Looking forward to see the ūmi service operational in the Middle East as well.
---
October 7, 2010 10:20 PM
In short an interesting title, exclusively written for the Cisco Network Academy students, who are preparing for the Cisco CCNA 640-802 Certification exam. The author Allan Johnson takes a very broad look at practical way to make you understand the concepts in 31 days in a very concise way.  He has emphasized on concepts and terminologies used in Cisco CCNA 640-802 Certification exam in an interesting way which definitely helps you to summarize your learning.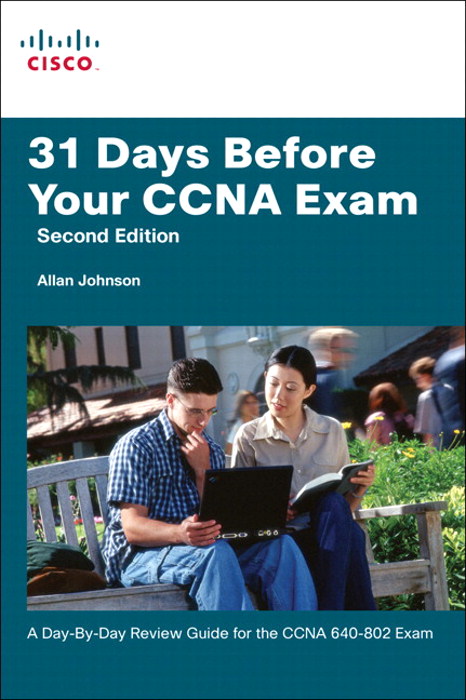 Pic Courtesy: Cisco Press
Although the title "31 days before your CCNA Exam" aims at Cisco Network Academy students, but it can be used for the Cisco CCNA 640-802 Certification aspirers who does self study.
The author Allan Johnson divided the title suiting in to 31 chapters, which are so concise you can finish each chapter in an hour. The cream of the title  "31 days before your CCNA Exam" is the section called "Exam day and post exam information" which gives the CCNA Certification aspirers guidelines on what to expect after the completion of exam as well as what they should do if they fail to pass the exam on first attempt. One more section that I really liked is "CCNA Skills review and practice" which helps you to practice the CCNA skills which includes most of the CCNA 640-802 exam configurations skills in one topology, which covers topics like VLAN configuration, frame-relay configuration, inter vlan routing, EIGRP,VTP, port security , STP. You can practice those topologies either on Cisco Packet Tracer or GNS3 graphical network simulator.
Overall the title "31 days before your CCNA Exam" is a true gem, but cannot be a only source for passing CCNA 640-802 exam, this title is good for the some one who is looking for quick reference on CCNA 640-802 exam topics in an well organized way. I thank Cisco Press and Jamie in particular for providing me the copy of "31 days before your CCNA Exam"
---
September 25, 2010 5:34 AM
Cisco Systems is running Cisco Borderless Challenge from October 5 -8, 2010. You have a chance to compete with your peers all over the world and test your Borderless Networks and Data Center/Virtualization knowledge.  Now you might are thinking what is Cisco Borderless Challenge, it is an online competition that tests your knowledge of Cisco Borderless Networks and Data Center/Virtualization innovations. The Challenge will be available in 10 languages: English, Spanish, Portuguese, French, German, Italian, Russian, Arabic, Chinese and Japanese.
[kml_flashembed movie="http://www.youtube.com/v/lVOiDt7nd9Q" width="425" height="350" wmode="transparent" /]
Be registering and answering the questions about  Cisco Borderless Networks and data center innovations you get a chance to win Two grand prize winners will choose a vacation destination, such as the Great Wall of China, an African safari, Taj Mahal in India, the Grand Canyon, Peru and Brazil.
Register for the online event to receive your pair of 3D glasses:
For further details do login to Cisco Borderless Challenge page.
---
September 25, 2010 5:07 AM
Suppose you want figure out total number of active MAC Address for each VLAN in Cisco Catalyst Switch, you can figure it out by using a command "Show mac address-table count". 
This command can give a good idea of the size of the CAM table and how many hosts are using the network.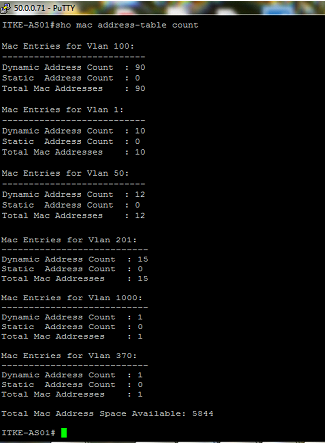 From the above example you can notice how many mac address are used by each vlan and how many free mac address are available
A useful command for troubleshooting purpose as well as it's a part for CCNP Switch 642-813 curriculum.
---
September 20, 2010 6:03 AM
Recently one of our vendor added couple of new Cisco Catalyst 4506 Series distribution switches to our network for their PACS project.  Those two newly added Cisco 4506 Series distribution switches are connected to our Core Cisco Catalyst 6513Series Switches using a layer 23 uplink ( as a trunk port). For VLAN redundancy we are using HSRP protocol. The newly added Cisco 4506 Series distribution switches are configured in VTP Client mode, we could see the VTP status was updated and all the VLAN were created. But there was a problem; there was not communication between any of the VLANS in the new Cisco 4506 Series distribution switches, after trouble shooting we figured out "ip routing" was enabled. When we disabled the ip routing with "no ip routing" command everything started working.
---
September 18, 2010 5:58 AM
The importance of remote connectivity is growing, VPN has become quite essential for each and every organizations starting from Enterprises to a SMB. These days' people started using the smartphones for VPN connectivity including me. This is an era of iPhones, iPads, Black berries etc.
There is a good news for iPhone users as Juniper Network one of the leading network security company has released Junos Pulse app, which provides secure remote mobile access to corporate resources on an iPhone or iPod Touch. Junos Pulse app happens to be the industry's first downloadable VPN app for iPhone,  coupled with the Juniper Networks SA Series SSL VPN Appliances, a remote user can now have the privilege of accessing any corporate resource from the iPhone and iPod touch enabling the mobile workforce to stay connected, productive and informed while on the run.
Mark Bauhaus, executive vice president and general manager of Juniper's Service Layer Technologies Business Group said on the release of the app: "Instant and seamless secure access to corporate resources including applications, email, contacts and the intranet are all critical elements demanded by employees of any successful organization. We worked with Apple to ensure the Junos Pulse App enables the productivity that enterprise users are demanding and are very excited that it is now available on the App Store.  Juniper's market-leading SSL VPN solution will keep any enterprise mobile, secure, empowered and working more efficiently." 
The Junos Pulse app works on iPhone and iPad with an iOS version of 4.1 or later. On the infrastructure side, customers must have a Juniper Networks SA Series SSL VPN Appliance running version 6.4 or later.
---