---
September 25, 2010 5:34 AM
Cisco Systems is running Cisco Borderless Challenge from October 5 -8, 2010. You have a chance to compete with your peers all over the world and test your Borderless Networks and Data Center/Virtualization knowledge.  Now you might are thinking what is Cisco Borderless Challenge, it is an online competition that tests your knowledge of Cisco Borderless Networks and Data Center/Virtualization innovations. The Challenge will be available in 10 languages: English, Spanish, Portuguese, French, German, Italian, Russian, Arabic, Chinese and Japanese.
[kml_flashembed movie="http://www.youtube.com/v/lVOiDt7nd9Q" width="425" height="350" wmode="transparent" /]
Be registering and answering the questions about  Cisco Borderless Networks and data center innovations you get a chance to win Two grand prize winners will choose a vacation destination, such as the Great Wall of China, an African safari, Taj Mahal in India, the Grand Canyon, Peru and Brazil.
Register for the online event to receive your pair of 3D glasses:
For further details do login to Cisco Borderless Challenge page.
September 25, 2010 5:07 AM
Suppose you want figure out total number of active MAC Address for each VLAN in Cisco Catalyst Switch, you can figure it out by using a command "Show mac address-table count". 
This command can give a good idea of the size of the CAM table and how many hosts are using the network.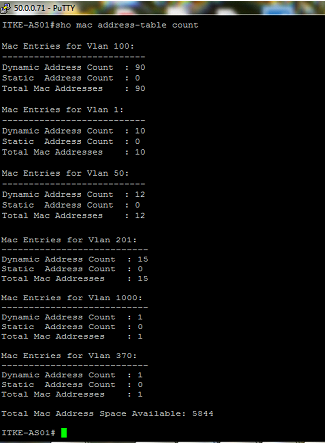 From the above example you can notice how many mac address are used by each vlan and how many free mac address are available
A useful command for troubleshooting purpose as well as it's a part for CCNP Switch 642-813 curriculum.
---
September 20, 2010 6:03 AM
Recently one of our vendor added couple of new Cisco Catalyst 4506 Series distribution switches to our network for their PACS project.  Those two newly added Cisco 4506 Series distribution switches are connected to our Core Cisco Catalyst 6513Series Switches using a layer 23 uplink ( as a trunk port). For VLAN redundancy we are using HSRP protocol. The newly added Cisco 4506 Series distribution switches are configured in VTP Client mode, we could see the VTP status was updated and all the VLAN were created. But there was a problem; there was not communication between any of the VLANS in the new Cisco 4506 Series distribution switches, after trouble shooting we figured out "ip routing" was enabled. When we disabled the ip routing with "no ip routing" command everything started working.
---
September 18, 2010 5:58 AM
The importance of remote connectivity is growing, VPN has become quite essential for each and every organizations starting from Enterprises to a SMB. These days' people started using the smartphones for VPN connectivity including me. This is an era of iPhones, iPads, Black berries etc.
There is a good news for iPhone users as Juniper Network one of the leading network security company has released Junos Pulse app, which provides secure remote mobile access to corporate resources on an iPhone or iPod Touch. Junos Pulse app happens to be the industry's first downloadable VPN app for iPhone,  coupled with the Juniper Networks SA Series SSL VPN Appliances, a remote user can now have the privilege of accessing any corporate resource from the iPhone and iPod touch enabling the mobile workforce to stay connected, productive and informed while on the run.
Mark Bauhaus, executive vice president and general manager of Juniper's Service Layer Technologies Business Group said on the release of the app: "Instant and seamless secure access to corporate resources including applications, email, contacts and the intranet are all critical elements demanded by employees of any successful organization. We worked with Apple to ensure the Junos Pulse App enables the productivity that enterprise users are demanding and are very excited that it is now available on the App Store.  Juniper's market-leading SSL VPN solution will keep any enterprise mobile, secure, empowered and working more efficiently." 
The Junos Pulse app works on iPhone and iPad with an iOS version of 4.1 or later. On the infrastructure side, customers must have a Juniper Networks SA Series SSL VPN Appliance running version 6.4 or later.
---
September 4, 2010 8:48 AM
Cisco Systems is planning to acquire Arch Rock Corporation a pioneer in IP-based wireless network technology for smart grid application.
"Arch Rock's wireless mesh technology enhances Cisco's IP-based, end-to-end smart-grid offerings," said Laura Ipsen, senior vice president and general manager of Cisco's Smart Grid business unit.  "This acquisition further positions Cisco as a strategic partner to utilities working to better manage power supply and demand, improve the security and reliability of energy delivery, and optimize operational costs."
Arch Rock's technology is designed to enable utilities to connect smart meters and other distributed intelligent devices over a scalable, highly secure, multi-way wireless mesh network. 
The acquisition is subject to various standard closing conditions and is expected to be complete in the second half of calendar year 2010.
For more details check the press release from Cisco Systems
---
September 4, 2010 8:23 AM
Dear CCNA/CCENT Certification aspirers, various techniques are used these days to present the study guides, started with self-study guides, then came the era of computer based tutors as CBT nuggets, Train signal training videos, Boson CCNA simulator, flash cards from Cisco press, Video mentors from the authors of the Cisco Press books. Coming September 21, 2010 Cisco Press is releasing a game Cisco CCENT Mind Share Game  bundled with ICND 1 book authored by Steve McQuerry, it's a great assets for CCENT aspirers as the bundled title especially the game based training will help CCENT aspirers to learn faster, retain more and perform better on Cisco Exams. Cisco Press is offering this bundle at just $79.99 be the first to get one. I am too looking forward for the release of this bundle.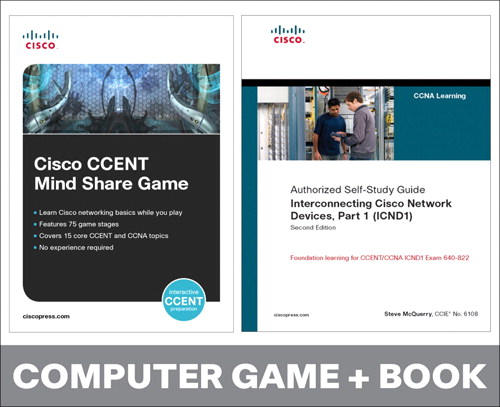 ---
August 31, 2010 10:40 AM
Cisco Systems introduced its 4.0 version of Cisco Security Manager (CSM). Cisco Security Manager (CSM) is an enterprise-class security management application which provides insight into and control of Cisco security and network devices including Cisco ASA 5500 Series Adaptive Security Appliances, Cisco IPS 4200 Series Sensor Appliances, Cisco Integrated Services Routers (ISRs), Cisco Firewall Service Modules (FWSMs), and Cisco Catalyst® 6500 Series Switches. By applying Cisco Security Manager (CSM) an administrator tasks are simplified, especially with policy based management you share a configuration policy with multiple Cisco devices. Cisco Security Manager 4.0 comes in a user friendly GUI interface which definitely eases the task of Administrators.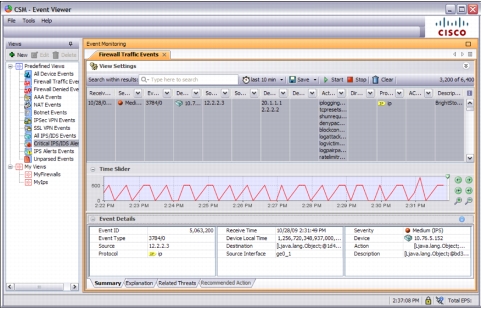 Pic Courtesy: Cisco Systems
Some of the new features in Cisco Security Manager 4.0 are simply great one of them is Event Monitoring. A troubleshooting tool similar to event logging engine some things like kiwi syslog which enables you to monitor, search, view and analyze events from Cisco ASA and Cisco IPS devices.
For more info do access the Cisco Security Manager page.
---
August 30, 2010 7:59 AM
The leader in providing highly technical information security conferences is coming to Middle East, yeah Black Hat Security event will make its debut on November 8th to 11th at Emirate Palace, Abu Dhabi, UAE.

Black Hat will comprise training and briefings on the latest developments in cyber security, taking a vendor neutral approach. The UAE Computer Emergency Response Team (aeCERT), Khalifa University of Science and Technology and United Business Media (UBM) are responsible for bringing the event to the region.
Jeff Moss, founder and managing director of Black Hat commented: "Amid growing recognition of the need for advanced IT security we feel the best people to advise on issued faced and recommended solutions are those that know it best, by inviting industry experts to submit their ideas we can make sure that delegates are exposed to high-end technical information revealing new vulnerabilities and original content."
Pre-registration for the event has already started and for more info please check Black Hat web site.
---
August 29, 2010 10:07 AM
It's amazing to see giant like Cisco Systems is into community services, true to their slogan "Human Network" are committed not only to delivering amazing networking technology and products but also involved in uplifting the quality of life of the flood affected communities in Karnataka. Cisco Systems hander over more than 500 houses to the Government of Karnataka as part of "Project Samudaya"
During October 2009 as part of its commitment to corporate social responsibility, Cisco announced a donation of US $10 million commitment comprising cash, services, solutions and equipment over two years to support rehabilitation and reconstruction efforts in the Raichur district of Karnataka.  Through the use of public-private partnerships towards helping build sustainable communities, Cisco committed to reconstruct five villages in the flood affected Raichur district: N. Malkapur, Khataknur, Talmari, Bichali and Chikkamanchal. The handing over of more than 500 houses marks the completion of the first phase of this project.
This is really what drives Cisco to be a unique organization. For more info please do check the news release from Cisco Systems.
---
August 28, 2010 8:23 AM
AMD has revealed details of two of its next generation x86 processor cores, codenamed Bulldozer and Bobcat.
The newly revealed two core designs are meant for high end PCs and servers, and low power notebooks and small form factor PCs respectively, and have been created from the ground up, according to AMD, to meet the requirements of specific form factors and usage models.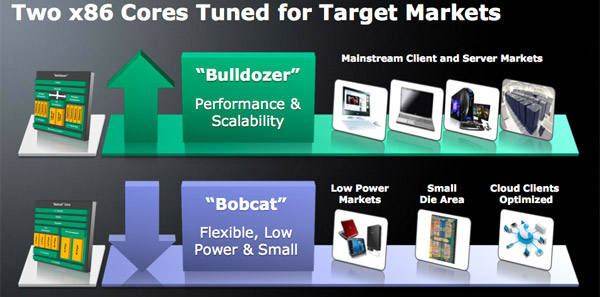 The Bulldozer core is  built on 32nm technology, which includes advanced power management features, and has been designed to balance dedicated and shared compute resources, for highly compact, high core count processor designs, along with new x86 instruction support (SSE4.1, SSE4.2, AVX, and XOP including 4-operand FMAC).
The newly revealed Bobcat core is designed specifically for small mobile devices, and is capable of providing 90% of the performance of mainstream PC performance in half the area of silicon, according to AMD. The core power gating and microarchitecture are optimized for low power, enabling sub-one watt operation, along with out-of-order instruction execution for higher performance.
"In my opinion, Bulldozer and Bobcat are not only two of the greatest technical achievements in AMD's rich history, but two of the most important for the industry as well," said Chekib Akrout, senior vice president and general manager, AMD Technology Development
---