---
September 27, 2011 10:50 AM
Currently we are working on the power calculation and the heat dissipation by the Data Center Switches. Rather looking at each individual catalog, I figured out  Cisco Systems are offering a dynamic tool which helps to calculate the total power required, typical output power, total heal dissipation.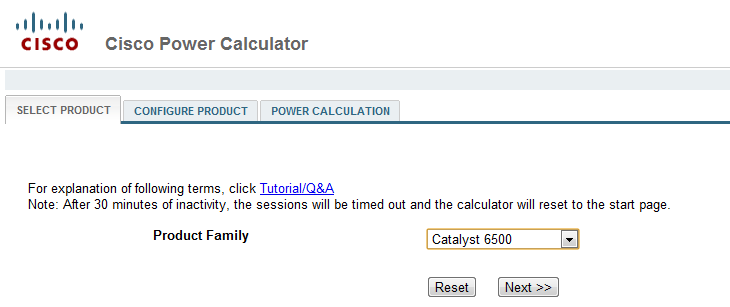 The tool is known as Cisco Power Calculator (CCO login required):/
This utility asks you the type of switch you are using, what kinds of modules you are using, type of supervisor engine etc. After providing all the details the utility provided you a in depth report and you can download the same in an excel sheet or in pdf format. I am attaching the sample report which I calculated for one of our Cisco Catalyst 6513 Switch.powercalc_catalyst_6500_09-27-2011
September 27, 2011 5:04 AM
The Middle East's biggest IT event better known as GITEX (Gulf Information Technology Exhibition) Technology Week is scheduled from 9th to 13th October 2011 at Dubai International Convention and Exhibition Centre, Dubai. GITEX not only happens to be one of largest and most important ICT events around the world, but also it provides a leading platform for exhibiting latest innovations in the Information Technology industry. Not to forget Microsoft launched Windows 7 at GITEX 2009 ahead of the rest of the world in a special deal organized by the CEO of GITEX. GITEX has an impressive track record of attracting the biggest names in the IT sector, connecting over 3,500 domestic and international IT vendors with more than 136,000 ICT professionals.
This high-energy consumer show attracts a diverse audience that includes IT professionals, technology enthusiasts, students and consumers as well as regional traders.
Cisco Systems to are participating in GITEX Technology Week Under the theme 'Within, between and beyond the Cloud', Cisco will be showcasing its innovations with a main focus on Cloud, that will increase value to customers, create new business opportunities for partners and drive technology advances in the region. Cisco will examine the most current and critical trends and issues facing the Cloud and Virtualization landscape, and how Cisco is different with utilizing the network as the fundamental foundation that interconnects the world of many clouds while focusing on Data Center, Virtualization, Collaboration and Borderless Networks.
"Cisco's ability to innovate is why customers rely on us as a strategic business partner rather than merely a product technology vendor," said Wayne Hull, director and general manager, Cisco UAE. "Our aim is to leverage GITEX Technology Week as a platform to showcase our product innovation, whereby customers and partners will have the opportunity to explore how the network has become the most strategic IT asset today. Furthermore, GITEX is also an important event to connect with key business decision makers and continue to build relationships with customers and partners."
Cisco's stand will be located at the Zabeel Hall, GulfComms, stand number Z-B, 30. So if you happens to be in this part of the world its worth attending this exhibition
---
September 26, 2011 5:51 AM
In one my articles "How to pass CCNP Route Exam?" I talked about the resources required to peruse CCNP route 642-902. One of the very useful resources is Cisco CCNP Route 642-902 CBT Nuggets Series. I though why not write a review for this product.
As we all know CBT nuggets happens to provide world class training for IT Certifications. They hire best trainers in the industry and deliver excellent training materials for aspiring IT Professionals. When it comes to Cisco Certifications Jeremy Cioara is my favorite. Why? You will discover soon.
He has authored various Cisco books some of them are CCNP Voice Official Certification Guide, Cisco IP Telephony (CIPT), CCNA Exam prep and CCNA Practice questions.  Most important contribution to Cisco Certifications he has made is his affiliation with CBT nuggets to produce world class Cisco training stuff staring from CCNA, CCNP, to CCIE.
When it come the Cisco CCNP Route 642-902 CBT Nuggets Series it's an awesome series with 28 videos covering all the topics required to pass the CCNP Route exam. What make this series outstanding are the speaking skills of Jeremy Cioara and the in-depth technical knowledge he possess. Jeremy connects with audience as if he is talking to you directly; the way he teaches any concept is amazing. Especially his personalized stories and tips he shares make this series outstanding.
I don't want to emphasize on the contents of this series as its covers A to Z of CCNP route exam, one thing I would like to highlight about this series is the inclusion of GNS 3 labs , it does gives hands on experience for the CCNP route exam starting from EIGRP to OSPF, BGP and IPv6.  One more key element of this series is inclusion of MP3 files which are quite handy while you are driving or travelling, again it's the quality of great speaker who manages you to learn the concept even without watching them.
A valuable asset for CCNP aspirer, I strongly recommend all CCNP aspirers to buy this series.
---
September 19, 2011 5:45 AM
When it comes delivering power to Cisco Access Points and Cisco IP Phones we all know about the IEEE 802.3af standard which defines standard Power over Ethernet (PoE).  But what is Cisco Universal Power over Ethernet (UPOE)? This is new term for most of us.
It's a new innovation from Cisco Systems which happens to the industry's first 60-watt Power over Ethernet technology which Cisco called Universal Power over Ethernet (UPOE).
Cisco Universal Power over Ethernet (UPOE) can offer twice the power per port of products from competing switch vendors – providing both power and network access to a greater range of devices through a single standard Ethernet cable. This can surely help to lower the total cost of IT operations. By using Cisco's new UPOE line card and UPOE splitter, any device requiring up to 60-watt power can now be powered by Cisco's Catalyst 4500E Switches. This includes Cisco IP phones, personal telepresence systems, compact switches and Cisco wireless access points.
[kml_flashembed movie="http://www.youtube.com/v/RASdhbNdFQU" width="425" height="350" wmode="transparent" /]
Currently Cisco is working with IEEE and third-party device manufacturers to standardize UPOE in next-generation, network-enabled devices. Which for sure may lead to new PoE standard from IEEE?
Currently  Samsung zero client desktop virtualization devices and BT IP turrets have integrated Cisco UPOE technology into their devices to allow customers the immediate advantage of using their existing Cisco network to power these solutions. This is good sign for this emerging technology. Cisco also tested many devices using UPOE technology like Oracle Sun ray clients.
Currently the Cisco Universal Power over Ethernet is available with a new line card on the Cisco Catalyst 4500E switch. The Single Cisco Catalyst Switch 4500E chassis can support up to 120 UPOE ports. The OPOE is utilizes the existing UTP Cabling standard Cat 5e or higher and RJ 45 connectors for deployment. This helps the customers to make use of their existing cabling infrastructure.
---
September 12, 2011 6:15 AM
Good news for all those who are planning to peruse a Cisco Voice Certification. Pearson IT Certification presents their Webcast series where their authors connect with you via the web for live and on demand webcast workshops to help you as you prepare for your Cisco certifications.
On 28th of September 2011, renowned Cisco Press author Kevin Wallace will present the second of a two-part live webcast series on voice over IP (VoIP) Fundamentals. During this 30 minute webcast, you are introduced to digital voice ports, including T1 and E1 ports. You will learn the difference between Channel Associated Signaling (CAS) and Common Channel Signaling (CCS), and why you never want to use CAS on an E1 circuit. After learning the meaning behind such acronyms as ESF, AMI, and B8ZS, you will see how to configure and troubleshoot an ISDN PRI circuit in this action-packed 30 minute webcast.
Who knows by registering and attending you might even get an opportunity win a free title of your choice published by Pearson IT Certification.
Details of Webcast
Cisco CCNP Voice (CVoice): VoIP Fundamentals: Digital Voice Ports
Presented by Kevin Wallace, CCIE
Wednesday, September 28 • 3:00 p.m. Eastern • FREE
---
September 12, 2011 5:57 AM
In my previous article, we over looked how to pass the CCNP Route 642-902 exam? Also I mentioned the resources required to pass the CCNP Route 642-902 exam. First and foremost the most valuable resource available is the title from Cisco Press called "CCNP ROUTE 642-902 Official Certification Guide by Wendell Odom".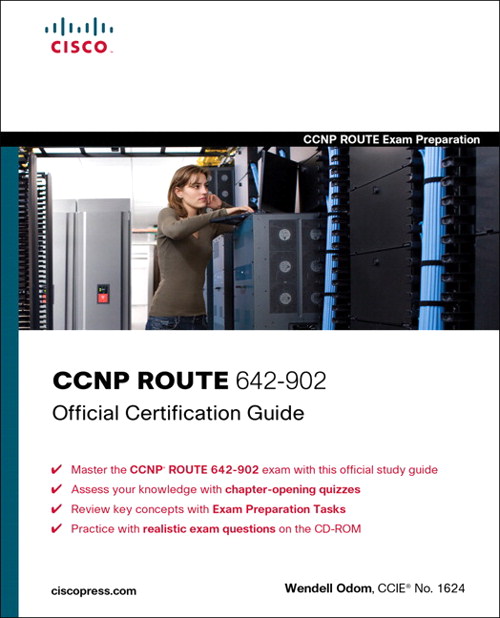 I thought let me review this title for the benefit of Cisco Certification aspires. No doubt the CCNP ROUTE 642-902 Official Certification Guide is an excellent title with lot of info available in depth. As promised by Cisco Press this title is covers all the topics of Cisco CCNP Route 642-902 exam. This title too follows the typical Cisco Press Style; each chapter begins with "Do I know this Already? Quiz? Which is good to assess your knowledge and accordingly you can prepare for the exam. The best thing I personally liked about this title is the author started by reviewing EIGRP from CCNA perspective.
When I first Wendell Odom's ICND 1 and 2, I was zapped with his technical writing skills and the way he presented the topics were simply awesome. I was expecting similar interesting wring from Wendell in   title CCNP ROUTE 642-902 Official Certification Guide, but rather it was bit boring and lengthy. There are few typos as well in this title. It would have been a great title if the concepts were explained in short and concise.
However I think this title has a lot of great information in it which is sufficient to pass the Cisco CCNP Route 642-902 Exam. Wendell Odom does a great job of explaining things in detail. I just wish it was an error free title especially when it comes from Cisco Press.
---
September 7, 2011 6:37 AM
When it comes to passing the Cisco Certification exams, the first questions comes to mind is "how to pass the Cisco Certification exam? Each and every individual has his or her own approach. Some of them prefer self-study, they buys some Cisco Press titles, CBT nuggets and some simulators such as boson Net simulators or emulators such as GNS3 (an open-source Cisco Emulator) and some attend the Instructor led courses offered by Cisco Network Academy or by their partners. But want if some is new to the field and prefers the self-study approach and need to know the tips and techniques which might help him/her to pass the CCNP Route 640-902 (Implementing Cisco Route) Exam.
Recently I passed the CCNP Route 640-902 (Implementing Cisco Route) Exam. My approach pretty simple, I did the following
1)First and foremost set the deadline for the exam when you are planning take, mark your calendar ( Goal setting)
2)Read and master the Cisco Press title CCNP ROUTE 642-902 Official Certification Guide by Wendell Odom, as well the practice the Boson Exam Engine questions came with the Cisco Press Title.
3)Watch Cisco CCNP Route 642-902 CBT Nuggets Series are great especially the way Jeremy connects with his audience, I love it. Watch these nuggets until you master the topic; the best part is listening to them while you are driving to work or while you are on the road. Make use of time.
4)Set up the GNS3 labs (an open-source Cisco Emulator) and practice them. When you buy the Cisco CCNP Route 642-902 CBT Nuggets Series you are entitled to get the topologies used by Jeremy.( Practice as much you can, more practice masters you and make you more familiarize with Cisco Routers Configurations)
By the time you're done with reading the Cisco Press CCNP ROUTE 642-902 Official Certification Guide by Wendell Odom, watching the Cisco CCNP Route 642-902 CBT Nuggets Series and practicing the GNS3 labs you'll be ready to take the challenge of Cisco CCNP Route Exam 642- 902(Implementing Cisco Route) Exam.
---
August 27, 2011 10:22 AM
After acquiring Tandberg, Cisco Systems made a significant progress in Telepresence business. Now Telepresence is not just a mere conferencing solution this technology is widely used in entertainment business as well.
Look at its popularity it was a right move by Cisco Systems to introduce the Cisco CCT Telepresence Certification, which focuses on the on the skills required for onsite support and maintenance of Cisco TelePresence Systems. Technicians in this area must be able to identify Cisco TelePresence models, accessories, cabling, and interfaces; understand the Cisco TelePresence operating modes and identify commonly found software; and be able to use the Cisco Command Line Interface (CLI) to connect and service products and make basic Cisco TelePresence system adjustments.
The only prerequisite for Cisco CCT Telepresence Certification is Cisco CCT Routing and Switching.
For further details do check the Cisco Learning Network Website
---
August 27, 2011 10:07 AM
In my previous post I discussed about the introduction of Cisco Certified Technician (CCT), as well as the Cisco CCT Routing and Switching, Cisco CCT Telepresence Certification and Cisco CCT Data Center Certification.
Personally I welcome the introduction of Cisco CCT Data Center certification, especially after Cisco announced their Nexus 7000, Nexus 5000, and Nexus 2000 Series Switches which are specially designed for Data Centers. Certainly this move by Cisco System empowers the Data Center operators or Technicians to demonstrate the knowledge and ability required for the onsite support and Maintenance of Cisco Data Center Products.
The Cisco CCT Data Center Certification ensures that the certified individual have knowledge of the Cisco Nexus 7000, Nexus 5000, Nexus 2000 and MSD 9000 (SAN Switches) product line along with the basic knowledge of the NX-OS and simple commands required to perform tasks such as password recovery.
In order to be  Cisco CCT Data Center Certified the only prerequisite is to have valid Cisco CCT Routing and Switching Certification.
| | |
| --- | --- |
| Required Exam(s) | Recommended Training |
| | |
For further details do check the Cisco Learning Network Website
---
August 24, 2011 7:38 PM
Yesterday a major announcement came out from Cisco Systems. It's about the introduction of Cisco Certified Technician (CCT) to its career Certification Program. So with an introduction of Cisco Certified Technician (CCT) training and certification program, Cisco Systems is targeting even the Network Technicians who perform onsite support and maintenance for Cisco infrastructure for Routing and Switching, TelePresence and Data Center solutions. At least now I can convince my management to give me some relief as my technicians are certified by Cisco Systems to carry out some of the basic tasks in our Data Center.
Currently Cisco Systems are offering three Cisco Certified Technician (CCT) Certifications.
1)      Cisco CCT Routing & Switching certification
2)      Cisco CCT Data Center certification
3)      Cisco CCT TelePresence certification.
The Cisco CCT Routing & Switching certification which certifies that an onsite technician has the required skills and knowledge to work with Cisco Routers and Switches performing task such as troubleshooting, repairs, hot-swap of specific components, and create TAC tickets as required. The Cisco CCT Routing and Switching certification serves as a prerequisite for the Cisco CCT Data Center certification and the Cisco CCT TelePresence certification.
Exams & Recommended Training for Cisco CCT Routing & Switching certification are as follows
| | |
| --- | --- |
| Required Exam(s) | Recommended Training |
| | |
In my next post I will talk about Cisco CCT Data Center certification and the Cisco CCT TelePresence certification. It's a good move from Cisco and for sure this certification is very handy and provides a solid foundation to all those technicians who are aim the sky (CCIE)
---