---
March 16, 2011 7:13 AM
For all those folks working hard to achieve Cisco CCNA Certification, one of the most recognized certification in the IT Industry, good news is here. The Cisco learning Network is conducting a 90-minute webinar which highlights the technologies and topics an individual will need to know to achieve their CCNA certification. In addition, The Essentials of CCNA webinar reviews the latest training methods and content available for CCNA, as well as the certifications and career paths available after you've achieved your certification.  You'll hear from Cisco Subject Matter Experts who developed the actual CCNA exam and course materials. Plus, the Essentials of CCNA webinar takes a look at the latest training methods and content available for CCNA, as well the certifications and career paths available after you've achieved your certification. 
It's completely free is recommended for individuals who are thinking of becoming CCNA certified, or have just started preparing to take their CCNA exams. Don't delay, register now.
Event: The Essentials of CCNA webinar
Date: March 30
Time: 8:00 a.m. Pacific Daylight Time
Cost: Free
Registration link: https://cisco.webex.com/cisco/onstage/g.php?t=a&d=204136809
March 16, 2011 6:00 AM
Perhaps it's better for the time being to disable the flash. According to the Adobe Security Advisory (APSA11-01) post  there is a critical vulnerability exists in Adobe Flash Player 10.2.152.33 and earlier versions (Adobe Flash Player 10.2.154.18 and earlier for Chrome users) for Windows, Macintosh, Linux and Solaris operating systems, Adobe Flash Player 101.106.16 and earlier versions for Android, and the authplay.dll component that ships with Adobe Reader and Acrobat X (10.0.1) and earlier 10.x and 9.x versions for Windows and Macintosh operating systems. There are reports that this vulnerability is being exploited in the wild in targeted attacks via a Flash (.swf) file embedded in a Microsoft Excel (.xls) file delivered as an email attachment. At this time, Adobe is not aware of attacks targeting Adobe Reader and Acrobat
Adobe is in the process of finalizing a fix for the issue and expect to make available an update for Flash Player 10.x and earlier versions for Windows, Macintosh, Linux, Solaris and Android, and an update for Adobe Acrobat X (10.0.1) and earlier 10.x and 9.x versions for Windows and Macintosh, Adobe Reader X (10.0.1) for Macintosh, and Adobe Reader 9.4.2 and earlier 9.x versions during the week of March 21, 2011
---
March 12, 2011 6:18 AM
When you are preparing for the CCNP Switch (642-813) or BCMSN exam (642-812) there are quite a few topics which are important not only from the perspective of passing  the  "Implementing Cisco IP Switched Network" exam or BCMSN exam but also for the day to day network troubleshooting tasks.
One among the key topic is "spanning tree loop guard". As the name itself suggests Loop Guard is a method used for ensuring no spanning tree protocol loops (STP) occurs in any network topology. Though STP loop guard feature can prevents STP loops as best it can, still chances of loops are there due to unidirectional link failure or congestions issues in the Cisco Switch. It's always recommended, the loop guard feature to be used in conjunction with UDLD feature. I will cover about UDLD feature in one more article.
The basic function of loop guard feature is to prevent loops conservatively by preventing alternate or root ports from becoming DPs in the topology. If BPDUs are not received on a non-Designated Port, and Loop Guard is enabled, that port is moved into the STP loop-inconsistent Blocking state, instead of the Listening /Learning / Forwarding state.
Loop Guard operates only on ports that are considered point-to-point by the spanning tree, and it cannot be run in conjunction with Root Guard on an interface.
To enable Loop Guard on a Cisco Catalyst Switch, you can use the following IOS command in the global configuration mode
ITKE-3750-AS01(config)# spanning-tree loopguard default

---
February 28, 2011 1:08 PM
Microsoft Chief Research and strategy officer Craig Mundie and Don Mattrick, president of Microsoft's Interactive Entertainment Business, have announced the release of a non-commercial Kinect for Windows software development kit (SDK) from Microsoft Research.
 The newly  designed SDK kit will  give developers access to audio, programming interfaces, system application, and direct control of the Kinect sensors, so that they can create new applications based around the motion sensing device.
Microsoft plans to release a commercial version at later date , but the SDK will be a starter kit designed to make it simpler for the academic research and enthusiast communities to create rich natural user interfaces using Kinect technology.
  "Microsoft's investments in natural user interfaces are vital to our long-term vision of creating computers that are intuitive to use and able to do far more for us," said Mundie. "The fruits of these research investments are manifesting across many of our products, Kinect for Xbox 360 among them."
Microsoft is continuing to make developments and investments in natural user interfaces and its developments are appearing in Microsoft products such as Kinect for Xbox 360, Windows Phone 7, Microsoft Surface 2.0, Bing for mobile and Office 2010 Mini Translator
---
February 28, 2011 7:33 AM
According to Cisco 2010 Annual Security Report, scammers are targeting other operating Systems, platforms , mobile platforms, smart phones and tablets, rather than their prime focus Windows – based systems. The good news is that Windows-based Systems are less prone to attacks from spammers and cyber criminals
The report also shows that 2010 was the first year in the history of the internet that spam volumes decreased. However, despite a global shrinkage in spam, developed countries with broadband internet connections saw an increase in spam. These countries include France, Germany and the United Kingdom. In the United Kingdom spam volumes rose almost 99% from 2009 to 2010.
Some of the notable articles include in the Cisco 2010 Annual Security Report are
Money Mules: The Linchpins of Cybercrime Networks
Social Engineering: The "Seven Deadly Weaknesses" That Criminals Exploit
Criminals Favoring Java Over PDFs
Global Spam Update: Spam Down Globally, but on the Rise in Europe
Android and Apple Operating Systems Likely Key Targets in 2011
Cisco's report showed in increase in money mulling, where people are recruited to set up bank accounts or use their own to help scammers launder money. For futher details on the report do download the Cisco 2010 Annual Security Report
---
February 28, 2011 7:15 AM
Bahrain was supposed to experience Cisco Live! from April 10th to April 13th, the event has been postponed until further notice, according to a statement from Cisco.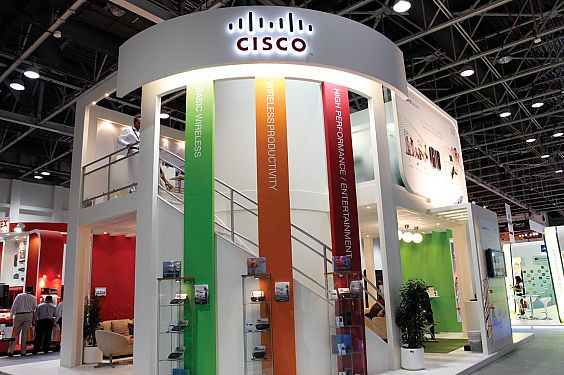 Cisco released a statement saying: "Due to the current uncertainty, the Government of Bahrain and Cisco have decided to postpone the Cisco Live! Bahrain 2011 event scheduled for 10th -13th April 2011 – with new dates will be defined at a later stage. Cisco understands and supports the mutual decision to postpone the Cisco Live 2011 Bahrain event.  The company remains committed to their customers and partners in Bahrain and across the region, and look forward to inviting you to a rescheduled Cisco Live! event at a later stage
Unfortunately I did all planning and postponed my vacation as well to attend the most awaited Cisco Live in this part of the World, hope Cisco will not cancel the event as F1 association did with the Bahrain Grand Prix.
Cisco Systems will be issuing a full refund of any registration fees paid.  In Case you have any questions you can reach the Cisco Live team at their UK Call Centre, +44 (0)207 022 8993, and also at an email support@ciscoliveemergingmarkets.com
---
February 27, 2011 6:12 AM
When we are configuring Cisco Switches and Cisco routers, sometimes we need to set the interface to default settings. Using the "default interface" configuration command we can achieve the result. This command is very handy and can be used on any Cisco Router or a Cisco Switch.
In the following example I want the default configuration for the interface fast Ethernet 0/10 in the Cisco Catalyst 3500 Series Switch. By using the "default interface fast Ethernet 0/10″ I removed all the configuration of the interface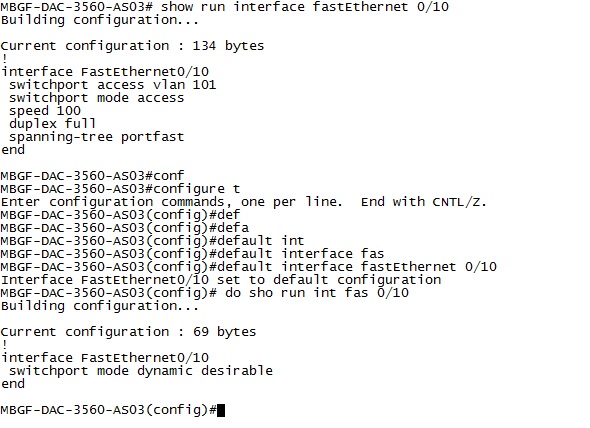 Very useful command especially when we need to remove the complete configuration of the interface only.
---
February 27, 2011 5:45 AM
I passed the "Implementing Cisco IP Switched Network"exam successfully couple of days back.  Now I am one step closer to achieving mp CCNP. My approach was simple and straight forward, I read the Cisco Press title CCNP SWITCH 642-813 Official Certification Guide. Thanks to Cisco Press and Jamie Adams for providing me a copy of CCNP Study guides. The exam was pretty easy but be careful there are few ambiguous questions which really needs your experience and expert knowledge on the topic.
I have following piece of advice for the CCNP aspirers
1) Set the date for exam before starting your preparations (Goal Setting).
2) Read Cisco Press title CCNP SWITCH 642-813 Official Certification Guide.
3) Practice the Boson questions came with the title CCNP SWITCH 642-813 Official Certification Guide.
4) Watch CBT nuggets if needed as they are really cool videos to watch.
5) Practice labs, (create your own scenarios on STP, HRSP, VTP, VRRP, GLBP etc.) If you can afford get three Cisco 3550 Series Switches from eBay.
6) A week before exam review all the topics and practice few labs and boson practice test.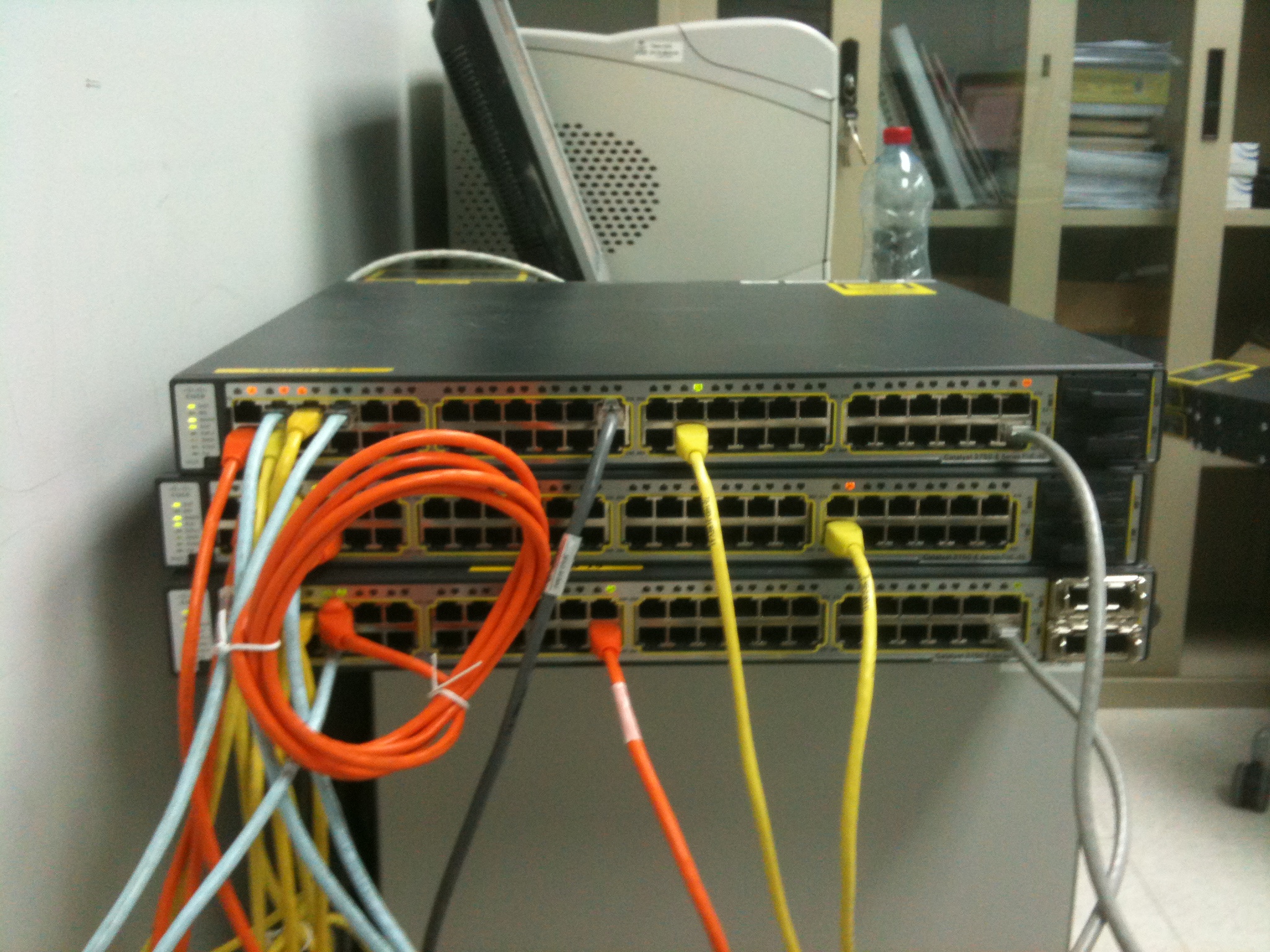 (My CCNP Switch Lab)
If you follow the above with dedication and determination nothing can stop you from achieving CCNP.
---
February 7, 2011 5:29 AM
We all know in Cisco Catalyst Multilayer Switches the matching process of the Access Control list is done at hardware level. In order to do this processing the Ternary Content Addressable Memory (TCAM) comes into picture. Basically the Ternary Content Addressable Memory (TCAM) is used by Cisco Catalyst switches to store information necessary for hardware processing. TCAM allows a packet to be evaluated against the entire access list in a single lookup table. Most Cisco Catalyst Switches comes with multiple TCAMs. Its utilization depends on the features supported by the platform, but the TCAM is generally partitioned into sections designated for unicast routes, multicast routes, VLANs, and entries for routed, VLAN, and QoS ACLs.
The Cisco IOS Software constitutes of two components what are part of the TCAM operation, namely Feature Manager (FD) and Switching Database Manager (SDM, when I saw SDM the first thing came to my mind was Security Device Manager Application.)
The Feature Manager merges or compiles the Access Control Entries (ACE) in the TCAM table of a Cisco Catalyst Switch, whereas the Switching Database Manager (SDM) comes handy in creating a partition of TCAM table on some of Cisco Catalyst Switches into areas of different functions. The Switching Database Manager (SDM) software can configure or tunes the TCAM partition if needed. The Cisco Catalyst 4500 and Cisco Catalyst 6500 Series Switches cannot be repartitioned as it comes with the fixed TCAM memory.
---
January 31, 2011 1:17 PM
Cisco Systems introduces sleek and quit switches which are fanless and can also support POE pass-through. The compact Switches are available in two models 2960 and 3560 in a "C" version model. The main advantage of the 2960 and 3560 C series Switches are it can be deployed in  warehouses, conference rooms, classrooms, hotel rooms, cruise cabins, gaming floors, labs, doctor's offices, and call centers.
The compact factor might help you to
Dramatically reduce cabling costs: Eliminate the need for up to eleven expensive 100-meter cables and their wiring complexities.
Deploy your switch anywhere at any time: The Catalyst Compact Switches are sleek and quiet (fanless) and can be placed on or mounted underneath desktops and countertops or on a wall.
Eliminate the need for power outlets for your switch and devices: With Power over Ethernet (PoE) pass-through, you can deploy IP applications in locations without access to power outlets. The compact switch draws power from the single cable that connects it to the wiring closet.
One of greatest advantage of these compact switches is it protects the network data as the all the packets between the switch and the end device are encrypted right at the source.
An amazing series of Switches specially designed for SMBs.
---