---
January 17, 2014 10:42 AM
Networking
Yesterday Cisco announced that they started shipping out their newly introduced Catalyst 6800 Series Switches. Currently they are shipping the Cisco Catalyst 6807-XL and 6880-X Switches. We all know when it comes to Campus backbone switches Cisco Catalyst 6500 Series Switches ruled the industry for more than decade.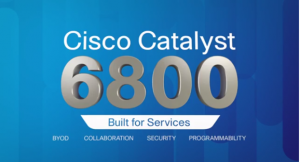 I think this is the right time for Cisco to concentrate and promote the new flagship of their products especially the Campus backbone Category. The Cisco Catalyst 6800 Series Switches are programmable campus backbone switches optimized for 10/40/100 Gigabit Ethernet services. They provide slot capacity up to 880 G, and smart and simple network operations using Catalyst Instant Access. These switches offer converged wired, wireless, and VPN security, and exceptional investment protection with their Catalyst 6500 DNA
Some of the unique features of the Catalyst 6800 Series Switches are
Scalable
Help ensure that the campus is ready for 10/40/100 Gigabit Ethernet services with the higher slot and switching capacity of Catalyst 6800. The 6800 Series offers the highest-density 10 Gigabit Ethernet ports that:
Include advanced enterprise Multiprotocol Label Switching (MPLS), Virtual Private LAN Service (VPLS), and Multicast functionality
Support multirate interfaces for easy migration from 1 Gigabit Ethernet to higher throughput services
Cisco Catalyst 6807-XL Switches can scale to 880 Gb per slot and 11.4-Tbps (full duplex) switching capacity. For midsize campuses, Cisco Catalyst 6880-X Switches provide scalability with eighty 10 or twenty 40 Gigabit Ethernet ports.
Smart
Built for Programmability
Catalyst 6800 switches support the Cisco One Platform Kit (onePK) software-defined networking (SDN) toolkit. You can easily build applications to automate operations and create services across the campus.
The 6800 Series Switches also support the industry-standard OpenFlow interface. You can program these switches for custom network services such as network slicing and traffic steering.
 Built for Unified Access
The Catalyst 6800 series facilitates:
Five nines (99.999 percent) availability with next-generation Cisco Virtual Switching System (VSS) technology (VSS Quad Supervisor SSO [VS4O])
One policy with Cisco Identity Services Engine
Centralized management with Cisco Prime infrastructure
One network with Cisco Wireless Services Module 2 (WiSM2)
The Catalyst 6800 Series Switches comes in three models
I wish Catalyst 6800 family a successful journey and I am pretty sure like Cisco Catalyst 6500 Series switches it's going to rule the Campus Backbone Category of Switches for coming decade.
January 12, 2014 1:29 PM
I have been trying hard to book a slot for CCIE Routing and switching version 4 lab any time after March 2014, it's quite hard to find. I did not even find a single slot either in Bangalore or Dubai.  All slots from January 2014 to June 3 2014 are occupied. I thought to try my luck in other locations unfortunately I am ran out of luck. This is quite scary for those who are trying hard to attempt the CCIE R & S version 4 lab.  The only suggestion I have is book the slot as it's available and don't delay. I am hopeful of finding at least one slot.  As planned Cisco is offering CCIE R & S version 5 labs from June 4 2014. Those who are preparing for CCIE R & S version please don't be panic or dishearten your efforts will not be wasted. This preparation will certainly help you all to achieve the most prestigious Networking Certification CCIE Routing & Switching.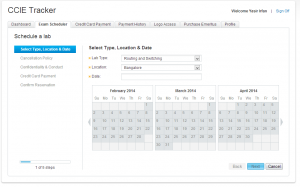 If you find any slots please do comment so that many of the CCIE aspires get benefited.
---
December 4, 2013 7:49 AM
Its official now, Cisco announced the much awaited update for CCIE Routing and Switching from version 4 to 5.  It's a good move as CCIE R & S version 5 is there since pretty long time. The official launch for the version 5 happens to be on June 4th 2014. This brings a great relief for those who are preparing hard and almost very close to appear for the lab exam.  Coolly there is a window of months for people like me to prepare and appear for the version 4 of the Routing and Switching lab exam.
The announced changes are targeted for both written and lab exams with few exception like a domain of Network Principle which is purely targeted to written exam, below are the comparison between version 4 and version 5.

The following topics will be no longer seen in the version 5
Flexlinks
ISL
Layer 2 Protocol Tunneling
Frame-Relay
WCCP
IOS Firewall
IOS IPS
RITE
RMON
RGMP
RSVP QoS
WRR/SRR
As far as frame relay was concerned it was expected from to see its exit from the new version. Now here comes the challenge for CCIE training companies and Cisco press to come out with a quality study material and topology. I request you all go through the announcement made for further details.
---
November 7, 2013 5:43 AM
When it comes to CCDE practical exams currently we are all restricted to location like San Jose, Chicago, London, etc., starting February 2014 things are going to change, and Cisco will be offering CCDE practical exams at all Pearson Professional Centers (PPCs) worldwide. From 8 Centers to 225 centers is a great move from Cisco soon we are going to see the numbers CCDE's increasing worldwide.
One great thing Cisco introduced is that can take lunch break on their own time after finishing the second scenario in the exam, where previously they were required to wait until the set lunchtime was finished before continuing on with section 3. The specific announcement from Cisco is below, along with the link to the CCDE page which outlines exactly where the new locations will be.
The overall exam administration experience has improved giving you more flexibility in the following areas:
Choosing your exam location:
The number of locations where this exam can be administered will  increase from 8 to 275
Registering for the exam:
Registration will close one day before the test date
However, candidates are encouraged to register at least 45 days in  advance for most locations to guarantee PPC sites will be open for the required  nine hours to administer the CCDE practical exam
Breaking for lunch:
Candidates can only take a lunch break after they finish section 2
Candidates are no longer required to take a lunch break simultaneously
There are no changes to the exam content, scoring methodology, or modular testing approach. See the FAQs for more detail
---
November 3, 2013 11:19 AM
In order manage Cisco IPS devices be it AIP-SSM modules in ASA firewall or IPS appliances the better tool is the Cisco IPS Manager Express (IME). The Cisco IPS Manager Express (IME) proves to very hand,y as using this management solution one can manage up to ten Cisco IPS devices with the following features
•             An intuitive graphical user interface to help you configure, tune, and manage Cisco IPS sensors, Cisco Advanced Inspection and Prevention Security Services Modules, Cisco Catalyst 6500 Series Intrusion Detection System Modules, Cisco IDS Network Modules, and Cisco IOS IPS modules.
•             Powerful monitoring and reporting tools, including a real-time event viewer for troubleshooting and top reports for security auditing and compliance purposes.
•             Flexible device management options for up to 10 IPS devices within a single GUI.
I was using the Cisco IPS Manager Express (IME) version 7.2.4, it was working fine with Windows 7, Windows 8 and Windows 8.1 preview as well. After upgrading to Windows 8.1 Pro N I faced issues with the Cisco IPS Manager Express (IME), the application was hanging and it is hard for me to manage our IPS devices. I checked Cisco Website and discovered an updated version of Cisco IPS Manager Express (IME) from 7.2.4 to 7.2.4.5. I download the updated version tried still the result remains same. As of today we cannot use the Cisco IPS Manager Express (IME) to manage the IPS devices on the Windows 8.1 Pro OS. I recently got the feedback from Cisco TAC team as "We have known reported issues with the same. Let confirm the same in the lab and update you on the same"

We are waiting for the feedback from Cisco hopefully they will come out with a new version Cisco IPS Manager Express (IME) which can run on Windows 8.1 Pro.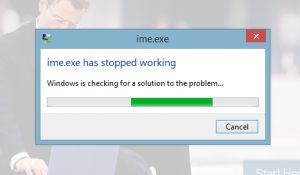 ---
November 2, 2013 8:24 AM
Since I am preparing for the CCIE Routing and Switching Lab exam, I am following up all the latest developments very closely. Recently I was reading an INE blog post on CCIE Routing and Switching Version 5 update. According to INE an announcement is expected sometime in November. Cisco Live Milan does have a session dedicated to CCIE Routing and Switching Version 5 presented by Bruno van de Werve, the CCIE R&S Exam Product Manager.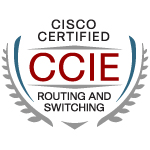 The updated version of CCIE R & S seems to be a 100% virtual lab environment similar to the current troubleshooting section of CCIE R & S lab. Some older legacy technologies like frame relay is expected to be removed along with some least used IOS features like Zone- Based Firewall, WCCP, IPv6 Multicast and PfR also topics like IPSec, DMVPN and Embedded Packet Capture are expected to be added in the new blue print.
The current lab exam comprises of two sections, a 2 hours troubleshooting section and a 6 hour configuration section. Apart from these two sections a new section is expected to be included in the lab exam called diagnostic section. Well time will reveal more details on the format and scoring of the lab exam.
Those who are planning to appear for the lab exam in near future it is highly recommended for them to schedule their exam before March 2014 as it's expected that starting March 1st new version my replace the current version 4 exam.
Well I see this a great initiative from Cisco to update the much awaited CCIE Routing and Switching Certification track. I suggest all those CCIE Routing and Switching aspires to keep updated with latest developments and follow INE blog and Cisco Learning Network as this is the place where the news break first. Meanwhile I will try to keep you all updated with the latest development.
---
September 6, 2013 6:14 AM
Recently I was upgrading our Cisco Nexus 7010 Switch NX-OS version from 5.0 (3) to 6.1 (4). After the upgrade process when I used the NX-OS command "show system redundancy status" to check the high availability of Nexus Supervisor module-1X Engines I discovered one of them was just power up but not under operation in Standby mode.

In order to bring up the Nexus Supervisor module-1X into standby mode, I used the NX-OS command "attach module slot no" in my case the slot no was 5. So I used the NX-OS Command "attach module 5"

Upon issuing the "attach module 5" I ran again the NX-OS command "show system redundancy status" to check the HA between Nexus Supervisor module-1X Engines and discovered that the redundancy state was in standby mode and the Internal State was under synchronization process.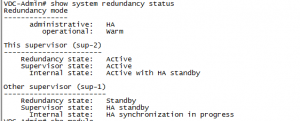 Once I got message in console "Connectivity Management processor (on module 5) is now UP"

Again I checked the system redundancy state and discovered module 5 was in standby mode.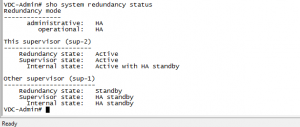 In upcoming posts I will discuss the challenges I faced to upgrade Nexus 7010 Switch NX-OS version from 5.0 (3) to 6.1 (4).
---
August 31, 2013 4:46 PM
Brocade is looking at opportunities to collaborate, the recent collaboration came into lime light was    to extend the visibility and monitoring capabilities of the VMWare vCenter Operations Management Suite into the Storage Area Networking (SAN) layer. Brocade achieved these capabilities by developing the Brocade SAN Analytics Management Pack.
Specifically, Brocade has collaborated with VMware to develop the Brocade SAN Analytics Management Pack for the VMware vCenter Operations Management Suite, which automatically sends real-time SAN health and performance metrics information from Brocade SAN fabrics into vCenter Operations Management Suite.
"With the Brocade SAN Analytics Management Pack for VMware vCentre Operations Management Suite, customers can benefit from visibility that extends into the storage subsystem, simplified management and rapid root cause detection, as well as optimal performance of workloads running in their virtual environments," said Ramin Sayar, senior vice president and general manager, Cloud Management, VMware.
Looks like SAN is making a strong presence in Virtual Environment, leaders like Brocade who are very strong in SAN switches are collaborating VMWare to  offer best SAN solution in Virtual Environment.
---
August 31, 2013 8:37 AM
These days Cloud Computing and Virtualized environment is making its presence in real world networks, be it Servers, Routers, Switches or Firewall, virtualization is catching up.
In the organization I work, we are implementing many solutions on virtualized environment, be it our Nexus Virtual Device Contexts or Cisco ASA Contexts or Cisco UCS Servers .Our Web Ex Solutions, Cisco IP Surveillance Solutions and PACS solutions are supported and operated on the Virtual platform. The challenge we faced for our Virtualized Sever platform running both windows and Linux environments are the backup and replication of data.
We were looking for a solution which is specifically designed for Virtual Environment and we found one called Veeam Backup & Replication Solution. This came handy to us especially when we had issues with our Data Protector System. Our PACS Servers are running on virtual environment using VMWare vSphere and it was a night mare for us to have a backup of those virtual imaging servers. With the invent of Veeam our task really become easy.
Veeam has created their backup and replication solution especially for Virtualized environments. It supports both VMWare hypervisors and Microsoft Hyper-V.  The Veeam Backup & Replication is easy to manage and its very user friendly.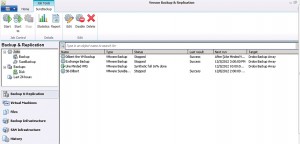 Since I am not a backup guy it will be hard for me to analyses all the features of Veeam Backup and Replication Software. As a layman I found it easy to install and manage and most importantly it provides a solution to our WebEx and PACs solution. Also it unifies backup and replication in a single solution, increases the value of backup and reinvents data protection for VMware vSphere and Microsoft Hyper-V virtual environments.
Veeam recently released the version 7 of Veeam Backup and Replication software. More details can be found in the following link http://www.veeam.com/vm-backup-recovery-replication-software.html
---
August 27, 2013 7:24 AM
When it comes to NX-OS upgrade its quite easy and simple compared to the IOS upgrade of Cisco Catalyst Switches or Cisco Routers. Recently we upgraded our Nexus 5000 Series Switches from the NX-OS version 5.0.3 to 5.2.1. In this post let's see how to upgrade the Nexus 5000 Series Switch step by step.
Step 1
Login to Cisco Website and download the NX-OS Kick Start and NX-OS System Software files to your TFTP server.

Step 2
Make sure that Nexus 5000 Switch has the enough space to install the new image files by using NX-OS command " dir bootflash". If there is enough space you are free to install the new NX-OS image files.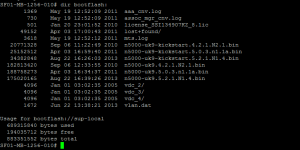 Step 3
If there is no enough memory delete old image files using NX-OS command
Delete boothflash: (kickstart image name)
Delete bootflash:  (system image name)
SF01-MB-1256-010# delete bootflash:n5000-uk9-kickstart.5.0.3.n1.1a.bin
SF01-MB-1256-010# delete bootflash: n5000-uk9.5.0.3.n1.1a.bin
Step 4
Copy the new kickstart and system images to the switch bootflash by using a transfer protocol such as ftp, tftp, scp, or sftp. The examples in this procedure use tftp. Use the following NX-OS command to copy the kick start and image file
Make sure that the TFTP server is started
SF01-MB-1256-010# copy tftp bootflash:

Step 5
Enter the install all NX-OS command to install the new images, specifying the new image names that you downloaded in the Step 1 as shown below

Once all the files are installed the switch will restart and reload with the new Image files.
---