---
February 28, 2011 7:15 AM
Bahrain was supposed to experience Cisco Live! from April 10th to April 13th, the event has been postponed until further notice, according to a statement from Cisco.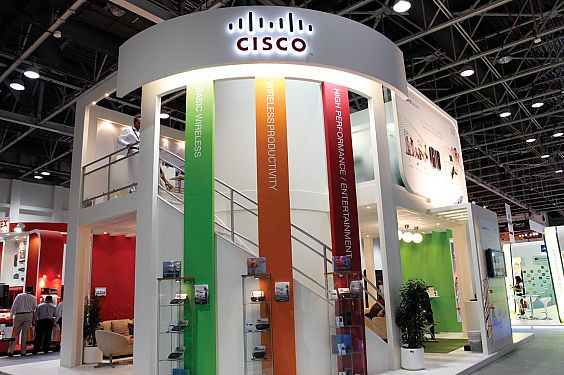 Cisco released a statement saying: "Due to the current uncertainty, the Government of Bahrain and Cisco have decided to postpone the Cisco Live! Bahrain 2011 event scheduled for 10th -13th April 2011 – with new dates will be defined at a later stage. Cisco understands and supports the mutual decision to postpone the Cisco Live 2011 Bahrain event.  The company remains committed to their customers and partners in Bahrain and across the region, and look forward to inviting you to a rescheduled Cisco Live! event at a later stage
Unfortunately I did all planning and postponed my vacation as well to attend the most awaited Cisco Live in this part of the World, hope Cisco will not cancel the event as F1 association did with the Bahrain Grand Prix.
Cisco Systems will be issuing a full refund of any registration fees paid.  In Case you have any questions you can reach the Cisco Live team at their UK Call Centre, +44 (0)207 022 8993, and also at an email support@ciscoliveemergingmarkets.com
February 27, 2011 6:12 AM
When we are configuring Cisco Switches and Cisco routers, sometimes we need to set the interface to default settings. Using the "default interface" configuration command we can achieve the result. This command is very handy and can be used on any Cisco Router or a Cisco Switch.
In the following example I want the default configuration for the interface fast Ethernet 0/10 in the Cisco Catalyst 3500 Series Switch. By using the "default interface fast Ethernet 0/10″ I removed all the configuration of the interface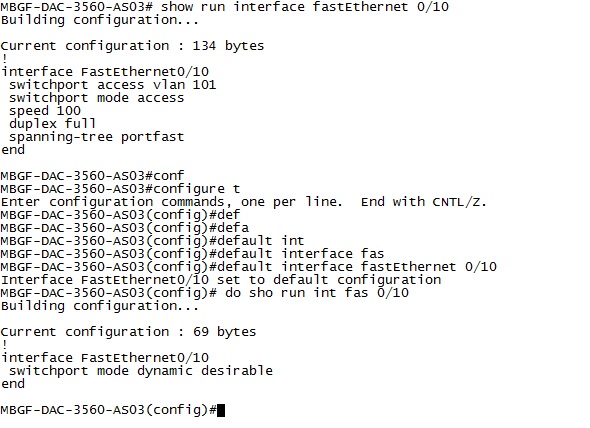 Very useful command especially when we need to remove the complete configuration of the interface only.
---
February 27, 2011 5:45 AM
I passed the "Implementing Cisco IP Switched Network"exam successfully couple of days back.  Now I am one step closer to achieving mp CCNP. My approach was simple and straight forward, I read the Cisco Press title CCNP SWITCH 642-813 Official Certification Guide. Thanks to Cisco Press and Jamie Adams for providing me a copy of CCNP Study guides. The exam was pretty easy but be careful there are few ambiguous questions which really needs your experience and expert knowledge on the topic.
I have following piece of advice for the CCNP aspirers
1) Set the date for exam before starting your preparations (Goal Setting).
2) Read Cisco Press title CCNP SWITCH 642-813 Official Certification Guide.
3) Practice the Boson questions came with the title CCNP SWITCH 642-813 Official Certification Guide.
4) Watch CBT nuggets if needed as they are really cool videos to watch.
5) Practice labs, (create your own scenarios on STP, HRSP, VTP, VRRP, GLBP etc.) If you can afford get three Cisco 3550 Series Switches from eBay.
6) A week before exam review all the topics and practice few labs and boson practice test.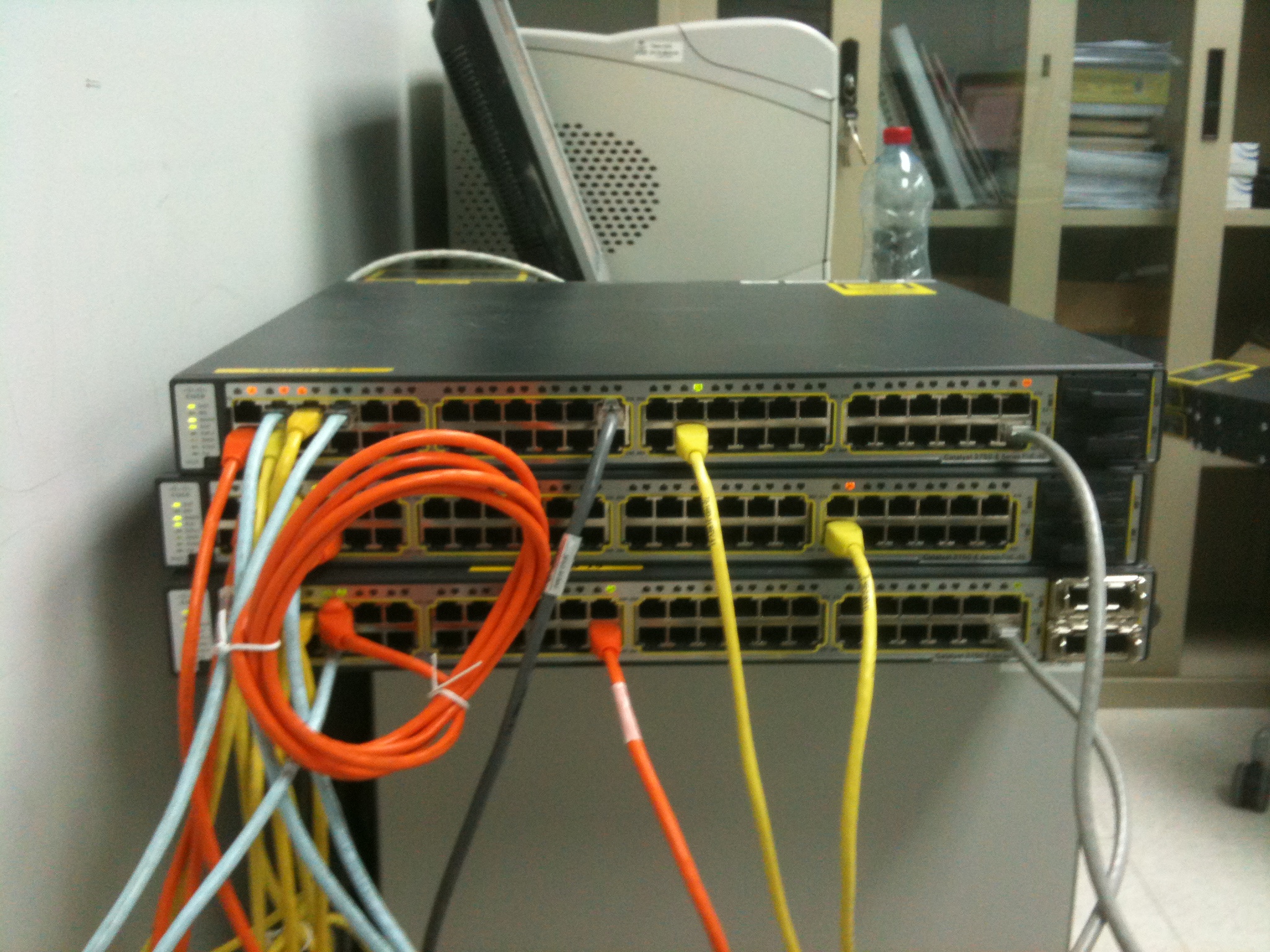 (My CCNP Switch Lab)
If you follow the above with dedication and determination nothing can stop you from achieving CCNP.
---
February 7, 2011 5:29 AM
We all know in Cisco Catalyst Multilayer Switches the matching process of the Access Control list is done at hardware level. In order to do this processing the Ternary Content Addressable Memory (TCAM) comes into picture. Basically the Ternary Content Addressable Memory (TCAM) is used by Cisco Catalyst switches to store information necessary for hardware processing. TCAM allows a packet to be evaluated against the entire access list in a single lookup table. Most Cisco Catalyst Switches comes with multiple TCAMs. Its utilization depends on the features supported by the platform, but the TCAM is generally partitioned into sections designated for unicast routes, multicast routes, VLANs, and entries for routed, VLAN, and QoS ACLs.
The Cisco IOS Software constitutes of two components what are part of the TCAM operation, namely Feature Manager (FD) and Switching Database Manager (SDM, when I saw SDM the first thing came to my mind was Security Device Manager Application.)
The Feature Manager merges or compiles the Access Control Entries (ACE) in the TCAM table of a Cisco Catalyst Switch, whereas the Switching Database Manager (SDM) comes handy in creating a partition of TCAM table on some of Cisco Catalyst Switches into areas of different functions. The Switching Database Manager (SDM) software can configure or tunes the TCAM partition if needed. The Cisco Catalyst 4500 and Cisco Catalyst 6500 Series Switches cannot be repartitioned as it comes with the fixed TCAM memory.
---
January 31, 2011 1:17 PM
Cisco Systems introduces sleek and quit switches which are fanless and can also support POE pass-through. The compact Switches are available in two models 2960 and 3560 in a "C" version model. The main advantage of the 2960 and 3560 C series Switches are it can be deployed in  warehouses, conference rooms, classrooms, hotel rooms, cruise cabins, gaming floors, labs, doctor's offices, and call centers.
The compact factor might help you to
Dramatically reduce cabling costs: Eliminate the need for up to eleven expensive 100-meter cables and their wiring complexities.
Deploy your switch anywhere at any time: The Catalyst Compact Switches are sleek and quiet (fanless) and can be placed on or mounted underneath desktops and countertops or on a wall.
Eliminate the need for power outlets for your switch and devices: With Power over Ethernet (PoE) pass-through, you can deploy IP applications in locations without access to power outlets. The compact switch draws power from the single cable that connects it to the wiring closet.
One of greatest advantage of these compact switches is it protects the network data as the all the packets between the switch and the end device are encrypted right at the source.
An amazing series of Switches specially designed for SMBs.
---
January 30, 2011 10:21 AM
With addition of new partner program by Juniper Networks helps their partners to build expertise in core areas include security, switching, routing, mobility and cloud networking.
The Continuing Education Program from Juniper Networks has been designed to empower systems and sales engineers by delivering free, flexible training through a variety of on-demand, online formats, with courses that can be selected according to business model and technology interests, for sales and systems engineers.
"Specialized training, education and hands-on experience are critical to the success of our partners and clearly differentiate and validate their expertise in the eyes of their customers and prospects," said Frank Vitagliano, senior vice president of partners-America at Juniper Networks. "We take great pride in our proven ability to enable our partners to grow their business more profitably and build upon their expertise. Partner enablement is a top priority at Juniper and an area we will continue to invest in."
Juniper Network provides training in two tracks namely technical and sales which allows Juniper Partners to build towards specialized accreditations in certain areas of expertise. Currently accreditations are available for data center and switching, and the Juniper plans to add additional accreditations for security and mobility at its annual EMEA partner conference scheduled in May 2010.
"Juniper Networks is always thinking about what's in it for the partner," says Julio Sanchez, executive vice president of National Infrastructure, Fishnet. "Whether it's a new product, program or service, you can count on Juniper to ensure the partner benefit and overall business value is crystal clear. Juniper's commitment to our success is really second to none."
---
January 30, 2011 5:18 AM
Hay Group has identified top 20 best companies for Leadership. General Electric tops the list, followed by Procter and Gamble and Intel Corporation Accenture is at no 8, Microsoft at no 12, Hewlett-Packard at no 15 and the leading Networking Company Cisco Systems at number 17. It's 6th Year in a row; Hay Group has identified which organizations have the best leadership practices and what we can learn from them
The 2010 featured some new faces among top 20 are include Microsoft, FedEx, PepsiCo and Pfizer while Infosys, IKEA, Zappos, UPS and General Mills have dropped out of the front-runners' listing. To see how the top 20 ranking has changed over the last five years, click here.
The top 20 Best Companies for Leadership
 1  General Electric

 2  Procter & Gamble

 3  Intel Corporation

 4  Siemens

 5  Banco Santander

 6  Coca-Cola

 7  McDonald's Corporation

 8  Accenture

 9  Walmart

10 Southwest Airlines

11 ABB

12 Microsoft

13 PepsiCo

14 Goldman Sachs

15 Hewlett-Packard

16 Unilever

17 Cisco Systems

18 FedEx

19 Pfizer Inc.

20 BASF
---
January 30, 2011 5:05 AM
Even when it comes to Twittering Cisco Systems is leading. Cisco Systems is honored to win 2010 B2B Twitterer of the Year. Cisco Systems at Twitter is doing a great job over past two year. I could see all most all updates from Cisco Systems are twitted, guess who is at number two? it's Juniper Networks. For further info check this blog post. I think Twitter is a key tool for revolution especially in this century. Waiting for what? Start twitting this post who knows you might be among the 2011 Winners.
---
January 25, 2011 10:42 AM
Now CCIE R & S troubleshooting exam is available in virtual lab environment. Cisco added switching features to the CCIE R&S Troubleshooting exam through L2 IOS software on Unix (L2IOU) virtual environment. The new feature was started on January 17, 2011.
The CCIE R & S exam consists of 2 sections – the troubleshooting (TS) section runs for two hours, and the configuration section lasts for six hours. The config section of the lab make use of real physical Cisco Devices in the racks where the virtual lab environment under IOU used by the troubleshooting (TS) lab. The addition of the new L2IOU , the TS lab is capable of both L2 and L3 capabilities in virtual environment.
According to a Cisco Learning Network the CCIE R & S lab exam takers may notice some subtle cosmetic and functional differences between the behaviors of the physical switch and the virtual switch. However, the function of the devices is fundamentally the same, and these differences should not affect the candidate's ability to apply what he has learned to succeed in the lab exam.
---
January 25, 2011 5:22 AM
Good news for all Cisco Certification aspirers, especially for those who are preparing for Cisco CCNA and CCNP Certifications. Pearson Education has developed short quizzes titled "Do I Know This Already" with the assistance of expert authors and trainers from the Pearson Cert Guide series.

This is a Web Assessment Quiz which might test your readiness for Cisco Certification exams. Each quiz helps you to determine the amount of time you need to spend studying that exam topic. A very high score in any quiz is an indication that you can reduce your study time on that topic, while lower scores indicate the need for more detailed focus on that topic. Currently Two quiz sets are live CCNA and CCNP Route. Soon you can expect to see six more coming like CCNP Switch and CCNP TSHOOT.
For more info check this post from Pearson IT.
---