---
July 2, 2014 10:04 AM
Recently Cisco increased the exam costs for various certification exams. The details can be found in the below table.

Now CCIE written exam will $ 400 each whereas the lab will cost $1600 per attempt. In past the CCIE written exam was priced at $ 350 and the lab was priced at $ 1500. From now on the CCIE aspires have to ensure that they have to pay $ 2000 as test fees which does not include the travel cost. You can find the new fees at following link.
April 19, 2014 8:03 AM
As we all aware that the last day for CCIE Routing and Switching v4 Lab exam happens to be on 3rd of June 2014. Even those who want to book the CCIE Routing and Switching v4 Lab exam before June 4, 2014 they all ran out of luck as all the seats are full. This gives us the hope to look forward for CCIE Routing and Switching v5 Lab exam which Cisco is offering from 4th of June 2014.
Those who are preparing hardly for this prestigious certification, they always keep a close eye on its development. The biggest contributor in terms of study materials and work books for CCIE certifications happens to be INE. I found their materials to be of high quality and they do produce their material to equip the INE students to understand the concepts well and always ready to face the challenge of CCIE labs.
Some of their material really helped me a lot in resolving real time problems especially in the routing and switching segment. Just two days back INE announce their detailed blue print for the CCIE Routing and Switching Version 5 exam. It's worth to have a close look at this blue print, this blue print is certainly helping us to  come out with the detailed study plan for CCIE Routing and Switching v5 Lab exam. I am pretty sure once their Work books are out, they will guide us towards the successful journey of CCIE
---
March 6, 2014 10:24 AM
CCIE Routing and Switching lab version 4 lab format consists of two modules namely
1)      Troubleshooting
2)      Configuration
However with the announcement of CCIE Routing and Switch Version 5 we are going to see some significant changes in the lab format and how it is delivered. The new lab format consists of three modules namely
1: Troubleshooting (TS)
2: Diagnostic (DIAG)
3: Configuration (CFG)

In past only TS lab were delivered using virtual devices (IOU) however with the introduction of V5 both the CFG and TS are delivered using virtual routers ( IOL –IOS on Linux) and Virtual Switches ( L2IOL – Layer 2 IOL). These type of delivery will provides an option to reload the initial configuration for any devices much faster. Also one more difference we are going to experience is there are only Ethernet and Serial interfaces no more fast Ethernet or Giga Ethernet interfaces.

By adding new module Diagnostic (DIAG) Cisco is now giving the flexibility in timing for TS and CFG modules, one has the freedom to borrow 30 minutes from either TS or CFG modules, however the borrowed time maximum of 30 minutes has to be compensated, for example if one use 2hour 30 minutes for TS lab then he is entitled to get only 5 Hours 30 minutes for the CFG lab as shown below.
DIAG module works with no devices, basically it is designed to test the troubleshooting and analytical skills of CCIE exam taker. It comprises of multiple choice question including drag and drop questions and the time allotted for this module is fixed and cannot be varied. One gets a maximum of 30 minutes to answers all questions with no access to any devices.
Cisco says "A new exam module called "diagnostic module" has been added and will focus on the skills required to properly diagnose network issues. The time for this new lab module is fixed to 30 minutes, no more or no less."
I wish all the CCIE dreamers best of luck in their exams, please do share your ideas in the comment box.
---
March 6, 2014 5:18 AM
When it comes to CCIE Routing and Switching lab exams every CCIE dreamer will certainly look at possible Lab scenarios, practice materials and work books which they practice in real Cisco Switches and Routers. It's a known phenomenon that without appropriate practical practice for CCIE Lab it's hard to achieve.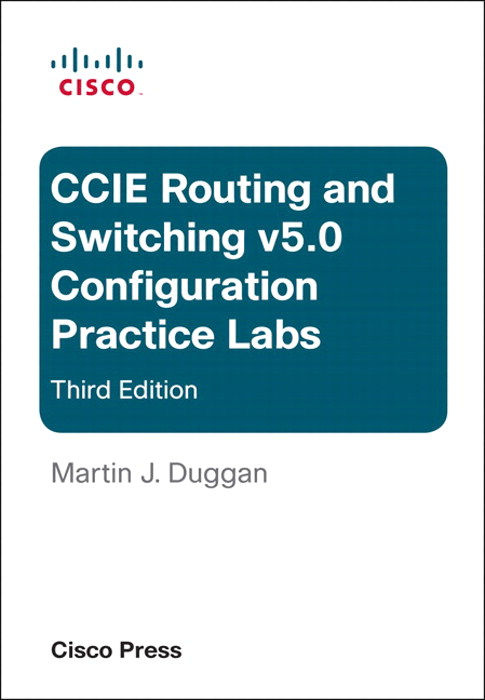 Cisco Press are the first one to release practice lab guide called "Cisco CCIE Routing and Switching v5.0 Configuration Practice Labs".  This title really aims to prepare the CCIE dreamers practically in terms of configuration for the version 5 lab exam. This title comes with 3 full practice labs which covers all the layer 2 and layers 3 topics of the CCIE Routing and Switching Version 5 blueprint as shown below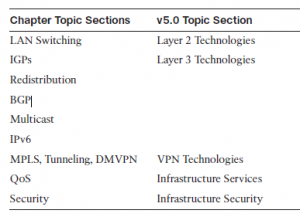 These practice labs ensures that the CCIE aspirer is spending 8 hours in solving each practice lab.  Which comes very handy and gives an edge as well as confidence to those who are appearing for the CCIE R & S V5 lab exam.
Each practice lab starts with the topology used along with the list of equipment's required to setup the lab at your home. The handy thing about this title is it comes with the configuration files both the initial and final in the text format which you can use to build your own lab and can also verify your configuration with the final text file as well.
Each Practice labs addresses question seven sections with predefined points which will certainly give an overview of the progress you are making and can further strengthen the concept where you are failing, I likes this approach. One more key point I would like to highlight is "Ask the Proctor" part of this title, which provides the clarity, direction and clue to the each question asked in every section of the practice lab. This seems to be very handy especially when one finds the task quite challenging. Each practice lab ends with Debrief and Lab wrap-up. The debrief part if very helpful as it gives  you a very clear view on the points you scored for the each task and further provides you an opportunity to further strengthen the concepts which you are failing.
Over all I found the title "Cisco CCIE Routing and Switching v5.0 Configuration Practice Labs" quite handy and helpful for the preparations of Cisco CCIE R & S V5 lab exams, for which I would like to thank the author Martin James Duggan. If the Lab topologies were provided in single pages that would have been very handy and helpful for the candidates, and if Cisco Press would have provided an option of bundling the title "Cisco CCIE Routing and Switching v5.0 Configuration Practice Labs" with some real gears or Virtual labs for practice would have added more value.
---
March 3, 2014 3:44 AM
Those who are aspiring to be a Cisco CCIE Routing and Switching and are quite anxious about the version 5. Most of them are thinking how the lab will be? What kind of topology will they face in the lab? It quite too early to anticipate more details about the Cisco CCIE Routing and Switching Version 5 Lab. June 4 2014 is going to reveal more details.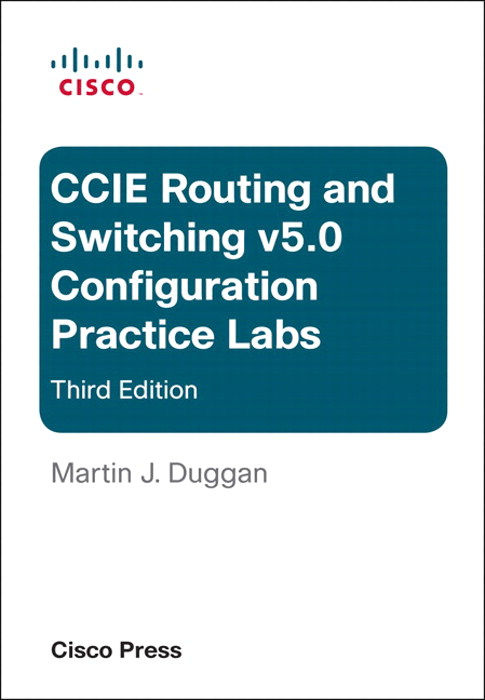 Meanwhile to guide the Cisco CCIE Routing and Switching Version 5 aspirers, Cisco Press released their first series of CCIE study materials on 27th of Feb 2014.  The Cisco CCIE Routing and Switching v5.0 Configuration Practice Labs comes with three full configuration lab scenarios in the CCIE R & S V5 exam format. This will certainly give you an idea how the CCIE R & S V5 lab may be. The sample chapter really looks amazing and from that I could see its ideal to have Six Cisco Routers loaded with Cisco IOS Software Release 15.3 T Advance Enterprise and Four Cisco 3560 X Switches with IPS 15.0S IP Services.
I will certainly come out with the detail review of the Cisco CCIE Routing and Switching v5.0 Configuration Practice Labs and do let you know how this title will assist you all in achieving your dream of Cisco CCIE Routing and Switching.
Meanwhile you can buy this title online at Cisco Press store and start the journey of CCIE in practical terms.
---
January 27, 2014 11:22 AM
Networking
Cisco with draws current CCNP Security curriculum by announcing the new set of Cisco CCNP Security exams namely 300-206 SENSS, 300-207 SITCS, 300-208 SISAS and 300-209 SIMOS respectively. All the previous CCNP Security exams. 642-637 SECURE v1, 642-617 FIREWALL v1.0, 642-647 VPN v1.0, 642-627 IPS v7.0 will be available to the CCNP Security aspirers till 21st April, 2014.
The newly introduced CCNP Security certification reflects the skills and responsibilities required of today's network security engineers, who increasingly require a holistic end-to-end understanding of a complete security posture.
Cisco is offering following training courses to CCNP Security aspirer worldwide.
| | |
| --- | --- |
| Course Name | Exam Number |
| Implementing Cisco Edge Network Security Solutions (SENSS) | 300-206 SENSS |
| Implementing Cisco Threat Control Solutions (SITCS) | 300-207 SITCS |
| Implementing Cisco Secure Access Solutions (SISAS) | 300-208 SISAS |
| Implementing Cisco Secure Mobility Solutions (SIMOS) | 300-209 SIMOS |
Following is the migration chart for those who are already in the process of CCNP Security Certification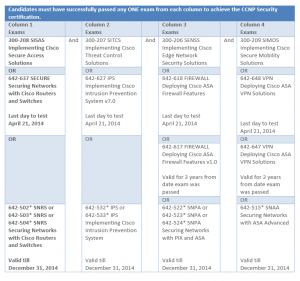 I believe the current security evolution with the invent of Cloud, Big Data, third platform and especially the emergence of Next Generation Firewalls made Cisco rethink their strategy towards CCNP Security Certifications. Soon we can expect many titles popping out from Cisco Press for the CCNP Security preparation.
---
January 22, 2014 12:18 PM
It's a known fact that there is a huge demand for cybersecurity experts, in fact it's been estimated that the demand for cybersecurity experts growing at 12 times the overall job market. Cisco always wants to stay ahead in race so they came out with a new Cisco Cybersecurity Specialist certification which provides the essential skills for network security analysts who specialize in proactive network security threat detection and mitigation.
The prerequisite for the Cisco Cybersecurity Specialist certification is a Cisco CCNA Security certification.
The newly announce Cisco Cybersecurity Specialist certification exam covers the following topics
1.0   Information Gathering and Security Foundations
2.0   Event Monitoring
3.0   Security Events and Alarms
4.0   Traffic Analysis, Collection, and Correlation
5.0   Incident Response
6.0   Operational Communications
Exams & Recommended Training
| | |
| --- | --- |
| Required Exam(s) | Recommended Training |
| 600-199 SCYBER | Securing Cisco Networks with Threat Detection and Analysis (SCYBER) |
Looks like a promising certification for the Security Professionals
---
January 17, 2014 10:42 AM
Networking
Yesterday Cisco announced that they started shipping out their newly introduced Catalyst 6800 Series Switches. Currently they are shipping the Cisco Catalyst 6807-XL and 6880-X Switches. We all know when it comes to Campus backbone switches Cisco Catalyst 6500 Series Switches ruled the industry for more than decade.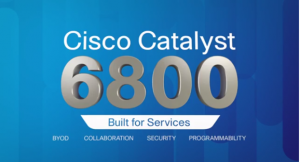 I think this is the right time for Cisco to concentrate and promote the new flagship of their products especially the Campus backbone Category. The Cisco Catalyst 6800 Series Switches are programmable campus backbone switches optimized for 10/40/100 Gigabit Ethernet services. They provide slot capacity up to 880 G, and smart and simple network operations using Catalyst Instant Access. These switches offer converged wired, wireless, and VPN security, and exceptional investment protection with their Catalyst 6500 DNA
Some of the unique features of the Catalyst 6800 Series Switches are
Scalable
Help ensure that the campus is ready for 10/40/100 Gigabit Ethernet services with the higher slot and switching capacity of Catalyst 6800. The 6800 Series offers the highest-density 10 Gigabit Ethernet ports that:
Include advanced enterprise Multiprotocol Label Switching (MPLS), Virtual Private LAN Service (VPLS), and Multicast functionality
Support multirate interfaces for easy migration from 1 Gigabit Ethernet to higher throughput services
Cisco Catalyst 6807-XL Switches can scale to 880 Gb per slot and 11.4-Tbps (full duplex) switching capacity. For midsize campuses, Cisco Catalyst 6880-X Switches provide scalability with eighty 10 or twenty 40 Gigabit Ethernet ports.
Smart
Built for Programmability
Catalyst 6800 switches support the Cisco One Platform Kit (onePK) software-defined networking (SDN) toolkit. You can easily build applications to automate operations and create services across the campus.
The 6800 Series Switches also support the industry-standard OpenFlow interface. You can program these switches for custom network services such as network slicing and traffic steering.
 Built for Unified Access
The Catalyst 6800 series facilitates:
Five nines (99.999 percent) availability with next-generation Cisco Virtual Switching System (VSS) technology (VSS Quad Supervisor SSO [VS4O])
One policy with Cisco Identity Services Engine
Centralized management with Cisco Prime infrastructure
One network with Cisco Wireless Services Module 2 (WiSM2)
The Catalyst 6800 Series Switches comes in three models
I wish Catalyst 6800 family a successful journey and I am pretty sure like Cisco Catalyst 6500 Series switches it's going to rule the Campus Backbone Category of Switches for coming decade.
---
January 12, 2014 1:29 PM
I have been trying hard to book a slot for CCIE Routing and switching version 4 lab any time after March 2014, it's quite hard to find. I did not even find a single slot either in Bangalore or Dubai.  All slots from January 2014 to June 3 2014 are occupied. I thought to try my luck in other locations unfortunately I am ran out of luck. This is quite scary for those who are trying hard to attempt the CCIE R & S version 4 lab.  The only suggestion I have is book the slot as it's available and don't delay. I am hopeful of finding at least one slot.  As planned Cisco is offering CCIE R & S version 5 labs from June 4 2014. Those who are preparing for CCIE R & S version please don't be panic or dishearten your efforts will not be wasted. This preparation will certainly help you all to achieve the most prestigious Networking Certification CCIE Routing & Switching.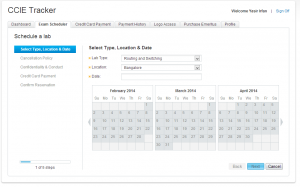 If you find any slots please do comment so that many of the CCIE aspires get benefited.
---
December 4, 2013 7:49 AM
Its official now, Cisco announced the much awaited update for CCIE Routing and Switching from version 4 to 5.  It's a good move as CCIE R & S version 5 is there since pretty long time. The official launch for the version 5 happens to be on June 4th 2014. This brings a great relief for those who are preparing hard and almost very close to appear for the lab exam.  Coolly there is a window of months for people like me to prepare and appear for the version 4 of the Routing and Switching lab exam.
The announced changes are targeted for both written and lab exams with few exception like a domain of Network Principle which is purely targeted to written exam, below are the comparison between version 4 and version 5.

The following topics will be no longer seen in the version 5
Flexlinks
ISL
Layer 2 Protocol Tunneling
Frame-Relay
WCCP
IOS Firewall
IOS IPS
RITE
RMON
RGMP
RSVP QoS
WRR/SRR
As far as frame relay was concerned it was expected from to see its exit from the new version. Now here comes the challenge for CCIE training companies and Cisco press to come out with a quality study material and topology. I request you all go through the announcement made for further details.
---