---
June 10, 2015 5:35 AM
firewall
,
Gartner
,
Palo Alto Networks
,
Policy
,
Security
Palo Alto Networks one of the leaders in Gartner's Magic Quadrant for next generation firewall released their new version of PAN-OS 7.0 trail.
Currently PAN-OS is available to Palo Alto customers who possess a valid support contract.
Some of the key new advancements include:
A new Automated Correlation Engine that identifies and prevents compromised hosts in an organization's network by correlating patterns to pinpoint malicious activity.
WildFire threat intelligence enhancements that enable automated analysis of files against multiple versions of applications to identify malware specifically targeting legacy versions; the enhancements also classify malware by threat level, so teams can better prioritize their threat response for quick preventative action when needed.
A new high-capacity Network Processing Card for the PA-7050 that provides prevention at scale for data center environments with higher 10G port density and new 40G ports.
Advanced policy management capabilities within Panorama that make it even easier to create security policies and device configurations that can be easily and appropriately applied to many next-generation firewall instances, physical or virtual, reducing the chances for human error and gaps in the policy or configuration.
Looking forward to see the new PAN-OS and I hope they will incorporate their CNSE certification with new trail of PAN-OS.
May 30, 2015 8:05 AM
Cisco IOS
,
Cisco security
,
IP address
,
router
,
Topology
In this post lets configure uRPF in Strict mode, I have created the below topology using Cisco VIRL, a great tool to test many things.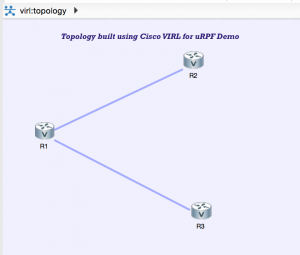 As you can see this topology comprises of three routers, R1 & R2 are directly connected using interfaces G0/1 and configured with an IP address 192.168.1.1/24 and 192.168.1.2/24 respectively.Where as R1 and R3 are directly connected using interface G0/2 at R1 and G0/1 at R3.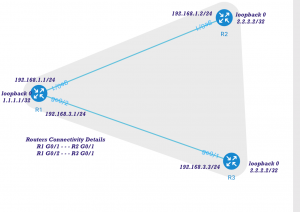 There are two loopbacks configured in R1 and R2 called loopback 0 with an IP 1.1.1.1/21 and 2.2.2.2/32
In R1 we will configure a static route for R2 as shown below

This ensures that R1 has a static route for 2.2.2.2 and can reach it successfully.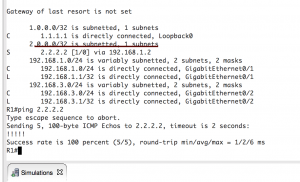 What happens when an intruder sitting in R3 creates a loopback interface and assign the same IP address used in R2 i.e. 2.2.2.2/32 and tries to spoofs the R1 network. Exactly in this scenario uRPF comes into picture.
We need to ensure that CEF is enabled on the router as uRPF relies on CEF, so make sure it's enabled by default if not then enable it using the following IOS command



Lets configure uRPF in strict mode using the Cisco IOS command
"ip verify unicast source reachable-via rx"

Remember these two interfaces are directly connected towards Router R2 and R3.
Lets see whether uRPF is enabled on those interfaces using the Cisco IOS Command
show ip interface g 0/1 | include verify

Lets try to ping R1 G0/1 IP address from R2 sourcing loopback 0, we could see R2 can ping R1 G0/1 IP address 192.168.1.1

Now imagine there is an intruder trying to Ping R1 G0/2 interface IP 192.168.3.1 from R3 using the loopback 0 with an IP address 2.2.2.2/32, lets see what the router does and lets verify the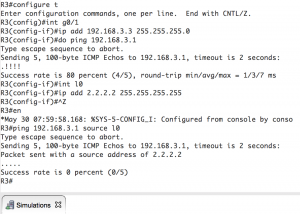 The packets will make it to R1 but they will be dropped at R1 G0/2 interface, we can verify this as using an IOS command   "show ip interface (respective interface) | include verify" as shown below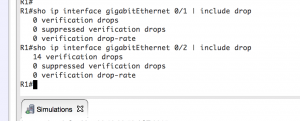 This example demonstrates that by using uRPF in strict mode one ensure the packets received are verified and action is taken if it doesn't matches the required criteria.
---
May 28, 2015 6:55 PM
CCIE
,
CCNA
,
CCNP
,
Cisco certifications
,
Cloud infrastructure
,
Design
,
Internet of Things
,
Linux
,
Storage
,
UC
,
Virtualization
,
Windows
The next major addition of Cisco Certifications towards Cloud is CCNP Cloud. Like all Cisco Professional Certifications the prerequisite for CCNP Cloud is an associate certification, in this case its CCNA Cloud or even any CCIE Certification can do.
In order for some one to be a CCNP Cloud Certified one needs to pass fours exams mentioned below
300-504 CLDINF Implementing and Troubleshooting the Cisco Cloud Infrastructure
300-505 CLDDES Designing the Cisco Cloud
300-506 CLDAUT Automating the Cisco Enterprise Cloud
300-507 CLDDACI Building the Cisco Cloud with Application Centric Infrastructure
Cisco recommends following training
Implementing and Troubleshooting the Cisco Cloud Infrastructure (CLDINF)
Designing the Cisco Cloud (CLDDES)
Automating the Cisco Enterprise Cloud (CLDAUT)
Building the Cisco Cloud with Application Centric Infrastructure (CLDDACI)
By August 2015, Cisco will unveil more details about CCNP Cloud, currently the syllabus for CCNP cloud is not available. But its for sure, that like other Cisco Professional exams , the CCNP Cloud is a lab based training and certification program that is targeted at Cloud engineers, Cloud Administrators, Cloud Designers, and Architects working in Data Centers.
Its worth to wait and watch how Cisco Cloud certifications are accepted by the community, especially when Cisco is projecting a huge success of Internet of Things (IoT) and the cloud elements
---
May 28, 2015 5:02 AM
CCIE
,
CCNA
,
CCNP
,
Cisco certifications
,
Design
,
Linux
,
Storage
,
UC
,
Virtualization
,
Windows
Cisco announced the release of new Associate and Professional level of Certifications targeting Cloud. Seems like Cisco wants Networking professional to be aware of SDN, ACI, Virtual Application Containers and SAN. These certifications are known as CCNA Cloud and CCNP Cloud.
In order to be a CCNA Cloud one needs to pass 210-451 CLDFND and 210-455 CLDADM exams, these exams tests you on Cisco Cloud solutions. One needs to be aware of DC fundamentals; basics of UC, UF, Storage, Virtualization, and Network Services; Hypervisors, Windows Server and Linux OS; remote connectivity / VPN solutions; documentation of design, system builds, configurations, and support procedures.
Cisco recommends following training for CCNA Cloud Certification.
Understanding Cisco Cloud Fundamentals (CLDFND)
Introducing Cisco Cloud Administration (CLDADM)
The CCNA Cloud, 210-451 CLDFND exam is yet another standard Cisco exam, which last for 90-minute with approximately 55-65 questions.
covers the following topics
| | |
| --- | --- |
| 1.0 Cloud Characteristics and Models | 14% |
| 2.0 Cloud Deployment | 16% |
| 3.0 Basic Knowledge of Cloud Compute | 24% |
| 4.0 Basic Knowledge of Cloud Networking | 22% |
| 5.0 Basic Knowledge of Cloud Storage | 24% |
More details awaited for 210-455 CLDADM exams, which are expected to by announced in June 2015.
This is a great step by Cisco and the new development certainly gives us clue one day there might be CCIE Cloud.
---
May 27, 2015 6:10 AM
Networking
As discussed in previous post, uRPF (Unicast Reverse Path) works in two modes strict mode and loose mode, in this post lets discuss more about Strict mode
In Strict mode the router will perform following checks for an incoming traffic on particular interface.
The router checks whether there is a matching entry for the source in the routing table.
The router also checks whether same interface was used to reach the source as where it received.

Once the router ensure that the incoming packet passed the both checks it will permit the or else it will discard it. The strict mode fits well when once wants to ensure that the traffic is entering the router from a single uplink rather than multiple links (asymmetric routing)
In the upcoming post lets configure uRPF (Unicast Reverse Path) in strict mode
---
May 26, 2015 4:52 AM
IP
,
IP address
,
IP packets
,
RFC
,
Routers
,
Routing Table
uRPF also known as Unicast Reverse Path Forwarding is a great security feature found in Cisco IOS Router and ASA Firewalls which is used to limit the malicious traffic on an enterprise network.
Generally when a router receive a unicast IP Packet, the routers cares only about the destination IP address of the packets to forward it. If the packet has to be routed, the router will check it's routing able for the destination IP address and based on the information it has it will forward the packet to respective interface.
While forwarding a packet the router doesn't care about the source IP address as its not important for forwarding decisions, this may give an opportunity for the possible attacker to spoof the source IP address so that router will process this packet.
To overcome this issue one can certainly make use of uRPF (Unicast Reverse Path) this little feature ensures that the router verifies the source IP address of the packets it receives and also that packet is reachable via it routing table. uRPF (Unicast Reverse Path) is used to prevent common spoofing attacks and follows RFC 2827 for ingress filtering.
uRPF (Unicast Reverse Path) works in two modes strict mode and loose mode, lets see the difference between then in upcoming post.
---
May 25, 2015 4:43 AM
ASA
,
Cisco
,
Cisco Nexus
,
firewall
,
IOS
,
Nexus
,
Security
,
Switches
We are all leaving in the age, where Network Security is given upmost importance; almost every major Organization does have a good Security team who are even responsible for looking at the vulnerabilities reported in their Network Security products.
Cisco does have a great tool called Cisco IOS Software Checker tool to search for Cisco Security Advisories that address specific Cisco IOS Software releases. One just simply need to either select the IOS Version he/she have in their environment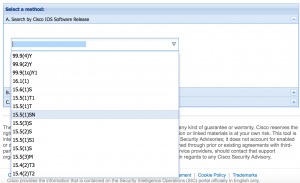 Or simply copy and paste the show version command output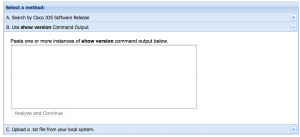 Or even upload the text file, which contains the IOS Version details

With three simple ways one can discover what the Security Advisories Cisco have to a particular IOS trail, and the corrective action they recommend. Certainly a very handy tool one can think of. Currently the Cisco IOS Software Checker does not support Cisco IOS XE Software, IOS XR Software, or interim builds of Cisco IOS Software. It will be great if Cisco create similar tool for Cisco ASA Firewalls and Cisco Nexus Switches platforms.
---
May 21, 2015 6:28 PM
Blog
,
Cisco
,
Filezilla
,
FTP
,
Networking
,
PuTTY
,
Website
It all started in late 2013 and early2014, a compromised FTP client dubbed "StealZilla," based off the open source FileZilla FTP client was discovered. Now in 2015 new attack is discovered based on the same techniques and the actors as StealZilla" to alter the source code of the widely used open source Telnet/SSH client, PuTTY, and use their network of compromised web servers to serve up similar fake Putty download pages.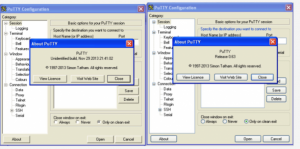 Picture Source: Cisco Blog
This trojanized version of PuTTY harvests credentials and relays the information back to a collection server in the same way too. The operation is very quick and quiet. Login details are sent to attackers using an HTTP GET connection ONLY once.
This is quite dangerous and its recommended not to download PuTTY from un known websites. .o check the versions to make sure its genuine Since PuTTY is an open source client many Networking professionals grab this software to access their critical network appliances.
Few days back Cisco posted a detailed blog with detailed analysis, it worth to read this article.
---
May 20, 2015 8:33 AM
Cisco
,
Collaboration
,
firewall
When it comes to selecting a Cisco Switch either a new Switch or need an upgrade an existing Cisco Switch one needs to consider many things be it the feature set, type of modules needed, wither it need be a stackable or modular switch.One has to go through many parameters, which may some times results in selecting wrong switch.

In order to ease this process Cisco comes out with a cool tool called Cisco Switch Selector, which is capable of helping you to select a Cisco Switch for Campus, Branches and even Data Center Switches. Just by answering few simple questions one can easily select a Cisco Switches meets his/ her business needs.
Certainly a great tool, which really eases the task of many Networking Professionals, I hope Cisco soon comes out with a Firewall Selection Tool, Collaboration Selection tool and much more.
---
May 7, 2015 6:00 AM
F5
,
TCP/IP
When it comes to any certification exams ,the key thing anyone looks for is the resource. F5 101- Application Delivery Fundamentals exam is no different from any other certification exam. F5 team have ensured that, good resources and teams are available to help some one who is perusing his /her F5 certification path.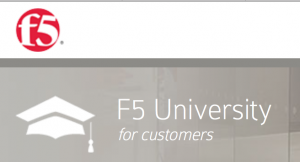 The first resource, which I certainly recommend to any one, is F5 101- Study Guide – App Delivery Fundamentals ver 1.0 by Eric Mitchel. The Guide prepared by Eric is free for every one, he shared this public and can be easily downloaded from this link..
The F5 101- Study Guide – App Delivery Fundamentals ver 1.0 is simply a great resource for two reasons.
The guide is complied in a simpler language, which is easy to understand.
This covers all the topics of the F5 101- Application Delivery Fundamentals exam in very logical way.
I believe Eric Mitchel wrote this purely to empower F5 certification aspires, I really like the way how he penned down the concepts in a concise way, the flow keeps you engaged and some one with good reading skills can finish this book in a weeks time.
The F5 101- Application Delivery Fundamentals exam is easy to pass provided you read this book page to page and do have good understanding of basic networking concepts like OSI layers, TCP/IP, TCP dumps, basic F5 terminologies and concepts.
The second good source is the F5 University where you can access F5 virtual resources and practice what you learn. The training catalog offers following free courses which one can make use of to pass F5 Certification exams.
Getting Started with F5 Products
What's New
LTM Essentials
Data Solutions
FirePass Essentials
Technology Overviews
By reading F5 101- Study Guide – App Delivery Fundamentals ver 1.0 and accessing free resources available in F5 University one can certainly pass the F5 101- Application Delivery Fundamentals exam.
Not forget F5 have a LinkedIn Group, where people discuss various F5 concepts and help each other to understand concepts very well.
---