Jul 9 2008 12:03PM GMT
Posted by:
Yasir Irfan
Tags:
In our organization internet management was a big issue, since we had no budget allocated to Internet management I was worried? How should I control our internet usage? Tried to convince the management to buy content filtering appliances, unfortunately they had no budget and our users had no control and they were enjoying the freedom of internet. I started looking for open source appliances and came across Untangle. Which proved to be great for us to control our users? (Who were not happy)? By installing this open source network gateway we could manage to block most of the unwanted contents, P2P applications and much more.
What is Untangle?
Untangle is a privately held company that provides an open source network gateway for small businesses. Untangle provides many gateway applications, such as blocking spam, blocking malware, web filtering, phishing protection, intrusion prevention, and more [1] on the Untangle Gateway Platform.
Untangle was founded in 2003 as Metavize, Inc. by John Irwin and Dirk Morris. Metavize officially launched in 2005 at Demo@15![3]. In 2006, Metavize raised a $10.5M series-A venture round from CMEA Ventures and Rustic Canyon Partners, named Bob Walters as CEO, and renamed to Untangle, Inc. In 2007, Untangle released the Untangle Gateway Platform as open source under the GPLv2 license .In 2007, Untangle also experienced significant growth and surpassed 100,000 users in 2,000 organizations
Some of the features available with Untangle are as follows 
·         Spam Blocker
·         Spyware Blocker
·         Web Filter
·         Virus Blocker
·         Firewall
·         OpenVPN
·         Phish Blocker
·         Protocol Control
·         Intrusion Prevention
·         Attack Blocker
·         Router
·         Untangle Reports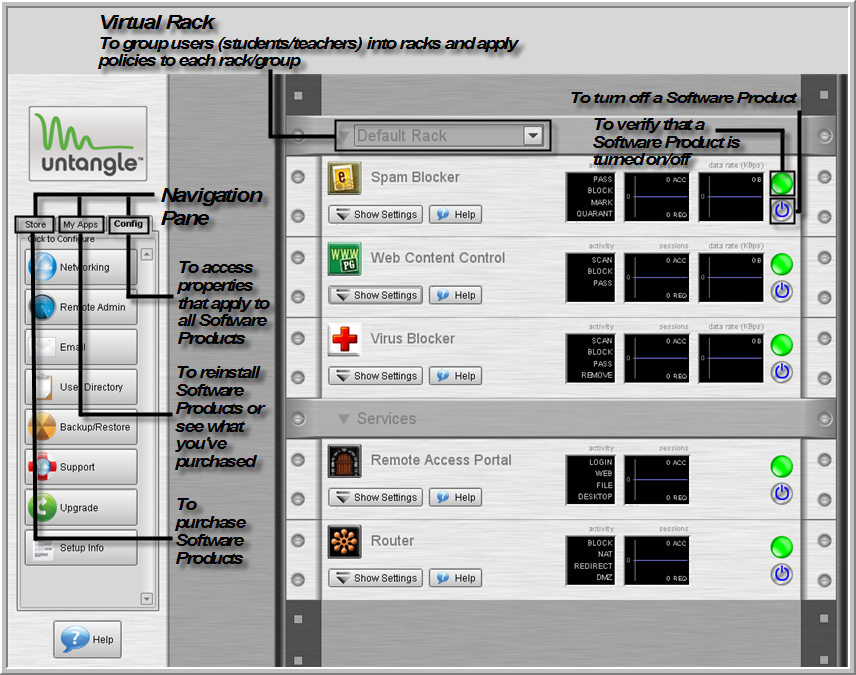 Untangle can be installed easily on any pc and its ready use. You can download Untangle from following link http://www.untangle.com/index.php?option=com_content&task=view&id=226&Itemid=739
The minimum hardware requirements to install untangle are as follows
| | | |
| --- | --- | --- |
| Resource | Minimum | Recommended |
| CPU*: | 1.0 GHz | 2.0 GHz |
| Memory: | 512 MB | 1-2 GB |
| Hard Drive: | 20 GB | 40 GB |
| Network cards: | 2 | 3 (for DMZ) |
Untangle can also be installed in VMware platform do follow this link for more details http://wiki.untangle.com/index.php/Untangle_Virtual_Appliance_on_VMware
In order to know about the supported configurations do access http://wiki.untangle.com/index.php/Introduction#Supported_Configurations
Further details can be found at the following links
http://wiki.untangle.com/index.php/Main_Page