Jul 30 2008 12:59PM GMT
Posted by:
Yasir Irfan
Tags:
We all know much about Kiwi Syslog Software.  For many years I am using Kiwi Cat tools for configuration management and automate many of daily tasks. Kiwi Cat tool really helped me to perform many tasks like configuration backup, telnet, SSH and much more. The free version just supports 5 devices; hence I started looking at open source community and came across this wonderful application called Zip Tie.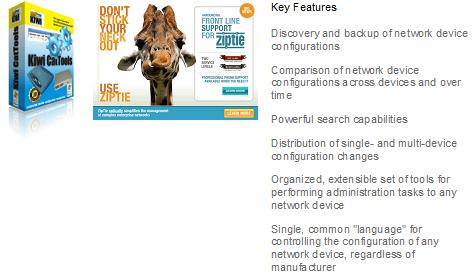 What is Zip Tie? ZipTie is a framework for Network Inventory and Configuration Management. ZipTie allows you to easily discover all devices in your network to create a comprehensive inventory and to manage the configuration of those devices. Every installation includes a suite of tools to help manage your network. In addition, ZipTie is constantly under development and leverages a large community of network experts who share their tools, device adapters, and experience. It allows you to create or import your own custom tools or download them from the ZipTie community. The software is free to download, use, and distribute. ZipTie.org is the community site and tools exchange for Open Network Inventory and Configuration Management. (Courtesy Zip tie) For a more detailed explanation of ZipTie, please read this technical white paper by Roger Castillo, AlterPoint's CTO entitled ZipTie Network Inventory Management Framework – enabling the next era of network management tools.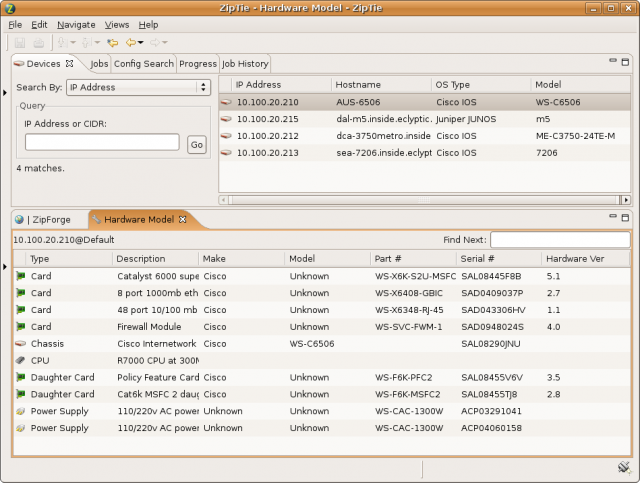 Screen shot courtesy Zip Tie web site