Feb 13 2010 5:46AM GMT
Posted by:
Yasir Irfan
Tags:
Cisco Systems announced the introduction of Cisco ASR 5000 mobile multimedia services solution. The addition of the ASR 5000 gives Cisco a comprehensive end-to-end Internet Protocol Next-Generation Network (IP NGN) architecture and offers mobile operators a platform specifically designed to accommodate the rapid growth of mobile Internet traffic and mobile multimedia applications.
This Cisco mobile Internet network architecture increases network and customer intelligence, offers world-class performance in each solution, and allows service providers to utilize Cisco networking expertise across any access, including 2G/3G/4G mobile network — from cell site to packet core to data center. With this new architecture, consumers will enjoy faster mobile Internet speeds and more seamless mobile multimedia experiences.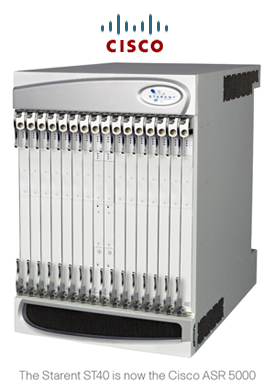 Primary Features
High performance across capacity, throughput, and transaction rate metrics

Integrated packet voice, data, and multimedia for service flexibility

High-touch deep packet inspection for enhanced charging and user understanding

Simple scalability with no function-specific cards

High reliability with session recovery and geographic redundancy
Major Innovations
Multiple functions supported in a single node

In-line Services

for highly flexible service control and operational simplicity

Detailed protocol monitoring, debugging, and subscriber statistics