Sep 26 2010 6:39AM GMT
Policy Based Routing (PBR) is one the technologies that the strength to map or police the way traffic route in an enterprise. PBR can be used in various applications within the enterprise. One of the main examples of using policy based routing is given certain ISP the preference for certain applications. This method can be used manipulate routing packets without altering the routing protocol operation.
Unfortunately, we ran into issue where layer 4 switch is no longer able to co-ordinate with the bluecoat proxy for https traffic, http traffic is working just fine. Ultimately, I suggested intro PBR to solve this issue. Figure 1 shows the topology.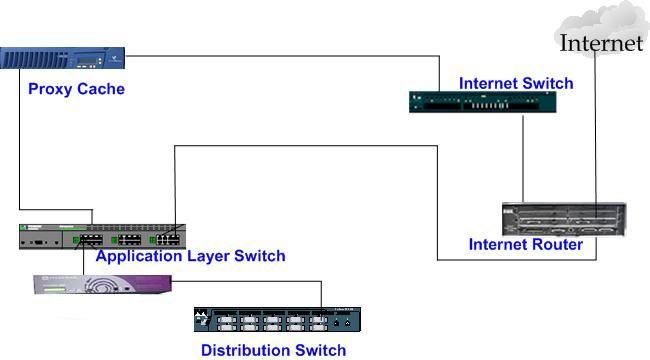 I would replace the Application layer switch, with a cisco 3560 switch. make the appropriate routing, then do the policy routing. with this policy routing it would be as following:
any HTTP or HTTPs traffic should be forwarded to bluecoat, while the rest of traffic should be forwarded to the Internet Router.