---
September 24, 2012 9:10 PM
Orlando — For months, the Exchange community has been buzzing about what was dubbed "the lost conference." The Microsoft Exchange Conference, or MEC, is finally here and I wanted to share a few insights with those not able to attend.
At this morning's keynote, Michael Atalla — director of product management for Exchange Server and Exchange Online, as well as the morning's MC — began by thanking the audience. He explained that without its strength as a community, the conference never could have been resurrected.
To that note, Atalla also announced the launch of the new I am MEC Web portal. This is all about the Microsoft Exchange community (hence the acronym); it's all about giving Exchange Server pros a place where they can discuss ideas, view presentations, expert tips and more.  
Continuing with the theme of community, Julia White and Rajesh Jha spoke to the importance of MEC as an interactive conference.
"This community has helped Exchange go from underdog to market leader," White said.
"We need your help to propel us forward to the next set of challenges," Jha added.
Other keynote highlights included:
Karim Battish and Vivek Sharma talking about hybrid configurations and the Exchange administration center (and showing off an elaborate handshake),
Kristian Andaker demonstrating Outlook 2013 and OWA 2013 (the interfaces are really close), and
Asaf Kashi explaining new antivirus and antispam capabilities available natively in Exchange 2013, as well as the new data loss prevention feature.  
While there were many other highlights today — including Ross Smith IV's presentation on Exchange 2013's new and improved server role architecture — it would be impossible to recap them all here. Below you'll find a few other choice tidbits from the show:
In his presentation on hybrid and migration on your own terms, Ben Appleby mentioned that Exchange 2010 SP3 should be out "early next year." Exchange 2013 coexistence anyone?
Appleby also took the time to carefully describe cutover vs. staged cloud migrations. It seems to me that most folks still don't have a solid grasp on cloud migrations or hybrid scenarios (more on that topic coming to the site soon).
Any and all high availability sessions were heavily populated.
You can control the size of .ost files in Outlook 2013.
There has been a 99% reduction in IOPS in Exchange 2013 from Exchange 2003.
Got any questions or comments regarding this blog or the show? Email me and let me know.
-Matt
September 14, 2012 2:22 PM
Everyone say see ya, adios, sayonara to the Forefront line. Well, most of it.
This week Microsoft announced it will discontinue several of its Forefront security products. Those products are as follows: Forefront Protection 2010 for Exchange (FPE), Forefront Protection 2010 for SharePoint, Forefront Security for Office Communications Server, Forefront Threat Management Gateway 2010 and Forefront Threat Management Gateway Web Protection Services.
This is not to say that the companies that rely on these products should stop using them. It simply means that as of December 1, 2012, the aforementioned products will be no longer be available for purchase (mainstream support will continue until April, 2015).
Yesterday I had the pleasure of speaking with Exchange MVP and MCM Devin Ganger to get his take on the announcement.
"This is going to hurt small- to medium-sized businesses more than large ones," said Ganger. "TMG filled a much-needed role for them. The industry has to step up and see who is going to provide a replacement product for these capabilities."
But why did it happen?
"This is pure speculation, but it seems like the architectural limitations of the product caught up to it and Microsoft wasn't willing to put in the work to bring it up to snuff," Ganger added. 
He also pointed to TMG limitations,which you can read about on his blog.
FOPE name change
On a related note, Forefront Online Protection for Exchange (FOPE) has been renamed "Exchange Online Protection."
What do you think of the announcement? Do you use Forefront? Were you considering a purchase? Let me know.
Until next time,
Matt
---
August 16, 2012 4:59 PM
Microsoft's Exchange Conference is fast approaching (just five more weeks!) and I thought it would be interesting to get some insight from a respected member of the Exchange community. Fortunately, my search didn't take very long as Exchange MVP, Certified Master and conference speaker Nicolas Blank was happy to oblige.
After a few telephone difficulties — I'm in Newton, Mass. and Nicolas is in Cape Town, South Africa — we were able to spend some time talking about MEC and what folks should look forward to if heading to or considering the conference. Below you'll get a quick glimpse into our conversation. Enjoy!
1.       Why are you excited about MEC?
Nicolas – Well, I've been working with Exchange for about 14 or 15 years now and it's the reason I get out of bed in the morning. [Exchange] is something I'm really passionate about; it's THE application. It's not only about what Exchange is, but what it does for people.
I think the Exchange team does a heroic job at [fixing] things we take for granted and I'm looking forward to taking part in and observing conversations at an MVP level. Attendees are going to have the chance to talk to these folks and vice versa.
This is more than responding to people via a blog; it's a no-holds barred opportunity to chat with the product team and everything gets answered; that doesn't happen anywhere very often. The entire Exchange team will be there and we'll all be able to talk Exchange all week.
2.       Which sessions and/or speakers are you looking most forward to?
Nicolas – I don't think it's fair because there are so many great speakers and sessions, and everyone does such a great job. When you put your heart and soul into a session, it might be months of work. Everyone that's helping to put on the show deserves the utmost recognition.
Let's put it this way, MEC is not a conference where you're going to deliver a mediocre session; you'd better bring it.
3.       Besides the obvious Exchange 2013 content, what do you hope to get out of MEC?
Nicolas – I really enjoy the sessions where we're demonstrating value to organizations; mostly anything that has to do with architecture or migrations. I like finding out how I can apply this knowledge to business decisions, such as whether or not a new feature will help a business migrate.
4.       If you can self-promote for a moment, what's a "can't-miss" session you'll be presenting?
Nicolas – I'll be working at the "Exchange Masters Challenge." This is going to be a real treat. It's an opportunity for people to test their [Exchange administration] skills and do whatever they want without risking or breaking anything in a production environment. This is a chance to prove your mettle. It's going to be a friendly crowd with a product you love.
I thoroughly encourage everyone to come; it's definitely worth the challenge. You'll have the opportunity to stand next to certified masters and work with them to figure things out you'd never see in your own environment. Come find out how you stack up.
5.       Anything else you'd like to add about MEC?
Nicolas – This is THE premier Exchange event of the year. There will be terrific personalities and speakers everywhere you turn. It has the right content, product and experience. There's a certain mix of skills it takes to be a good Exchange admin; you'll have the chance to be around lots of those people.
A big thank you goes out to Nicolas Blank for taking the time to speak with me. Be sure to check out Nicolas' Blankman blog, follow him on Twitter and have a look at the ITPro Africa site which offers lots of great Exchange info.
What are you looking forward to at MEC? Write and let me know.
See you in Orlando!
-Matt
---
August 14, 2012 5:20 PM
Earlier today Microsoft released the eighth rollup update for Exchange Server 2007 Service Pack 3. As you're probably aware, each update addresses various internal- and customer-found bugs within Exchange Server.
Back in January I speculated that we might have seen the last rollup for Exchange 2007 SP3, but the Exchange team understands that a large portion of its customer base still relies on Exchange 2007 and continues to churn out updates.
There have been plenty of rollup updates since Exchange 2007 dropped five-plus years ago and there are only a few flaws left in the product. The Exchange team fixed the following issues this time around:
The Exchange Information Store service stopped responding when performing a search on Exchange 2007 mailboxes,
 The Exchange Information Store service would crash on an Exchange 2007 mailbox server, when events 4999 and 7034 get logged,
A text or HTML email attachment is displayed in the message body instead of in the attachment line,
Outlook prompts you for credentials and incorrectly connect to an out-of-site global catalog after installing RU 6 for Exchange 2007 SP3.
Rollup 8 for Exchange 2007 SP3 also resolves the problem described in Microsoft's MS12-058 security bulletin where a vulnerability in Exchange Server WebReady document viewing could allow for remote code execution, giving attackers back-door access to infiltrate Exchange Server.
Have you noticed anything the Exchange team might have missed? Email me to discuss.
-Matt
---
July 31, 2012 6:34 PM
This afternoon I was doing my usual daily research on the Web and Twitter when a Tweet popped up via TweetDeck:  "A new personal email service -> Say Hello to Outlook.com, New Modern Email from Microsoft." Like any intrepid journalist, I clicked the link. What I saw next scared me a little bit.
After clicking the link, I was automatically logged into my 12-ish year old Hotmail.com account (which I do still use), except it had the Outlook.com interface. As you can imagine, this was a bit confusing. I was not currently on my Hotmail.com account page on another tab, nor was I logged in. Yet somehow, it sent me right to my mailbox — no username or password required.
I promptly signed out, then clicked back on the link. It brought me to this page: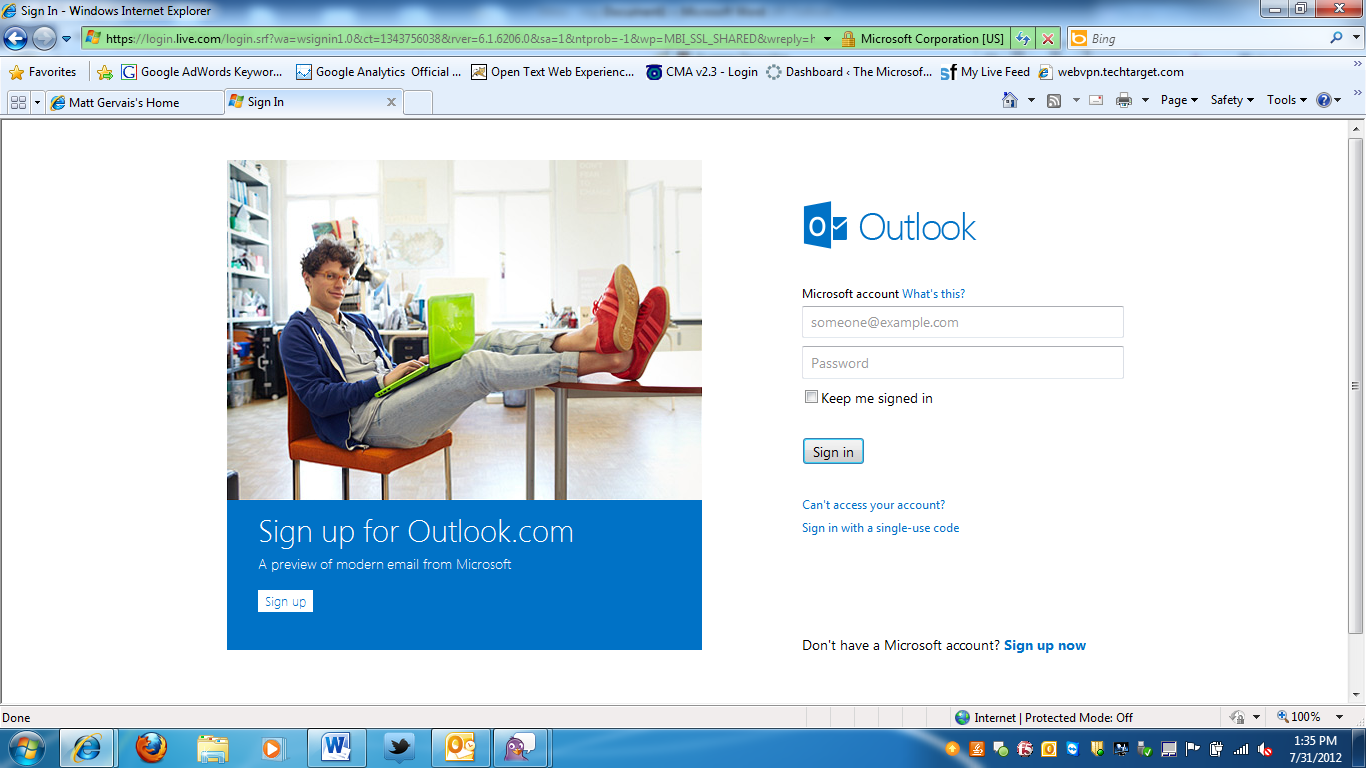 When I signed into Hotmail.com, I got a very similar page (except for a fun orange color scheme).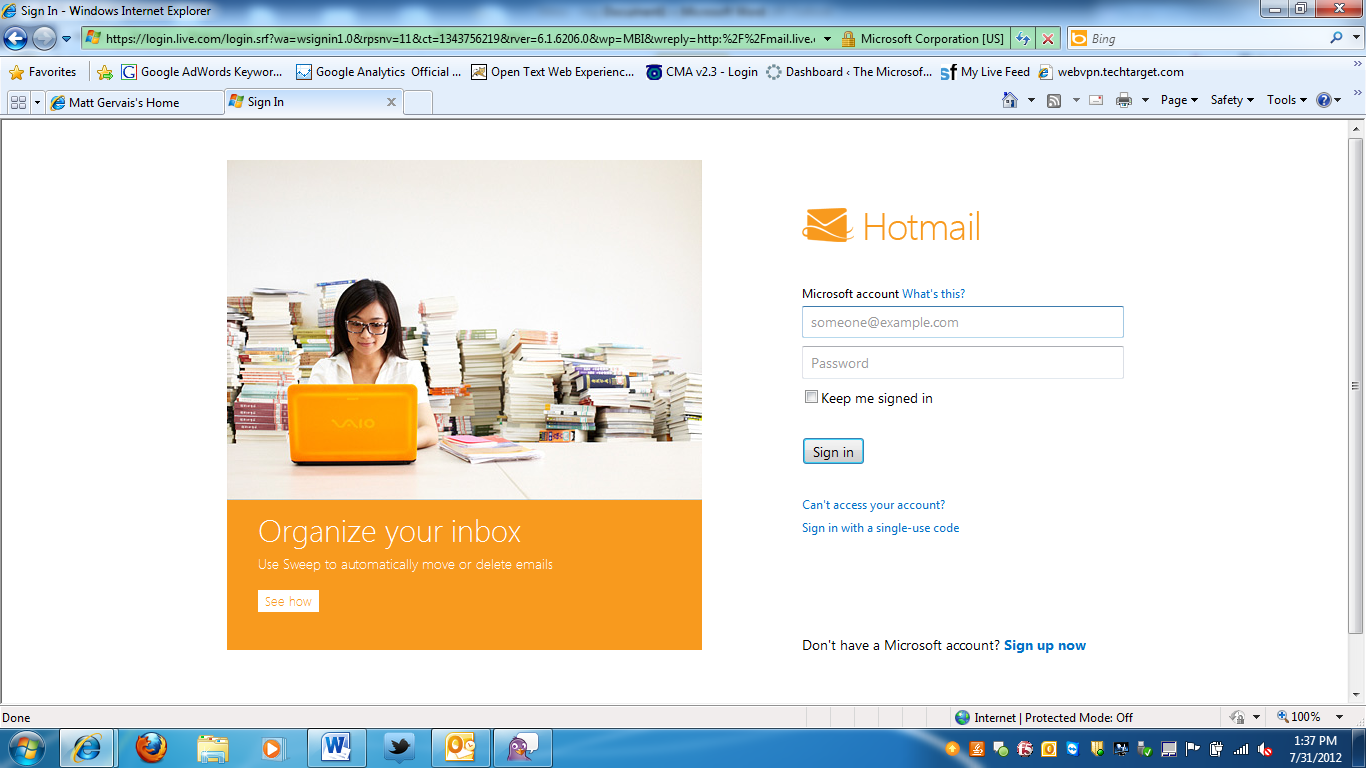 While I appreciate what Microsoft is trying to accomplish with Outlook.com (see improved social networking capabilities, document editing capabilities, chat and more), I found it peculiar that I was logged into my Hotmail mailbox (with Outlook.com interface) immediately after clicking the Outlook.com link.
Not just Hotmail
Further investigation shows that anyone with a Hotmail, Yahoo, Gmail, etc. email addresses can now use Outlook.com. If you sign up for Outlook.com, you can set it up so that your Yahoo, Gmail, etc. messages get forwarded to Outlook.com.
Microsoft further states that: "This will let you use both services for now, but we think that over time, most people will prefer Outlook.com;" an obvious power play.
On a related note, Yahoo is currently experiencing an outage.
I'll be interested to read/hear what more people have to say about this, but right now it's a little disconcerting.
*Update: Aug. 1 8:45 A.M. (ET) – I went to the hotmail website and signed into my account; when my inbox loaded, it was Outlook.com. I don't like that at all.
Until then,
Matt
---
July 27, 2012 12:54 PM
Yesterday Dell announced it has teamed with Microsoft to release Microsoft Office 365 with Dell, giving small- to medium-sized businesses another cloud option.
For those not familiar with Office 365, it is Microsoft's cloud collaboration suite and offers the online versions of Microsoft Exchange Server, SharePoint, Lync and Office Web Apps.
The primary benefit of Office 365 with Dell appears to be that customers now have access to Dell's service staff instead of Microsoft's. Where Dell's customer service has been lauded, Microsoft's has been less than stellar thus far.
"Dell has gotten really good at support. It's a pleasant experience and they always have experts on hand," said Carl Brooks, an analyst with Tier 1 research.
"Many people who have migrated to Office 365 have been frustrated," added Mike Crowley, an Exchange MVP and Enterprise infrastructure architect with Planet Technologies. "If you have a question or configuration problem, [Microsoft doesn't] give you a lot of help."
What about that price creep?
Interested customers will also note that Office 365 with Dell touts a $9 per-user price, more than Microsoft's heavily promoted $6 per-user price.
One of the drawbacks for companies that move to Office 365 is that they're not allowed to integrate any of their custom applications or third-party tools they've invested in with Office 365. They lose access to archiving tools, monitoring and reporting and too many other things to list here.
Because you're working with Dell, you'll have access to Dell's add-ons, hopefully lessening the blow of lost applications and products.
"Dell is playing to [its] strengths here," added Brooks. "It has gone from a personal consumer product company to more of a server, IT services and support company. Hosting is just one thing Microsoft does; it is not an area of expertise."
---
July 25, 2012 2:34 PM
It seems like just yesterday that the Exchange team announced that the Microsoft Exchange Conference (MEC) would be returning. This morning I booted up my laptop, looked at my calendar and realized that it's only two months away.
For those who haven't heard, MEC was a long-slumbering conference — completely focused on Exchange and Exchange-related technologies — that is being revived for the first time in a decade. And the timing couldn't be better. You've got the Exchange 2013 release coming up (the Exchange 2013 preview was recently made available for download), Office/Outlook 2013, and more companies are contemplating a move to Office 365 every day.
This conference is exciting for me personally because it's the first show I'll attend that is focused solely around the technology and people I edit and write for every day on SearchExchange.com. It's always gratifying to speak to attendees who mention that they enjoys the work we do; whether it's a tip or news feature or how they were able to fix a nagging problem thanks to the content on our site.
I'm looking forward to listening to and engaging speakers like Tony Redmond, J. Peter Bruzzese, Nicolas Blank, Scott Schnoll and everyone else from the Exchange team. I'm also really excited to (hopefully) speak with many of you. If you'll be in Orlando, drop me an email, I'd love the chance to speak with you and hear about your experiences, problems, successes and whatever else is on your mind.
Until next time,
Matt Gervais
Site Editor, SearchExchange.com
---
July 17, 2012 7:43 PM
Hello SearchExchange.com readers and welcome to our new blog. I wanted to take a moment to introduce myself and explain what we're trying to accomplish here. As many of you may know from our homepage and my various articles, my name is Matt Gervais and I'm the site editor on SearchExchange.com.
With so many upcoming announcements, it's a great time to start writing more about Exchange, Office 365, Outlook and all the in's and out's of the products. Also, now that Exchange 2013 and Outlook 2013 previews have been released and Office 365 is a year old, it's going to be an exciting time for those that read SearchExchange.com.
Most importantly, I'm hoping for this to be an interactive blog. It's always great to hear what you folks are working on, and what you find compelling. Please don't hesitate to drop me a line at mgervais@techtarget.com or tweet me @ExchangeTT if you have a topic you find interesting or a problem you need help fixing.
Looking forward to getting feedback on what you're working on and what you find most interesting in the world of Exchange.
Matt Gervais, Editor for SearchExchange.com
---
July 17, 2012 6:55 PM
Back in May at The Expert Conference 2012, Exchange GM Kevin Allison made four important points about the future of Exchange:
Three generations are/will be using Exchange,
Exchange needs to be both flexible and reliable,
Exchange needs to offer "anywhere access," and
Security and compliance are critical.
With the release of the Exchange Server 2013 preview and accompanying preview notes, it seems Allison was letting on more than those in attendance could have known.
If you look at the first point at the "What's new in Exchange 2013 preview" page, you'll notice that the first bullet details "supporting a multigenerational workforce." As the new, younger workforce relies on things like Facebook and Twitter, more seasoned users still rely primarily on email. Exchange 2013 will track users' social communication and behavior, helping enhance search results in Exchange.
The documentation also points out that Exchange 2013 Preview provides a more resilient solution (see flexible and reliable above). Exchange 2013 has built upon Exchange 2010's strengths and has been redesigned to simplify scalability, hardware utilization and failure isolation.
In regards to the "anywhere access" comment, not only has Outlook Web App been redesigned, but the mobile device experience has also been improved and all devices are supported.
Additionally, compliance tools have been seriously improved, allowing users to search across not only Exchange, but also SharePoint 2013 Preview, Lync 2013 Preview and Windows file servers.
Exchange Server 2013 server role architecture changes
One of the most interesting changes is that Exchange server roles have decreased from five down to two. Exchange 2010 included the client access server role, the hub transport server role, the edge transport server role, the mailbox server role and the unified messaging server role. Exchange 2013 consists of only the client access server (CAS) role and the mailbox server role.
Also, in acronym news, the Exchange Administration Center (EAC) has replaced both the Exchange Management Console (EMC) and the short-lived Exchange Control Panel (ECP). According to Microsoft documentation, public folder management is handled via the EAC, so I guess they really aren't going anywhere.
What are your first impressions of Exchange 2013? Write me at mgervais@techtarget.com, I'd love to chat and hear your thoughts.
Till next time,
Matt
---