---
October 25, 2017 9:59 AM
"tech skills"
,
Big Data
,
Data Analytics
,
Data Science
,
Engineering
,
IT skills
,
Maths
,
science
,
Skills
,
Stem
,
Technology
In this contributed blog post, John Brodie, CEO of Aquila Insight, discusses the importance of data skills and how science, technology, engineering and maths (Stem) education can help tackle the big data skills shortage.
Big data will continue to play an even greater role in business and many companies that rely on data analysis across the UK will soon suffer from a recurring nightmare – a lack of employable people with sufficient skill sets under their belts to help analyse the vast amounts of data we'll see.
Research by IBM sets the scene suggesting we'll see the number of job vacancies for all data professionals increase by 364,000 to 2,720,000 in the run up to 2020 (figures based on the United States). Unfortunately we may not have enough skilled people to do these jobs.
With many changes on the horizon, the increasing lack of data-specific skills across the UK will start to look very interesting over the next few years, especially in the lead up to the likes of Brexit and the introduction of a more "millennial" workforce by 2020.
So if businesses are struggling to source the right people now, how will these factors further add to the growing recruitment issues and skills shortage many are already facing?
Invest in Stem
The Stem skills debate is ongoing – with no real resolution to the limited amount of investment in this area. So despite the fact that by 2020 half the work force will be millennials (in the US alone), if this reduction in Stem-related skills continues, new workforces will be unprepared for the complexities of digital roles now and in the future.
Recent trends, particularly in Scotland, have seen the removal of pure math and statistics courses. This is also coupled with the shortage of Stem teachers, with figures highlighting that Scotland is losing two science and maths teachers almost every week. We're now starting to see similar trends trickle to other areas in the UK. It's clear that businesses will face big challenges when it comes to recruiting the right analytical talent in the future, with the McKinsey Big Data Report of 2011 into the data analysis skills shortfall certainly showing itself to be true.
Data is growing at an exponential rate so this skills shortage will impact on businesses and of course their clients and brands. If something isn't done now to help re-balance this skills gap, businesses will find it increasingly difficult to draw insights from their customer data in order to make better decisions. This will result in their competitors from countries which see education in math and statistics as a priority gaining an advantage. Businesses have to rely on the acumen and analytical skills honed in Stem graduates to help us help customers get more value and better understanding from data.
Invest in data education
As a collective, businesses need to start investing more time in coming up with innovative ways to talk to and inspire the next generation of students on their employment options with math and science-based courses. Our industry must start educating young students about the vast array of roles that a maths-based education will offer them.
Highlighting why working in Stem-based job roles is a good career and nowhere near as dull as it's traditionally perceived, will be the first step in engaging those that have an interest in this area but are stuck thinking there's just a few routes in.
You don't have to go into an accountancy practice or crunch data in a bank – you can work with some cutting-edge retail brands or challenger utility or financial companies. In this digital age, all types of brands have a growing mass of data about their customers and more and more businesses are going to need smart people to help make sense of that data and enable businesses to make better business decisions.
Invest in talent
Into 2018, we're going to see a continued trend towards technology becoming more commoditised and even cheaper. Talent and the investment in people will eventually become the most expensive and the most sought-after element for companies looking to understand their customer base truly. We need fresh thinking and better marketing to develop and entice the next generation of data analysts – including removing the perception that data analyst equals geek. Analysts should become commercial business people, interacting with clients and not stuck in a darkened room!
If we don't get this right and start now, the bad dream will turn into a never-ending nightmare.
April 18, 2017 3:59 PM
Mobile devices
,
retail
,
Technology
In this contributed blog post Paul Reed, regional product manager for Zebra Technologies discusses the technologies retailers should be choosing to increase warehouse productivity.
In recent years, the dramatic increase in online shopping has had a huge impact on the retail industry. Long gone are the days when purchasing goods or groceries was done from Monday to Saturday, between 9am and 5.30pm.
This new approach to e-commerce and on-demand culture has many plus points for the consumer – convenience being the key driver. It also gives retailers a fresh challenge that they must meet to stay ahead of their competitors.
In the retail chain, there is one key demographic under more pressure than ever: warehouse staff. For warehouse managers, this advancement in retail culture has meant being subjected to immense pressure to get a greater volume of goods shipped on time.
Warehouses are evolving from simplified operations to tightly integrated profit centres. Logistics firms and retailers are now looking for new innovations to help them keep up with changing consumer demands.
In this sink-or-swim environment, it is important that warehouse managers adopt the right technology to ensure fast-moving consumer goods (FMCG) remain, well, fast moving. The key to smooth operations is deploying the right handheld mobile computing solution. With this challenge in mind, what should warehouse managers look for tech-wise when doing this?
Design shapes functionality
Design is fundamental – specifically ergonomic design. We would advise avoiding the traditional design where the device scans an item and then the user has to tilt the computer to look at the screen. Newer designs enable warehouse operators to simply hold up the device in one position, with data capture capabilities at the rear of the device. Studies have shown that the removal of an up and down scan tilt action, and adding all touch software to the new product, can save an hour per worker per shift.
New mobile computing devices can be 33% lighter than traditional mobile computers, therefore these are the best options for warehouse staff under pressure. Lighter devices reduce worker fatigue, as minimal effort is needed to use them. Smarter solutions also feature a hands-free proximity scanner in a handheld device, which can be enabled from a hip holster, presentation holster or a cart mount.
Software and shelf life
On smarter mobile computing devices, the traditional "green screen" software found in most warehouse technology has also been replaced with "friendly touch screen buttons" – which means there is no need for a keyboard.
If the intended use for the handheld computer is purely for the warehouse, it is important to choose devices that are Wi-Fi, NFC and Bluetooth proficient. NFC and Bluetooth are particularly important for the swift connection to printers, essential for the labelling of goods and items ready for dispatch.
Before purchasing mobile computers, it is worth speaking with your developers. This is to ensure devices can be adapted to suit specific warehouse needs. In the future, these devices will make better use of Augmented Reality (AR). This is already proving useful for selecting goods for dispatch in a more streamlined way and can even be used for staff training.
As well as design and software applications, it is vital that mobile devices have a good battery life. Our advice here is research devices that can function for nearly 16 hours, or two full shifts. Also check that the shelf life of the product is between three to five years, to ensure you get the most return on your investment.
The future
The introduction and selection of new handheld mobile computers has helped companies boost productivity. Ultimately, this helps businesses operate more profitably during challenging periods. The ultimate goal of inventory management is to optimise supply chain practices to minimise costs without jeopardising service to customers. While there are many factors involved in gaining better control of inventory, upgrading warehouse hardware has helped to manage inventory in a leaner way, especially when it comes to multi-channel fulfilment complexities.
---
February 7, 2017 10:48 AM
ai
,
Artificial intelligence
,
Brand
,
personalisation
In this guest blog Gavin Mee, senior area vice president of enterprise UKI for Salesforce, discusses how artificial intelligence may be the next step in connecting with the modern shopper.
Ever since a computer first beat a human opponent in a chess game, artificial intelligence (AI) has proven its potential to interpret and act on provided data. Deep Blue cemented its place in history in the 1990s when it beat chess champion Garry Kasparov in a tense, televised finale. And earlier this year, computer scientists went a step further and developed an artificial brain, "AlphaGo," to beat a human at 'Go' – one of the hardest games of logic and intuition on the planet today. The reason that Go is so difficult is that it requires continual learning of new techniques and accurately forecasting how your opponent will play.
It's an interesting game – and one that has implications for the retailer today, because AI is no longer just for gaming. As today's brands seek to personalise the customer journey to a greater degree, it's time for the smart retailer to think one step ahead and embrace AI.
For instance, AI-enabled e-commerce platforms can provide product recommendations to personalise offers to customers, predict which goods and services they are likely to want, and provide insights as to how smarter merchandising and product purchase correlations can enhance overall sales. According the recent Salesforce State of Connected Customer report, 45% of consumers and 57% of business buyers say that by 2020 they will switch brands if a company doesn't actively anticipate – and act on – their individual needs.
What's more, modern AI is easy to use – by everyone.  Previous iterations of AI required data specialists and back-office IT teams to manage the technology and understand the insights. But no longer. New technologies offer solutions that a whole host of employees, from marketers and sales strategists to finance teams and customer experience experts, can use. For example, Salesforce AI technology, called Einstein, is fully embedded across all of our technologies so that anyone in an organisation using Salesforce can now benefit from having their own 'data scientist' in their pocket  ̶  right on their phone.
In recent months, AI has moved into the mainstream to the extent that customers may not even know they're interacting with AI:  Amazon's Dash services are just one example. AI is anticipating the needs of customers and this is vital in delivering the VIP experience they want.
Millennials, in particular want to walk into a store and get the red carpet treatment. A personal, 1-to-1, seamless experience is important to them and makes them feel valued. It's essential to remember however, that while personalisation is important to everyone, millennial expectations are markedly different to those of their parents.
For example, this younger generation is almost three times more likely to expect the stores they visit to know all about their online shopping and research on that retailer's website (42% of millennials feel this way vs. 18% of baby boomers). Once again, it's all about retailers' ability to blend both online and offline interactions into a seamless, customer-centred experience to deliver a personalised journey – the "star treatment" younger customers increasingly expect.
Don't forget, this demographic is demonstrating increasing spend and because of their age, offer retailers a unique opportunity to put a stake in a customer relationship which could ultimately span decades. It stands to reason, then, that a clear understanding of what millennials expect from their shopping experience should be front of mind for retailers
Expect to see more AI innovations in the coming year, because it's set to be big business, next year and in the years ahead. And remember, as a retailer today, it's never been more important to have insight into our customers – insight that gives you an incredible advantage to win the hearts, minds, and purses of customers.
---
January 24, 2017 11:55 AM
IT jobs
,
IT recruitment
,
IT skills
,
IT training
,
Job Satisfaction
,
Oracle
,
Retention
,
Skills
,
Training
In this guest blog Ronnie Toerien, HCM strategy leader, Oracle Africa explains why giving all employees access to relevant training is the solution to the tech skills shortage.
The past ten years have seen a seismic shift in the workplace. Widespread automation and an increasing reliance on data have touched virtually every industry and changed job descriptions across the board.
Some have speculated this will result in many jobs being lost. For instance, 47% of workers in the financial services sector fear technology is putting their job at risk.
In reality, the situation is much more nuanced. Some jobs will indeed be taken over by automation technologies, but we will also see new roles created in an automated world. With some of the more mundane and admin-heavy tasks off their plate, workers can focus on more innovative value-driving activity.
There are jobs out there – EY's US operation has said it plans to hire an astonishing 15,200 new employees in 2017. The bigger struggle organisations face is to find and nurture the talent they need. According to ManpowerGroup's Talent Shortage Survey, 40% of employers admit to having talent shortages.
I've seen this for myself in South Africa, which is transitioning from a mineral resources based economy powered by low-skill workers to a service-based one that must be built on a broader base of skills. At present there are too few "high-value" employees to meet demand. This limits South Africa's pace of innovation and has bred a hard fought talent war. Talented staff can leave an employer that doesn't fulfil their expectations knowing they'll quickly be picked up by a competitor.
So how can companies square this circle of having posts to fill but not enough skilled people to fill them? In the words of Virgin CEO Richard Branson: "Train people well enough so they can leave, treat them well enough so they don't want to."
For me this boils down to one thing: ensuring employees feel supported when it comes to their career development.
Staff will rarely leave their job if they feel valued. Pay plays a part, as do non-salaried perks like gym memberships and flexible working, but companies need to show a deeper commitment to their people. A focus on training and learning is equally important, and this goes for employees at all levels.
Organisations hire their young digitally-savvy talent in the hopes they will develop and become the managers of tomorrow, but Oracle research reveals they are coming up short. Just 21% of non-managers feel they can advance their career with their current employer, and just 39% see a long term future with their company.
This is largely due to a perceived lack of learning opportunities. Educational programs, courses and training must be personalised and relevant, but just one quarter of non-managers feel their learning and training are linked to their development plan, compared with 60% of senior managers and directors.
Employees also want online and collaborative tools such as webinars, whiteboarding and enterprise social networking. However, Oracle also found that just 22% of non-managers have access to these resources, compared with nearly three quarters of their more senior colleagues.
HR leaders are feeling the pressure as they work to keep high-value employees on board in the face of a worsening skills shortage. Competitive salaries and attractive growth opportunities are two major parts of the equation, certainly when it comes to attracting new recruits, but a focus on modern and relevant training is crucial to addressing the skills shortage from the inside out.
Skills will become increasingly scarce and employees increasingly fickle as automation technologies continue to reshape the job market. Traditional HR approaches are being turned on their head under these conditions, and HR teams must take the lead in finding ways to strengthen their workforce and secure the company's future success.
---
December 21, 2016 2:07 PM
Millennials
,
Technology
In this contributed blog post Keith Tilley, EVP at Sungard Availability Services explains why there is a "me or the IT" attitude amongst employees and what firms can do about it 
The "head down generation" – so named for the way they are permanently glued to smartphones and tablets – are the latest influx of employees to enter the workforce. They are digitally savvy and hugely demanding when it comes to technology.
Faced with new opportunities daily, they are not afraid to explore their career options. Seven in ten young people plan to leave their job in the next five years, leaving organisations under huge pressure to deliver the best possible working environments and employee tech in a bid to retain talent – from great benefits to cutting edge tech.
Get the tech or lose the talent
Recent research by Sungard Availability Services found that over a fifth of employees admitted to leaving a job because they didn't feel they had access to the latest digital technology. With many roles increasingly relying on tech, businesses who fail to listen to employee demands and invest in the tools they need could soon find themselves rapidly losing headcount.
In the pressing war for talent, the simple answer lies in the need to invest in digital tools. However, in established enterprise organisations, existing legacy IT can cause problems when integrating new technology.  New applications may not be compatible with current systems, meaning a full IT overhaul would be needed. For most organisations, they simply do not have the resources or time to do so, meaning the long-term gains of nurturing a digital business are often put on the back-burner.
Mixed Employee Messages
A common mistake would be for businesses to simply throw money at the problem. Our study found a growing "digital disconnect" among employees. While most of the workforce recognises the importance of digital technologies, nearly a third claim it actually makes their job more stressful.
These findings highlight the importance of creating the right environment and culture, as well as providing education for employees to help them use these tools. More than 30% of workers found they did not receive enough training, whilst a further 23% said the training they had received was inadequate.
Organisations must consider a continuous investment in training to make sure employees are competent and happy with the tech they must work with day in, day out. With the IT skills gap getting bigger by the day, securing the future of your employees and business by investing in their skills has never been more integral.
Beyond this, assessing and developing an agile company culture is also a good way of ensuring a good return on the investment of digital tools. Early adopters of technology can help to increase a wider uptake if these people are harnessed to influence employees towards the cause. Once you begin to encourage employees to embrace changes to technology, future tech should be easier to incorporate; increasing adoption rates and impacting the business sooner rather than later.
Digital transformation isn't a straight path to success. It requires various stages of investment, and can feel too time and capital consuming for the effort, especially when processes are ticking over well in a business. But to remain competitive, things can't just tick over. They need to exceed and be innovative. If you don't do it, your competitors will; and they'll likely poach your employees in the process.
---
October 28, 2016 7:48 AM
"tech skills"
,
Apprentices
,
apprenticeships
,
Digital skills
This contributed post by David Allison, founder and managing director of GetMyFirstJob, discusses the potential for apprenticeships to fill the UK's tech skills gap. 
Despite a challenging economic climate, the UK's diverse digital industry has thrived over the past five years. According to a recent report by Tech City UK, digital industries contributed £87bn to the UK economy in 2015 and the sector now employs more than 1.46 million people- approximately 330,000 in London alone. Digital technological companies are thus proving pivotal to the UK economy.
As new technologies transition from invention to mainstream application, there is a constant need to reassess skills, training and recruitment in order to meet changing demands. With demand now outstripping supply in terms of available talent in the digital sector, the future of the technological industry now hangs in the balance.
But with uncertainty on how Brexit will impact upon foreign hiring from within the EU, the need to establish an effective pipeline of UK individuals with skills in, for instance, coding and data science, is even more profound.
According to research by Tech Partnership, 40% of British technological companies are struggling to source suitable talent to drive innovation. Analysis of ONS and Tech Partnership data for instance, reveals that the UK will require another 134,000 technological specialists each year and that if these requirements cannot be met, they are likely to cost the UK economy £63 billion a year.
Status Quo Not An Option
As recent research by the FDM group has highlighted, there is a mismatch between what is taught within university or school-based courses and what businesses within the technological sector actually require. As such, the training that young people receive is often devoid of commercial reality.
Tackling these skill shortages requires a nationwide, forward thinking, recruitment plan that covers all bases. This necessitates looking beyond the graduate pool and towards the creation and development of wider digital training programmes.
In terms of solutions, an increase in digital apprenticeships should be high on the agenda.
As a recent survey by GetMyFirstJob revealed apprentices add significant value to 90% of businesses that utilise them. Reasons for this include a positive contribution to long term growth and a rise in productivity.
Even more crucial is that by training apprentices whilst on the job, employers can tailor a candidate's learning, skills and knowledge towards their businesses' specific needs. This avoids any mismatch between theoretical knowledge and what skills companies actually require candidates to have.
Unfortunately, however, digital apprentices are not yet being utilised to their full advantage.
Despite the government's plans to introduce the apprenticeship levy in 2017 and the push for more apprenticeships in the UK, only 3% of all UK apprenticeships are based within the digital sector. Moreover, many businesses are proving unwilling to engage with the new levy system out of fear that it risks damaging existing training schemes and forces a quantity over quality approach.
The Solution is out there
But employers must not let the levy disconcert them. If companies carefully select the right training provider, the levy shouldn't cause any problems.  This is because the right provider will ensure that a candidate is recruited for 'best fit' rather than ticking certain boxes during the administrative process.  They will advise, guide and even challenge your requirements to ensure that they deliver the skills and knowledge that fit with the organisation's values.
We assist over 260,000 candidates, 150 training providers and some of the UK's best known employers in finding the talent they need to help their businesses grow at GetMyFirstJob. From this, we have witnessed first-hand the incredible apprentice-employer achievements that occur when training and recruitment is carried out effectively and in tandem. For this reason alone, the potential of apprenticeships in harnessing and developing a valuable digital workforce to sustain the UK's future economy must not be underestimated.
---
July 26, 2016 1:38 PM
"tech skills"
,
graduates
,
IT recruitment
,
IT skills
,
Skills
General manager of Arch Graduates, Harry Gooding, explains why he went from recruitment to creating the perfect tech workers for the job
It's no secret that currently the tech industry is suffering from a skills gap.
Computer Science graduates claim they cannot find work, and industry claims it cannot find skilled workers to fill its empty jobs.
Harry Gooding, general manager of Arch Graduates, has first hand experience in trying to find skilled candidates, having previously worked in client engagement at technology talent agency Mortimer Spinks.
Working in recruitment, Gooding found there was a huge demand for skilled employees in tech roles and firms, but finding employees to fill them proved a challenge.
Over the course of a couple of years, Gooding found the pool of people he was approaching went from those looking for a role and keen to work, to those already in work who are massively in demand because of the scarcity of others in the field with the appropriate skills.
The problem, Gooding decided, is that there are a limited number of people currently in the pool, and businesses are complaining that they can't hire graduates because they are leaving universities without the skills needed to go into a job.
So we have a large number of unfilled jobs, an increasing number of IT grads who claim they can't find work and a skills gap in the UK and Europe that will require 756,000 digitally skilled workers by 2020.
When looking into the student side of things, Gooding found students at a loss as to how to find the experience they needed to get a job in the sector.
Universities want students to be employable and students want a job and career after university, but are scared of not getting "the right one" and many students don't have the money to take an internship when they are not sure it will amount to anything.
Some even avoid leaving university and look in to postgraduate education to avoid making a decision on what jobs to look for.
This leaves companies competing for a very small pool of tech grads with the right skills, and those already in organisations are now increasingly moving into contracting roles, starving tech companies of the funds they need to employ the right people.
The answer, as has been alluded to by many universities and industry bodies, is collaboration.
Without firms giving educational establishments guidelines about what is needed from potential candidates, it's no surprise that graduates are leaving universities without the specifications needed to fill empty digital roles.
Arch Graduates works to prevent this divide between education and firms, upskilling graduates with the technical and business skills they need to go into tech roles.
After a twelve week introductory programme where  graduates are accredited with industry qualifications from establishments such as BCS, City & Guilds or Microsoft, they are placed with one of Arch Grad's partner firms, who will spend 21 months providing mentorship and first-hand experience working in a digital environment.
These partner firms can then opt to hire from this talent pool once the two year scheme has finished, aware that these individuals have been trained using a combination of classroom study and industry experience, making them more likely to know what it needed to go straight into a tech role.
Upskilling those with soft skills and adapting to millennial workplace demands is the way forward for the fast-changing technology sector, and if firms are not willing to change their attitude to investing in people with the right potential, but a lack of technical skills then they will likely be left in the dust of those who will.
---
June 7, 2016 4:19 PM
Education
,
schools
,
students

In this contributed blog post, Scott Langshaw, IT manager at the East Manchester Academy explains the importance of enabling students through the use of technology. 
The use of tablets in schools has soared in recent years and the explosion in educational apps shows no sign of slowing down. Mobile technology is opening up so many new possibilities for teachers and students that it is nothing short of a revolution.
But if the wireless network is not capable of supporting a burgeoning number of tablets, a school could find itself plunging back into the dark ages.
Loose con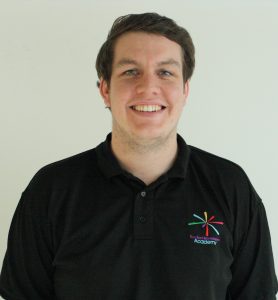 nections
Here at The East Manchester Academy, we wanted our students to benefit from mobile technology, but in common with so many schools, our wireless solution no longer had the capacity to support the great work that was happening in our classrooms.
If you've ever had to stand up in front of a bunch of 13-year-olds and explain that they can't get hold of the material they need for their geography project because the wireless network is down, you will understand the problem.
Likewise, when a teacher tries to get 30 students to complete a quiz on their devices, but the wireless connection grinds to a halt and the quiz doesn't update, then nobody learns anything.  Rather than helping, our old technology was preventing lessons from progressing smoothly.
Time for change
The time had come to upgrade our IT infrastructure. However, we are a school and though our dreams may be big, our IT budgets come only in small sizes. We needed solutions that would help us engage our kids, but they had to meet our budget.
As it turned out, the solution was more affordable than we had expected, and I have been particularly impressed by the capability of the wireless solution.  Our IT partner, Capita Managed IT Solutions, helped us to tailor a new solution exactly to our needs.
It's been fascinating to see what a difference it makes to have a reliable wireless solution around the school. The big change is that our classrooms are always connected, whether students are using tablets, laptops or a combination of both.
Collaborative learning
I would go so far as to say that our Wi-Fi meets the expectations of the most impatient teenager. Students can log into the system instantly and everything they need for the school day is all in one place.
Working together is the best way to engage students and help them learn, and this is one area where mobile technology really comes into its own. Our students are accessing the content they need straight onto their tablets so they can share and edit their work together.
Teachers connect their tablets to the whiteboards in the classroom for a class discussion, and when it comes to marking work, teachers send instant feedback with a few taps of the screen.
The tablet revolution has taken off in our academy, and the students are benefitting from lessons which are engaging and enjoyable. It is reassuring to know that despite our limited budget, we have built the foundations for great teaching and learning both now and in the future.
---
February 10, 2016 8:43 AM
Airline
,
Android
,
Apple
,
Cortana
,
Google
,
holiday
,
plane
,
Siri
,
Technology
,
travel
In this contriibuted article, Mindtree's Suman Nambiar, europe head of travel and hospitality industry group, and Ranjith Kutty, senior director and head of solutions and new business / travel, transportation and hospitality vertical in North America, discuss how the future of technology will change the travel industry.
Think Iron Man, think Jarvis, the "Just A Rather Very Intelligent System". When the first Iron Man film came out, Jarvis was science fiction, but by the time the third film was released, we were already familiar with Siri, Cortana and the snappily named Android voice commands – suddenly, a virtual personal assistant that you could talk to was in our pockets.
From being a fun party trick at first, these assistants have been ingesting billions of queries and getting sharper and more useful every day – more and more of us use them as interfaces to our smartphones and tablets, to check the weather, to listen to text messages and reply whilst driving, to plan our schedules, to open apps and to remind us to feed the cat.
As these assistants get better, so does their strength in handling complex natural language queries that cut across applications, which is a perfect fit for travel planning and management. This begs the obvious question – how will enterprises respond to the new digitally enabled consumer? How can the travel industry use intelligent systems to serve the customer better?
The travel industry has unprecedented opportunities to sell better and serve better, but given the investments that technology companies like Google, Apple and IBM Watson Labs (to name just three of many) are making in the travel sector, the industry needs to respond quickly before the consumer gets used to dealing with a completely different class of intermediary who offers them a more intelligent, better targeted, more intuitive model of interaction. And it is not the technologies that stand in the way of the industry doing this today, as they all exist; as the travel industry shifts to being more customer focused and understanding what they can and cannot do with data, this future is already within reach.
Consider someone driving along the M25 on her way to a meeting one morning in the near future – a grey January's giving way to a grey February and she wants some sunshine. She asks her smartphone to look for a sunny break for a week in March, travelling on her preferred airline.
Based on her preferences, the airline knows that she's been to Santorini before and has given it excellent ratings for a sunny break in winter – the airline system interfaces with her phone to create a completely customised package, departing on a Friday afternoon from the nearest airport after the last meeting in her calendar, with a cab picking her up from the office (and a cab to take her to work that morning, since she will not be driving).
A poolside room is chosen at one of the hotels where she has loyalty points; these points are then used for a free upgrade to a higher class of room. Also booked are a rental car from her preferred company, optional excursions to places she has not been yet (based on information she has shared on a variety of social media) and suggestions for hikes, as well as two reservations at restaurants, again based on information she has shared with the airline as well as on social media.
The offer sounds good to her, so she asks her virtual assistant for a quick scan of her current and credit card accounts and then chooses a card to pay with, still using voice commands. The airline then confirms the bookings and sends the itinerary to her online travel planner as well as her calendar.
On the day of travel, before her last meeting, she gets a message from the airline, saying that they will send the cab 15 minutes earlier as the security lines are longer than usual for a Friday evening. She is checked in online and takes less than a minute to drop off her bag, which already has an electronic bag tag.
Since security now has biometric systems, it proceeds faster than usual and she gets a text message from the airline with a 20% voucher for a drink and a snack at two of the restaurants she prefers.
By the time she lands in Frankfurt 20 minutes later than scheduled, she is relaxed because she has already seen a message with a revision to her itinerary to a slightly later interconnecting flight, because the airline has been able to predict a delay to the inbound flight ahead of time thanks to predictive analytics, and a confirmation that her preferred choice of rental car will still be held for her.
We could go on, but this is an illustration of what is already possible today.
Intelligent systems that have the ability to "learn" and adapt will help companies focus on the customer better. A combination of supervised and unsupervised learning enables these systems to be more context aware and this combined with predictive analytics applied to a wealth of data provides a very powerful platform for customer engagement.
This enables enterprises to make the much needed shift from serving requests that customers make, to anticipating the request and acting on it ahead of time. An ecosystem of such enterprises that effectively engage intelligent systems across industries such as retail, banking and travel to name just a few, will be able to sell to the customer not just want they need, but also what they want.
---
December 14, 2015 4:02 PM
flexibility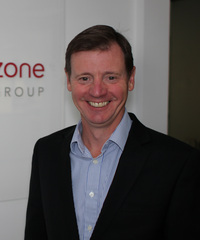 This is a guest post by Steve Gandy, CEO at MeetingZone.
Reading, and Bracknell, hotly followed by Oxford (near MeetingZone HQ) and Edinburgh, are officially the best cities to live and work in the UK – according to the Good Growth for Cities Index published by PwC and think tank Demos recently. It ranked UK cities against 10 criteria including employment, health, income and skills, housing affordability, commuting times and environmental factors. It follows similar research last year from PwC that ranked London (over Berlin, Stockholm, Paris and New York) as one of the best cities of "Opportunity", in a report which examined intellectual capital and innovation; culture, technology readiness and how accessible a city is to the rest of the world.
So what does this say? Well our growing interest in such surveys shows how we're all – employees, HR and management – much more focused on well-being and work-life balance. And that's a good thing. But for me, external factors like location are just part of the equation. The 'best' place to work shouldn't just be about where your office is based, but also about the company you work for – so for example how does management operate and what culture does it creates for employees.
Today's companies rightly scour over all sorts of indicators of work life balance including employees leaving, employee satisfaction surveys and hours worked. But what often gets forgotten by management is the impact of technology in creating that sense of well-being, which in turn can lead to content and productive employees.
Again, PwC provides insight here. It conducted extensive research earlier this year into attitudes amongst 400 SME's ranging from 10 – 1000 employees about deploying Unified Communications (UC). UC brings together a huge range of services, from email to web conferencing and telecoms to sharing data. They found that management was focused, quite understandably on how UC technology would make the organisation successful and improve bottom-lines such as productivity, costs and efficiency savings.
But what they'd overlooked was the more intangible, 'softer' benefits such as the ability to improve the workplace environment and to empower employees. If you look at the table below from PwC, it's clear there's disconnect between how they 'expected' to benefit from UC and the actual 'realised' benefits they received. Across the board the realised benefits exceeded expectations. But while you'd expect productivity, efficiency and even collaboration gains from UC deployments, the really interesting bit was how the deployments impacted employee perceptions of well-being.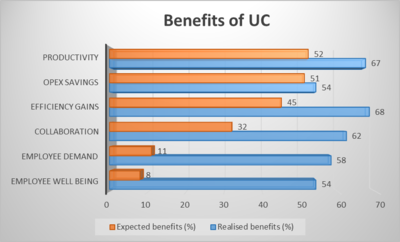 Source: PwC SME Survey, February 2015 (n=400)
Often management make assumptions that employees are armed with the right equipment or that the tools are "good enough" to work with, so are reluctant to rock the boat to invest in new technology. PwC saw that a UC deployment achieved a whopping 54% uplift in employee well-being. That clearly highlights that employee's value being given technology that make their jobs and collaboration easier.
For me the big worry was the marked difference between the 8% well-being benefit that management expected and the realised 54%. This shows how out-of-touch management really are with how employees feel about their jobs and their desire to perform to the best of their ability.
It would seem our senior management need to be more cognisant of their employee's need for 'the right tools for the job', and how it can affect creating the contented, happy and productive employees' they crave.
---