Dec 27 2007 9:26PM GMT
Posted by:
BrentSheets
Tags: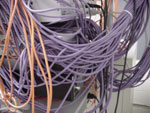 Feel free to give yourself a pat on the back for making it through another year as an IT worker. You have a stressful job. I know this because ITKE provides me with a front row seat to your IT questions and the problems you encounter each day.
Everyone needs a break now and again. If you haven't visited the Overheard in the tech blogosphere blog, then mouse over today to take an IT-related quiz. You'll learn something and hopefully have a little fun doing it. Enjoy.


Community Manager