Jul 10 2008 7:40PM GMT

Profile: BrentSheets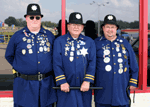 SOX. GLBA. HIPAA. FISMA. FFIEC. COBIT. COSO. ISO 27001. Do these acronyms cause your blood pressure to climb? There's no doubt the role of IT has gotten more complicated in the last decade and there's more to come. That's why I'm pleased to announce a new member blog, called Regulatory Compliance, Governance and Security.
IT faces a wave of regulatory compliance laws, legislation and mandates, such as Sarbanes Oxley, HIPAA and Gramm Leach Bliley (GLBA). How do you prepare and what benchmarks and standards are used for these compliance audits? This blog will assess, analyze and dive into these topics and many more.— Charles Denyer
Join me in welcoming Charles Denyer to our IT Knowledge Exchange community. Charles' expertise includes SAS 70 audits, Regulation AB Item 1122/1123 compliance, Sarbanes-Oxley (SOX) compliance, corporate governance, regulatory compliance and security issues and trends.
I want to thank all of our bloggers on IT Knowledge Exchange. They're a great bunch to work with and I commend them for sharing their expertise with the community. Have you considered blogging? We'll help you start your own blog and build up a readership of your peers. Thanks.


Community Manager