---
December 18, 2008 4:25 PM
This week's featured blog is Yellow Bricks, by Duncan Epping. The blog focuses mainly on virtualization, especially VMware, and updates readers daily with tips, tools, and links to related articles and whitepapers. As Epping describes, "[…] Bricks are solid but flexible at the same time [be]cause you can build anything you want. Same goes for virtualization, it provides you with a firm foundation with gaining flexibility at the same time."
In a recent entry, Epping outlines his favorite health tools for VMware PSO. You can check it out here.
Yellow Bricks is a great read for anyone interested in VMware or even virtualization in general, as it covers all areas of virtualization in a thorough, balanced way.

Community Manager
December 16, 2008 2:41 PM
Here is what's happening in our community this week:
-> HP wants to know
-> Are you in the running yet?
-> Questions of the week
-> Blog posts of the week
-> New community blogs
-> Messages from the TechTarget network
---
December 11, 2008 3:56 PM
Hello Community,
Each week we want to highlight a blog or website that we think would benefit all IT pros. This week, it's DataCenterKnowledge.com
If you're looking for more information related to the data center, the Data Center Knowledge blog is a great place to start. Rich Miller and his editorial team cover data center news from all angles, targeted to different companies, locations, data center technologies and careers. He also travels to several enterprise events and reports on them, and posts discussion and review-focused video content.  If you are a data center professional or just interested in the Data Center space this blog covers it all and is a must read.
Visit DataCenterKnowledge.com today.
To submit your blog for review email sbrooks@techtarget.com

Community Manager
---
December 9, 2008 4:07 AM
We are happy to announce our November Knowledge Point Contest Winners. Our top Knowledge Point earners in the past month are receiving Amazon.com gift cards just in time for holiday shopping!
  $200 –> Carlosdl, Technochic (over 3,000 Knowledge Points)
 $150 –> Flame (over 2,000 Knowledge Points)
 $75 –> Labnuke99, Gilly400, Mrdenny, Mshen (over 1,000 Knowledge Points)
 $50 –> Philp1jb, Yasirirfan (500+ Knowledge Points)
Congratulations to all of our winners!
Remember: through the month of December, you can win one of ten $50 Amazon.com gift cards, just by asking two questions and answering two questions on IT Knowledge Exchange! Click here for details.
Happy posting,

Community Manager
---
December 4, 2008 5:39 PM
Uploading an image to your profile is simple to do, and it lets other users see who you are! It's simple:
– Once you are logged in, click on "Edit My Public Profile" in the Dashboard:


– Scroll down to the "Upload an Optional Picture" option: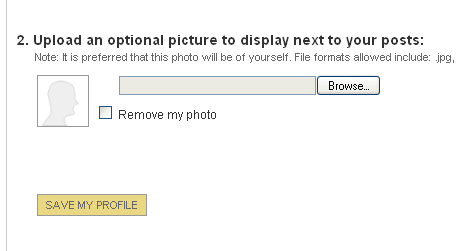 – Browse your computer for a suitable image. Once you have selected one, click "Save My Profile" and the changes will take effect.

Community Manager
---
December 4, 2008 5:34 PM
We are going to be taking the site down tonight from 7-10pm EST. We are planning some back end and front end improvements to better serve the growing traffic we are getting. We are always lookig to continually improve the site to better serve our members.
The biggest change you will see is the new IT Blogs landing page.  This page will now have a featured blog as well as most recent blog comments.
Thanks for your patience and send any other suggested improvements or features you would like to see my way a sbrooks@techtarget.com
Thanks
Sean
---
December 3, 2008 2:59 PM
As 2008 winds to a close, IT Knowledge Exchange has one more fun contest to end the year.
From today until December 23rd, you can enter to win one of ten $50 (US) Amazon.com gift cards.
There are two things, however, that you must do in order to enter:
Ask 2 questions
Answer 2 questions
That's it!
We will randomly draw ten eligible members, and each will receive a $50 (US) Amazon.com gift card. It's that simple!
Remember — you have to both ask 2 questions and answer 2 questions in the community to be entered to win. Anyone who can receive an Amazon.com gift card is eligible.
–> Click here to ask a question
–> Click below for unanswered questions by topic:
Good luck and happy posting,

Community Manager
---
December 2, 2008 5:59 PM
Here is what's happening in our community this week:
Knowledge Points contest results
Announcement: Site down time
Questions of the week
Blog posts of the week
New community blogs
Messages from the TechTarget network
---
November 26, 2008 8:30 PM

Profile: BrentSheets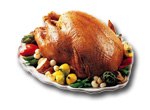 An early 'Happy Thanksgiving Day' to you all. No matter whether the Thanksgiving holiday is celebrated where you live, we can all think of things to be thankful for …especially family and friends.
You can also be thankful that you don't work in one of the data centers highlighted in our Data Center contest. Our contest runs until the end of November, so hurry, you still have time to send us your own story before the contest ends.
You can read some of the crazy tales we've received in my previous post that listed the first 10 contest entries — and here are 4 more below.
Data Center Contest: Disaster recovery using non-Microsoft "Windows"
Data Center Contest: Successful treatment of Mayo Clinic kill switch
Data Center Contest: Ooh, ooh that smell …can't you smell that smell?
Data Center Contest: Oh what a tangled web we weave

Hurry, because the contest is almost over. We'll be awarding a Nintendo Wii game system to the Data Center story judged best. But even if you don't win first place, we're also giving away twenty (20) copies of System Specifications and Project Manual for Data Centers (this is a $250 value!). So take a moment and send us your own data center story today. Thanks!


Community Manager
---
November 25, 2008 3:31 PM
Here is what's happening in our community this week:
Earn Knowledge Points and win
Featured IT blogger: Manlio Frizzi
Questions of the week
Blog posts of the week
New community blogs
Messages from the TechTarget network
---