---
October 25, 2012 4:17 PM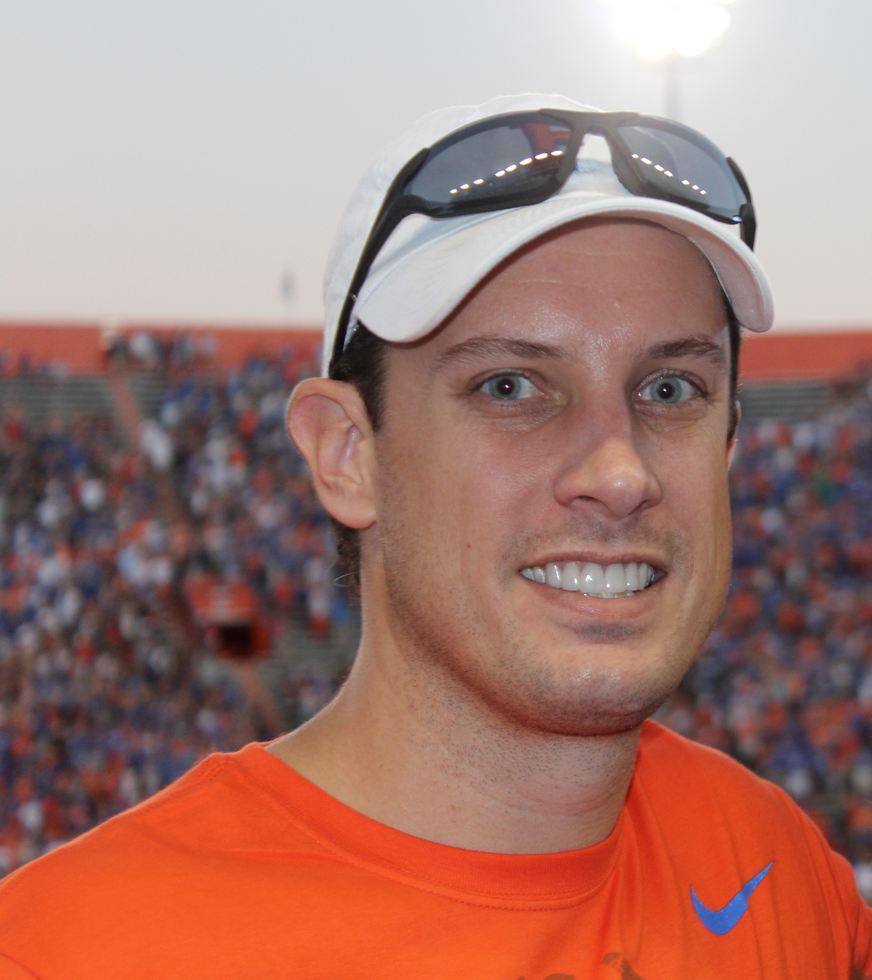 ITKnowledgeExchange recently welcomed cloud computing expert Brian Gracely as a new blogger in the community. His blog, From Silos to Services: Cloud Computing for the Enterprise, will cover cloud computing technology, data center architecture and the changing role of IT. We had the opportunity to talk to Brian and find out a little more about him and his work.
ITKE: Tell us a little bit about yourself: What do you do? What's your area of expertise?
BG: Originally from Michigan, I now live in Raleigh, NC with my wife and two daughters. My day job is Director of Technical Marketing at EMC. In the past I've held a variety of Product Mgmt, Tech Marketing, M&A and R&D jobs at Cisco (14yrs) and NetApp. I co-host The Cloudcast (net) weekly podcast, focused on all aspects of Cloud Computing. I've spent the last 5-6 years focused on Cloud Computing, and prior to that I was heavily involved with VoIP standards and architectures. Co-authored VoIP Fundamentals for Cisco Press. You can follow me on @bgracely on Twitter.
ITKE: If you weren't working in IT/tech, you'd be….
BG: Either working as a school teacher, or building golf courses. I like the ability to help people learn new things and see the world in new ways. And I like the satisfaction of seeing the day-to-day progress of working in the dirt. 
ITKE: Who's one person you look up to in the IT world, and why?
BG: I've been lucky to meet a huge number of really smart, interesting people in IT over the last twenty years, so it's tough to pick just one. Right now I'm extremely impressed by Jack Dorsey (@jack), co-founder of Twitter and Square. I like how he's trying to make technology less visible in how people interact. Our lives are complicated enough without more complicated technology getting in the way of progress.
ITKE: Complete the following sentence: "Cloud computing is _______".
BG: "on-demand computers or applications on the Internet". IT is the last department within almost every business to adopt a model which incorporate some % of on-demand resource utilization. With every new business project having an IT component, the ability for companies to understand how to leverage on-demand resources will be the difference between business success and failure. Cloud computing is a 10yr technology and business-model disruption, and we're only a couple years into the transition.
ITKE: Why should IT pros read your blog?
BG: Cloud computing will impact every aspect of IT (HW/SW, People skills, IT process) and my blog covers it from the perspective of the intersection between all those elements. So if you're interested in technology changes, business model evolutions or how cloud computing will impact your career, this blog will have something for you. 
October 18, 2012 8:14 PM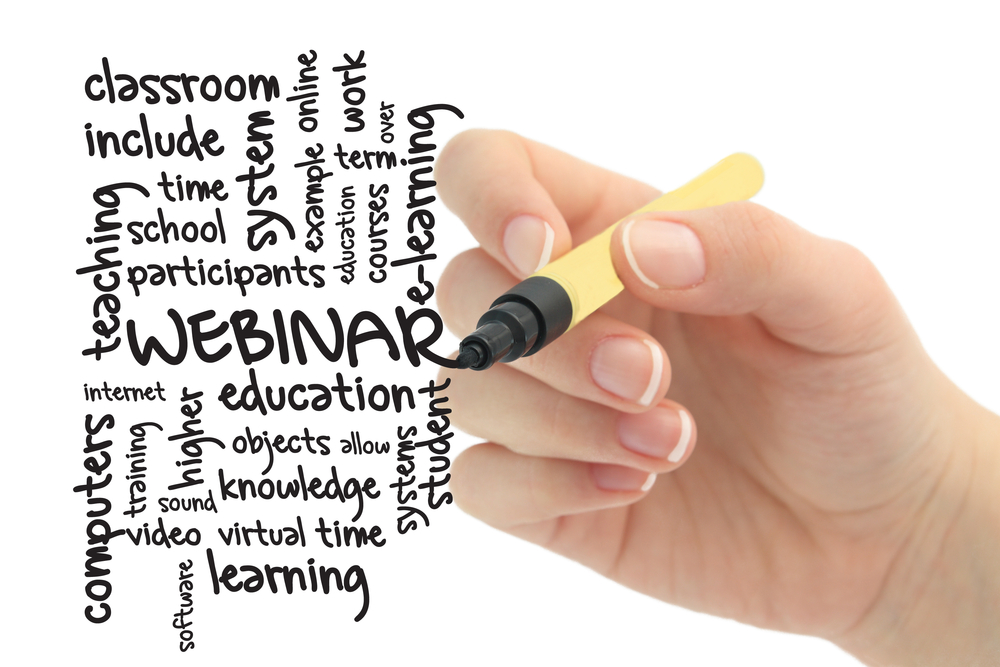 Webcast image via Shutterstock
Register for a live webcast on October 24 at 12:30 p.m. (ET), sponsored by Dell Wyse, to discover all the desktop virtualization options available to you and how your business can best utilize them.
Transitioning to a live VDI environment can be a difficult task. Many deployment initiatives never make it past the piloting phase because of a lack of proper planning and realistic expectations. Watch this live, interactive webcast to learn all the desktop virtualization options available to your organization and how you can best utilize them.
---
October 18, 2012 5:02 PM
Are you an AS/400 all-star? The ITKE team wants to put your knowledge to the test by giving you a pop quiz! Below, you will find 10 questions on several AS/400 topics. See if you can get the 'A'.
---
October 17, 2012 4:39 PM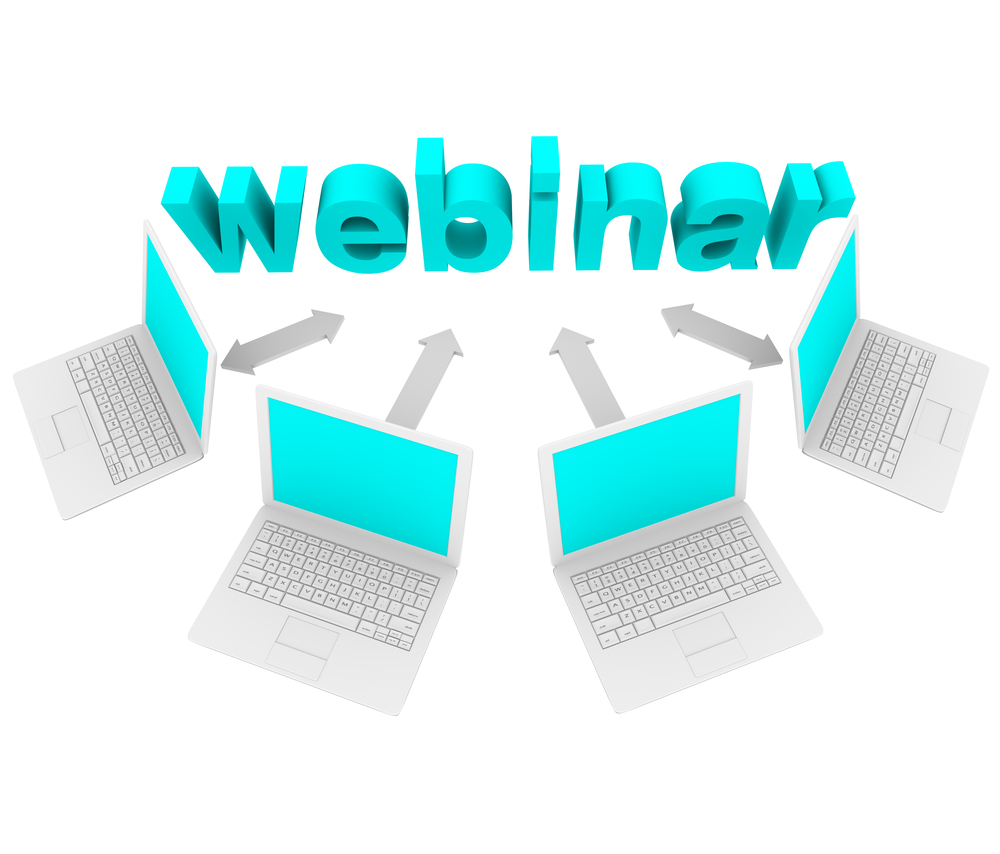 Webinar image via Shutterstock
Join us on October 23rd at 12:30 p.m. (ET) for a live webinar, sponsored by Dell and Citrix, to explore ways that you can implement desktop virtualization easily and without breaking your organization's budget.
Learn how you can realize the benefits of desktop virtualization with an affordable, all-in-one solution. Virtual desktops increase data security, efficiency and reduce desktop management costs, but the upfront investment can be high. Until now.
Join Citrix and Dell to explore the technologies, use-cases and best practices that make desktop virtualization ridiculously easy, while delivering a quick return on investment (ROI).
You will learn how to:
Radically simplify desktop virtualization – deploying VDI is as easy as 1-2-3
Deliver the mobility and flexibility end-users crave – with minimal costs
Scale by simply adding more capacity – with nothing to re-architect or reconfigure
We hope you can make it!
---
October 12, 2012 3:54 PM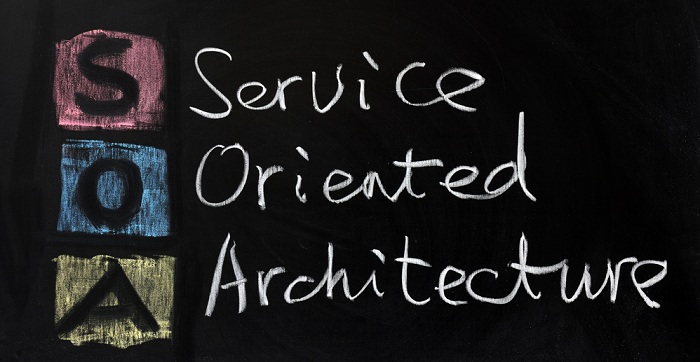 SOA image via Shutterstock
It seems that more and more organizations are using lightweight protocols such as REST (representational state transfer) to best leverage their SOA infrastructure. If you're one of them, you're going to need to know what REST offers as compared to the more traditional SOAP. SOA with REST: Principles, Patterns & Constraints for Building Enterprise Solutions with REST, a new book from Pearson/Prentice Hall Professional, could be a good first step. We've got an excerpt of the book up on the IT Bookworm blog.
Want the whole thing? Just tell us in the comments why you're considering REST and you'll be entered to win a copy of the e-book. For more on improving your SOA, visit the SOA Talk blog.
---
October 9, 2012 3:52 PM
Halloween is fast approaching – do you have a costume yet? Though the holiday gives you a chance to be someone (or something) that you're not, we're betting that many of you will put your IT knowledge to good use as you plan your outfit. We want to see the results and reward your creativity!
Send us a photo of your favorite tech-y Halloween costume (from this year or years past) anytime through October 31. Our favorite submission will get our undying respect — plus a $50 Amazon gift card AND a copy of Douglas Alger's new book, The Art of the Data Center, which is filled with lots of pretty pictures of the world's most creative server spaces.
You can submit your photo in any of the following ways:
Email: contactus@itknowledgeexchange.com (Subject line: Tech or Treat)
Twitter: @ITKE (hashtag: #techortreat)
Facebook: http://www.facebook.com/itknowledgeexchange
---
October 5, 2012 8:30 PM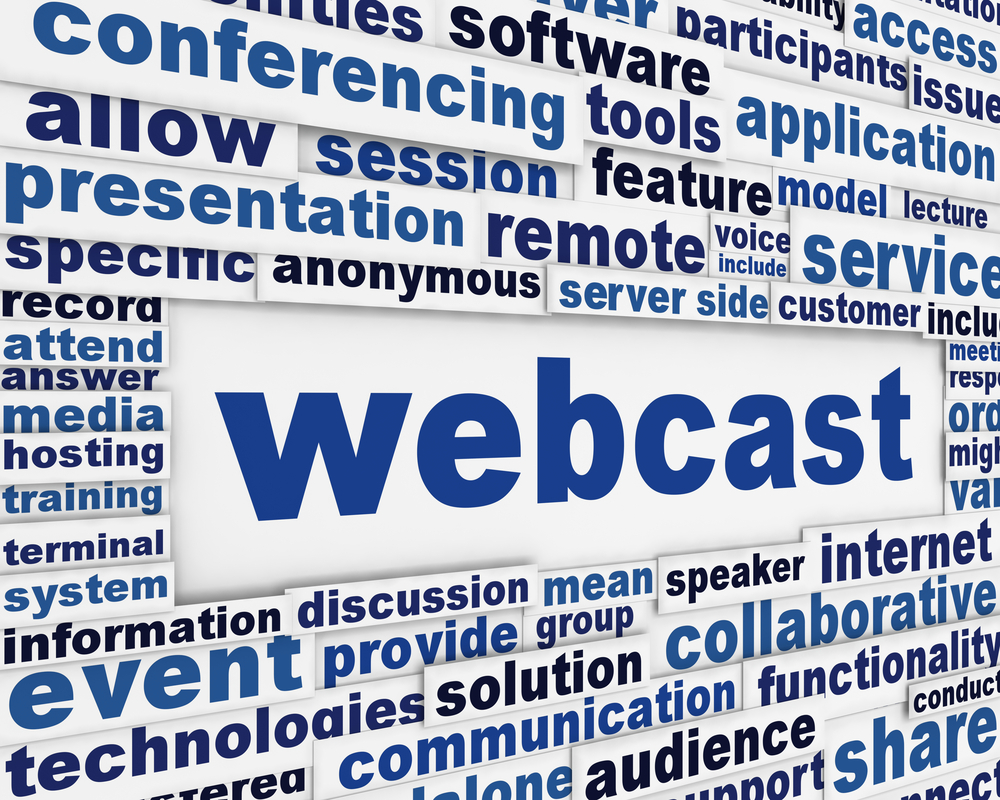 Webcast image via Shutterstock
Dell will be hosting a live webcast on October 11 at 12:30 p.m. ET to discuss different ways your company can deploy and manage the cloud.
Many organizations think that the cloud is a destination, and because of this are hesitant to adopt the platform. Rather than being a destination, the cloud is really a transformation that places IT at the center of the enterprise. Join us to discover a practical blueprint to help senior leadership teams make sense out of adopting the cloud and how it can greatly benefit your business.
See you there next week!
---
October 5, 2012 12:52 PM
Happy fall, all. Hard to believe it's already October! We've been busy here at ITKE over the last month or so, and I wanted to share a few updates we've made to the site. There are some interesting and exciting developments that I think will really improve the experience for everyone.
First up, spam. A number of our more active members have brought up the issue of spam posts on the site, and it's something we've noticed, too. We are taking this problem very seriously, and are happy to announce that we've instituted a new spam filter on the site that should help us catch those extraneous and/or unintelligible posts that sometimes appear. As with any automated solution, there are going to be some hiccups, and we expect that a few legitimate posts may get caught up in the net from time to time as the system learns what is and isn't spam. We will be checking regularly to make sure the good stuff gets published to the site quickly. If your post is mistakenly flagged and you don't see it within a day or so, let us know and we'll push it through. And if you see spam that does make it through the filter, continue to 'Vote to Delete' as necessary.
We've made a number of other changes to the site over the past six weeks or so, but the most important one for your experience is an update to the 'Answer Wiki' that appears on each question posted to the site. You'll now see a new avatar next to that box – instead of showing a single answerer, we're now showing a 'crowd' to reflect the multiple contributors to that answer (in true wiki style). Rest assured that if you add or improve an answer, your contributions will still be reflected, both in your points and in the list of contributors below the box. We're just changing the way the top of the box displays to avoid confusion.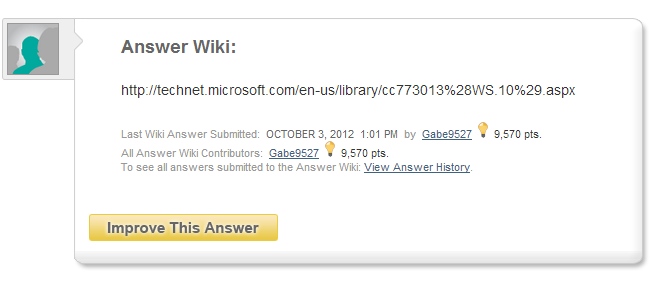 Looking for some reading material? Our IT Bookworm blog has been re-loaded with excerpts from a few new IT books, including titles on SOA, the requirements process and C++. Take a look through, and stay tuned for a chance to win copies of these and other books.
One final note: As you may have noticed, we're keeping track of major IT events on our Enterprise IT Watch blog. I imagine at least some of you are attending at least some of these shows; if you are, and want to share your experiences, let me know! We'd love to get some inside perspective from the ITKE army (or whatever you'd like to be called).
As always, drop me a line with any questions or concerns.
Ben
---
October 2, 2012 8:12 PM
Please join us for the #ISDCHICAGO2012 TweetChat on Friday, October 5 from 3:00-3:45 p.m. EST! As our annual Information Security Decisions Conference approaches, we're excited to get the conservations started.
Senior Site Editor for searchSecurity.com, Eric Parizo (@EricParizo) and Greta Lindberg (@TT_Edit_Events) will moderate a lively discussion with Mike Arpaia (@mikearpaia), Security Consultant with iSEC Partners and Diana Kelley (@securitycurve), Founder of research and consulting firm SecurityCurve, covering topics including:
Security and the economy
Cloud security
PCI update
Mobile security
Reminder: #ISDCHICAGO2012 TweetChats are a marketing-free environment! Join the chat to connect, learn and get excited for our upcoming show on October 23rd – please no product-specific postings.
It's easy to join the Twitter conservation by logging into the #ISDCHICAGO2012 TweetChat Room, which automatically keeps you in the conversation by tagging all tweets with the #ISDCHICAGO2012 hash tag. If you are unable to access the TweetChat room, simply search in Twitter for #ISDCHICAGO2012 and tag your tweets with #ISDCHICAGO2012 so they can be seen by everyone else.
If you have any questions, please contact Greta Lindberg of TechTarget Editorial Events at glindberg@techtarget.com.
---
September 27, 2012 6:44 PM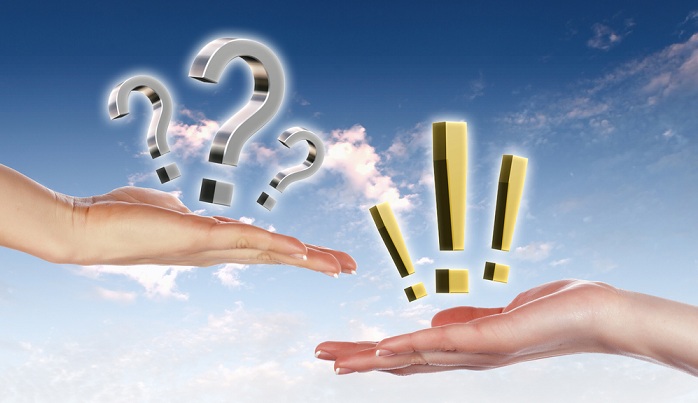 Question image via Shutterstock
"Why won't anybody answer my question?"
That's something a number of you may have asked yourselves at one time or another – and it's one question I can help answer.
There are many types of questions on ITKE: "what's wrong with this code" questions, "have you ever seen this problem before" questions, "what program do I use" questions, and more abstract questions and discussions (I ask a lot of these) that don't have a "right" answer.
Then, there are what some call "homework" questions. These tend to come from newer members who don't (yet) work in the IT field, asking for help solving a particular problem that sounds, well, a little too contrived. That's because it's not a real-world problem, but one that comes from a book or from a professor's assignment.
If you've asked or come across one of these questions before, you know that they're unlikely to get answered. In some cases, ITKE members will even vote to delete them from the site. Here's why: They feel like they're being taken advantage of, simply used for their expertise and then forgotten about until the next tough assignment comes along (I call it a "drive-by"). No one likes that.
That's not to say beginners are unwelcome here – or at least, they shouldn't be. We're all still learning in one way or another, and ITKE should be a place where everyone can build knowledge and skills at every level. It's just important to remember that this is a community, not simply a place to get a quick answer. So do some research beforehand, and show that you put some thought into your question (describe why you're asking the question, what you don't understand, and what work you've done so far), and you'll likely get a much better response than if you just cut-and-paste your question from an assignment into the submission form.
And hey, non-beginners: If you come across a thoughtful question like this, perhaps you can help out by providing your insight, or by directing the asker to a resource (a book, a website, etc.) that you've found particularly helpful. If you don't feel up to doing this, feel free to pass on by and let someone else try.
What should you do if you encounter a question that doesn't meet these guidelines? Don't just delete it. If you can, politely direct the user to this post, or to our FAQ, or to me. That way, we can turn it into a question that adds some value to the community – and gets an answer, of course.
---