May 21 2009 7:42PM GMT
Posted by:
JennyMack
Tags: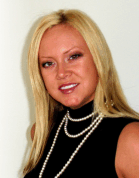 This week's featured IT blogger is Jennifer Jabbusch of "Security Uncorked." Jennifer is a network security engineer with over 15 years of experience in the industry. "Security Uncorked," or the "Complete Unofficial Guide to InfoSec," has recently covered topics such as Network Access Control (NAC), National Intelligence talks at RSA, and "Redefining NAC: The Series." You can visit Jennifer on "Security Uncorked" here.
Congratulations, Jennifer, on being our blogger of the week!