Sep 17 2009 3:12PM GMT
Posted by:
JennyMack

IT Blogger of the Week
,
ITKE
,
Michael Hay
,
The Storage Muse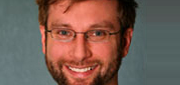 Michael Hay of The Storage Muse has plenty to say about enterprise storage — he's an R&D strategist at Hitachi Data Systems, working to understand customer needs for storage solutions. In The Storage Muse, he's recently written on LUN migration and file-level migration, as well as the Google File System. Be sure to visit Michael's blog today.