Mar 20 2012 8:49PM GMT
Posted by:
Ed Tittel
Tags:
I don't often get the chance to toot my own horn, but I received a very nice e-mail from Randy Brians this afternoon. Randy is the online marketing coordinator for a Website called INE.com, a provider of online training for Cisco certification. They describe their visitors as follows: "Our core audience is made of people looking into certifications and IT careers in general."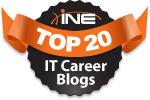 The INE Top 20 Has Its Own Logo
(click the logo to read the story)
They've compiled a list of "Top 20 IT Career Blogs," in which your very own IT Career JumpStart appears, as does my "Making it in IT" blog for Tom's IT Pro. It's kinda cool to find my work getting a nice fillip of recognition from an outside source, and even more gratifying to have two of my blogs selected for this collection of cogent, crafty, and courageous career advice.
In thanking Randy at INE for the recognition, I couldn't help but also ask: "What about my IT Certification Success blog for PearsonITCertification.com?" Just goes to show,  not only is it true that "you can't win them all" but also that "all of them can't win!" I would have still liked to boost my tally in this list from 10 to 15% anyway. ROFL!