May 9 2012 2:19PM GMT
Posted by:
Ed Tittel
Tags:
Because Pearson Publishing owns numerous well-known IT certification imprints and also VUE (a major dispenser of IT certification exams at their testing centers), the company can sometimes offer some interesting come-ons to prospective IT certification candidates. This is one of those times, where if you visit the home pagefor the site, then click the right-hand button depicted below, and click the Facebook like button on its landing page, you can register for a contest to win exam vouchers for either Cisco, CompTIA, or Microsoft exams and thee print books to go with them (first prize) or three e-books on any subjects of your choosing (second prize). Three first-place  and seven second-place winners will be selected after June 23, the day this sweepstakes closes.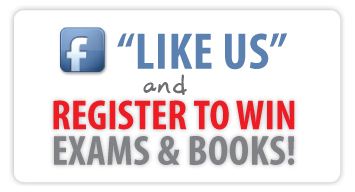 Obviously, the exams involved cover only those from Cisco, CompTIA, and Microsoft that Pearson VUE offers in its exam centers. Also, all chosen print or e-books must come from a Pearson imprint. But because such exams vary between $150 and around $500 in cost, and the books or e-books involved generally retail for $100 or more (for three titles you can easily rack up $180 at MSRP prices), it's still a pretty good prize for providing your name, e-mail address, and your certification preferences. If you've got one of these exams in your future, it's worth the two minutes it will take to register. See the registration form for details, and good luck!