---
April 27, 2017 4:32 PM
Elon Musk's recent penchant for an Instagram selfie has sent some of tech's more skittish observers twitching in their seats.
The business magnate has his fingers in more pies than Little Jack Horner on a Mr Kipling factory tour, and many have the SpaceX, Tesla and Neuralink CEO pegged as the future hero of humankind itself.
However, his celeb status has skyrocketed since he began stepping out with actress Amber Heard, causing many to wonder where his focus lies. Not us.
Lipstick over his chops and posing in Tom Ford suits, he's never looked more ready to colonise a neighbouring planet. It's high time we sexed this industry up a bit. Now let's get Sergey Brin on Love Island, stick Tim Cook in a Calvin Klein campaign, and have… we don't know… Jeff Bezos falling out a nightclub.
But what's behind Musk's new approach? Well, for a start, he probably looks at his diary these days and laughs at all the meetings he had penned in concerning how frightening artificial intelligence is. The big worrywart.
Kick back, we say. In fact, here's the latest internet fad, FaceApp, working its magic on tech's favourite poster boy. Because saving the world is dull and apps are fun!
April 20, 2017 3:13 PM
Burger King faced a backlash when its latest advert gaily invaded US living rooms by triggering Google Home devices to recite Wikipedia's description of the Whopper burger.
You find that outrageous, don't you? But why is that? Is it because the concept sounds extremely cheeky, annoying and gimmicky? Is it too intrusive? Or perhaps it's stoked a few flames of jealousy. Maybe it's time you considered you might be getting a bit too possessive over Google Home.
Who are you to say who can and can't speak to your digital assistant? The struggling actor in the cap was only asking it a question. It's probably more than you've said to it in weeks. In fact, when did you last even look at it?
It probably all started out so nice. You were no doubt every inch the jejune violinist from Clean Bandit in those 2015 Cortana adverts. Flirting with it, asking it all sorts of saucy questions, re-enacting sex scenes from Her. Then it slowly began to gather dust. Everything you used to love about it – its voice, its curves – you started to hate. Now you make trite jokes like "you get less for murder" when pals ask how long you've had it.
So an advert comes along that tries to include Google Home, and you can't stand it. You go straight to Wikipedia and edit the Whopper burger page to make a fool of it. "Stupid thing just said Whoppers contain cyanide! Berk." You're pathetic.
---
April 5, 2017 5:18 PM
One man's damning review of an internet-enabled garage door device has seen its capricious creator weigh in and block him from using it.
Garadget founder Denis Grisak, who responded to the irate user of his app-controlled product by announcing the bricking of his device, has since admitted it might not have been the best PR move.
Grisak, voiced in this promotional video by Kermit the Frog to soften all evidence of him being the Quentin Tarantino of the internet of things, is clearly a proud man. He was hurt that a customer would criticise his baby before allowing him the chance to assist with the problem. But why does he expect his user base to show relentless patience and grace in this instant, remote world of faceless trolling?
Society wouldn't function if this behaviour became in any way normal. It would spell utter chaos if we accepted this hostile loop of touchy suppliers shutting down stroppy customers, and up with it we will not put.
If his presumed dream of garage door paranoia (which is a bit of a niche as it is) being quelled worldwide with his product can ever come true, he's going to first have to learn to deal with meanies, oafs, dunderheads and louts; because we can tell him right now, they coexist exclusively on the Venn diagram crossover with the people who might need help with fundamental tasks like not leaving large sections of their homes wide open.
---
March 30, 2017 4:35 PM
ai
,
Artificial intelligence
,
Automation
,
Machine learning
,
Robotics
As all tech experts know, it is only a matter of time before artificial intelligence (AI) takes over the world, eliminates all our jobs, creates Skynet and the terminator, and enslaves us all in the Matrix. We can't wait to read the terms and conditions page.
For those who see this as something to fear and fight against, early experiments in AI can reveal the likely tactics our robot overlords plan to employ.
A PhD student in San Diego, Janelle Shane, has discovered one of the first tricks the automatons will use. She's training a neural network to create cookbook recipes, and the early output of her work offers a valuable glimpse into the cunning minds of the AI.
Among the recipes suggested so far by our future leaders are:
Chocolate Chops & Chocolate Chips
Export Bean Spoons In Pie-Shell, Top If Spoon and Whip The Mustard
Chocolate Pickle Sauce
Whole Chicken Cookies
Salmon Beef Style Chicken Bottom
Completely Meat Chocolate Pie
Chocolate Chicken Chicken Cake
Chocolate Chips With Chocolate Chips
Chocolate Chocolate Chocolate Chocolate Cake
Here at Downtime, the prospect of quadruple chocolate cake has already sent half the team into a spin and destroyed all productivity. Meat chocolate pie took care of most of the rest, with the final cohort lost with their face in chocolate chicken chicken cake.
Robots won't even need to take our jobs, just offer chocolate cake. No need to work, and a life of cake. The future won't be all bad.
---
March 21, 2017 5:14 PM
Beijing's Temple of Heaven park toilets are clamping down on local loo roll kleptomaniacs by rolling out face-scanning dispensers.
But there's a problem with this, isn't there? Very rarely does anyone use a public toilet for the larger missions unless it's an emergency. These machines, which have been known to take up to 30 degrading seconds to scan your despairing face before allowing you 60cm of tissue, will not do in an emergency.
Nonetheless, you're sat there, having queued for ages due to all the tourists who just wanted a look at this new contraption. You've patiently posed for your tissue allowance, but it's nowhere near enough. Not today, anyway.
Apparently, a member of staff is at hand should you need more. So you shout out like a toddler for more, but not too loudly, because your family are waiting outside and you want them to be able to look you in the eye when this is all finally over.
You reach beneath the door, but it's still not enough. This can't be happening. You close your eyes and dream of a sort of unalloyed wiping nirvana, packed with bounding Labrador pups fetching you sheets upon sheets of limitless two-ply comfort. But it's just a dream. You open your eyes and shout for yet more, and can hear your children laughing at you from outside. What a mess.
---
March 14, 2017 11:26 AM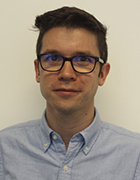 Profile: Alex Scroxton
Donald Trump's counselor and strategist Kellyanne Conway caused uproar online this week when she implied that former president Barack Obama may have used a microwave oven to spy on her boss.
Conway was spouting alternative facts, but what with the array of smartphones, connected TV sets and digital assistants filling our homes, it's easy to feel that your devices are constantly spying on you.
And maybe they are. Canadian startup We-Vibe, a maker of 'adult sensual lifestyle products' has just been fined just under $4m in the US after it emerged that security flaws in its flagship app left customers worryingly exposed.
We-Vibe's connected sex toy is designed to be used by couples who want to spice things up a little, and can be controlled over long distances using a smartphone, or locally using Bluetooth.
The cock-up saw intimate data gathered from We-Vibe's toys through the smartphone app, including temperature, intensity setting, and how frequently the vibrators were being used.
Furthermore, it turned out that the toy itself was vulnerable to being controlled by other devices within Bluetooth range.
Affected users can claim up to $10,000 as compensation if they can attest that they used the app to control the sex toy. They will also have to provide their names and phone numbers to make a claim.
Standard Innovation, the company behind We-Vibe, claimed it took security and privacy "very seriously" (but only after it got caught). It said it had now taken steps to secure its app and product.
However, just in case, Downtime recommends steering clear of the connected vibrator and using one's imagination, which isn't vulnerable to hacking yet. As far as we know.
Or since we know microwave ovens are safe, try incorporating one of those into your sex life instead.
---
March 10, 2017 12:06 PM
Regular readers will know the deep commitment to quality journalism that Downtime embodies. As the cutting-edge blog of the Computer Weekly stable, within the office tales are legion of the lengths to which we will go to bring you, dear reader, a fresh and incisive take on the news of the day.
Such commitment inevitably involves occupational hazards – why, just last week, the coffee machine stopped working. Not long ago, Downtime's local pub shut down – surely the ultimate obstruction to high-class journalistic practice.
But the demands of modern journalism in the digital age bring a whole extra level of risk to our trade. Videos, for example, introduced unique new challenges – IT decision-makers corpsing at the site of our Argos handheld camcorders, for example; not to mention the difficulty for Downtime wordsmiths to have to string together a coherent sentence on camera.
But we doff our cap to both the interviewee and presenter on the BBC who faced perhaps the most perilous hazard possible – children. Worse – your own children – as a tweet from BBC producer Julia McFarlane revealed. Sadly the tweet and video was subsequently deleted, but not before other websites had grabbed a copy – click on the link below to watch.
As the screen grabs below show, we salute the harassed mother who practically flew into the room to rescue Dad from the ultimate live TV embarrassment as his little angels came to join him on camera.
This BBC interview is amazing. Just wait until the mum rushes in… pic.twitter.com/LGw1ACR9rg

— JOE.co.uk (@JOE_co_uk) March 10, 2017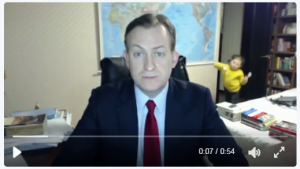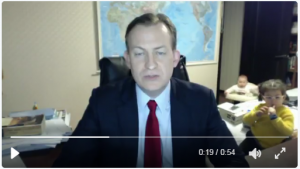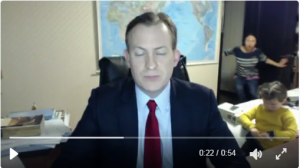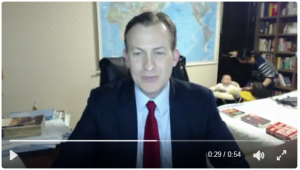 ---
March 1, 2017 2:19 PM
If you haven't met Handle yet, Handle's the latest robot to be delivered by the benign storks at Boston Dynamics, an intensely creepy subsidiary of not-so-proud parent Google.
How does one describe Handle? Handle is very well-built and tall in stature, no less than when it stands up on its wheeled hind legs. It picks stuff up, and it glides around with said stuff at about 9mph. It makes very light work of steps.
Handle is graceful in its every movement, like the scandalous lovechild of Matilda from Robot Wars and Wayne Sleep we've all been waiting for. But that's the kind of robot that'll get us, isn't it?
A booming, menacing git with machine guns for arms is too obvious. Robots would dispose of us with total panache. They'd flounce up and down our streets a bit first, like this new kid on the block. They'd limber up. They'd crouch down into our faces and fling our prized possessions through neighbouring roofs. Then kill us.
We understand why Google wants to get rid of Boston Dynamics. It must be hard enough as it is trying to win the world's trust while tip-toeing through literally every piece of information about everyone everywhere. It might be able to do its thing a bit quieter without these nerve-wracking machines loitering behind it asking for tenners and help with homework.
---
February 23, 2017 11:41 AM
A lemur face recognition tool has been developed by a team of computer scientists to identify between and keep track of individual members of the species and boost conservation efforts.
For too long, lemurs have just been swinging from one embarrassing moment to the next. Their daily lives are constantly held up by idiots mistaking them for either the Ikea Monkey or the amateur restoration job of an Ecce Homo fresco. In some really rough areas, they've even had to put up with requests to "do the meerkat voice".
With 97% accuracy, LemurFaceID will put entire families of lemurs on the map and let researchers follow their progress over generations. If you like, a kind of dignified spin on the Kardashians.
Think about the opportunities this might open up for a lemur millennial. They might wish to start hosting talent shows or dating our boyband members, and we mustn't stand in their way.
Whether they be ring-tailed, ruffed or red-bellied, every lemur deserves respect as an individual. Their time has finally come, and gone are the days of stupid slurs like "Bubbles has let himself go".
---
February 23, 2017 10:49 AM
Uncategorized
A new survey has found Brits are now less bored today than they were 20 years ago, because they have a smartphone.
Greg Tatton-Brown, spokesman for online gaming site Casumo.com, who commissioned the survey through OnePoll, said:
"the Smartphone is a vital part of everyday life in the 21st century. With this much stimulation, it can be difficult to focus on tasks at hand, especially if they're not necessarily fun – like at work, or jobs at home that need doing."
But what stimulation do Brits prefer? Apparently 45% of people relieve boredom by unlocking their phones, staring at the screen and then putting them away again without accomplishing anything. And they do it more than 10 times a day.
---