---
December 15, 2017 7:27 AM
Despite recent high profile data security incidents, it seems business leaders still are not acknowledging their IT vulnerabilities: In a recent cybersecurity study, 20% of survey respondents cited business and executive management treating cybersecurity as a "low priority" was one of the top three...
November 30, 2017 1:09 PM
Cybersecurity incidents remain a growing risk for the enterprise in today's digital world. As a result, an organization's cybersecurity strategy usually isn't just about prevention anymore, but also about risk mitigation and building resiliency. Many organizations are reinforcing their
---
November 14, 2017 1:22 PM
Panelists speaking at a session titled Right Hand, Left Hand: Transparency, Communication and Conflict at the recent Cambridge Cyber Summit agreed that the government and...
---
March 31, 2017 2:51 PM
It's no secret that data protection has become integral to bottom line success for digital businesses. As a result, it's time for InfoSec professionals to crawl out of their caves and start communicating with...
---
December 22, 2016 2:30 PM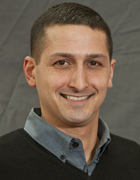 Profile: Ben Cole
For information technology professionals, obtaining certifications have become an important way to demonstrate their knowledge, experience and qualifications. Although certification programs are often fostered or supervised by...
---
December 19, 2016 2:20 PM
After the U.S. was allegedly plagued by Russian cyberattacks during the election, members of both the Democratic and Republican parties are now calling for investigations....
---
November 30, 2016 12:36 PM
In today's threat-filled environment, money is not always a hacker's prime motivation. They could be driven by political reasons or just want to embarrass organizations. But irrespective of their motivation, hackers often target
---
November 22, 2016 2:24 PM
On Oct. 21, hackers conducted a distributed denial of service (DDoS) attack against domain name server provider Dyn, causing an internet outage across the country and the world. To launch the attack, the hackers relied on internet connected devices to exploit default passwords. The
---
November 17, 2016 2:16 PM
Will President-elect Trump's transition team follow through on promises to get rid of Dodd-Frank compliance regulations? Also in recent GRC news, tech companies urge Trump to back encryption; and some U.S. phones have been subjected to a back door hack that sends users' data to...
---
November 3, 2016 12:03 PM
New privacy rules passed by the FCC could influence AT&T's plans for its acquisition of Time Warner. Also in recent GRC news, the internet of things proves useful to hackers and privacy regulators in Europe warned WhatsApp and Yahoo about sharing users' private information.
Privacy...
---