---
December 6, 2017 1:17 PM
Fleet Management
,
Internet of Things
,
iot
,
IoT analytics
,
IoT data
,
manufacturers
,
Manufacturing
,
ROI
,
SRM
The introduction of IoT into the service and repair process for commercial assets has not yet fundamentally changed the operations of companies responsible for running industrial assets. That needs to change if organizations are to realize the full potential of their IoT deployments.
For change to happen, people up and down the service chain — managers, technicians, call center operators, and all the individuals that play a role in service management and repairs — need to buy into a new system built on the use of IoT data. Instead of traditional information sharing methods, they must use information derived from connected sensors to prioritize and organize workflow.
Unfortunately, most of the time teams are provided with only the most basic information without context, leaving them to piece together the root of the problem on their own. An alert that something is amiss with a piece of equipment is practically useless unless it is accompanied by insight into the cause of the failure or recommendations on how to address the problem.
The ensuing process tends to foster more chaos than efficiency. A fleet manager who receives a basic sensor alert from a vehicle's temperature or pressure gauge, for example, will pick up the phone as the first step in attempting to identify the issue. That leads into other calls and emails between drivers, technicians, schedulers and others, all of whom try to work out a course of action. In the midst of the activity, various members of the service team will attempt to track down warranty and service history information, create work orders and more. It's a time-consuming, frustrating process that mitigates many of the efficiency benefits that IoT offers.
Driving actionable data from IoT
Service relationship management (SRM) provides a much more effective means of managing the repair process. SRM is a closed-loop service management system that allows organizations to derive actionable data from their IoT deployments and makes it easier to prescribe a fix for faulty operations.
With SRM, teams are provided context behind IoT alerts, including insight into faults and recommended actions to take to repair the problem. They also receive access to a dashboard highlighting all relevant information, including vehicle information, records, notes, directions to dealer service staffs, parts availability and inventory, repair estimates, alerts and more. Everyone, from drivers to repair specialists to managers and others, can view this information at any time, ensuring that all service team members remain on the same page.
Having this data at the ready — and accompanied by appropriate contextual information — greatly enhances asset management, repairs and IoT investments. There is no more need for an arduous communications process. The detailed insight into IoT alerts helps take the guesswork out of repairs. Asset downtime is reduced, repair costs are minimized and IoT investments begin to pay off because the information teams are receiving becomes far more valuable. SRM effectively becomes the catalyst for change that can have a direct and positive impact on companies' bottom lines.
Real-world results of SRM
Let's take a closer look at how SRM works by examining how it has helped one major truck manufacturer. This particular company invested seven years into building a repeatable, trackable, consistent process to improve uptime for customers across its network of dealers in North America. For the first six years, work focused on three elements:
Creating consistent customer experiences, including customer greetings, estimate creation, communication, tech support, warranty processing and remote diagnostics
Seamless call center integration into the service and repair process
Generating and using actionable intelligence
The company ultimately took these three elements, which historically are managed separately, and integrated all of them into an SRM platform. With this approach, the IoT-enabled sensors that provide 24/7 monitoring of the engine and transmission generate the data used throughout the SRM process — not just alerts when there are problems, but in the mean time between failure data, environmental data such as weather temperatures that affect tire wear, and anything else a sensor can detect and transmit. All of this data taken together enables proactive (preventative) diagnostics, detailed analysis of critical fault codes to facilitate repair planning in advance and streamlined service procedures.
The results of this approach were striking: Dealers in the program generated more than $8,400 more labor sales per 100 repair orders than other dealers, with an average cycle time (from open to close of a repair ticket) of 6.89 days per repair order versus the 10.25 days for other dealers, an almost 33% faster result. Overall, the manufacturer's dealer network has seen a 70% reduction in diagnostic times and a 22% improvement in repair times.
Faster service order processing times result in more throughput for the service centers, better capacity utilization of existing facilities and much more satisfied clients. SRM is helping organizations achieve these goals. The aforementioned truck manufacturer invested in the technology, but also invested in training its dealerships, service managers and technicians in how to use it, track its effectiveness and measure its effect on the bottom line. This is one example of a manufacturer that was able to improve service efficiencies, maximize throughput and profitability and deliver better customer experiences — all while truly capitalizing on its IoT investment.
All IoT Agenda network contributors are responsible for the content and accuracy of their posts. Opinions are of the writers and do not necessarily convey the thoughts of IoT Agenda.
December 6, 2017 11:27 AM
Acquisitions
,
companies
,
Internet of Things
,
iot
,
M&A
,
Mergers
,
transactions
M&A update, 2017 year to date
Deal volume year to date is up slightly, compared to the same period in 2016. However, 2016 is proving to be the record year in IoT M&A in terms of dollar volume, with its multibillion-dollar deals such as ARM, Fleetmatics and Jasper.
For 2017 year to date, we have seen a total of 106 transactions close, a slight increase compared to the 103 closed in the same time frame in 2016. It should be noted, in addition, that deal volume so far in 2017 exceeds each of the five full years from 2010 to 2014.
More significantly, perhaps, is the absence of transactions over $1 billion in 2017. Total disclosed transaction value of $3.9 billion in 2017 year to date is $49.2 billion lower than that of the same period in 2016, a period which included SoftBank's $31 billion acquisition of ARM Holdings and Apollo Global Management's $12.4 billion acquisition of ADT. Still, even when excluding these two largest deals in 2016, 2017 figures do not come close.
That said, there are a few deals currently pending that are above $1 billion in transaction value, including the $49 billion acquisition of NXP Semiconductors by Qualcomm and the $1 billion acquisition of Silver Spring Networks by Itron. Should the Qualcomm/NXP deal close in calendar 2017, dollar volume would be approximately equal to that of 2016; however, regulatory approvals could push the deal into 2018.
The biggest deals in 2017 year to date are the acquisition of ServiceMax, a cloud-based asset-tracking and field management company, by General Electric Digital for $915 million, the acquisition of China Merchants Logistics Holding, a supply chain management and transportation services company, by Sinotrans for $818 million and the acquisition of Comptel Oyj, a data fabric and advanced IoT analytics company, by Nokia Solutions for $373 million.
While telematics technologies represented almost half of the 2016 IoT M&A transactions (approximately 60 transactions out of 119), followed by hardware and devices, the Comptel Oyj/Nokia transaction is symptomatic of the strong interests in IoT analytics (big data for IoT), security, smart offices and homes.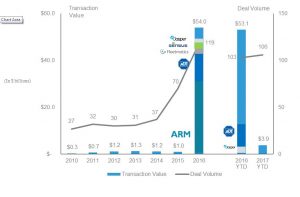 Private placement update
Similarly, private placement volume year to date is up, while dollar volume is down, when compared to the same period in 2016.
Private placement transaction volume for 2017 year to date has experienced an increase in total transactions (157 versus 123 in 2016 year to date), representing an increase of 26.7% and setting a new record in the IoT sector.
Dollar volume has slipped from $2.3 billion in 2016 to $1.8 billion in 2017 year to date. As a result of higher transaction volume and lower total deal size, average deal size has significantly decreased, from $18.7 million to $11.4 million. In 2017, earlier stage financing rounds (series A and B) have contributed to the lower dollar volume and average deal size.
Just as we saw in the M&A market, record dollar volume in 2016 was driven by a few large deals. Infineon's Series E financing of $935 million and Sigfox's raising of $160 million together accounted for almost half of total dollar volume for 2016 year to date and were a major influence on average deal size. The most significant private placement in 2017 thus far is the $500 million raising by BluJay Solutions, which offers supply chain and fleet management solutions, in August.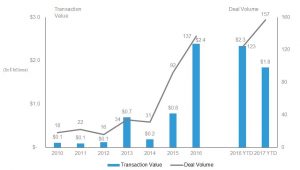 All IoT Agenda network contributors are responsible for the content and accuracy of their posts. Opinions are of the writers and do not necessarily convey the thoughts of IoT Agenda.
---
December 5, 2017 3:15 PM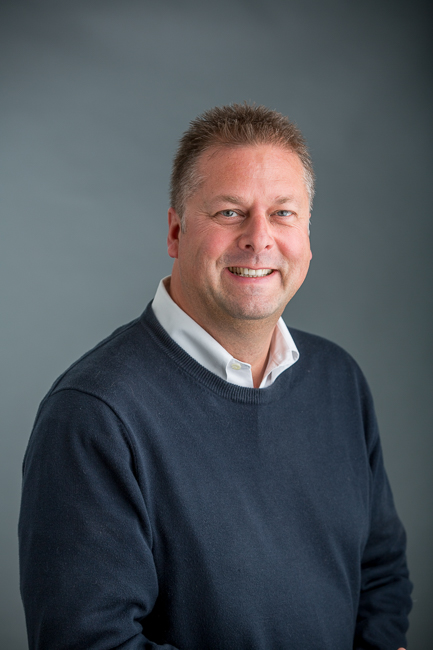 Profile: Hugues Meyrath
ai
,
Internet of Things
,
iot
,
IoT applications
,
Machine learning
,
pop up
,
retail
,
retailers
,
shopping
The National Retail Federation predicts that holiday retail sales in 2017 will increase between 3.6 and 4% for a total of $678.75 billion to $682 billion, up from $655.8 billion last year. This promising retail landscape makes the holiday season an ideal time for retailers to test out pop-up shops, which serve as another viable revenue source for retailers and a valuable channel for delivering the ever-important customer experience. In fact, one report found that 61% of shoppers list seasonal products as the main reason to shop at pop-up shops over the holidays. But in order to fully maximize this opportunity, retailers need to plan well in advance and proceed just as strategically as they do for their regular brick-and-mortar stores.
One of the most important components of planning a pop-up is ensuring support for brand uptime, including meticulously maintaining each and every pop-up shop for a consistent and positive image and shopping experience. With potentially hundreds of temporary yet unique distributed locations, supporting brand uptime is complex — but emerging technology, like the internet of things, makes it more possible than ever. Keep in mind that pop-ups are not limited to retail; restaurants, bars and even cafes doubling as cat adoption agencies come in the form of pop-ups. But no matter the theme, every pop-up shop must follow the same blueprint for success.
Brand uptime refers to the concept that your store is performing at its peak — but ultimately, brand perception is determined by the customer's experience while in your store, or their perceived quality of your product or service. It's critical that retailers prioritize quality in all aspects of their facilities and use all accessible resources and tools — like IoT — to maximize brand uptime. Technology that seamlessly supports the delivery of a consistent pop-up shop customer experience will prove a compelling advantage that will last long after the pop-up is gone. Simple logistics, like a clean shop and paved parking lot, functioning HVAC and good lighting, all require processes for maintenance.
While pop-up shops are not new, they've become an opportunity for retailers to actually engage with customers, a vital piece of the customer experience puzzle and a noteworthy contributor to annual revenue. Providing a consistent brand image and positive experience for every customer every time is a must. Bottom line: Consumer perception is huge and can make or break a pop-up — especially in this volatile retail landscape, so it's important to get it right the first time.
The role of technology
In order to handle the many complex details inherent to seasonal pop-ups and address any possible issues that may arise (or "pop up"), retailers need only apply innovation. IoT, artificial intelligence and machine learning are commonly implemented in retail to transform processes, like logistics management and planning, but these technologies also have the power to adjust and enhance customer experience on the fly. IoT and its underlying technologies are the game-changer in retail and impact different areas of logistics; no longer is it acceptable for a customer's experience to be anything short of perfection.
IoT also plays an important role in asset management, ensuring uptime so that business remains uninterrupted. Technology that can identify problems that may impact customer experience trigger preemptive alerts via connected equipment (in-store or elsewhere), and prevent issues is extremely beneficial to retailers. Typically, these types of issues interrupt business and eat into revenue, so the value of such technology is infinite and the advantages cannot be overstated.
Machine learning and AI
Machine learning and AI drive visibility and provide deep insights so facilities professionals within brands are informed and equipped to make data-driven decisions. One of the most exciting advancements associated with machine learning and AI is how this technology makes the processing and applying of information more efficient. Success includes smart data that is actionable so it can drive real change within any retail organization — which offers a distinct competitive advantage if used strategically. AI bots can be used to direct customers to a pop-up location and communicate the experience before shoppers enter. They can also communicate information from the front of the store and back of the store to headquarters, as needed.
Internet of things
IoT is invaluable for pop-ups and any physical location in several ways: Retailers can invest in connected assets that help ensure business continuity by avoiding outages via self-diagnosing equipment and also measure customer interactions with their store and merchandise in real time, thereby having the opportunity to make changes for the next day. The data inherent to IoT helps retailers analyze and improve factors that impact customer experience, as well as facilitate measuring results.
Pop-ups versus regular retail
The most basic yet compelling difference between running pop-up shops and regular stores is the fleeting nature of the facility. While regular retail stores have continuity, pop-ups can range in time from hours to months, leaving no room for error. This makes planning even more critical and offers other areas for machine learning and AI to provide support, like tracking annual details and serving as an automated team member — the one with the perfect memory, detailed notes and recommendations for a well-orchestrated experience based on real, historical data. More importantly, as customer expectations increase, what worked last year may not cut it this time. It's not good enough to just deliver access to products. Brand consistency, quality and uniqueness of the event associated with the pop-ups all matter and can all be tracked, measured and even executed using IoT and other technology.
The bottom line
Seasonal pop-up shops are enormously popular, and considering that the pop-up industry is reportedly worth approximately $50 billion in annual sales, this unique retail format offers a lucrative opportunity for retailers around the ultra-competitive holiday shopping season. No matter the retailer and no matter the size of the seasonal program, IoT and emerging technologies are key to ensuring all details, large or small, are locked down, including brand consistency across locations and the delivery of a quality customer experience that improves with each passing year.
All IoT Agenda network contributors are responsible for the content and accuracy of their posts. Opinions are of the writers and do not necessarily convey the thoughts of IoT Agenda.
---
December 5, 2017 12:12 PM
gps
,
Internet of Things
,
iot
,
IOT Network
,
Wearables
,
Wi-Fi
Analysts and experts often focus on the potential impact that IoT will have on the consumer market, but few mention how significant the benefits will be for public safety. The ability to connect everything means opportunities to not only improve response times for first responders during emergencies, but also to engage in largely preventative measures in order to prevent infrastructure problems in the future.
Just like any other type of technological improvement, it's important that the traditional groundwork for innovation is established. For example, LinkNYC, a project that established Wi-Fi hotspots across the entirety of New York City, only succeeded because it had a modernized telecom infrastructure already in place to build off of. The same could not be said for connectivity in deprived rural areas. The FirstNet initiative, where frequencies in the 700 MHz LTE band is being used to create a dedicated public safety network, is laying the appropriate groundwork for these IoT gains.
Here are five changes that first responders should expect to see in the very near future.
Improved response times
In cities such as NYC or LA, one of the biggest challenges for first responders is getting to the scene, often because of gridlocked traffic. While the sound of sirens and flashing lights will get other drivers to move, it's often very difficult in heavily congested areas. With the use of IoT in driving, smart traffic signals and GPS will allow first responders to more easily avoid traffic, taking routes designed to most rapidly get them to their destination.
Early warning systems for medical emergencies
In the event of a health emergency, every second can be critical. As more smart health monitoring devices come online, it will be possible for first responders to receive early warning signals from individuals. In those cases, help can be on the way before an incident has taken place. We've already seen a mass market appeal for devices that monitor heart rates, like Fitbits and Apple Watches, but there are emerging technologies that look to monitor more organs and body processes to identify issues before they occur.
The end of high-speed chases
A USA Today story cited more than 5,000 deaths as a result of high-speed chases since 1979. For the police officers who have found themselves in pursuit, the prevalence of connected (and self-driving) cars can and should eliminate these incidents. A simple call from police to a company like Tesla can result in a vehicle automatically — and safely — being brought to a stop. While this scenario may have legal implications, the technology to achieve this is readily available.
Individual tracking
It's relatively simple to use GPS to identify the coordinates of where someone is, but far more difficult to identify their altitude. This has often meant that it's impossible to know exactly which floor a firefighter in a multistory building in on, and this has left countless firefighters in harm's way. This is changing rapidly, as a variety of approaches, ranging from Wi-Fi to magnetic field usage, are improving the ability to understand exactly where a person is in a building.
Preventative injuries
Failing infrastructure is always a talking point in the discussion of the economy, but it is also directly related to public safety by preventing accidents before they happen. Failing infrastructure can lead to death through falling debris, increased traffic congestion leading to more accidents, and other disasters. Filling a city with sensors to monitor buildings, roads, bridges and other forms of infrastructure can help keep up with changes before they become disastrous.
In truth, the coming IoT revolution will impact nearly every market in ways we haven't yet begun to consider. For public safety professionals and first responders, though, some of the changes will happen in the near future and will lead to being able to perform their jobs in safer environments.
All IoT Agenda network contributors are responsible for the content and accuracy of their posts. Opinions are of the writers and do not necessarily convey the thoughts of IoT Agenda.
---
December 5, 2017 10:59 AM
Digital transformation
,
Internet of Things
,
iot
,
IoT applications
,
IoT data
,
IOT Network
,
iot security
,
LPWAN
It's clear that the internet of things is transforming the business world in every industry — from giving companies the ability to track systems remotely, to providing doctors with patient data in real time, to automating building maintenance systems and more. As the technology has evolved over time, adoption among businesses has skyrocketed. In fact, according to research from Gartner, 8.4 billion connected things will be in use by the end of the year. It's a sign that companies around the world are recognizing IoT's potential to provide sophisticated data insights, better engage customers and employees, and ultimately drive business growth.
As 2017 comes to a close and we begin to look ahead to next year, there are five key IoT trends business leaders and IT teams should consider, no matter where they fall on the IoT adoption curve. These trends will impact how and where organizations implement IoT, which IoT technologies they adopt and how the technology will be integrated into existing systems and services.
Here are the trends businesses should watch for in 2018.
IoT will drive business transformation
Companies that have adopted IoT see the technology as mission-critical to their business. These companies are leading the way when it comes to digital transformation initiatives. According to Vodafone's "IoT Barometer 2017/18" (registration required), 74% of companies that have adopted IoT agree that digital transformation is impossible without it. The businesses that implement IoT systems in the next year will have a clear advantage over competitors when it comes to evolving their digital capabilities.
LPWAN technologies will open up the IoT market
IoT adopters have great expectations for the future of the technology, and new connectivity options like low-power wide area networks (LPWAN) are making innovation possible. LPWAN technologies, like Narrowband IoT, allow for increased network coverage over a wide area at a low cost, making them an ideal technology for adding connectivity in hard-to-reach places. According to the analyst firm Analysys Mason, once there is greater awareness and understanding of LPWAN, there will be a new wave of growth in this area. LPWAN technologies will begin to open the IoT market to applications that have not previously benefitted from connectivity.
IoT will become central to enterprise IT functions
Today, most major enterprises have already integrated IoT into their core systems and initiatives to drive digital businesses. We will continue to see connectivity become part of the enterprise IT fabric — in fact, within five years, IoT will be core to millions of business processes. In the future, companies may even take for granted that devices and appliances like vehicles and HVAC systems can be controlled and monitored remotely, thanks to IoT connectivity.
Companies will be increasingly confident in IoT security products
As with any new technology, security remains a top concern when it comes to IoT. However, businesses with large IoT implementations are becoming more confident, given that they have the expertise and resources necessary to tackle security concerns. These organizations will begin to see these security measures as enablers that give them the confidence to push business forward. As the technology matures, trust in IoT-enabled applications and devices will only continue to grow.
Businesses will see unexpected benefits from IoT adoption
Companies that integrate IoT products and services will see a number of benefits from the technology. The benefits go way beyond just enabling better data collection and business insights. IoT will be seen as a driver of improvements across businesses — organizations are already using IoT to reduce risk, cut costs, create new revenue streams, improve employee productivity, enhance customer experience and more. Businesses are likely to see even more benefits as they implement the technology across operations.
IoT is rapidly becoming part of the fabric of IT infrastructure, moving from a "nice to have" technology to a critical asset. Businesses that take these trends into account when considering, building and deploying IoT capabilities over the next year are likely to realize the many benefits the technology can offer to the enterprise.
All IoT Agenda network contributors are responsible for the content and accuracy of their posts. Opinions are of the writers and do not necessarily convey the thoughts of IoT Agenda.
---
December 4, 2017 3:59 PM
Authentication
,
Biometrics
,
Fingerprint
,
Identity management
,
Internet of Things
,
iot
,
IoT applications
,
IoT data
,
IoT devices
,
iot security
,
Scanning
,
security in IOT
The booming internet of things is on course to double in just five years, growing from 15 billion connections in 2015 to nearly 31 billion by 2020 according to IDC . As the number of connections and use cases explodes, so does the number of security vulnerabilities. The fate of the marketplace depends on our ability to trust the devices, data and networks that make IoT possible.
However, a sobering new market survey by industry research firm Vanson Bourne reveals that 90% of consumers lack confidence in the security of IoT devices. In addition, more than two-thirds of consumers and nearly 80% of enterprises surveyed support government regulation of IoT security, indicating a lack of trust in industry stakeholders to secure the ecosystem.
It's clear that consumers and businesses alike have serious concerns about IoT security. But the good news is that security by design is proving effective in mitigating risk and preventing breaches, and biometrics is becoming an increasingly important part of the plan. By working together, consumers and enterprises can build a chain of trust across the IoT ecosystem that protects devices, data and networks and prevents IoT technology from becoming an open door for hackers.
Strengthen the security core
Enterprises across the IoT ecosystem, including software providers, device manufactures, service providers and the people that interact with IoT products and services, must all play a part in securing the ecosystem. Every link in the chain must be held accountable to this same set of core security objectives, which include four core goals:
Availability: Ensuring timely and reliable access to and use of information is an essential component of any IoT system. Without actionable, real-time and reliable access to data, the benefits of IoT simply cannot be realized. Data must be securely collected, distilled and shared in order to support any negative effects on availability.
Integrity: IoT technologies depend on reliable and accurate data. To prevent fraud and other harmful attacks, security measures must be taken to ensure that data is accurate and free from manipulation.
Confidentiality: IoT systems generate huge volumes of data that must be collected, stored and analyzed. Some of this data will include sensitive details about citizens themselves. Steps must be taken to prevent unauthorized disclosure of sensitive information.
Accountability: Users of any IoT system must be responsible and accountable for the actions they perform. This means that user interactions with sensitive systems must logged and associated with an authorized user. These logs must be difficult to forge and have strong integrity protection.
The IoT ecosystem is inherently complex and interconnected. However, complexity and risk can be mitigated though strong authentication and ID management technologies that enable a secure digital handshake between all ecosystem players. These systems encompass both hardware and software that either allows or denies access to devices, data and networks. When integrated throughout the ecosystem, they mitigate risk of attack and strengthen the four core objectives of IoT security.
Securing the chain of trust in IoT systems
In order to trust IoT, we need to validate the chain of trust throughout the ecosystem. Security mechanisms including secure elements, SIM and MIM cards, strong encryption, authentication and trusted key management technologies facilitate the secure digital handshake and serve as the backbone of IoT security. They ensure the four core objectives of security for all the links in the chain of trust, starting with the IoT device. They ensure that the device is not a rogue device, but a certified trusted element of the ecosystem. Second in the chain of trust is the software. Strong encryption and authentication ensures that the software running on the device has not been tampered with and is true. We also use encryption and key management to ensure that the data coming out of the device has not been tampered with. The final link in the chain of trust is authenticating the individual or the user that is interacting with the IoT product at the very edge of the chain is authorized to do so and can be trusted. This is where biometrics is booming.
The rise of biometrics in IoT security
The lines between enterprise and consumer IoT are blurring in objects and systems like connected cars, smart cities and smart energy. Biometrics, encompassing fingerprints, face recognition, iris scanning and more, are gaining traction in the mix of authentication technologies. The introduction of the iPhone 5s delivered a paradigm shift in the general acceptance of biometrics. Up to that point, fingerprinting was traditionally associated with policing and crime, which made people hesitant and cautious about allowing their fingerprints to be recorded. However, the widespread use of fingerprints to unlock smartphones, authorize downloads and approve mobile secure payments, coupled with the increased use of biometrics in the passport and visa process is helping to reposition biometrics as a more widely accepted identity assurance technology for convenience applications. In addition, scanning technology is continuing to advance, eliminating the need to touch sensors or stare into a camera for image capture, making it less invasive, more convenient and easier than other forms of ID management. To increase security for more sensitive applications, multifactor authentication methods including passwords, tokens and smart cards can be used in combination with biometrics applications to mitigate risk.
What specific IoT applications use biometrics?
In the autonomous vehicle industry, biometrics is a key component of the security and mobility services that brands like Volvo and Toyota will be delivering in the coming years. The ability of a car to recognize its owner as they approach, to unlock itself and activate personal settings, including mirror and seat position, temperature and musical preferences, is capable with existing biometric technologies. And exciting R&D is underway. For instance, carmakers such as Jaguar and Land Rover are patenting a biometric system to allow car owners to open the door based on a combination of facial and gait recognition technologies. Other leading auto manufacturers are testing biometric sensors integrated into door handles, key fobs, touchscreens and steering wheels that offer seamless authentication and customized mobility services. This includes using biometrics in combination with an automatic breathalyzer test to enable car ignition for drivers previously convicted of a DUI. Consequently, Markets and Markets is predicting that the biometric market will increase from $10.74 billion in 2015 to $32.73 billion by 2022, at an impressive compound annual growth rate of 16.79%.
In the future, fingerprinting and other biometrics will move not just to the car, but also to the home, potentially doing away with the need for keys altogether. Biometrics are being integrated into power meters, door locks, safes and guns, as well as home and office security systems for strong authentication. In these types of systems, where IoT devices are tied into a back-end system that interacts with critical infrastructure, identifying and authenticating an authorized individual on the other side of the network is crucially important. This is also true in the retail space where biometrics can be used to identify individual clerks managing a cash register or for use in marketing and customer loyalty programs to track a customer's preferences as they shop and examine specific items.
In today's evolving IoT landscape, biometrics is becoming an increasingly important method for authenticating the individual and securing the chain of trust. The trinity of identity, security and privacy is well supported by biometric technology, especially as more people become comfortable with physiology becoming an individual's key to their home, car and office, as well as their passport to a myriad of essential services.
All IoT Agenda network contributors are responsible for the content and accuracy of their posts. Opinions are of the writers and do not necessarily convey the thoughts of IoT Agenda.
---
December 4, 2017 12:51 PM
IIoT
,
Industrial IoT
,
Internet of Things
,
iot
,
IoT applications
,
IoT devices
,
manufacturer
,
manufacturers
,
Manufacturing
,
outcomes
,
Predictive maintenance
,
subscription
,
Subscription models
,
subscriptions
You're a manufacturer of industrial refrigerators or wind turbines. You've built your business on selling goods to other companies or households, promising customers a high-quality product and the satisfaction of at least five years of function. And when parts snap or fridges stop cooling food, your business guarantees that a professional will arrive on the scene to fix the issue to restore function to the machine.
When something that you made breaks, you should fix it. But the reality is that all equipment will fail at some point. You will have to dispatch technicians right and left last minute. If these machines break enough and techs don't have the abilities to fix them right then and there, it won't surprise you that customers are quickly turned off.
To deliver the kind of service that will keep customers happy, it's time to start thinking about the outcome that your products promise, rather than the products themselves. Reframing how you sell, deliver and service your products could transform your business, your relationships with customers and your bottom line. And in today's world, where manufacturers are transforming faster than the latest technology hits the market, adopting an outcomes-based approach to service delivery could be the key to differentiating your offerings from competitors.
An outcomes-based service model can really only happen by way of technology — specifically the internet of things. The gist: Rather than manufacturers selling products to customers, they'll sell outcomes. What does this look like? You, as the industrial refrigerator manufacturer, will sell "fresh, sanitary food that makes healthy dishes" to a restaurant in need of a fridge. It sounds like a small nuance, but this is where technology comes in.
Outfitting these refrigerators with sensors that monitor machines, and then connecting those sensors to the internet of things will allow for the manufacturer to keep a close eye on how your machines are running. If a part stops functioning, you'll be the first to know — and eventually, learning these patterns and using a machine's history can help you anticipate outages before they actually happen.
Now that your devices are all connected, here's where the real change comes in: Your entire business model gets disrupted. You're offering a service contract as part of your revenue stream, paying you for ongoing maintenance, service and functionality. It becomes an upselling of your business and services.
What this looks like: A restaurant pays you $5.99 a month for "cold food," which means that you as the manufacturer deliver a refrigerator, connect it via IoT and collect data overtime. You'll constantly monitor the health of the machine, and you'll dispatch a technician to service the machine before the customer has to call you and complain. As your technology advances, you'll replace the machine with a new model and continue the responsibility of delivering "cold food" to the restaurants you serve.
The major difference here isn't just semantics — it's an entire process and structure of a business. And with the move to service comes major benefits for consumers, manufacturers and service technicians alike. Sounds like a win-win for all.
And when it comes to winning, manufacturers in particular have the chance to do it big. Because instead of selling goods à la carte, you're signing customers up for an open-ended subscription. It's a SaaS model, only products-based, and will bring your company up to the modern technology standard.
Outcomes-based delivery is the way of the future. As manufacturers begin to see the benefits of using technology, connecting machines and evolving to a service subscription model, the way all of us live our lives and do our jobs will change — for the better.
All IoT Agenda network contributors are responsible for the content and accuracy of their posts. Opinions are of the writers and do not necessarily convey the thoughts of IoT Agenda.
---
December 4, 2017 11:04 AM
Connectivity
,
Consumer IoT
,
Enterprise IoT
,
Internet of Things
,
iot
,
IoT applications
,
IOT Network
The internet of things and mobile devices are creating a convergence of digital technology platforms that will eventually create a "one-stop shop" for consumers and businesses.
Gartner predicts that by 2020 there will be nearly 21 billion connected devices in use worldwide. This includes consumer products, like smart TVs and in-car entertainment systems, as well as industrial applications that can predict necessary maintenance in a factory or the most efficient way to distribute energy from a power plant. The ability of these applications to connect and interact with each other offers new ways of communicating and, for enterprises, opportunities to realize new or additional revenue.
But, especially from an industrial standpoint, the uptake on this new type of platform has been slow as enterprises seek out the best practices for connecting with multiple endpoints (customers, partners, employees, assets). The movement to cloud-based mobile-first strategies, which optimize connectivity with customers, employees and assets deployed anywhere in the world, creates additional layers of complexity.
Consider the energy industry, for example. In short, too many organizations in the energy sector are operating infrastructure that is analog, aging and outdated. It's time for utilities to switch out "dumb" assets for smart assets that can communicate digitally. New technologies, including sensors and digital control systems, can use real-time data to deliver better power plant outcomes with stable and efficient operations, while providing valuable predictive insights for higher reliability and optimization.
Perhaps the biggest challenge facing industry is that the various technology options supporting IoT remain fragmented, with many different standards and technology, each of which can apply to different applications, making the concept of an internet of things rather less plausible. In fact, Forrester says that this year, design teams will search through more than 19 new wireless connectivity choices and protocols to support the company's diverse set of IoT devices.
Rather than internetworking, it is more like an archipelago with many islands.
To illustrate this, let's say you're getting ready to go to a meeting that's on your calendar and you're using your phone's GPS to drive there. Right now, the parking app doesn't say it will take 20 minutes to drive there and you're going to have to park far away, so you better leave now. Google Maps knows the drive time, but can't tell you the parking situation — that would be a different service.
The need for multiple apps will begin to change as the convergence of the technology creates synchronization between applications. We're seeing this as the advent of cloud-based M2M device management systems has begun to lessen the need for multiple apps and create more streamlined platforms. On top of that, mobile network operators are now willing to forgo being the main service contractor and provider, choosing instead to partner with M2M/IoT platform providers and third-party system integrators in the realization of their M2M/IoT strategies.
The growth of these connected networks will have an impact across borders and across industries. For example, the automotive industry offers an opportunity to deliver a borderless and unrestricted connected car experience, regardless of location. Transportation and logistics companies can realize new cost efficiencies in their business.
Borderless connectivity enables airline aircrews to stay connected to their company network, regardless of their location. And building connectivity into aircraft will help in diagnostics and servicing, potentially helping to identify a problem with an aircraft before it creates operational issues.
We live in an era in which technology has enabled consistent, borderless communication. The always-connected nature of today's world is breaking down barriers to innovation and communication that previously existed. While challenges remain, we are clearly moving towards digital platforms that enable this convergence for consumers and enterprises around the world, both in developed and developing markets.
All IoT Agenda network contributors are responsible for the content and accuracy of their posts. Opinions are of the writers and do not necessarily convey the thoughts of IoT Agenda.
---
December 1, 2017 1:05 PM
ai
,
Artificial intelligence
,
Big Data
,
Chatbot
,
cybersecurity
,
Internet of Things
,
iot
,
IoT analytics
,
IoT data
,
iot security
,
Machine learning
Earlier this May I wrote that, following a year where the internet of things found the mainstream, 2017 would be the year for IoT acceptance, appetite and evolution. Key trends highlighted in the article, like security, strategic partnering and public sector uptake, were all central to the Internet of Things World 2017 agenda; three themes covered by FBI CISO Arlette Hart (among others) in her keynote panel session and subsequent interview.
Of all the trends covered, the proliferation of big data and machine learning in conjunction with the growth of IoT across businesses seems the most exciting. The internet of things means nothing to anyone without the data it harvests; the next generation of business will be defined by the way in which companies apply artificial intelligence to this and analyze the data they collect. By 2019, Cisco expects IoT devices to be generating 507.5 zettabytes of data annually (the analyst estimates the world's collective internet usage only hit 1 zettabyte in September 2016). These are gigantic data streams offering a virtually limitless number of insights.
Active examples of enterprises applying IoT data and machine learning to great effect already exist, with case studies from the Bay Area and beyond demonstrated at IoT Data & AI Summit in Palo Alto back in November. Here are four use cases that should grab the attention of all technology-oriented enterprises:
All IoT Agenda network contributors are responsible for the content and accuracy of their posts. Opinions are of the writers and do not necessarily convey the thoughts of IoT Agenda.
---
December 1, 2017 12:12 PM
Internet of Things
,
iot
,
IoT devices
,
iot security
,
multifactor authentication
,
Passwords
,
Regulations
,
security in IOT
The internet of things is quickly becoming the next frontier of technological innovation for consumers, businesses, industry and governments. Gartner predicts that by 2020, IoT technology will be in 95% of electronics for new product design. However, the same Gartner study that published the former prediction also suggests that "through 2022, half of all security budgets for IoT will go to fault remediation, recalls and safety features rather than protection." That's a big "but" for those who embrace the benefits of IoT, which are many, begging the question: Why aren't governments and regulative authorities doing anything about it?
With Bruce Schneier, CTO of IBM Resilient, stating, "You can't talk about regulation versus no regulation — that ship has sailed. Now it's about smart or stupid regulation," at the RSA Security Conference in February, it's time to get the ball rolling. But what's already being done?
The truth is, not much.
The U.S. Senate introduced a bipartisan bill this August calling for minimum security requirements for IoT devices used by the federal government, though its recommendations are very general, not to mention limited in scope. According to the proposed bill, vendors will be required to ensure that their devices are patchable, rely on industry standard protocols, do not use hardcoded passwords and do not contain vulnerabilities. While the senators introducing the bill expressed their concerns about the lack of security for IoT devices, little is being done by regulatory authorities to address commercial and consumer applications of the technology.
Some of the first vestiges of regulatory policy are now being drafted in the EU, as IoT security and privacy relates to GDPR compliance initiatives, and in the U.S., though currently the only state that seems concerned about the impact of emerging technologies is California. In the latter case, the State of California Senate drafted Bill 327, not yet ratified, asks for built-in security features from connected device manufacturers. It also would require manufacturers to "equip devices with reasonable security features," "design the device to let the consumer know when information is being collected," and require direct notifications to consumers of relevant security patches and updates.
Alongside California, the U.S. FTC pales in comparison. The regulatory body has done little but encourage device manufacturers to take security into account, and, to date, has only issued one formal report on the topic that pertained solely to consumer devices, failing to take enterprise and commercial applications into account. There are other initiatives, such as the Open Web Application Security Project and NIST, which has issued reports governing specific security issues, but has yet to address overarching security and privacy concerns arising from IoT devices.
What NIST does do is identify the constraints of IoT devices that may present security concerns, such as the need for continuous power consumption, which could cause the prices of the devices to increase if encryption or security features are required, the low cost (referring to the previous point) and the lifecycle of the products, which is usually short, therefore making patches and updates a burdensome, if not impossible, process. So, if some of the Western world's largest and most authoritative regulatory agencies aren't willing to take action, who will?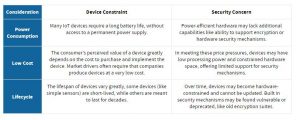 At this point, that also remains an open question, but there are some necessary areas that IoT security and privacy regulations should address. Firstly, there is the issue of unauthorized access. IoT device manufacturers should be required to tie a strong authentication factor into use of the device. This can be easily achieved through existing methods like multifactor authentication or creating unique user credentials.
Second, there is the issue of access. Who in their right mind would keep the default passwords issued by the manufacturer when they are usually "1234" or "default?" Many of these passwords are accessible online through services like the Shodan Network, where you can look up nearly any connected device and extract its factory-issued username and password. The sad part is that so many consumers and even enterprises trust the manufacturers to be "security first." The sadder part is that they aren't. That's why a security-first mentality is essential if any IoT regulation is going to work.
Another issue is data privacy — what is the limit to the information that can be collected, stored and shared over the internet? Consumers, and even more importantly enterprises, need assurances that their data is protected, and they need to be able to protect such data with strong passwords and authentication credentials. What happens if the smart IT guy hacks the smart coffee machine, thereby gaining access to data-loaded areas of the network with everyone's salary information? The consequences could be significant, but such scenarios are usually afterthoughts in light of IoT's innovative appeal.
No matter the structure or source of the regulation, what's true across the board is that it needs to come fast. The FTC issued its third IoT-related enforcement complaint against the company D-Link at the beginning of this year because the company promised consumers that its wireless routers and IP cameras were secure, when they were far from it. According to the FTC, D-Link could have taken reasonable steps to secure its products against "widely known and reasonably foreseeable" risks. A slap on the wrist or a fine is not enough to make IoT manufacturers change their way of doing business. To achieve the desired security-first approach, stringent top-down directives are needed.
The one obvious drawback of regulating IoT technology in what is still considered an early and transformative phase is that it may have the reverse effect, or make IoT inoperable. However, with the number of real-world examples of IoT going haywire and wreaking physical and monetary havoc on companies and individuals, there is little time to consider how to lightly drop the IoT security bomb.
All IoT Agenda network contributors are responsible for the content and accuracy of their posts. Opinions are of the writers and do not necessarily convey the thoughts of IoT Agenda.
---