---
July 18, 2017 1:12 PM
Consumer IoT
,
Enterprise IoT
,
iot
,
Mobile
,
smart home
,
smartphone
,
User experience
,
User Interface
Everyone's busy talking about what the next smartphone will do… when will we have "wireless" charging (that isn't actually wireless) or an end-to-end buttonless touchscreen with curved glass. Everyone's hyper-focused on this indispensable phone that they could never imagine a world without, but they're all missing the point. Ten years ago, the technology world was unraveled when Apple released the iPhone. Many predicted its failure because they couldn't foresee the convenience of having a computer and an internet connection (even if inferior to a laptop) in their pocket at every moment. Similarly, we're all so blinded by being tethered to our smartphones that no one is planning for the future.
In the future, data connectivity will be ubiquitous and processing power will be off the charts (literally). You won't have a super-powerful smartphone or laptop that can do everything because your watch will be powerful, your glasses will be powerful, your fridge will be powerful and who knows, maybe even your kitchen drawers will be fully automated. In a world truly surrounded by smart devices, including roads, automobiles, buildings and restaurants (not just smart registers or smart elevators), we won't care about buying the latest iPhone the day it comes out because it won't be our most important technology.
Time and time again, consumers have told us that power and specs aren't everything. They prefer learning and consuming content from a mobile device that is dwarfed by their desktop because it's right there. Similarly, as other devices become more intelligent and more connected, their convenience will diminish the utility of your smartwatch. In the same way that it's easier to ask Alexa when the bus is coming than to pull out your phone, launch an app and wait, it's easier to open your smart fridge and have it suggest you make broccoli beef because your broccoli is wilting and you bought some meat at the butcher yesterday.
Today, it's hard to imagine a future where you won't need your smartphone because most connected IoT devices aren't really connected. Yes, they have a data connection, but it's dependent on your Wi-Fi or smartphone. And yes, they collect information, do things "automagically," and are generally better than their "dumb" unconnected counterpart, but they don't talk to each other. When you build a connected home today, you'll probably set it up with Ring, Nest, Hue, Alexa, Sonos or HomePods, a Withings scale. Individually, they all make your life a little better, but when they clash, it can be pretty annoying. This is definitely a first-world problem, but it's pretty annoying when you're blasting music on your Sonos, you can't hear the caller on Ring and it takes you 30 seconds to mute your music.
In the future, your connected home will actually be connected. When your Ring sees someone approaching your door, even before they ring the doorbell, it'll fade your music so you can hear your phone ring and see who's there. Your fridge will know what's in it and when your food is expiring, and your oven will be able to warn you before you burn your dinner. In fact, it'll be connected to all the other sensors in your home, so it'll know you're in your bedroom and give you a verbal reminder only in that room, without disrupting your guests who are throughout the rest of your home. That's what a connected experience should be.
We're living in a world with smart sensors and smart devices that are all individually smart, but don't yet know how to communicate with one another. Yes, you can import your data from Fitbit and Withings and combine it, but it isn't automated, and it definitely isn't easy for most people. To create a world with a ubiquity of unique smart devices that actually work cohesively, we need to first empower these devices to communicate with one another more easily. Connected platforms like HomeKit will enable these integrations through single sign-on, just like Apple did with its new TV platform.
As IoT devices and platforms continue to improve, soon everyone will be adopting these smarter devices at home and elsewhere. Each of these IoT devices will individually become more useful than pulling out your smartphone. In the same way many users report their Apple Watch reduces how often they check their phone, each new smart device will reduce the user's dependency on their phone. In 10 years, this inflection point will begin when users start relying less and less on their smartphones, just as 10 years ago the iPhone brought this on the PC. In 20 years, we'll think of the smartphone like an iPod today… a legacy piece of hardware that's forgotten in the back of some drawer.
All IoT Agenda network contributors are responsible for the content and accuracy of their posts. Opinions are of the writers and do not necessarily convey the thoughts of IoT Agenda.
July 18, 2017 11:36 AM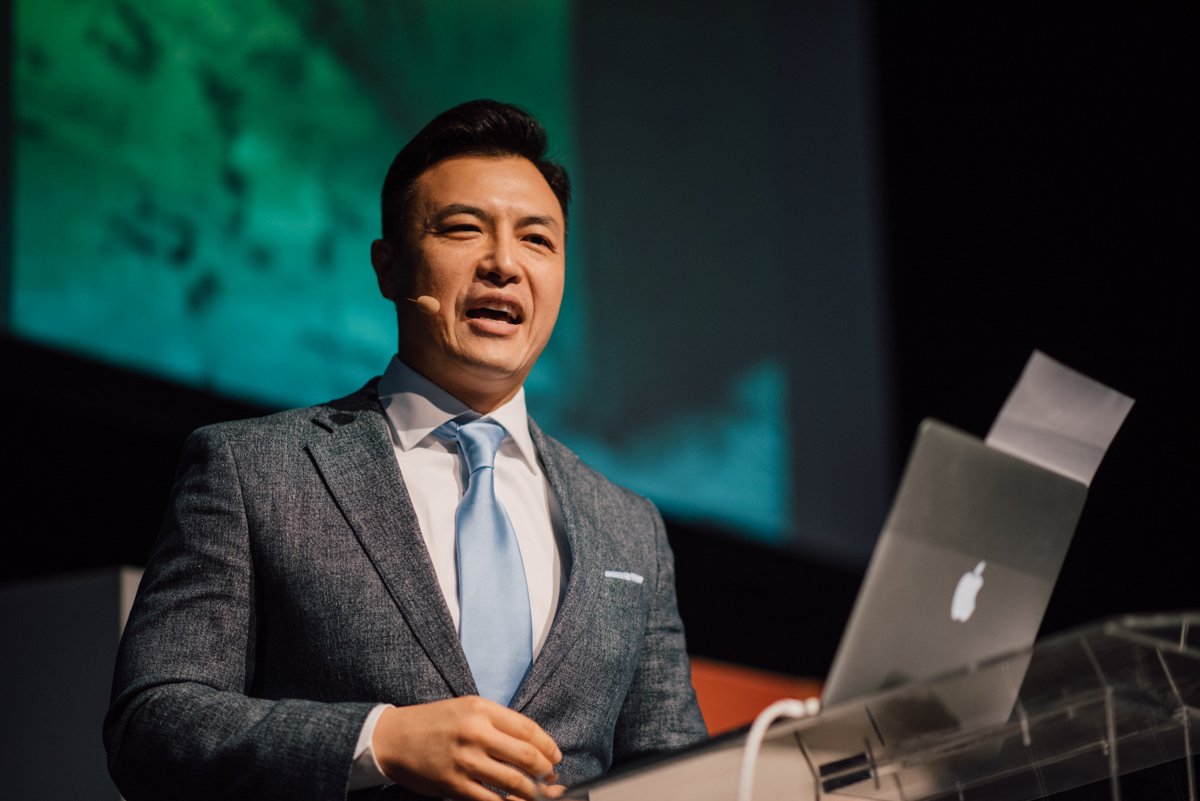 Profile: Scott Amyx
#eHealth #Healthcare IOT #Wearables #wireless medical devices
,
ai
,
Artificial intelligence
,
Healthcare
,
IBM Watson
,
IIoT
,
Internet of Things
,
iot
,
Machine learning
Healthcare is an area that promises a great potential and is witnessing the growth of AI-based and machine learning technologies. Patient care and medical research and diagnosis are two areas that are ripe for such solutions.
Artificial intelligence to the aid of patient care
Patient care forms an integral and important part of hospitals. Apart from good doctors and facilities, how well a patient is taken care of becomes a huge differentiator. It is, however, a costly proportion for the hospitals as it involves dedicated time from nurses and other medical staff.
According to Bret Greenstein, vice president of Watson IoT platform at IBM, medical staff invests around 10% of their time answering basic questions from patients. The questions could be about lunch, visiting hours, hospital rules, doctors' details and so on. On top of this, mundane activities such as lowering the lights, adjusting the room temperature, opening or drawing the curtains, adjusting the bed and probably a thousand other things, all add up pretty quickly to make the job of healthcare staff pretty demanding.
AI is stepping in just to take away the mundane-yet-important tasks and to free up some of the medical staff's time. The staff could use this time more productively elsewhere.
IBM is using its Watson IoT platform to collaborate with Philadelphia's Thomas Jefferson University Hospitals and Harman to develop smart speakers that respond to a patient's commands. Upon hearing the patient say, "Watson, dim the lights," the lights or other features of the room will adjust based on the command. Through voice commands, patients can also control the thermostat, ask the speakers to play soothing music and so on.
AI healthcare systems are evolving to help patients even when they have been released and went home. AI can tell much more accurately things such as how long is the patient going to recover and what is the best course of treatment for a specific patient, and can also prompt patients to walk and exercise more, and so on.
Diagnosing medical conditions with AI
It's not just the healthcare; AI can also bring major benefits in other associated medical areas as well. Studying the vast information abundance and diagnosing specific cases quickly and as good as a human doctor does is one such area.
Still under the works, IBM's Watson is a great effort in that direction. Watson's intelligence hinges on the data it absorbs. It's a giant with an insatiable appetite for data and information. Watson began as an AI that was learning to read and write, and then was making educated guesses in Jeopardy. It is now gaining a better understanding on cancer, training under 20 top cancer institutes to learn more about oncology and genomics. Watson may be an AI in training, but it can read as much as 25 million papers in a week. Around 8,000 new research papers are published every day — something impossible for doctors to go through even over several months.
AI doesn't just picks up the information fast, it also learns to make the appropriate analysis based on the information it has absorbed, just like a medical student. A test was done to see if Watson would conclude the same genetic mutations as the Molecular Tumor Board. Based on an analysis of 1,000 patients, the AI could provide the same recommendations in 99% of cases. In 30% of the patients, Watson introduced a new insight that the other physicians didn't conclude.
IBM's Watson isn't the only upcoming major healthcare AI innovation. Big companies such as Apple and Google and healthcare giants like GE Healthcare have made investments in the industry, and their technologies will further bring innovative disruptions to healthcare.
Challenges and future outlook
Everything, however, is not rosy. The leading healthcare platform, IBM's Watson, still has a long way to go before establishing unquestionable credibility. The prime reason is unavailability of data that can be fed to train Watson. Specific diseases need specific types of data along with thousands of other contextual variables to consider. Gathering such data, which is both credible and exhaustive, is a huge challenge for any machine learning technology.
The challenges are plenty, but the rewards are going to be exponential. Patients could really rely on smart AI-based assistants so that they do not need to depend on anyone to carry out basic tasks. Medical diagnosis, similarly, could help doctors a great deal by churning out useful, quality advice in time.
All IoT Agenda network contributors are responsible for the content and accuracy of their posts. Opinions are of the writers and do not necessarily convey the thoughts of IoT Agenda.
---
July 17, 2017 4:34 PM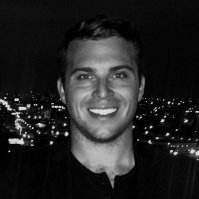 Profile: Rudzki Zachary
connected
,
Connected car
,
Data Analytics
,
Data Management
,
Edge computing
,
Internet of Things
,
iot
,
IoT analytics
,
IoT data
,
smart city
The U.S. Department of Transportation last year selected Columbus, Ohio, to be the poster child for the first smart city in the country. Although the city's pitch was impressive (check it out here), it raises the question: Does smart transportation by itself make a city smart?
The answer depends on your measurement of scale. For me, that measurement is how a city utilizes the data it has access to. While simply capturing and possessing data to inform future decisions — like Chicago's Digital Portal — is a start, the real goal is creating interconnected ecosystems where each facet, whether person or machine, can freely access and react to information in real time.
It's easier to think of the difference between a connected city and a smart city as a static big data set versus a conscious organism.
Modern-day challenges
On a daily basis, we live between the fight for accessibility and privacy. As a result, it reinforces the need to ensure that the rise of smart cities remain a catalyst for opportunity — and not an inhibitor. It's about finding the balance between commerce and municipality, and there are a few hurdles to overcome before we reach autonomous utopia.
To frame an example, it is thought that the current decline in U.S. auto sales will mean less traffic on the road, but that's a misconception. By and large, traffic is at an all-time high due to ride-share services like Uber Pool and Lyft Line. The reason being is individual drivers are still commuting in droves, while regular mass transit users continue to ditch rail and bus for low-cost rides. This creates an increased demand for more cars that is compounded by the fact that municipalities don't have the resources to meet the infrastructure demands of modern services, not to mention a growing population — so commerce is left to adapt.
Thankfully the solution is conceptually simple: In the future, autonomous cars will be capable of making split-second decisions through technology, like edge computing, and instantly relay those actions to all via telematics. But that's an ideal case; in the not-so-distant future, adjustments to infrastructure will be made to compensate for the inefficiency of human drivers until autonomous is mainstream.
To answer my initial question, does smart transportation by itself qualify a city as being smart? I believe it's a strong start, because it single-handedly has the largest impact on our daily lives beyond agriculture, healthcare and energy. Its indirect impacts will create ripple effects across other sectors. Take real estate: Property value has historically been based on the golden rule of location, location, location — and the proximity to mass transit being a major factor. This is likely to change.
From connected to smart
What does it take to go from a connected city to a smart city? It requires rethinking the planning and development of urban landscapes and the services utilizing them in order to avoid the inefficiencies of today's problems — like double-parked Ubers disrupting the flow of traffic. It means that all adjustments can be made at the speed of life on a metropolitan scale. What it isn't is a single unit acting on its own.
Take the Port of Los Angeles, for example. Under normal circumstances I wouldn't call it a microcosm, but it's a good litmus test for scale. The port's entire supply chain is actively utilizing data across its environment to improve the distribution of goods. That means importers, truckers, terminals, shipping lines, chaise providers and more are all sharing data with the goal of improving their own operations. Needless to say, the impacts spread beyond the port.
All IoT Agenda network contributors are responsible for the content and accuracy of their posts. Opinions are of the writers and do not necessarily convey the thoughts of IoT Agenda.
---
July 17, 2017 3:05 PM
Incident response
,
Internet of Things
,
Intrusion detection
,
iot
,
iot security
,
Profiling
,
Security appliance
,
security in IOT
,
Segmentation
,
visibility
When was the last time you thought of your security appliance, which is meant to secure your network and sensitive data, as just another IoT device?
It all starts with one question: Why are security officers hesitant to let go of their security appliances and move on to software or cloud-based offerings? There could be many answers to this question, but the fact is that these appliances largely live up to their namesake, i.e., emulate an overall feeling of security. CISOs don't need to grapple with system managed devices, they have full control over their appliances, and there's no need to report back.
These are all valid answers to the above question. However, there's an alternative answer as to why CISOs are so attached to their security appliances: politics. The fact of the matter is that security appliances provide CISOs with a feeling of peace and quiet. To be frank, few within the organization care about which OS runs on the appliance, when the last upgrade was or when the appliance was last patched.
This is where the security appliance becomes a double-edged sword. Security appliances are, in effect and by definition, connected devices that run software, which makes it similar (if not the same) as any other IoT device. Therefore, security appliances are inevitably vulnerable to the same threats as any other IoT device for enterprise. Once hackers decide they want to get into the corporate network, it's a walk in the park for them to gain control over an unpatched and unsafe security appliance or IoT device and gain uninterrupted access to the network. And because security patches for security appliances are usually discovered after the fact, there is ample room for hackers to carry out potential and actual breaches.
How can CISOs make sure that their security appliance is not just another unsecured IoT device? Here are five steps that can help CISOs keep their appliances secure, while giving them much needed peace of mind:
Visibility — Ensure that you can see all the existing IoT devices in your network, including managed and partially managed devices.
Profiling — Understand each device type, what operating system it is running on, and which applications and processes are installed.
Segmentation — Affirm that an IoT device is not running on the same network segment as other devices, or within reach of the organization's mission-critical systems and data. Firewalls must be deployed between these segments to prevent IoT devices from reaching the "crown jewels" of your network.
Detection — If segmentation is properly implemented, then detection of IoT devices on your network should be a cinch. Once an IoT device joins the network, your network security technology should be able to immediately detect it and carefully verify whether it behaves similarly to other typical network devices. A compromised or rogue might look the same, but will behave differently.
Response — Employ a network technology that delivers automatic actions once a breach is discovered. Manual actions take time — hours or even days — and can incur a hefty cost. Automated breach response can block, quarantine or limit access for a specific device in a matter of seconds.
IoT holds great promise for enterprises in a variety of industries– from government to retail and healthcare to education — with its power to link formerly static devices to the internet, bringing with it tremendous benefits for productivity and corporate expansion. However, in line with the benefits of IoT for business, the technology expands the attack surface as new types of devices join the corporate network. Your security appliance could be one of those. Don't let the security of your network fall through the cracks by gaining full visibility and control over your appliances.
All IoT Agenda network contributors are responsible for the content and accuracy of their posts. Opinions are of the writers and do not necessarily convey the thoughts of IoT Agenda.
---
July 14, 2017 3:33 PM
ARM
,
companies
,
company
,
Internet of Things
,
iot
,
Merger
,
Mergers
,
Mergers & Acquisitions
,
nokia
A significant decrease in deal activity in the first six months of 2017 is proving 2016 to be the record year in IoT mergers and acquisitions by a large margin (see chart below).
So far in 2017, we have cataloged a total of 45 transactions, a 21% decrease from the 57 deals done in the first six months of 2016. It should be noted, however, that deal volume so far in 2017 exceeds each of the five full years from 2010 to 2014, and is on track to exceed 2015's 70 deals by the end of this year.
More significantly, disclosed dollar volume of $2.3 billion in 2017 year to date is $14 billion lower than in the same period of 2016. While 2016 witnessed five "mega-deals" over $1 billion, including Softbank's $31.4 billion acquisition of ARM, there have been no deals over $1 billion yet in 2017. Excluding last year's mega-deals, 2017's year-to-date aggregate transaction value is almost equivalent to the same period in 2016, amounting to $2.3 billion and $2.5 billion, respectively.
The biggest deals in 2017 year to date are the acquisition of ServiceMax, Inc., a cloud-based asset tracking and field management company, by GE Digital for $915 million, and the acquisition of Comptel Oyj, a data fabric and advanced IoT analytics company, by Nokia Solutions for $373 million.
While telematics technologies represented almost half of the 2016 IoT M&A transactions (approximately 60 transactions out of 119), followed by hardware and devices, the Comptel Oyj/Nokia transaction is symptomatic of the strong interests in IoT analytics (big data for IoT), security, smart offices and homes.
In addition, we highlight the following points:
Seven out of the 10 largest 2017 targets have been U.S.-based
21% of 2017 deals year to date targets have been based in Asia
Median deal size is down to $73 million for 2017 from $100 million over the same period in 2016
There is a large pipeline of 20+ transactions in closing stage as of today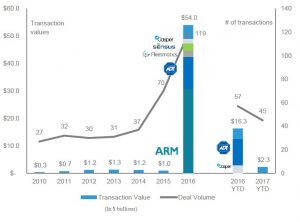 Private placement update
Private placement transaction volume for the first six months of 2017 has experienced an increase in total transactions (78 versus 68 for the first six months of 2016) representing an increase of 14.7%. Mirroring the trends in mergers and acquisitions, 2017's 78 deals in the first six months exceeds each of the full years from 2010 to 2014 and is on track to become a record year, with the potential to exceed deal volume of 92 and 137 in 2015 and 2016, respectively.
Dollar volume, however, is significantly lower, slipping from $1.9 billion in the first six months of 2016 to $430 million in 2017 year to date. Average transaction size has also declined significantly, from $31 million in 2016 to $6 million in 2017. In 2017, earlier stage financing rounds (series A and B) have contributed to the lower dollar volume and average deal size.
Just as we saw in the M&A market, record dollar volume in 2016 was driven by a few large deals. Infineon's Series E financing of $935 million and Sigfox' raising of $160 million together accounted for over half of total dollar volume for the first six months of 2016 and were a major influence on average deal size. The most significant private placement in the first six months of 2017 is Actility's $75 million raise in April.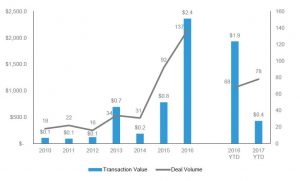 All IoT Agenda network contributors are responsible for the content and accuracy of their posts. Opinions are of the writers and do not necessarily convey the thoughts of IoT Agenda.
---
July 14, 2017 12:06 PM
capacity
,
Capacity planning
,
Future Trends
,
Internet of Things
,
iot
,
IOT Network
,
iot security
,
Network management
,
Network planning
,
Network security
,
Network storage
,
Scalability
It's impossible to predict what networks will be required to handle in the coming years, especially when it comes to the internet of things. However, creating a reliable, available and secure network that is ready to cope with unpredictable data demand is non-negotiable.
There is no getting around the fact that networks are seeing an explosion of data coming from "smart" objects that connect the physical and digital worlds. In fact, IHS forecasts that the market will grow from 15.4 billion devices in 2015 to 75.4 billion in 2025. Despite this increase in data, and no matter what new IoT technology or application is announced, users' expectations remain high — networks must be up and running constantly and bandwidth must always available. Plus, now that IoT, including IIoT, is becoming more intertwined with mission-critical services such as smart grids and emergency alert systems — the stakes are even higher. Even the slightest network latency or jitter goes beyond a simple inconvenience and has the potential to cause life-threatening situations.
The time is now for service providers, enterprises and cities to get their networks in shape to handle the increase in bandwidth requirements, as well as prepare for what is to come tomorrow. Unfortunately, while it's a simple concept, it's not such a simple task.
The Wild West of IoT
Change doesn't happen overnight and there are inherent challenges whenever there is a major technology shift. IoT-based technologies are certainly no different, and in many ways, the current IoT landscape resembles the Wild West. There are a lot of players in the market and even higher expectations for what the future will bring, but at the same time, the space is lacking industry guidance and interoperability standardization. This makes it harder to understand how and why a network is being impacted, and predicting the unpredictable more difficult. However, this is not to say that progress hasn't been made.
There are several standards bodies making progress in this space working on standardization, reference implementations and certification programs. As more vendors, industry groups and customers come together to share best practices and find a common ground, we will see more innovative use cases and get more insight on how to properly create a network that is built to withstand these changes.
What's needed today
While there are currently a lot of unknowns, companies are adapting to the change in traffic patterns they are already seeing, as well starting to think bigger — and rightfully so. The only way to compete tomorrow is to prepare networks and infrastructure to be flexible enough to handle whatever is coming our way.
When making these changes, some key considerations include:
Network scale and capacity. It is projected that IoT devices will exceed cell phones in use within two years. Further, this traffic is unusual because it is more localized and sourced from the devices to the cloud. For example, smart city information will be created in the city by devices for the benefit of that location and its citizens. Network operators must plan for this, as it is a significant change from the internet today, in which content often comes from a global provider to the user.
Computing power and placement. IoT will accelerate the adoption of big data analytics and distributed cloud computing. An enormous amount of structured and unstructured data will be generated, and computational-intensive analytics are required to gain meaningful and actionable information. According to Gartner, "As the need for real-time insights closer to the point of IoT data generation grows, IT leaders responsible for information technology/operational technology alignment face an increasing urgency to deploy decentralized, scalable and secure computing technologies at the edge of data center, cloud and campus networks." This is where edge computing comes into play. In fact, Business Insider estimates that 5.6 billion IoT devices owned by enterprises and governments will utilize edge computing for data collection and processing in 2020.
Storage capabilities. The untapped pool of data from IoT is poised to provide organizations visibility into parts of their operations that impact business decisions. Given how critical it is, it's important to devise a plan on how it will be stored, which isn't easy given IoT's unpredictable nature. Using distributed cloud-based storage is optimal as it provides flexibility, scalability, compliance and a sophisticated architecture to support an essentially unlimited influx of data. By being able to carefully store data, it can then be properly analyzed to determine its value.
Security should be a consideration for every IT decision. Many IoT devices have already been compromised, from toys to corporate video systems. While encryption and stringent rules for access to stored data are widely employed to protect against intrusions, network operators need to consider advances in networking equipment that can deliver low-latency, in-flight data encryption. This provides increased protection for data from the moment it leaves one data center to the moment it enters another. Encrypting at the Ethernet or optical layer of the network offers wire-speed performance to ensure the process does not reduce the traffic throughput, increase latency or modify the content.
Creating a future-proof ecosystem. To get the most out of IoT, it's likely we'll see the rise of a vendor-neutral "IoT Command Center" that is able to connect disparate systems together. However, it will be some time before this becomes a reality. In the meantime, doing this internally or working with a company that believes in open networking and open source technology is critical in order to have the flexibility needed to integrate with future technologies. If one just goes with their favorite IoT vendor of the moment, you could become locked into them and their ecosystem or compelled to build a completely different infrastructure when other use cases come along. Ultimately, without the right flexibility, a company's entire IoT program could become inefficient and costly.
While we are far from seeing the full benefits of IoT and IIoT, there is no doubt that we are in the midst of an important transformation. As Gartner explained, "The decisions made today about investing in and implementing IoT will have ripple effects across the organization for years to come."
All IoT Agenda network contributors are responsible for the content and accuracy of their posts. Opinions are of the writers and do not necessarily convey the thoughts of IoT Agenda.
---
July 13, 2017 4:15 PM
ai
,
Artificial intelligence
,
Enterprise IoT
,
IIoT
,
Industrial IoT
,
Internet of Things
,
iot
,
IoT applications
,
IoT data
,
IoT platform
,
monetisation
,
Sensor data
My experience with Fortune 100 global energy, engineering and OEM companies, tells me that a tectonic shift is happening in the energy industry, a shift that promises to change the game in the marketplace forever, leaving the traditional asset and Capex-based business models behind. Increasingly, we are seeing that AI-driven IoT platforms are becoming the digital nervous systems of 21st century industrial companies. IoT platforms are going to be the foundation on which new business models are going to be created — powering new revenue pools and expanding the engineering organization's foray into other value-added services that bring predictable revenue streams. As a result, the choice of an AI-driven IoT platform is an extremely strategic one which cannot be reversed easily.
As the engineering world collides with the digital world, there is a great deal of confusion and our team felt that more than finding answers, the right questions needed to be asked. Having been soaked in the AI and industrial IoT world, we would like to share a list of 21 mutually exclusive and collectively exhaustive questions spanning core dimensions in applying AI to industrial context.
Instrumenting asset blind spots
In order to assess the scope of the work, one of the initial tasks at hand is to figure out the "machine learnability" quotient of the asset. Most electromechanical assets have rudimentary instrumentation and may not have the sensors required to capture information in order to model the asset. In order to get context of the remote asset, here are a few questions that reveal the instrumentation and asset landscape:
What events are being emitted by the asset today?
What events are not being broadcasted by the asset that need to be instrumented or "sensor enabled" going forward for the AI algorithm to learn from?
Sensor health monitoring
One of the most common issues faced in the rugged industrial context is the malfunctioning of sensors which can result in corrupt data being fed to the AI algorithms. As there are hundreds and thousands of assets and sensors, it is very important to know what percentage of the assets and sensors are transmitting healthy sensor data. Basically, we need to look for the absence of events from assets of interest. For example, some sensors had battery issues and were not transmitting:
Does the AI-driven IoT platform have dashboards that reveal the number of sensors not broadcasting state information?
Do the sensor health monitoring dashboards reveal the length of time that an asset has not been communicating?
Does the sensor health monitoring dashboard flag events with spurious data or incorrect data?
AI-driven signal detection
AI is where deep mathematics meets machines; AI and deep learning algorithms crawling in search of patterns to predict asset downtime, asset failure and asset optimization:
Which AI algorithms need a data scientist to configure, and which algorithms can be executed by an asset engineer?
Can the AI platform signal anomalies in real time?
Can the AI platform express the taxonomy of anomalies experienced by an asset?
Can the AI platform correlate the anomalies to asset outcomes (downtime, remaining useful life) that need to be modelled?
Can the AI platform have multiple models blended together as an ensemble?
Can the AI platform predict in real time or is the prediction in offline mode?
Industrial data product creation
Industrial data products are a set of AI solvers for real-world business problems. The apps can answer a correlation question or trigger an action signal. As engineers start layering intelligence over their assets using data products, here are a few questions that can help:
Can the IoT platform guide users to create edge data products using APIs or using workflows?
Can the IoT platform create forensic data products that go beyond "dot on the map" to identify interesting correlations not ever seen before?
Can the IoT platform triangulate signals across heterogeneous data pools, sensor historian data streams, maintenance events, ambient asset conditions and other data streams?
Scalability of sensor event streams
The industrial IoT world will absolutely generate many more events than the consumer world. Take for example the Bombardier C-Series jetliner with Pratt & Whitney's engine which has 5,000 sensors embedded within it. During a 12-hour flight, 10 GB of data per second is emitted, resulting in 844 TB of data. The scale required for data ingestion is infinitely higher. With that in mind here are a few questions on scalability:
What is the peak emission rate of my asset events? Is it thousands per hour, millions per hour?
What is the peak ingestion rate of the IoT platform?
How much time will it take for an alarm event to reach the central command center? Is it milliseconds or seconds or minutes?
Pricing model of AI-driven IoT applications
The industry is in the early stages of its evolution and multiple pricing models exist. Over a period of time, depending upon the complexity of industrial process and its linkage to a financial outcome, the pricing model will eventually stabilize. In the meantime, here are a few questions to ask:
Should pricing be set per asset or asset type?
Should pricing be set per app or cluster of apps?
Event volume-based pricing offered by players like Splunk?
Outcome-based pricing like pay per thrust in aviation engines?
Closing thoughts
With all the considerations above, the choice of an industrial AI-driven IoT platform for assets is a multidisciplinary affair requiring three lenses to look through: the financial lens, the engineering lens and the software lens. Taking the time to consider all of these variables before you begin down the AI path is critical, but can make the task a lot less risky.
Albert Einstein once said, "We cannot solve our problems with the same thinking we used when we created them." We hope the above questions serve as an actionable AI playbook as you plan out your strategy for an industrial IoT initiative.
All IoT Agenda network contributors are responsible for the content and accuracy of their posts. Opinions are of the writers and do not necessarily convey the thoughts of IoT Agenda.
---
July 13, 2017 2:53 PM
Profile: Vishnu Andhare
Hardware
,
Hardware and software
,
Hardware relocation
,
Internet of Things
,
iot
,
IoT hardware
It's now been almost six years since Marc Andreessen coined his famous phrase, "Software is eating the world." What seemed prescient in 2011 is now present in our everyday lives, as software continues to turn one industry after another on its ear.
Familiar examples like Uber or Airbnb, of course, come readily to mind. But even traditional industrial companies are turning themselves into software powerhouses. Fujitsu, through its Akisai cloud, provides a SaaS-based solution for agricultural production management. GE's digital products analyze machine data in real time to increase productivity and create new business opportunities. These days, it seems, if you're not already a software company, or on the road to becoming one, you're going nowhere.
Even in the world of IoT, software stands atop the technology stack, with more attention (and investment) going toward applications than the other two primary domains in the IoT ecosystem: sensors and connectivity.
Yet, that's starting to change. The IoT industry is giving much more attention these days to the underlying hardware — the compute, connectivity and sensor technologies that together enable IoT applications. Indeed, when it comes to IoT, I believe we are at the dawn of a "hardware renaissance."
This trend is accelerating as IoT permeates all parts of our lives, perhaps most notably in such areas as smart home technologies and intelligent cars. Many software companies have figured out that if you want to acquire customers on a software platform, you may need to build your own hardware. This full-stack approach is evident in such hardware devices as Amazon's Alexa and Snap's Spectacles.
The new emphasis on IoT devices over software reflects a much larger shift in the tech world, driven by things such as systems on a chip, smartphone adoption, ubiquitous connectivity and 3D printing that make it cheaper, faster and easier to create prototypes. Easy access to low-cost computers (think Raspberry Pi at $10) and sensors only accelerate the shift. Moreover, funding is becoming more plentiful from venture capitalists, like Bolt, Lemnos Labs, SpringBoard and New Labs, that are dedicated to hardware startups. Crowdfunding is another popular source of seed money.
The hardware renaissance, like most technological shifts, is happening in stages:
Stage one: The quickest and easiest way to make a "dumb" device "smart" is to connect it through gateways or platforms to the internet. An example is a pump manufacturer, such as Flowserve, increasing the "operational awareness" of its equipment in the field, by making such equipment enabled for wireless communication and monitoring.
Stage two: Making hardware "soft" and using it as a "platform" to generate services revenue is the next logical step. When you think of a wearable device such as a Fitbit or Oculus or a smart home device such as an Amazon Echo or a Nest, you're not buying it for what it is, you're buying it for what it can be. These devices are supporting rich applications the way smartphones do, unlocking a wide range of new IoT services.
Stage three: The most advanced uses of IoT involve a combination of powerful hardware and software to add real intelligence to products at the edge. Good examples are collaborative robots, or cobots, that physically interact with humans in a shared workspace. Think Marble courier robots and do-it-yourself drones, such as Flybrix. Historically used for industrial and toy applications, these intelligent devices are increasingly going mainstream as more uses are developed for them.
To be clear, not all hardware products need to go through these stages, or even be connected to the internet; each of these stages will make their specific contributions to the hardware renaissance.
Any hardware story is incomplete without talking about advances in the semiconductor market fueled by the need for onboard intelligence. To enable edge devices to make better decisions, onboard deep learning processors are required, and this, in turn, is leading to the development of tiny AI processors that deliver processing capacity equivalent to multiple mobile GPUs while, at the same time, using lesser power.
Traditional hardware vendors such as Freescale, Intel, TI, Broadcom, Qualcomm, STM and Samsung are actively promoting their own IoT hardware ecosystems. And Google, which runs the largest computer network on earth, developed its own custom silicon, the Tensor Processing Unit, specifically to run its deep neural networks. This highly efficient chip, Google believes, is the key to making AI more affordable, especially for enterprises that depend on machine learning for their success.
With the lightning pace of change, it is difficult to peer around corners to see what's next. Yet, amid this uncertainty, we would be wise to keep in mind the words of Alan Kay, who said, "People who are really serious about software should make their own hardware."
Success in IoT is not just about replicating existing business models through a connectivity prism; it depends on developing robust value chains and ecosystems. Just as the cloud brought about SaaS transformation in the software products industry, hardware companies now have the potential to support rich IoT applications and build recurring revenue streams independent of cyclical product sales.
While apps have been the sexier story in recent years, hardware is still exciting because, unless we live in the Matrix, we still need physical technology to interface with the world. Hardware startups are now looking like the software startups of the previous digital age — with the power to likewise eat the world.
All IoT Agenda network contributors are responsible for the content and accuracy of their posts. Opinions are of the writers and do not necessarily convey the thoughts of IoT Agenda.
---
July 13, 2017 11:37 AM
apps monetization
,
Business model
,
Data monetization
,
Enterprise IoT
,
Internet of Things
,
iot
,
monetisation
Most IoT technologies are not new. Sensors, switches, actuators, chips, communication protocols, storage and other core parts of IoT have been around for decades. In reality, IoT is a remix or mashup of many things that came before. What is new are lower costs, more intelligence, ubiquitous communications and enormous new streams of data. This changes everything. And it provides revolutionary opportunities to recombine offerings producing entirely new business models, revenue streams and added value. There are plenty of new gadgets and software apps in the marketplace, but the sweet spot is in coming up with ingenious ways to assemble technologies and unlock new ways to streamline businesses, enhance customer service and improve people's lives.
Computing trends pave the way for IoT evolution
As computing expanded from mainframes to minicomputers, the software industry was born. With personal computers and client-server technology, new retail distribution chains opened up and the "shrink wrap" software industry was born. With the introduction of mobile tablets and smartphones, subscription-based pricing models and downloadable and streaming content markets were created. Now, with the current wave of connected IoT sensors, devices and wearable technologies, we see entirely new opportunities for pay-per-use and recurring-revenue models that will once again spawn billion-dollar business opportunities. And all the data "exhaust" from these streams provide greater insights, better customer outcomes, new business models and larger revenue streams.
Driving value by engaging the entire IoT ecosystem
Although IoT embodies many industries and markets, 10 broad sectors are spearheading adoption. These include smart cars, connected homes, wearables, e-healthcare, agriculture 2.0, the industrial internet, retail stores, smart buildings, utilities and energy grids, intelligent transportation systems and smart cities.
To win in one of these sectors, you have to understand its ecosystem — in detail. That means understanding user behavior, perceived value, use cases, underlying technologies and market dynamics. And you need to be able to partner with key players as well as compete with alternatives. Each one of these areas will have different business models, pricing and monetizing opportunities. Although these sectors are distinct, IoT creates overlapping segments and new avenues for growth that provide opportunities for monetizing, competitive disruption and business model innovation.
This translates into new value propositions, significant brand enhancement and powerful ROIs. The key to success is to thoroughly analyze and identify which segments are the best match for your IoT offering. Then focus only on those that leverage your core strengths, unique capabilities and understanding of the end user. In the competitive IoT landscape, timing is critical. To ensure a swift time to market, it's best to partner with strong and established ecosystem players that have complementary expertise and can rapidly provide more robust functionality.
It's very rare for one company or one product to be able to offer the "whole solution." The advantages of working with selected partners in the value chain are shared risk, lower costs, leveraged development, credibility and easier access to markets. In some cases, a partner may be the only way to break into a specific market. In others, outsourcing non-core components of your solution may also accelerate time to market. You need to think through all the potential partnerships in the value chain and nurture those that are mutually beneficial.
When hardware goes soft: Seizing new opportunities with software and remote upgrades
In the world of hardware devices, software has become critically important. Devices from the tiniest of sensors to enormous machinery are now driven by software, and billions of these "intelligent" devices are expected to connect to the already-sprawling IoT ecosystem within the next few years. The connectivity of these IoT devices creates new levels of risk for hardware manufacturers. Protecting intellectual property from theft, piracy, misuse and reverse engineering is the cornerstone of software monetization and it's become a significant priority for IoT device manufacturers.
Secure IoT connectivity provides a path for delivering new capabilities for hardware already deployed in the field. Feature-based licensing and entitlement management software allows device manufacturers to ship the same physical product to different customers and then activate different features, functionality and price points after delivery. This type of software monetizing technology also enables remote upgrades to products already deployed over the lifetime of the device. Remote upgrading replaces the one-and-done product mentality of the past while reducing the impact of obsolescence. With flexible software-based licensing solutions, customers can use only the features they want, turn them on and off as needed and pay only for what they use. By offering alternative pricing models to customers, manufacturers of smart hardware products have found that they're able to tap into new markets.
Enhancing and balancing the business model
The rise of connected intelligent devices gives hardware manufacturers the chance to deliver more relevant features and a better customer experience while allowing new business models like subscriptions and pay-per-use. And as the subscription economy gains traction, enterprises are using it to balance business models and move from a large one-time Capex expense to smaller Opex expenditures spread over months or years. At the same time, connectivity-enabled usage tracking provides increased transparency and business intelligence for the customer and the vendor alike. Business models based on capital expenditure, in which manufacturers charge upfront for expensive hardware (like an MRI machine) and give the software away free, are outdated and limit the marketability of their products.
To survive in the competitive IoT landscape, intelligent device vendors must accept that software is the key to differentiating their hardware solutions. They need to enhance monetization of their intellectual property by protecting existing revenue streams, reaching new customers and cutting back-end costs. Monetizing IoT successfully will occur via highly flexible business models that encompass easy licensing and entitlement management solutions. The most successful new models will align with customers' evolving needs and build on delivering a greatly improved user experience across the long lifetime of IoT hardware devices.
All IoT Agenda network contributors are responsible for the content and accuracy of their posts. Opinions are of the writers and do not necessarily convey the thoughts of IoT Agenda.
---
July 12, 2017 12:23 PM
Agriculture
,
farms
,
Internet of Things
,
iot
,
IoT applications
,
IoT hardware
,
Pest
I read an article on the rat problem recently. It detailed an innovative solution to fighting rats that spread disease and devastate our crops. Until now, the primary solution has been to use poison and traps, but clearly that hasn't worked. Looking deeper, the root issue is that a pair of rats can produce 15,000 offspring in a single year, so even if we drastically reduce the population, it'll always grow right back. This article gave us a solution that thinks differently. The elegant solution was a contraceptive that stops rats from breeding and thus has a long-lasting impact on their population. Let's apply this thinking more broadly to managing all pests on a farm.
Traditional pest control methods
Chemicals are a big part of most farms. Pesticides do reduce losses from mice, insects and other pests, but using chemicals doesn't come without costs. Consumers are becoming increasingly concerned about the impact of these chemicals on their own health. Additionally, pests develop resistances over time, requiring heavier use or new, more costly pesticides. 
Seed science can modify plants to become more resistant or less appealing to some pests as well. This can often force farmers to contract with a seed company year after year and can be costly.
Infrastructure, such as greenhouses, fences and other structures, helps keep out or deter some pests. While this works well for certain situations, like keeping deer and other large animals out, it can be either too costly or just plain ineffective when trying to combat insects and smaller animals.
Design of certain elements of a farm can also deter pests. An interesting example is farmers in Africa who planted chilies around the outside of their fields to make them less appealing to elephants. While this is a very smart solution for certain situations, it won't work for many others.
A new method: Internet of things
Despite our best efforts to deter pests, they remain an issue that continually challenges farmers. One answer can be to look beyond common farming practices to technology, specifically the internet of things. IoT can be used to connect sensors and devices in the field that analyze, visualize and automate data to inform quick action.
While the idea of implementing IoT into farming sounds great, it's been more aspirational until now. Several trends, however, are making IoT solutions for farming more and more realistic:
Hardware: Low-power, high-performance sensors and other hardware are becoming less expensive
Networks: Specialized networking protocols like LPWAN have emerged for low-coverage areas like farms
Cloud: The power of cloud computing has enabled people to take big data and transform it into meaningful insights that help users make educated decisions to improve operational efficiencies
Platform: Powerful software platforms have come onto the market as the foundation for full connected solutions from devices to analytics to applications
These enabling trends make full, industry-specific IoT solutions more realistic than ever. A Machina Research report estimated that the number of connected agricultural devices is expected to grow from 13 million at the end of 2014 to 225 million by 2024. Clearly, connected technologies are picking up steam and will impact how farms operate now and in the future.
IoT for pest control
Pest control is an area where IoT isn't often considered, but should be. Here are a few examples of where it can be implemented:
Pest monitoring: Remotely monitor for specific pests to understand their activity, location and patterns. This can be done using by connecting traps to report specific pest levels, thus automating monitoring and data collection to take more accurate and quicker countermeasures. One example would be an apple orchard that may want to measure codling moth levels in different areas of the farm so it can be ready to take action when necessary.
Weather monitoring: Tracking hyper-local weather conditions can also add context to help predict the size and threat level of pest populations. One example is olive plantations looking to combat fruit flies and their larvae, which cause premature falling of the fruit. Temperature and rainfall are key indicators that help predict fruit fly activity, and if tracked in real-time, this information can inform what actions should be taken.
Chemical automation: Monitoring pesticide levels on plants over time can help farmers minimize use and maximize results. If it rains, a farmer may need to apply pesticides more often, but the impact that a storm has on different areas of a field can lead to over- and under-application of pesticides in different locations. Generally chemical levels can be monitored using sensors in the soil or above ground near plants.
Crop health monitoring: Compare actual crop growth to projections, taking into consideration weather and other factors to help identify when you may have pests and catch them early.
IPM automation: Integrated pest management is a process encouraged by the U.S. government to select pest control actions that will ensure favorable economic, ecological and social consequences. Automating time-consuming aspects of IPM such as measuring various data points on a farm (monitoring) and taking action based on that data (response) makes the process more accurate, more timely and less of a burden for the farmer.
Full solution: By combining the above IoT capabilities into a full solution, a more accurate understanding and response is possible. The complete record of the pest's attack on the crop, the amount of pesticide used and how much crop production is affected can be tracked to help inform response this crop cycle and in the future.
Just like rat contraceptives to control populations in cities, broader pest control on farms needs new solutions. Using IoT to make traditional pest control methods more effective can give farms a leg up on competition. IoT can be more cost-effectively deployed now than ever before, and many farms and vendors have already started implementing such solutions. While pest control is one use case for these connected solutions, the real value in agriculture will come when data from different areas (pest management, fertilizer application, irrigation, supply chain, pricing, weather and so forth) all come together to inform full farm operations.
All IoT Agenda network contributors are responsible for the content and accuracy of their posts. Opinions are of the writers and do not necessarily convey the thoughts of IoT Agenda.
---