---
June 23, 2017 1:32 PM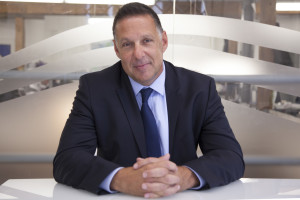 Profile: Brian Zanghi
Boston
,
Internet of Things
,
iot
,
IoT analytics
,
IoT data
,
Open data
,
smart city
,
Smart transit
When it comes to making cities smart, some cities are better positioned or equipped to make the leap than others. What makes a city more inclined to embrace smart technologies — such as sensor networks, data platforms and autonomous vehicles — than the rest? A range of factors, including local government's willingness to embrace innovation and open data, as well as a vibrant private technology sector, all make an impact. Four cities that have already begun implementing smart city technologies feature strong support from the local governments and ample private sector support to see the initiatives to fruition.
These successes can be modelled by other cities hoping to make the transition.
Columbus, Ohio
Columbus is one city with exemplary characteristics, making it ripe for a smart city transformation. This is one of the reasons the city won the U.S. Department of Transportation's (DOT) Smart City Challenge in 2015. In addition to the original $50 million grant given to fund the city's plans, it has since raised over $500 million to support its smart city journey and recently hired chief innovation officer Mike Stevens to lead the effort. What made Columbus stand out from the other finalists — Austin, Denver, Kansas City, Pittsburgh, Portland and San Francisco — and claim the grand prize?
For starters, the city's plan proposed a "first-of-its-kind modern transportation system" that was both climate-friendly and fueled by data. City officials also plan to implement a variety of smart technologies including streetlights that are also wireless internet hubs, a system allowing emergency vehicles to interact with traffic signals, common payment systems, smart mobility hubs and smart streetlighting.
While many of these technologies could be replicated in cities around the world, what sets Columbus apart is the local government's commitment to implementing the policy. The city has hosted workshops for residents to explain the plan, highlighting another key stake of the plan that allowed it to win the grant: inclusiveness and accessibility to all citizens.
A vibrant private sector is also playing a large role in Columbus' transformation. Not only did more than half of the city's funding come from private companies, but a Silicon Valley think tank, Singularity University, recently announced it would be opening a smart city accelerator in the city. It hopes to spur innovation, and was drawn to Columbus after it was awarded the DOT grant.
Kansas City, Mo.
Kansas City, although a runner-up to Columbus in the challenge, has also made strides towards its smart future. In May, the city was honored with an Edison Award for its data collecting initiative, specifically along its downtown streetcar line, that gathers information to help businesses adjust to the ups and downs of foot traffic. The city also leverages Wi-Fi kiosks installed downtown to gather data about who is in the area, where they are from and if they are a new user or not. All of this data is leveraged in real time to inform streetlight efficiency, alert police to send more patrols and help businesses in the area create better marketing strategies.
The data platform has become the basis for Kansas City's future, and the city has grand plans for its future. The city's CIO Bob Bennett has a lofty goal: to be the smartest city on Earth within five years. Whether this comes to fruition remains to be seen, but a strong commitment from city leaders to embrace smart technologies for the benefit of citizens has allowed the city to implement many of the game-changing technologies it has invested in.
Pittsburgh, Pa.
Another city hoping to be a smart leader is Pittsburgh. Similar to Columbus and Kansas City, Pittsburgh has also put data at the center of its smart initiative. After forming partnerships with universities, such as Carnegie Mellon, the city created an open data platform to provide citizens with real-time data about crime, emergency calls, building permits and even a snowplow tracking app. Named "Burgh's Eye View," the open-data platform was built by the city's analytics and strategy team and shows how city governments can leverage the data they have at their disposal to develop solutions that positively impact people's lives.
The Carnegie Mellon partnership also turned the city into the university's "urban lab" and the city was also awarded a $10.9 million DOT grant to expand the use of smart traffic signals innovated by the university. This, along with the "green light governing" strategy Pittsburgh's Mayor Bill Peduto embraces, has moved the city to the forefront of the smart city conversation. This style of governance follows the belief that innovating by private companies should come before regulating — one of the reasons Uber chose the city as the testing ground for its autonomous car pilot late last year.
Boston, Mass.
Boston also hopes to make its smart city mark. The city has implemented an open data portal, Analyze Boston, granting citizens access to a range of data including electricity usage in the city, crime reports and traffic patterns. This open data also enables private companies to innovate using the government's data to create useful resources for residents including bus tracking apps or the city's data-sharing agreement with Waze that will improve traffic flow throughout the city. The mobile-ticketing initiative on the MBTA commuter rail also enables data collection and improves riders' daily lives by removing obstacles to seamless travel including long lines to purchase paper tickets.
The smart city has also used data to try to solve a big transportation issues that plague many cities — lack of adequate parking and the congestion resulting from drivers searching for an open spot. The city has experimented with increasing prices in certain areas and installing smart sensors that adjust prices throughout the day based on demand. This willingness to innovate new solutions and embrace data puts Boston at the forefront of the smart technology movement.
A common theme
What do Columbus, Kansas City, Pittsburgh and Boston have in common, other than being smart technology leaders? A commitment from government leaders to embrace technologies like open data platforms and smart sensor networks, along with the willingness to foster innovation from the private sector. If cities want to make the journey to being smart, they should look to these leaders for examples of how to find success.
All IoT Agenda network contributors are responsible for the content and accuracy of their posts. Opinions are of the writers and do not necessarily convey the thoughts of IoT Agenda.
June 22, 2017 4:36 PM
Automation
,
Chatbot
,
cloud
,
Customer personalization
,
Data integration
,
Internet of Things
,
iot
,
IoT applications
,
Personalization
,
User experience
A computer more powerful than the one that helped send men to the moon resides inside many of our pockets or handbags. Smartphones are firmly an important and commonplace tool at the center of connecting a growing ecosystem of IoT-linked devices. They can host and analyze data streaming virtually every appliance, tracker and hardware with "smart" attached to its name. Smartphones also keep intensive records of information people generate through applications and other interactions. Most importantly, they can be used to contextualize the human experience and personalize complex business data streams from even more complex systems connecting to IoT. The end goal every data-reliant business should strive for: deploying IoT technology that navigates across the front and back offices using a cloud platform and complementary application ecosystem.
After all, IoT is not just an expert technology anymore. There's more access to the right tools than ever before, and enterprise IoT platforms democratize access to it for small businesses and entrepreneurs. The constant data streams and connections between machines and people offer these small business owners and entrepreneurs opportunities to transform every employee, customer, supplier and partner into an active contributor to their business processes. However, many organizations still need an infrastructure that can move massive amounts of digital information and make sense of it for business operations. A mass enterprise migration to the cloud, the proliferation of AI and machine learning technology, and the democratization of complementary technologies can help companies of all sizes to use data accessible on connected devices to achieve competitive edges.
Connecting IoT to the cloud offers efficiency and expediency
Cloud-based software solutions can significantly cut costs, offer more flexibility and improve workflows across organizations of all sizes utilizing IoT. They can also offer small businesses and entrepreneurs reliable methods to access, monitor, receive and input data from virtually anywhere. Data streaming from IoT and the smartphone in your pocket can meet in the cloud, thus enabling new levels of access, transparency and security.
An important side effect of using the cloud to move IoT-linked data: better customer service and attention. Businesses can use the cloud to conduct almost every business operation that involves information exchange and analysis — from customer relationship management to payroll to accounting. They can also pull mission-critical data from IoT-linked devices and hardware in the field sending data through the cloud to employees and customers to inform current levels of service and future business transactions.
IoT-friendly automation actually enhances jobs
While there's real concern that artificial intelligence will make jobs obsolete in the near future, AI can actually help businesses — especially startups and SMBs — free up valuable time spent on tedious administrative tasks. Customer service is a key area where AI technology is being deployed more frequently. Chatbots, automated conversational tools built upon artificial intelligence infrastructure, complement software-driven aspects of business operations vital to keeping customers happy and building businesses.
In practice, chatbots enable companies to respond quicker to customer feedback and resolve issues, while also storing detailed conversation logs for business owners to review later. Data collected and stored by AI-powered chatbots can help inform future decisions crucial to your business. Digitizing information at the point-of-capture eliminates the need to file receipts and expenses, eradicates the need for tedious human-driven data entry and replaces data collection with a much easier process. Automating these aspects of work also allows employees to more efficiently spend their time managing projects, monitoring IoT- and cloud-based operations and supporting customer relationships. Ultimately, IoT combined with AI makes these experiences smart and turns an IoT endpoint into an "intelligent" endpoint that businesses can pull data from that informs customer interactions.
Seamless data integration leads to seamless business operations
Businesses that deploy IoT and connected devices should also look to employ platforms that feature open architecture enabling integration with other technologies critical to daily operations. When all of the operational systems can interact with each other, the amount of actionable data flowing into the network from IoT-linked sources increases significantly. By implementing solutions that will allow you to better understand and communicate with those individuals critical to your business, businesses can realize the power of personalization using IoT, automation and smartphone technology. In doing so, businesses increase meaningful touch points with key stakeholders that can make or break businesses. Deploying a network of platforms, technology and tools that can generate, analyze and receive data directly supports — and enhances — customer relationships. Businesses that embrace change understand the immense value of contextual data and know that linking their systems between the web, IoT and the cloud will help them succeed.
All IoT Agenda network contributors are responsible for the content and accuracy of their posts. Opinions are of the writers and do not necessarily convey the thoughts of IoT Agenda.
---
June 22, 2017 2:01 PM
GATEWAY
,
Internet of Things
,
Interoperability
,
iot
,
IoT applications
,
standards
In the beginning, we had M2M. Then came IoT. With the industrial IoT and challenges around IT/OT integration, we see terms like cloud, edge and fog computing.
Now, the hot-topic term is interoperability. Interoperability appeals to a technology industry that routinely churns through new buzzwords and value propositions. There is also a willing audience among adopter organizations. Many of them are starting to see a diversity of application opportunities within their everyday operations. At the same time, they fear the economic and technical pitfalls of building a whole string of disconnected, siloed IoT applications.
In the context of IoT solutions, interoperability has little meaning without the use of a qualifier, such as the word "between." Consider the phrase, "I have a solution that provides data interoperability." This means little until one adds the words "between your sensor and my application," for example.
Interoperability in horizontal and vertical dimensions
In practice, the complication with interoperability is that there are several permutations for its use in the IoT context. Just consider the following block diagram representation of a pair of IoT solution stacks: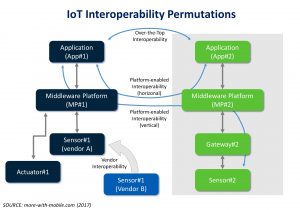 One IoT application (App#1) can communicate with a related sensor (Sensor#1), via a middleware platform (MP#1). It might even act on sensor data to send a command to an actuator (Actuator#1). There is a similar arrangement for the second IoT solution, on the right-hand side of the illustration.
Now let's say there is a way to improve the performance of App#1 by using data from a sensor associated with App#2. This might be possible if there is interoperability between App#1 and App#2, either via an external data exchange (over-the-top interoperability) or through their respective middleware platforms. Alternatively, App#1 might be able to access Sensor#2 because of an interoperability capability between their respective middleware platforms. This scenario helps us think about horizontal interoperability in terms of applications being able to discover resources (e.g., other applications, other middleware platforms, other sensors/actuators, etc.), to recognize the services they offer (e.g., published data streams, remote actuation, etc.) and to make use of these services through transactions (e.g., publish-subscribe to solution-stack data, usage tracking for charging and settlement, etc.).
In this scenario of any-to-any interactions, there will be situations where the solution owner finds a better sensor (higher performance) or one that delivers the same level of performance for lower cost or with greater reliability. The owner of App#1 might wish to switch vendors or operate a multivendor solution by replacing Vendor A's Sensor#1 with a better offering from Vendor B. This example offers another perspective on technology and vendor interoperability, in a vertical sense up and down the value stack.
The discussion so far considers block-diagram constructs in a two-application scenario. The physical implementation of this arrangement involves hardware and software from different vendors. If a solution owner wishes to change out a gateway and use one from a different supplier, it would value gateway to middleware (and gateway to sensor) interoperability to minimize custom systems integration work. This kind of interoperability is akin to computers connecting to the internet or mobile phones being able to roam internationally.
In today's cloud computing world, one example of supporting physical interoperability might involve an application (and its data) hosted on Amazon Web Services collaborating with another application hosted on Microsoft Azure. Does this arrangement deliver bidirectional interoperability (covering communications, service levels, data semantics, etc.) between two cloud infrastructure services or would it depend on an intermediate translator?
Strategic implications of IoT interoperability
Given these different perspectives, why is it important for organizations to think strategically about IoT interoperability? There are at least three reasons why. Firstly, organizations need to decide about investing in single or silo applications. Are they just looking to apply a condition monitoring application on a factory machine with a largely unchanging operational life of many years, for example? Or, will they want to support other applications with the same connected device and therefore find themselves supporting multiple potentially cross-silo or cross-vendor applications in the future? This is a matter of product roadmap planning.
Secondly, are users of IoT technologies locking themselves into a single technology or single vendor solution set? There is a way around this dilemma. Many telecommunications operators, for example, deploy multivendor infrastructure in their networks by relying on standards-based interoperability. Other industries can learn from this strategy. Factories, offices and homes are places that house machines and appliances from multiple suppliers which are the conditions that will call for interoperability between devices (endpoint actuators, sensors and gateways) and applications at some point in the future.
And thirdly, users of IoT technologies need to recognize the constant evolution in technology and its impact higher up the solution stack. While today's interoperability debate focuses on communications and hardware compatibility, tomorrow's solutions will shift the interoperability challenge higher up the value stack.
Consider a scenario involving multiple interacting systems which attribute the same meaning to an exchanged piece of data. This ensures consistency of the data across systems regardless of individual data format. In practical terms, this might be a stream of numbers from a temperature sensor supplying multiple IoT applications; each application would apply the correct meaning to the stream of numbers (i.e., recognizing them as temperature data, either in Celsius or Fahrenheit format without needing configuration parameters to be hardcoded in the application) because of semantic interoperability between the sensor and applications.
The issue about technology evolution is that it has long-term timing and investment implications. There are long-term consequences for investment decisions and the option-value inherent in wanting to support new applications and business models in the future.
All IoT Agenda network contributors are responsible for the content and accuracy of their posts. Opinions are of the writers and do not necessarily convey the thoughts of IoT Agenda.
---
June 22, 2017 12:09 PM

Profile: Rick Vanover
Automation
,
IIoT
,
Industrial applications
,
Industrial IoT
,
Industrial IT
,
Internet of Things
,
iot
,
Supply chain
When discussing the internet of things in any situation, it is always beneficial to have a specific use case identified. Some examples seem a bit far-fetched or overthought for normal technology situations while others seem too modern to have relevance for a practical use case. There is one situation, however, that is ripe for innovation and a natural use case for innovation at the hands of IoT: the industrial technology space.
The industrial technology space is an interesting one. Having spent a large part of my career working in industrial automation and supply chain systems, I can speak firsthand to the opportunity for innovation here. There is a general dichotomy in this segment: some parts are very high-tech and automated while others are not. There is an interesting mix of very modern technology and completely manual processes. What's interesting is that this can occur in the same facility for the same products and use cases!
Let's put this in a practical example that meets the expectations of today: Businesses and consumers demand the ability to order a good from their phone or computer and have it show up that same day or the next day, with 100% accuracy and at a very competitive price. This is a reality for today. Yet many industrial and distribution systems don't have the operational efficiency to meet this demand. This places many organizations at a competitive disadvantage — and you know what happens then. The moment a shopper sees that one vendor can't meet the demand, they'll simply proceed to the next one who can. This is the equivalent of the modern handshake, that first impression that will dictate how a business relationship will go.
To see the IoT opportunity here for the industrial technology space, we must work backwards in this workflow. From the business or consumer perspective, it's simply going to a website to make an order. From the industrial technology perspective, there are a lot of steps to make this occur seamlessly every time. The IoT opportunity comes in devices and systems that can make industrial technology more automated, more accurate and more utilized. Each of these top-level goals will introduce momentum to permit orders to be fulfilled in the example above more accurately, quicker and more automated.
Underpinning this initiative is a primitive task that industrial technology must be available. In fact, it is the tale of two DCs: The data center and the distribution center. Historically at war with each other, now these two different personas and organizational groups are required to unite to meet the common goal of addressing the competitive pressures of the marketplace. Specifically, for industrial and distribution systems, this competition is intense and there is no margin for error, downtime or data loss. They are all related now to meet the goals of the organization.
This can happen several ways for the industrial technology space. It can be as simple as camera systems that provide more data points for better visibility overseeing an industrial process or a completely modern system top-to-bottom that removes all barriers of previous partially automated or otherwise inadequate systems and processes that are unfit to meet the demands of today's competitive workspace.
The successful path will be about connecting information and the output of industrial technology. IoT brings the information: what, where, how many, when. The industrial technology space is the vehicle to meet the demands and here on out they are one united to a common goal.
All IoT Agenda network contributors are responsible for the content and accuracy of their posts. Opinions are of the writers and do not necessarily convey the thoughts of IoT Agenda.
---
June 21, 2017 4:35 PM
Internet of Things
,
iot
,
iot security
,
Monitoring
,
Security Framework
,
security in IOT
What is your weakest security link? I'm blown away when I talk to IoT professionals that can't immediately answer this question.
The promise of IoT is that it has the potential to connect machines that generate data which can be used to provide us with insights that make the world a better place. Today, the focus of IoT has everything to do with enabling this promise, and little to do with security.
IoT security is life and death
In an IT world, a security breach can mean the misuse of data, which could result in fines or a company's reputation could suffer. With IoT, a security breach can literally mean life or death.
Take the latest Netflix cybernightmare, where a hacker stole and released part of the fifth season of Orange is the New Black and later demanded to be paid to keep it off the internet ahead of its premiere. Not good for Netflix, but the problem was solved when Netflix decided to release the show early and refused to pay the culprits.
Now consider Stuxnet, a computer worm that infected at least 14 industrial sites in Iran, including a uranium plant. The worm's authors could cause the fast-spinning centrifuges to tear themselves apart, unbeknownst to the human operators at the plant. Or what about when security researchers Charlie Miller and Chris Valasek proved to the world how easy it is to hack into a car and control everything remotely including the brakes, acceleration and cruise control?
Threats like these have made security one of the biggest barriers to meaningful IoT adoption in the enterprise.
Security by design
As an industry, we say "things" but we mean "everything." From energy and drinking water to manufacturing and transportation, most physical things will get connected in the next few years. Various experts estimate that there are 25 billion connected things in the world today, and this number will hit 50 billion by the end of the decade.
Unlike IT, there is no "end user" in IoT. For the business owner or enterprise administrator, being able to monitor and control these connected devices means relying on technology to do the job for you.
To ensure our devices are secure, IoT implementation must be designed with security in mind from day one. Ask yourself: What kind of networks are you connecting to? Which external users are available? What is the environment in which your system operates? What other systems are the devices interacting with?
The ecosystem and the value chain are very complex, and it's nearly impossible fix every single flaw in a system. However, if companies design their devices for an extreme scenario on one end, they will be one step ahead of a potential attacker rather than trying to play catch-up with one who has already done damage. Having proper recovery policies and smartly updating these policies are critical to ensuring continuity of operations after an attack.
Framework for protection: Start with the device lifecycle
When designing IoT security frameworks, I always advise customers to build protection into the device lifecycle. Here is my seven step device lifecycle, including examples of the types of protections to consider:
Registration: Installing security software, discovery, uniquely identifying the connected devices, registration, can it call home?
Provisioning: Secure credentials, exchange certificates, capturing registration info
Commissioning: Installing the device in the field, initial configuration, finding status
Configuration: Remote secure updates of a commissioned device, updating privileges
Monitoring: Health, operational, security and connectivity status, alarms and alerts
Control: Remote decisioning, over-the-air updates, performance, remote service
De-Registration: Decommission, end of life
There is no doubt that IoT will transform the world in our lifetime. Ensuring the protection of our data and personal safety will ensure better adoption. And the secure management of these systems will play a critical role in whether or not we can trust IoT.
My advice to companies implementing IoT is don't try to solve it all yourself. Play to your strengths and design what you're good at. Partner with security providers for everything else.
All IoT Agenda network contributors are responsible for the content and accuracy of their posts. Opinions are of the writers and do not necessarily convey the thoughts of IoT Agenda.
---
June 21, 2017 2:27 PM
Internet of Things
,
iot
,
IOT Network
,
LoRA
,
LoraWAN
,
LPWAN
,
Narrowband
The rise of the internet of things represents a major milestone in the evolution of the internet as connections move beyond traditional computing devices (PCs, phones and tablets), to connecting billions of every day devices — from trash cans to thermostats. In fact, according to the Boston Consulting Group, it's estimated that the value of the IoT market will reach an astronomical $267 billion by 2020.
This does, however, require that the complexity and cost of connecting tens of billions of things becomes easy and cheap enough to connect that trash can. This opportunity and challenge has spurred innovations in communications technology and a number of choices are available for businesses and consumers to connect these simple, low cost devices.
The rise of LPWAN
One such group of technologies is low-power WAN (LPWAN), a wireless wide area network technology specialized for connecting devices like trash cans, parking meters, pet trackers and soil sensors.
More specifically, LPWAN technologies are designed for machine-to-machine networking environments and have lower power requirements, longer range and lower costs than traditional mobile networks. In addition, the data transfer rates are very low, as is the power consumption of the connected devices, meaning they can operate at a lower cost, with greater power efficiency. This also means the networks are able to support more devices over a larger coverage area than traditional consumer mobile technologies.
As a result, LPWANs enable a much wider range of connected things, including ones which have previously been constrained by budgetary and power issues, fueling an exponential growth in IoT applications. In fact, according to ABI Research, approximately 4 billion IoT devices will rely on LPWAN technologies by 2025, making it the fastest growing connectivity segment in the market.
There are a number of options when it comes to LPWAN technologies and businesses must now choose among them based on their specific needs. The first and most important choice businesses need to make is whether to use licensed or unlicensed LPWAN.
Licensed vs. unlicensed LPWAN
Licensed LPWANs run on public cellular networks which use the licensed radio spectrum and support the GSM and 3GPP standards. There are over 900 mobile operators around that world that operate networks that support those standards, covering the broadest swath of the globe where people live and businesses operate. These standards also facilitate the "mobility" among the networks, making it easy for devices to "roam" from one network to another seamlessly and instantaneously. Finally, the fact that the use of any one portion of the radio spectrum has to be exclusively licensed by individual operators means that connections made on any one of them will give devices a greater level of exclusivity to connect. This makes it more secure and reliable.
So to net it out, business that are looking for flexibility on where in the world their devices can connect, and want to ensure those devices can seamlessly move from one network to another, often at high speeds, would benefit from using licensed LPWAN technologies.
Unlicensed LPWANs, on the other hand, use radio spectrum that is unlicensed and can be used by anyone without exclusivity. While this makes it easy for an organization outside the community of the 900 plus mobile operators to establish their own private network, it does carry the risk that another organization or entity could use that same spectrum for a different network. That could result in interference among devices that are connecting on separate networks using the same portion of the radio spectrum.
Furthermore, unlicensed LPWAN isn't designed to handle seamless mobility at high speeds, such as a truck that is reporting its telematics data at highway speeds. Rather, it is better suited for applications like a rural farm where an unlicensed LPWA network is needed for the sole purpose of connecting devices in that farm, and where a public LPWA network is not available.
Types of licensed LPWAN include:
Narrowband IoT (NB-IoT) — A standards-based LPWA technology developed to enable a wide range of new IoT devices and services. NB-IoT significantly improves the power consumption of user devices, system capacity and spectrum efficiency, especially in deep coverage. Battery life of more than 10 years can be supported for a wide range of use cases. It leverages the existing infrastructure of LTE and GSM network providers to facilitate low bandwidth communications for IoT devices.
LTE-M — Part of Release 13 of the 3GPP standard, LTE-M aims to lower power consumption, reduce device complexity and cost, and provide deeper coverage to reach challenging locations (e.g., deep inside buildings). This standard will improve upon NB-IoT in terms of bandwidth. It also boasts the highest security of LPWAN technologies.
Even though LTE-M and NB-IoT are both licensed LPWAN options, there are still some significant differences businesses need to be aware of. For example, LTE-M has broader characteristics than NB-IoT. Notably it has higher data rates so is able to transfer information faster and seamlessly at vehicular speeds, making it more open to supporting full mobility, while NB-IoT is better suited to nomadic mobility — identifying objects within a predefined space — thus sharing similar characteristics with some of the unlicensed options.
Unlicensed LPWAN
Turning to the unlicensed space, these technologies tend to be used in smaller environments where mobility is not a requirement. For example, a farmer with the need for wide area coverage across a 10-15 square mile plot of land to collect data from the various stationary sensors and devices — on fence posts, tractors, irrigation systems, etc. — would use unlicensed LPWAN because it is cheaper and more cost effective for location and status update needs.
Examples of unlicensed LPWAN include:
LoRaWAN — A low-power wide area network specification intended for wireless battery operated things in a regional, national or global network. LoRaWAN targets key requirements of IoT such as secure bidirectional communication, mobility and localization services. The LoRaWAN specification provides seamless interoperability among smart things without the need of complex local installations and gives freedom back to the user, developer and businesses rolling out IoT.
Sigfox — A narrowband (or ultra-narrowband) technology, Sigfox is suited best for the lowest bandwidth applications with extremely tight energy budgets. What's unique to Sigfox is that it is an entirely separate network for IoT devices. It operates over the sub-GHz frequency bands (868 MHz in Europe and 900 MHz in USA) and any radio provider can use it. Currently the infrastructure is up and running in Western Europe and San Francisco, with pilot programs in South America and Asia in progress.
As with differences in the licensed LPWAN space, there are also inherent differences between LoRaWAN and Sigfox in the unlicensed space. While both are more suited to the stationary use cases described above, Sigfox represents the very low end of the LPWAN spectrum with much slower download speeds and more restrictions than LoRaWAN, and with no ability to conduct over-the-air firmware upgrades, making it a "deploy and forget" technology. LoRaWAN, on the other hand, is easier to update and upgrade.
Making the right LPWAN choice
As IoT continues to evolve and more businesses come to rely on the information and insights provided for competitive advantage, it will be more important than ever for businesses to ensure they have the right IoT strategy and LPWAN technologies in place to suit their business needs.
IoT is expanding on a massive scale with more and more devices being put into play. Businesses need to ensure they have the right type of LPWAN solution in place to not only meet their business needs, but also help them more effectively manage their growing number of IoT devices to protect against potentially spiraling IoT costs that could be incurred if not managed properly.
All IoT Agenda network contributors are responsible for the content and accuracy of their posts. Opinions are of the writers and do not necessarily convey the thoughts of IoT Agenda.
---
June 21, 2017 12:14 PM
Consumer IoT
,
Internet of Things
,
iot
,
Software testing
,
software testing automation tools
,
Test Automation
,
User experience
,
User Interface
During the last decade, the software world has undergone a revolution as a result of the cloud, consumerization, DevOps, microservices architectures and, of course, the internet of things. IoT is changing the game and disrupting the established approach to testing. As billions of devices from refrigerators to thermostats to forklifts are digitized and connected to the cloud, the traditional, manual approach to testing has no hope in keeping up.
Consequently, digital teams are struggling to quickly and efficiently deliver high-quality digital experiences that delight users. A new approach to testing — and most important, test automation — is needed in order to thrive in a digital world.
Historically, testing has focused on verifying that software complies with a specification. However, as every industry becomes digital, from mobile banking to government services, and your digital experience is your main touch point with your customers, the user experience is critical. It's no longer a nice to have — because it impacts the top line — and you can't afford to get it wrong.
Representing the ultimate consumerization of software, IoT will have an even greater impact on testing than mobile has due to the scale and diversity of devices and use cases. IoT is bringing technology directly into everyone's lives, and exponentially increasing the demands on the user experience and quality.
User interfaces within IoT devices are also becoming much more complex and hyper-connected; they're 3D visualizations of cities and augmented reality, not just forms with labels and text fields. A great example is connected cars, which interact with the physical world as well as with a multitude of third-party services and devices that all need to work together seamlessly. This creates a lot more concern around real-time performance and security. So to test in the IoT world, you need a truly integrated approach that includes testing the impact of every interaction, focusing on the entire user experience.
Because these devices aren't working in isolation but together on transactions within a single use case, we need testing approaches that are naturally designed to work across different device categories within a single test case. Consider the scenario of using your mobile phone to order food from Taco Bell. This test case involves the user's cell phone, the point-of-sale unit in the shop, the screens in the kitchen, a web-based back-end dispatch and monitoring system, and a transaction system managing stock. All these systems have completely different technology stacks, so an approach tied to the technology stack is going to be complicated and time-consuming.
Therefore you need software quality solutions that test through the eyes of the user, test the whole user experience, can test in the lab and in production, and can report issues in terms of the user rather than in terms of the code. Only by doing this will organizations be able to validate the quality of their apps and devices to ensure they're delivering an outstanding user experience 24/7 year-round.
Sure, IoT is still in its infancy, yet it's already clear that it's going to significantly change testing, and that organizations will need new tools and approaches to test efficiently and effectively. It's safe to say that the traditional, manual approach to testing is becoming extinct in an IoT world.
All IoT Agenda network contributors are responsible for the content and accuracy of their posts. Opinions are of the writers and do not necessarily convey the thoughts of IoT Agenda.
---
June 20, 2017 4:30 PM
Consumer IoT
,
Customer experience management
,
Customer loyalty
,
Customer satisfaction
,
Data Analytics
,
Data-security
,
Heat map
,
Internet of Things
,
iot
,
iot security
,
Product Lifecycle Management
,
retail
,
retailers
There is no shortage of solutions in search of a problem. But when it comes to the internet of things, we have clearly defined many use cases within manufacturing, transportation, warehousing and agriculture, to name a few. Businesses in these industries have already begun to realize the benefits from enhanced asset tracking, predictive maintenance, improved manufacturing processes and even new business models. But what about the consumer side? What about retail?
Retailers appear to be late to the IoT game, but that's no reason for them to stay on the sidelines. Over the long term, the retail industry stands to gain the most from the infusion of connectivity IoT-enabled technology brings to businesses and supply chains. Let's look at the two areas where IoT will impact retail: in the store and on the product.
In the store
IoT is starting to gain traction within physical stores. Companies like Tory Burch and Burberry have experimented with how they can leverage more connectivity within their brick and mortar assets.
Heat mapping: Real estate is all about location, location and location. The same holds true in brick-and-mortar retail, where the placement of products, displays, open spaces and other items are essential to a store's ability to move merchandise. Retailers need to understand how consumers and staff navigate the store. Can they do this with sensors and RFID? How about aligning staff and customers' mobile devices to a connected grid within the store?
Changing room like a shopping cart: Why didn't those consumers convert? It's an age-old challenge for retailers in brick-and-mortar and online. However, e-commerce has a leg up in terms of access and analysis of the digital information hidden within abandoned shopping carts. What if that same level of insight was available to physical stores? With connected merchandise and a connected dressing room, that very information would be available to retailers.
Customer experience: According to recent data, consumers in the United States increasingly spend more on experiences than they do on actual physical items. Can IoT help bring greater experiences to the physical store? Yes. IoT-empowered stores could begin to create a greater digital connection between the consumer and the store infrastructure. Not only will it create a more seamless experience navigating within a store, but what about smart shelves or displays that could customize content for each consumer? What about adding a layer of gamification via IoT and connected devices?
On the product
IoT is starting to creep its way into more of the product shelves. As the internet of things connects more products to the network, it opens up a myriad of new opportunities for retailers.
Product visibility: Retailers could improve the business simply by having a better view of overall inventory within a store, including what is in the storeroom. When merchandise is capable of speaking to the network, retailers can pinpoint where product is, what product is doing and where it should be. It makes the process of measuring inventory easier by eliminating the need for manual intervention, opening boxes and frenetically sifting through merchandise. Greater visibility of actual product also gives retailers a better idea of what's selling, where it's selling, what needs to be marked down and whether orders can be fulfilled from a nearby store if an outlet sells through its stock. Retailers such as Target, that offer customer-friendly return policies, can turn to IoT-enabled products to "self-identify." That is, rather than simply trusting a paper receipt or taking the customer's word for it, the product itself could be tagged with data that shows where, when or if it was paid for. It would make the act of returning an item more seamless for consumers and store associates alike.
Usage insights: What happens to the product once it gets into the consumers' hands? Retailers today spend a tremendous amount of money to gather purchase data — POS information. In turn, they know when products are bought but have no visibility into how they are used. IoT-linked products could change that. What if a clothing manufacturer could gain insights into how its new outdoor wear is truly being used? Can it really stand up to the cold as advertised or can the company see that most of their consumers leave it at home during the winter? Are customers making cakes, cookies, omelets, or just throwing that carton of eggs they bought at the neighbor's house? The more that products become connected, the deeper our understanding of their use outside the store becomes. With that insight, retailers and brands can turn awareness into new services and offerings that go beyond the point of purchase.
The internet of things can shine a light for retailers on what was otherwise dark. Of course, we have to caution that by saying it is a much more delicate balance when dealing with customers. Consumer privacy and the protection of their data must be a top priority for retailers as they embark on this new technology. While the use cases hold much promise, privacy issues will have to be dealt with. Any time IoT — or any technology for that matter — gets closer to the end consumer, there is a delicate dance between privacy and practicality. This is no exception.
All IoT Agenda network contributors are responsible for the content and accuracy of their posts. Opinions are of the writers and do not necessarily convey the thoughts of IoT Agenda.
---
June 20, 2017 2:55 PM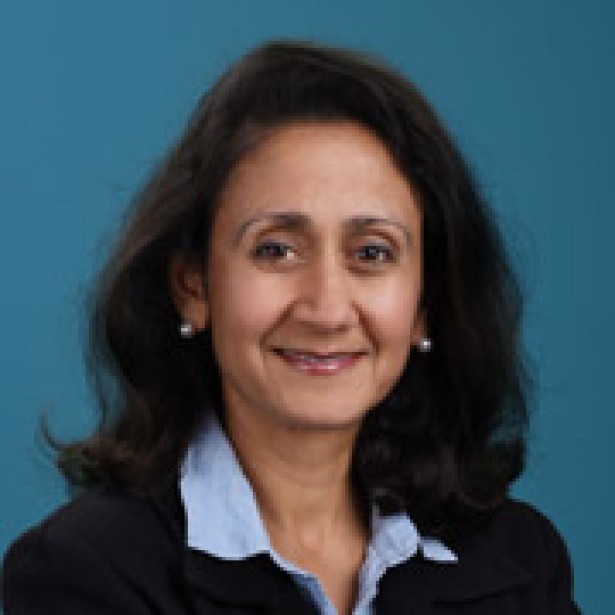 Profile: Amena Ali
Consumer IoT
,
Energy Consumption
,
Energy efficiency
,
Internet of Things
,
iot
,
IoT data
,
Smart Building
,
smart home
In its 2016 report, "IoT Disruption and Opportunity," NTT Data surmised that, "carriers tend to have a Field of Dreams 'if we build it they will come' attitude about smart home programs."
Providers throughout the smart home ecosystem remain bullish that consumers will embrace IoT-connected devices and sensors. But the NTT Data survey of more than 1,000 U.S. homeowners suggests there is a ways to go in closing the IoT smart home enthusiasm gap between providers and consumers.
While half of survey respondents expect to purchase smart home devices in the future, consumer enthusiasm remains tempered by a range of concerns: 80% of U.S. consumers are concerned about security of information and 73% are concerned about privacy when it comes to sharing data from smart home devices. They also have reservations about the perceived cost and complexity of installing smart home devices, leading to a desire to see a more advisory relationship with their carrier.
Overcoming consumer hesitations — whether around privacy, security, costs or benefits — requires creating smarter home and IoT experiences for consumers. And one could argue the greatest potential to help consumers maximize their smart home investments begins with energy. For providers, there are a handful of strategies to help close the IoT smart home consumer enthusiasm gap.
Understand why consumers would share data
For smart home providers, delivering more meaningful data to consumers will generate the enthusiasm needed to purchase and use IoT devices. Data sharing is a two-way street however, and it is just as important for providers to be able to tap into valuable consumer data to enhance the value of IoT devices.
There is a psychological element to this process, as providers should invest the time and resources to better understand what motivates consumers to share data. In a Parks Associates survey asking broadband households their likelihood to share data from smart home products with manufacturers and service providers, consumers were most likely to share data to register the warranty and provide information on warranty coverage; improve and update the product; monitor the product and notify them if there are issues; and teach how to better use the product.
Consumers were less likely to share data if the outcomes were for purposes of recommending other products that work with the smart home device (which smells more like cross-promotional marketing) or to provide a simple way to purchase consumables. Manufacturers and service providers must understand what motivates consumers to share data, and then highlight those benefits when educating and marketing to consumers.
Make consumers energy smart
Generating more consumer enthusiasm must start with better education. Most homeowners lack basic awareness, let alone insights into how much energy is being used, even when electric devices are "idle."
There is tremendous value in monitoring appliances and devices to assess their efficiency through real-time power usage and diagnostics. There is an average of 65 electrical devices per home (53 plugged-in and another 12 permanently connected to the home), so there is plenty of opportunity to assess energy efficiency.
One particular area that better consumer education can address is the home idle or vampire load, in effect devices wasting huge amounts of electricity when not in active use. Idle load electricity represents on average nearly 23% of household electricity consumption ($165 per household per year).
Another component to help consumers better understand energy usage is providing more digestible and actionable information. We are seeing interest from energy and smart home providers to offer homeowners energy insights that disaggregate usage down to the equipment level, along with customized tips for improving efficiency and boosting energy savings.
Measure and warn on appliance degradation
Enthusiasm to invest in IoT smart home devices grows when providers communicate benefits that not only can save energy, but provide peace of mind. Every device and appliance in the home, connected or non-connected, ties into one network, the home's electrical panel, and each has its own electric signature or fingerprint. If there were a way to measure electricity centrally at the electrical panel, without requiring the expense and hassle of a professional installation by an electrician, then the availability of high-resolution energy data could be scaled and analyzed to diagnose the operational health of all appliances — even the legacy ones that are in every home. These types of DIY energy sensors are possible today, offering new potential to engage consumers and deliver meaningful value that can save literally hundreds of dollars associated with appliance repair.
Despite concerns around security, privacy and costs, enthusiasm for IoT and smart home devices is trending up and, according to research from the Consumer Technology Association unveiled at CES earlier this year, is poised to drive the U.S. consumer technology industry to $292 billion in retail revenues in 2017. Building on that consumer enthusiasm is achievable through these data-driven strategies.
All IoT Agenda network contributors are responsible for the content and accuracy of their posts. Opinions are of the writers and do not necessarily convey the thoughts of IoT Agenda.
---
June 20, 2017 2:01 PM
City
,
Internet of Things
,
iot
,
IoT data
,
IoT sensors
,
smart city
,
Smart lighting
,
Smart meter
,
Wi-Fi
More efficient energy use, less traffic, self-reporting infrastructure issues — there are many attractive factors luring mayors and city CIOs who want to make their cities smart. While smart cities are still in their infancy, continued grant money from the Department of Transportation and the National Science Foundation, for example, is fueling this revolution on a city planning level. From a technology-enablement perspective, Gartner recently projected that by the end of this year there will be around 20 million connected devices. These two factors are colliding to create a new landscape where smart cities can become a reality. In fact, there are currently around 175 smart cities in the world, according to Navigant Research.
But to effectively become one of these smart cities, municipalities need to plan ahead rather than jumping blindly onto the bandwagon. City CTOs and chief information officers need to create and follow a roadmap to ensure they have a collection of not just connected things, but the right things and the right accompanying data infrastructure. To get it right the first time, city leaders should keep the following simple steps top of mind.
Start small
The end goal for any municipality hoping to become a fully-integrated smart city is to have a slew of technologies that work much like the human body — a series of subsystems working in conjunction with one another, ultimately connecting disparate functions into a holistic environment. To get there, however, city leaders need to start small.
Beginning with a small-scale project, like Wi-Fi deployment in public spaces, or deploying intelligent, multifunctional streetlighting, allows city leaders to gather insights that can then be leveraged for smarter implementation of future projects. They should plan in advance for an ever-expanding data ecosystem, and not duplicate data acquisition and analytics systems as they expand the number of projects. After working through a few initial smart city technologies, cities can then focus on adding more smart features and centralizing their operations, all within the same analytics blueprint, so that all aspects of the smart city implementation can be fielded through a single data and analytics architecture. This allows municipalities to deliver better city services with more intelligence, but with less cost.
An added benefit of an integrated system of systems is having an overarching view of the future architecture, allowing city leaders to scale up new services that could possibly lead to new revenue streams, building incrementally along the way with a view to that future enablement. This ensures that smart city implementation aspirations maintain financial momentum.
Pay attention to the data
A fully functioning smart city isn't just about installing a plethora of IoT devices — it's about the data produced by those devices and the analysis that follows.
Cities must ensure that the data coming from disparate components of their smart city doesn't live in a silo. Each system must be able to communicate and contribute data to an integrated whole so city leaders can, for instance, optimize traffic in real time by blending data from traffic sensors with data coming from weather monitoring devices — optimizing the traffic subsystem, but then further optimize citizen movement data and public sector transit route and ridership to further optimize across the traffic and transit systems. This cross-system optimization is where smart cities really start to see the benefits of planning ahead.
Additionally, citizens need access to this data to make their lives better. Cities must turn to big data management and simple data analytics reporting tools to ensure these results are available in real time at the public's fingertips.
Focus on safety
Citizen accessibility needs to be balanced with security. As with any connected device, smart city sensors and infrastructure are susceptible to malfunctions and malicious attacks. Even that harmless first attempt at public Wi-Fi could be exploited by a hacker that could then gain personal information through the network. Cities must make safety planning a part of their smart city implementation from day one to make certain they are prepared in case anything happens.
To ensure data gathered by a smart city stays secure, CTOs and CIOs should create a layered approach to the city's data structure — guarding the most vital data at the center behind incrementally secure layers of authentication. Governance of an "open system" ensures some are granted open access to what they are entitled to, yet prevented from access that which they are not.
Companies must also continuously update the systems running on the devices themselves so they don't fall susceptible to viruses or other damage. City leaders can leverage their data blueprint to understand the security needs of their blend of legacy and new systems.
Plan for success
Smart cities don't happen overnight. A comprehensive data blueprint is essential for planning a smart city landscape. This blueprint provides insights into what information the city is collecting and how its devices can integrate together to create an overall smart city landscape. Additionally, this blueprint should serve as a planning document, selecting appropriate departure points for legacy technologies and highlighting times when new sensors can be implemented.
City leaders who take the time to plan which systems they want to implement, how they intend to integrate their data and when they plan on replacing or upgrading parts of their system of systems will ensure they have a dynamic, scalable data environment that they know how to leverage and secure.
Following these steps will make it more likely that a smart city implementation will go smoothly, so city leaders — and the public — can benefit from these modern-day investments.
All IoT Agenda network contributors are responsible for the content and accuracy of their posts. Opinions are of the writers and do not necessarily convey the thoughts of IoT Agenda.
---