Sep 29 2010 11:13AM GMT
Posted by:
David Croslin

disrupt
,
disruption
,
innovate
,
innovation
,
invention
Inventions are cool, but that doesn't mean they make money. Innovations, on the other hand, create revenues or reduce expenses. Innovations make money.
From a corporate viewpoint, innovations are either external or internal. External innovations are normally products and services that drive consumer value and increase revenues. Conversely, internal innovations are normally infrastructure and process related and drives cost savings and efficiency (and may actually harm the value of your products to your consumer).
Throughout the recent economic crisis most companies have taken a cost slashing, wait-and-see approach to product development and innovation. They reduced expenditures directed at external innovation and shifted funding to internal innovations to further reduce costs and to cover ongoing maintenance and support costs.
The nice thing about this recovery is that there exists a wealth of technologies that can further reduce internal costs while freeing up internal funding. These include storage networking, virtualization, de-duplication (in-line and off-site), internal and external clouds, unified communications and more.Implementation of these technologies can greatly increase the availability of internal innovation funding by decreasing the funding requirements of infrastructures.
Unfortunately, the internal innovation road can only take you so far. Eventually, a company must return to external innovation or they will see their products and markets commoditize or be displaced by their competitors.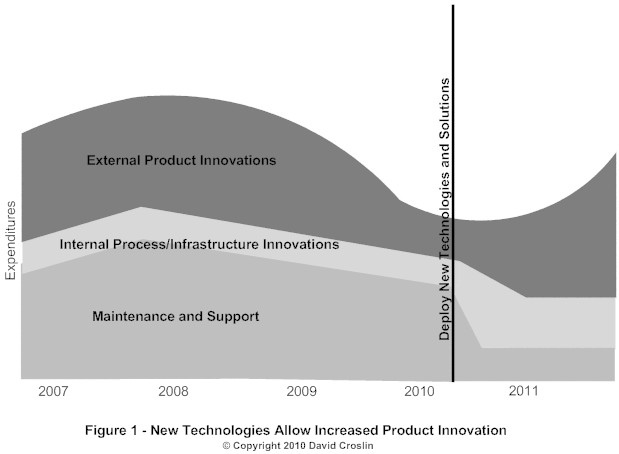 Figure 1 depicts how companies, during the economic downturn, have shifted expenditures away from external product based, revenue generating innovations towards internal infrastructure based cost reduction innovation. Deploying new technologies and solutions within internal infrastructures can dramatically flip expenditures away from maintenance/support and towards innovation.
Seeking the correct innovation funding balance for your company is critical. Realignment of some internal savings realized from new technology deployments back to product development and market innovation is necessary to maintain your company's competitive positioning and create new market growth. All of that new, cost efficient infrastructure will allow your product teams to create products that are far more market disruptive resulting in accelerated revenue growth.
===
David Croslin is the author of Innovate the Future, recently published by Prentice-Hall. Croslin is the former Chief Technologist at Hewlett-Packard and Chief Product Architect at Verizon Business. Executive teams are praising Croslin's innovation process at leading telecom companies including ATT, Alcatel-Lucent and Rogers Communications.
Read a free sample from the book, Chapter 3, "The Innovation Life Cycle".
Croslin's LinkedIn group "Innovate the Future" connects more than four thousand leading innovators in eighty-five countries.