Jan 12 2009 11:22PM GMT
Posted by:
Nathan Simon
Tags:
I just recently took Vista Business 32Bit off my laptop and installed Server 2008 Standard 32bit. I am quite amazed at how much faster it is, I guess mainly because Vista is slightly bloated with Multimedia features not applicable too Windows Server 2008… anyways to get to my point of this particular blog. Installed Office 2007 Enterprise Edition and when I went to search it said that the Windows Search Service is not enabled, click here to fix, it then mentions that the service is not started. Well here is how you start this service in Windows Server 2008
1) Start Server Manager
2) Click on Roles in the left navigation pane
3) Select Add Role in the Roles Summary pane to the right
4) Select the File Services role and click Next
5) Select the Windows Search role service as displayed below…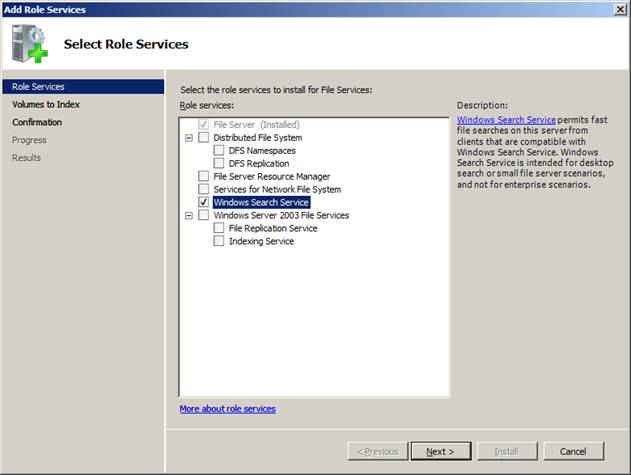 Click Next then finish the wizard and now you should have the Windows Search service up and running.
Restart outlook and you can now quick search. It may take a bit of time to index you message store, depending on how much email you have… I have a lot!
Cheer,
NS