---
August 22, 2012 12:50 PM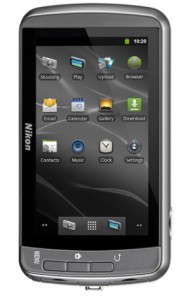 Well we knew this would happen soon enough, and Nikon is the first, I think, to release a camera that is Android based. Using WiFi, users can download and run applications directly from the Google Play, we all know there are hundreds if not thousands of applications out there just to modify pictures, so you will have the ability to touch up pictures before uploading them to Facebook or Instagram etc.
Here is an insert from Nikon's webpage.
Introducing the first COOLPIX that's also an Android™ smart device. All the imaging power of a Nikon—superior optics, telephoto zooming, a high resolution image sensor and much more, meets the endless possibilities of the Android™ OS and Wi-Fi connectivity. Create exceptional photos and Full HD videos, then edit, style and share them easier and faster than ever before.
The camera comes in black or white and its MSRP is 379.95 CDN.
Android is going to invade many spaces. I have already seen car stereos with Android based operating systems, although most of these devices are Gingerbread based, so I am not in a hurry to go out and buy one, but it goes to show that mobile operating systems are much more efficient and will take less work for manufacturers. They can concentrate on building the hardware while Android and QNX build the software. Yes I said QNX, we all know BlackBerry 10 already runs in Porsche and military robot surveillance, its only a matter or time before they get into everyday devices other than just the BB10 phone. Anyways, back to the camera. I think that the Nikon COOLPIX s800c will suite many peoples needs. So why dont you go check it out. Click here.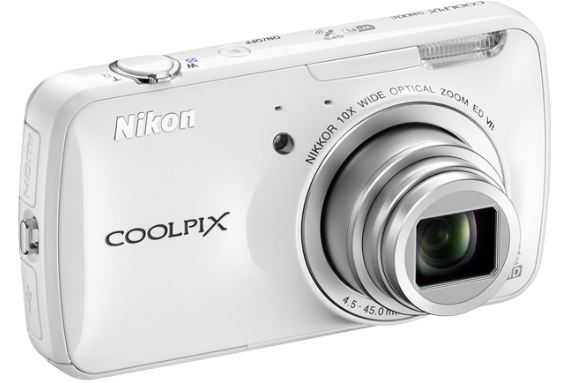 August 21, 2012 12:40 PM
Wow, I guess we should have seen this coming, but when they talk about it, and make progress, it gets so much more real… They say that the whole internet can be stored on the end of your thumb. Not "your" thumb, but the amount of DNA required to store however many exabytes of data, 1 exabyte is 1,000 terabytes. Eric Schmidt, the CEO of Google, the world's largest index of the Internet, estimated the size at roughly 5 million terabytes of data. That's over 5 billion gigabytes of data, or 5 trillion megabytes. Schmidt further noted that in its seven years of operations, Google has indexed roughly 200 terabytes of that, or .004% of the total size.
So, how does it work? DNA has its own language, containing a genetic code of four chemicals called bases: adenine (A), guanine (G), cytosine (C) and thymine (T). Robert Lee Hotz's article in the Wall Street Journal explains how the researchers translated the digital version of the book, composed of the ones and zeros binary code that computers read, into strands of DNA that each contained a section of the text.

"The Harvard researchers started with the digital version of the book…Next, on paper, they translated the zeros into either the A or C of the DNA base pairs, and changed the ones into either the G or T. Then, using now-standard laboratory techniques, they created short strands of actual DNA that held the coded sequence—almost 55,000 strands in all. Each strand contained a portion of the text and an address that indicated where it occurred in the flow of the book. In that form—a viscous liquid or solid salt—a billion copies of the book could fit easily into a test tube and, under normal conditions, last for centuries, the researchers said."

The test tube version of the book retains all the original contents, containing 53,426 words, 11 illustrations and a JavaScript computer program. Bio-engineer, Sriram Kosuri, and the project's lead researcher notes, harnessing DNA in this way meant that the data is stored "[sequentially], like a magnetic tape." source siliconangle.com
Now they just have to harness this technology in thumb drives, but we all know they wouldn't allow that! Not many thumb drives out there that are over 256GB, wouldn't want to put hard disk drive makers out of business! There is no word on how fast DNA as storage will be, so I guess we just wait and see,
---
August 20, 2012 1:35 PM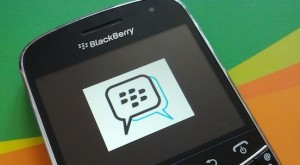 Well it's another Monday, and you may have missed a few stories on what RIM has been up to as of late.
Standardized phone resolutions have been revealed, the full touch screen BB10 phone will have a resolution of 1280×720 and the full keyboard phone will have a resolution of 720×720. It's hard to say which phone I will choose when the time comes, most likely the full touch screen one, apps like Vevo and Netflix need wide screen revenue!
It also has been rumored that IBM and Samsung are bidding on components of RIM, although it's almost been completely debunked, RIM is looking at licensing BB10 to other sectors, like the military (to control drones) and car companies like Porsche (media entertainment for the whole family.
Also note that BlackBerry still has 80+ Million Users, and growing. Keep your eyes open for the next couple quarters, as BlackBerry 10 will either make or break the company. They have to hit a home run with it for sure.
---
August 14, 2012 2:24 PM
So you think RIM has given up? Quite the contrary, RIM will do just fine, and when BlackBerry 10 is released to the masses, I will be one of the first to have my hands on the phone… I am undecided whether I will go with full touch screen or the keyboard version, since both are going to be released very soon after eachother, people will have a choice. Over at GizmoCanada, some information has been gathered, like stock price, Thorsten's latest video, and QNX info!
---
August 8, 2012 1:51 PM
Well sure there will be a desktop, you can access it via the Windows Key on your keyboard, but Microsoft is really pushing, Metro(it's not called this anymore) Just do not expect a start button, that has been removed altogether.
"Microsoft is desperate to gain a toehold in the tablet and mobile phone markets they see as the main lines of computer use in the coming years. To help with that cause, they need applications developed for the new interface. So they are forcing our hand, making the not-Metro something that cannot be easily sidestepped, at least not without using third party applications. Rafael Rivera, an author with expertise in using Win 8, says that the known workarounds are now shut down." source myce.com
Let's face it, we will always need Microsoft, and what Microsoft wants, they get, and they want you to see "Metro". Have they even renamed it yet? I guess it doesn't really matter though. So how many businesses will adopt Windows 8? I for one can't see it happening, unless they can make the keyboard shortcuts very intuitive, Windows 8 may be just a little wierd to use with no touchscreen, of which Windows 8 is optimized.
---
August 7, 2012 12:31 PM
Windows 8 interface will no longer be called "Metro". I am sure you agree with me when I say that everyone was getting used to calling it that, now Microsoft has to pull that plug and call the interface something else.
According to ZDNet, the reason for Microsoft's sudden departure from the Metro name is a pending copyright dispute with an unnamed company, while The Verge is more specific with its claims of a leaked internal memo which blames the sudden shift in branding on 'discussions with an important European partner.' That partner, The Verge claims, is German company Metro AG. source bit-tech.net
So what will they call it now? I have read that they are calling it, "Windows 8-style UI" and "New User Interface". How blandly original… I am sure they will come up with something different, at least we should hope so. 🙂
---
August 7, 2012 12:21 PM
The whole point to Intel's new mSATA standard is to allow Ultrabooks the ability to provide more space to consumers.
The specification is called Next Generation Form Factor (NGFF) and should resolve problems with the current mobile mSATA specification. This specification causes future problems for Ultrabook manufacturers as it has limitations in the number of NAND flash chips that can be used. If manufacturers would like to increase the SSD capacity in their Ultrabooks the NGFF specification should enable them to use more chips, thus increasing capacity.
Another source states that the maximum size of drive supported may be as little as 512GB. But for the standard user, this might be OK. Not all vendors may be completely onboard with the new standard for fear of wasted previous generation of SSD Components.
---
July 30, 2012 1:31 PM
The OTA update that is pushing to owners of the TF700T world wide has been a resounding success so far.
GizmoCanada reports, "An XDA Forum member reported, "Got the update over an hour ago. XDA users are acknowledging considerable I/O improves while doing heavy multitasking. My Swype keyboard is much snappier." Along with other users stating that it updates the camera and touchpad."
Also the Unnofficial Transformer Pad Infinity Facebook page is also getting reports of improved performance, responsiveness and overall its perfect now! Also note that alot of questions are answered here by owners.
So if you are having issues, performance or otherwise, make sure you check for updates (version 9.4.5.26), it should be available now.
---
July 30, 2012 1:19 PM
You may want to read the following post that I am linking to, it provides some gotchas and hints on how to make your migration successful.
If you're planning an Exchange 2010 migration, you're probably familiar with the term 'you had me at ehlo' and various books with a blue/black cover.

But there's no substitute for experience, and although no two migrations are ever the same, here's my top list of my 'surprises' from an email migration running into the tens of thousands of mailboxes. You may never encounter them, nor may I again, but maybe, just maybe it'll save you a 1AM conference call…

1) You really, really need to understand your user profile

Don't rely on the Microsoft defaults provided with the Calculator. You have, I assume, an Exchange environment already, and that you can go out there and measure. Once you have these stats, you might find that the idea of hosting 20,000 mailboxes on the old P3 laptop you've found in the corner of the office isn't going to fly. Or more likely, you will find that your initially generous assumptions about deleted item retention and mailbox recovery might need to be trimmed a bit, and log file disks and required IOPS bumped a little. Or a lot.

2) Firewalls need love, too.

Traditionally, a firewall would be put between the bad guys on the internet, and the internal network, and perhaps some partner organisations. However, in a diverse network arrangement, it's quite common that there might be a firewall between your internal client machines and your CAS'. Your firewall guys will be wise to the fact that a 'traditional' outlook client connection uses MAPI based on RPC, in which we'll look to use TCP/135 and high ports. So, bang the protocols and destination IP addresses in the firewall, and away we go?!
So based on the information you just read, I think you want to head on over to, "What your mother never told you about Exchange 2010 Migrations"
---
July 26, 2012 12:37 PM
If you own a mac pc, you most likely want to get your 'paws' on this one. iMore.com has a slew of information on the new OS. Here is an insert from the post.
Familiarity is the key. Familiarity is a feature. Though they share many of the same underpinnings, OS X and iOS are very different animals. (One's a big cat, for starters.) Yet Apple understands that, for the user, the interface and the experience is the app. So with Mountain Lion, they've made more of the OS X interface and experience more closely match iOS than ever. Which makes sense, given the iOS user base not only dwarfs the OS X user base, but consists of the very users Apple wants to reach most — those for whom traditional computers have always been inaccessible, intimidating, and off-putting.

Here is the description of the OS from apple.com, "OS X Mountain Lion is the latest release of the world's most advanced desktop operating system. Mountain Lion includes over 200 new features to update your Mac into the best computing experience yet. With the new Messages app you can send text, photos, videos, contacts, web links, and documents to anyone using another Mac, iPhone, iPad, or iPod touch — you can even start a conversation on one device and continue it on another. The new Share button makes it easy to share files, web pages, photos, and videos, as well as tweet right from the app you are using. With the Reminders app you can create to-do lists and alerts that appear in the new Notification Center. With Notes you can write down all your ideas and even speak your words with voice dictation. Play head to head games on your Mac with friends on their Macs or iOS devices with Game Center. And with iCloud built in, it's simple to keep all your mail, contacts, calendars, reminders, notes, to do lists, music, photos, iWork files, PDFs, and more up to date across all your devices."

All that for 19.99, not bad… you can go here to purchase it, if your on a Mac of course! 🙂
iMore goes on to explain iCloud, built-in apps, Calendars and Contacts, Messages, Notes and Reminders, and on and on, its quite a large article. I have never really used a Mac OS for an extended period of time, but history states that its a pretty solid OS. Go here to read the original post.
---