Nov 2 2012 1:10PM GMT
Posted by:
Nathan Simon
Tags: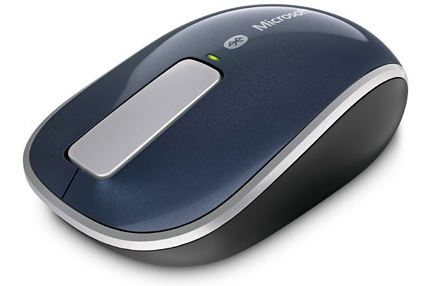 I just ordered one of these bad boys to use with my EliteBook 8470p. Since I do not have it in my possession yet I have to live vicariously through others, so I have included an insert from a PC Mag review… the Microsoft Sculpt Touch Mouse got 4 out of 5 stars, not too bad. Nothing is perfect…
"Performance

Despite its small size, the Sculpt Mobile fits comfortably in the palm. Moreover, its combination of BlueTrack technology and glide pads made for an exceptionally smooth experience. As is the case with the Wedge Touch Mouse, sliding a finger vertically or horizontally across the touch-sensitive strip, lets one cycle though the tiles on Windows 8 desktop.  A nice touch (no pun intended) is the matter in which the strip simulates the tactile sensation one gets from a typical scroll wheel, as sliding gestures produce a haptic feedback that feels akin to spinning the famed The Price is Right wheel. Within a program, like Internet Explorer, the touch-sensitive strip allows for horizontal and vertical scrolling, as well as hyper-scrolling, both of which can be stopped simply by a gentle tap on the strip. Additionally, clicking the strip over a link opens it up a new tab." source PCMag.com
Here are the features and specs straight from Microsoft's website…
Four-Way Touch Scrolling
Scroll vertically AND horizontally using the sleek touch strip. Flick up, down, and side to side to navigate spreadsheets, long documents, web pages and the new features of Windows 8. Scroll slowly with a gentle swipe or quickly with a flick of the finger, then tap to stop.
Up to 9-Month Battery Life
Use your mouse for up to nine months without having to change batteries.
BlueTrack Technology®
Works on virtually any surface in your home, office, or anywhere in between.
Comfort and control for either hand
Easy to hold side grips and a contoured shape allows comfortable use in either hand.
Bluetooth Wireless
Wireless Bluetooth connectivity – no transceiver required.
Works Great with Windows 8
Provides smooth and fluid Windows 8 navigation experience.
Three customizable buttons
Three customizable buttons for more control.
Comfort and Portability
Compact design to fit in your hand and go wherever you go.
Works with Many Android tablets
Works with many Android™ tablets.*
Three-Year Limited Warranty
See the limited warranty and license agreement.
As the specs state, since it is blue tooth, it is compatible with even Android!
It seems that it is pretty popular because I tried to order one from Memory Express here in Winnipeg and it's out of stock… boo to that. Well at least its Friday…